Finding lower-fat menu items at fast-food restaurants isn't an easy feat. Most fast food choices are laden with fat, especially saturated fat, which has been linked to a higher risk of heart disease. To be able to enjoy fast food as part of a lower-fat diet, your best bet is to be prepared.
Below are 10 fast food menu options that provide less than 30% of total calories from fat for the meal. Although total fat is kept in check, we really made sure to keep the saturated fat content in mind. All the menu options below provide no more than 5 grams of saturated fat. The Dietary Guidelines recommend no more than 10% of total calories from saturated fat, or 22 grams based on a 2,000-calorie diet. As such, all these options provide at most 22% of the daily recommended maximum for saturated fat.
Review the choices below so that the next time you hit a fast food joint, you'll be armed with good nutrition info to pick the best choice for you! Read on, and for more, don't miss The 15 Best High-Protein Fast Food Meals.
Per 1 serving (42 g): 155 calories, 2.5 g fat (0.5 g saturated fat), 125 mg sodium, 28 g carbs (4 g fiber, 0 g sugar), 5 g protein
"If you need a quick breakfast or snack on the go, ordering oatmeal with your coffee can be a great low-fat fit," says Seattle-based Ginger Hultin, MS, RDN, CSO, author of the e-book Meal Prep for Weight Loss 101. With more fiber than fat, these oats are a quick, filling low-fat fast-food meal. Hultin recommends requesting fresh blueberries if they're available to boost nutrients and fiber even more.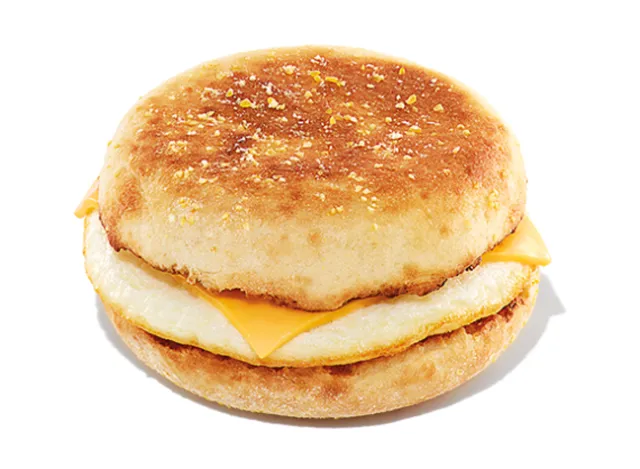 Per sandwich (with bagel): 460 calories, 13 g fat (5 g saturated fat), 1,010 mg sodium, 66 g carbs (4 g fiber, 8 g sugar), 19 g protein
This low-fat fast-food sandwich is made with egg and cheese on a bagel (the English muffin version is pictured above) and provides 25% of total calories from fat. As Dunkin' is found in many, many places—including highways, neighborhoods, and just around any corner—you can pick up this sandwich any time of day for a quick, lower-fat meal.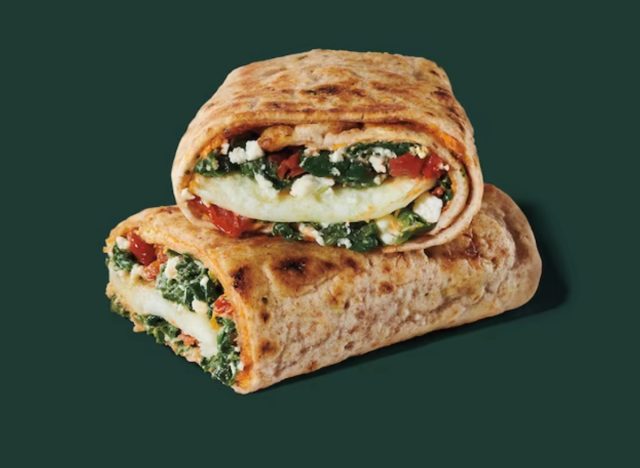 Per wrap (159 g): 290 calories, 8 g fat (3.5 g saturated fat), 840 mg sodium, 34 g carbs (3 g fiber, 5 g sugar), 20 g protein
"When I'm tight on time and need something to nosh on with my Americano, I'll add the Spinach, Feta, and Egg White Wrap to my drive-thru order at Starbucks," says Elizabeth Shaw, MS, RDN, CPT, national nutrition expert and author of the For Dummies Instant Pot Cookbook and Air Fryer Cookbook. "Not only does this have 20 grams of high-quality protein, it also is a good source of fiber with 11% of your daily value. Plus, it has just 10% of the daily value for total fat, making it a realistic option to add into a low-fat diet plan that also tastes good too!"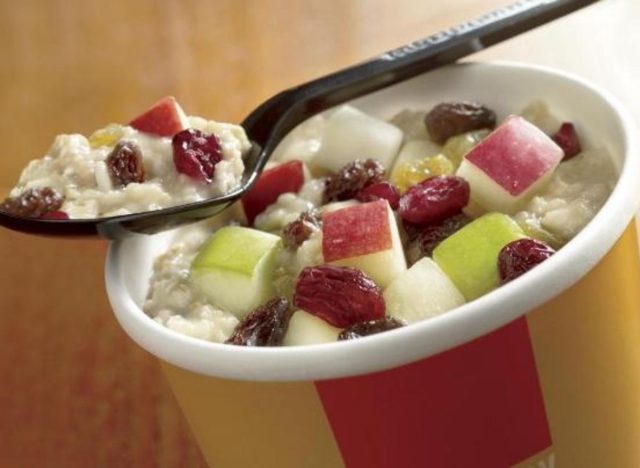 Per serving: 320 calories, 4.5 g fat (1.5 g saturated fat), 150 mg sodium, 64 g carbs (4 g fiber, 31 g sugar), 6 g protein
"This hearty breakfast has a mere 13% of its total calories from fat," says Dr. Joan Salge Blake, EdD, RDN, LDN, FAND, nutrition professor at Boston University and the host of the nutrition & health podcast, SpotOn! Salge Blake explains that this menu option also provides a very small amount of heart-unhealthy saturated with only 1.5 grams while providing a hefty 4 grams of fiber per serving. "If you want to reduce the fat further in this hot breakfast choice, you can order it without the cream and ask them to add a splash of low-fat milk instead."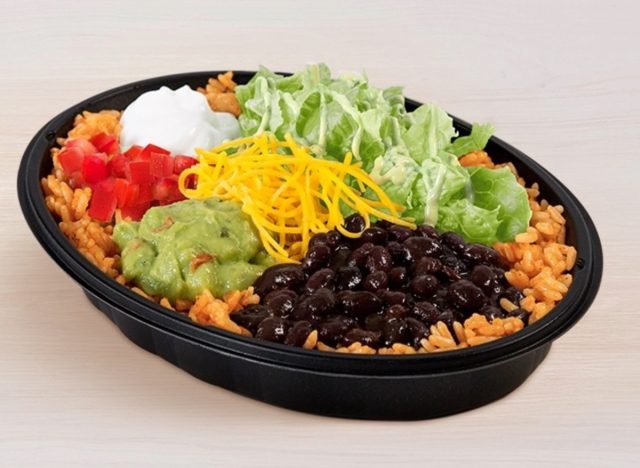 Per bowl: 420 calories, 20 g fat (5 g saturated fat), 870 mg sodium, 47 g carbs (11 g fiber, 3 g sugar), 12 g protein
According to Wan Na Chun, MPH, RD, CPT of One Pot Wellness, this vegetarian option is a "great vegetarian option that's topped with black beans, which are a great source of protein and fiber. It also contains guacamole, which is a healthy source of monounsaturated fats." Each serving provides 25% of total calories from fat, which is an appropriate amount of fat for a meal. If you want to reduce the fat even more, Chun recommends skipping the cheese and sour cream.
Per bowl: 610 calories, 17 g fat (4 g saturated fat), 1,630 mg sodium, 69 g carbs (5 g fiber, 27 g sugar), 46 g protein
"I would personally choose the Panera Bread Teriyaki Chicken and Broccoli Bowl," says Jim White RDN, ACSM EX-P, owner of Jim White Fitness and Nutrition Studios. White explains that this menu option provides sufficient calories to be a meal. Plus, it has a good ratio of macronutrients: it's higher in protein, sufficient carbs, and limited fat (25% of total calories).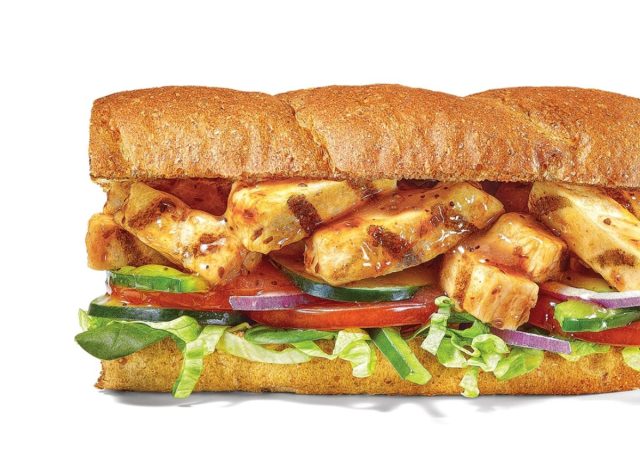 Per 6″ sub: 350 calories, 4 g fat (1 g saturated fat), 850 mg sodium, 55 g carbs (5 g fiber, 19 g sugar), 26 g protein
This sub is a quick and easy pick when you're on the road or need to pick up a meal in a flash. The total fat is 10% of total calories, with a reasonable amount of carbs and protein so make it a balanced meal. Enjoy with a piece of fruit for dessert.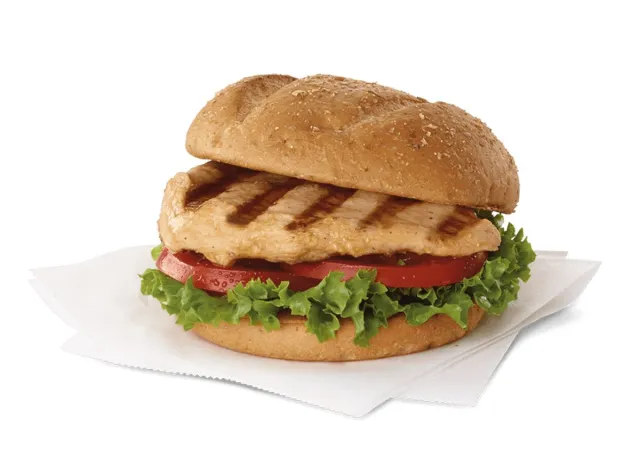 Per sandwich: 390 calories, 12 g fat (2 g saturated fat), 770 mg sodium, 44 g carbs (3 g fiber, 12 g sugar), 28 g protein
This sandwich is made with boneless breast of chicken served on a toasted multigrain bun with green leaf lettuce and tomato. The total fat in the sandwich is 28% of the total calories. To keep the total fat in check, skip the fries and pair this sandwich with a small salad to complete the meal.6254a4d1642c605c54bf1cab17d50f1e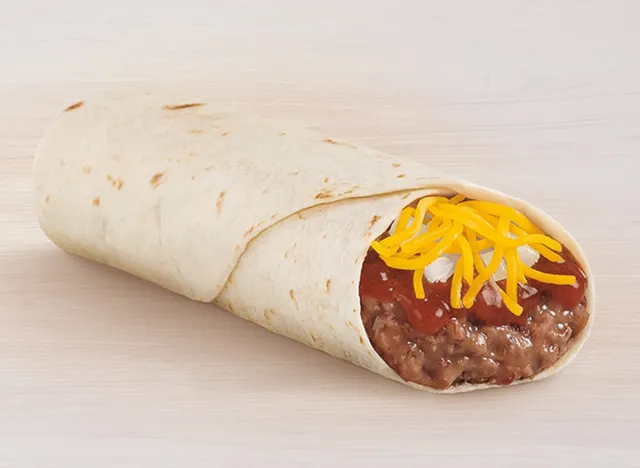 Per burrito: 350 calories, 9 g fat (4 g saturated fat), 1,040 mg sodium, 55 g carbs (10 g fiber, 3 g sugar), 13 g protein
This vegetarian burrito is made with beans, red sauce, cheese, and onions. Total fat is 12% of total calories with a nice distribution of carbs, protein, and carbs.
Per salad (without dressing): 260 calories, 8 g fat (3.5 g saturated fat), 580 mg sodium, 21 g carbs (4 g fiber, 3 g sugar), 27 g protein
This salad is made with chicken, homemade croutons, asiago cheese, and romaine lettuce. Total fat is 28% of total calories—considered lower fat. Opt for a lighter vinaigrette dressing, which will add healthy fat.