The product recommendations in this post are recommendations by the writer and/or expert(s)
interviewed and do not contain affiliate links. Meaning: If you use these links to buy
something, we will not earn a commission.
Of all the fast-food joints across the country, none are more firmly entrenched in American culture than McDonald's. You'll find its distinctive Golden Arches in almost every town from coast to coast, and it's hard to imagine anyone spending any significant time stateside without trying those "world famous" French fries at least once.
Because it's so omnipresent, consumers have a lot of opinions about the chain, both good and bad. Just this year, there's been substantial chatter about rising prices, burger upgrades, drive-thru robots, the elimination of self-service drink stations, and a macabre social media trend surrounding a popular, purple-colored milkshake, among other things.
Yet, despite customers' many complaints, the chain is arguably more popular than ever. U.S. sales climbed 10% during the last quarter, the company reported. And customer foot traffic steadily increased through the spring and summer, according to the data analytics firm Placer.
There's no denying the fast-food giant's broad appeal. Even some of the most health-conscious editors here at Eat This, Not That! will occasionally indulge in a little fast-food splurge at Mickey D's. Everything in moderation, right? Here are the McDonald's menu items that our own staffers simply can't resist whenever the mood or situation is right.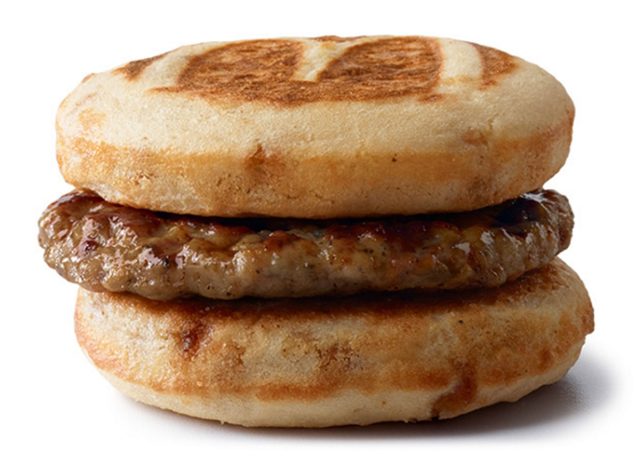 Per Serving: 430 cal, 24 g fat (9 g saturated fat), 990 mg sodium, 41 g carbs (2 g fiber, 14 g sugar), 11 g protein
While I rarely grab breakfast from a fast-food place, McDonald's Sausage McGriddle has been a guilty pleasure of mine ever since I was a little kid. While you can order it with egg and cheese, I actually think these taste the best when it's just those mini maple-flavored pancakes and that savory breakfast sausage. The extra elements just distract from those sweet and salty flavors, which is what I really want when I get a McGriddle.—Zoe Strozewski, Staff Writer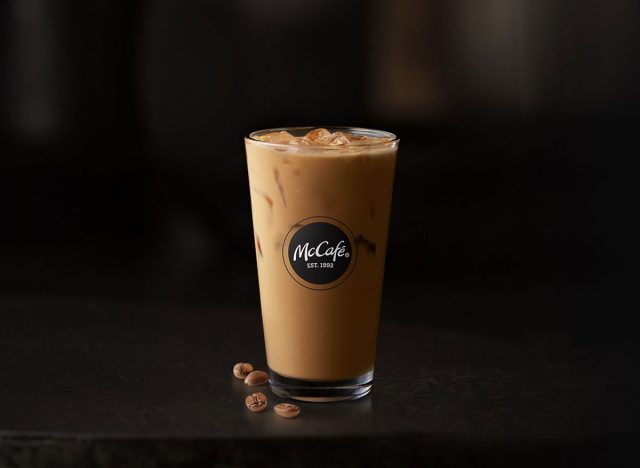 Per Serving (small): 140 cal, 5 g fat (3.5 g saturated fat), 50 mg sodium, 24 g carbs (0 g fiber, 22 g sugar), 2 g protein
Every time I take a road trip with my kids, we must make a pit stop at McDonald's. It's mandatory. While the children enjoy their Happy Meals, Daddy can fuel up for the rest of the long drive ahead with Mickey D's surprisingly good iced coffee. Without fail, the drive-thru attendant always asks if I want to add any sweetener to that, which is totally bonkers. This stuff already comes preloaded with about as much sugar as McDonald's vanilla cone. That's actually one of the things I like about it—it's like ordering a "regular" coffee at a corner deli in New York City. Milk and sugar are automatic. The other thing I like about it: the caffeine.—Chris Shott, Deputy Editor, Restaurants & Groceries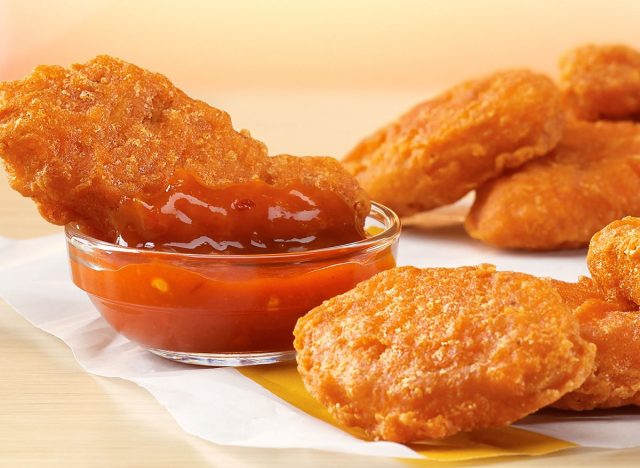 Per Serving (6 Piece): 290 cal, 18 g fat (3 g saturated fat), 630 mg sodium, 17 g carbs (1 g fiber, 0 g sugar), 15 g protein
These aren't always on the menu, but when they make a comeback they sure are one of the best things you can get at Mickey D's. They're just like the regular McNuggets, only fiery red from the cayenne and chili pepper flavoring. My pro move is to double-dip them in the Mighty Hot sauce and the ranch.—Mura Dominko, Executive Editor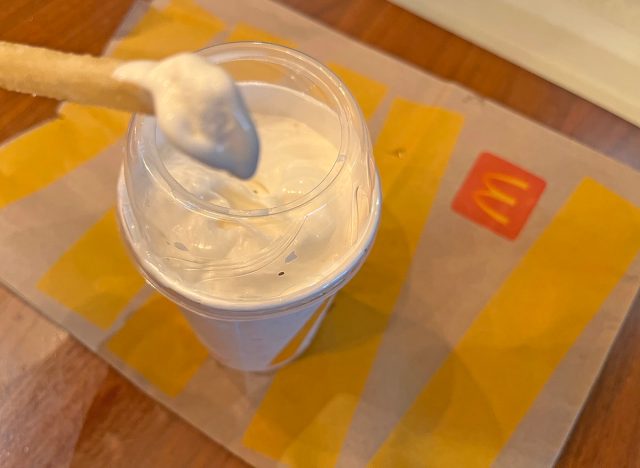 McFlurry (No Oreo Pieces): 370 cal, 10 g fat (7 g saturated fat), 150 mg sodium, 58 g carbs (0 g fiber, 48 g sugar), 11 g protein
World Famous Fries (Small): 230 cal, 11 g fat (1.5 g saturated fat), 190 mg sodium, 31 g carbs (3 g fiber, 0 g sugar), 3 g protein
Whenever I go to McDonald's for some late-night eats, I stick to the classics: French fries with a plain vanilla McFlurry (no Oreo pieces, no M&Ms). There's something special about the combo of a salty-sweet treat. I know a lot of people have their cult-favorite fast-food French fries—and there are many different opinions out there—but my favorite fast-food fry pick has always been McDonald's. They're even better when you dip them into the McFlurry!—Alexa Mellardo, Deputy Editor, Mind + Body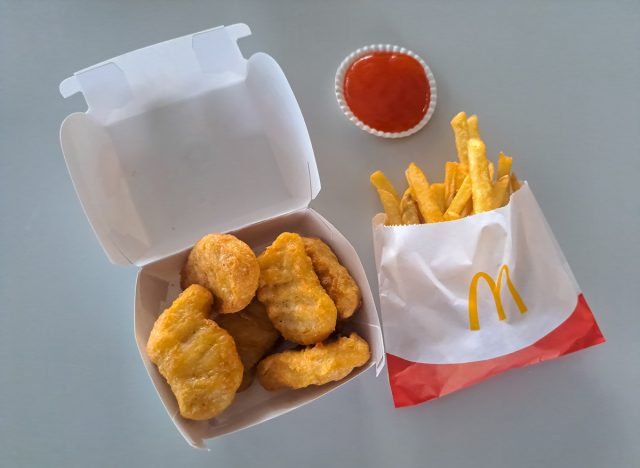 Chicken McNuggets (6 Pieces): 250 cal, 15 g fat (2.5 g saturated fat), 550 mg sodium, 15 g carbs (1 g fiber, 0 g sugar), 14 g protein
World Famous Fries (Small): 230 cal, 11 g fat (1.5 g saturated fat), 190 mg sodium, 31 g carbs (3 g fiber, 0 g sugar), 3 g protein
I'm not above admitting that I enjoy an occasional fast-food meal (although I have absolutely never chosen to fly out of one specific airport solely because it has a Chick-fil-A, because that would be insane, which is why I have never done it). But, when I find myself at a McDonald's, there's no chance I'm leaving without a 6-piece McNuggets. Is it a satisfying meal? Nope. Is it the perfect snack when you're just hankering for something salty and crispy and smothered in sweet, tangy BBQ sauce? Big time. And if I've learned anything at Eat This, it's that if you're going to eat fast food, you might as well get some protein. Obviously, a small fries is also mandatory, and you will never convince me that any fast-food joint has better fries than McDonald's.—Justine Goodman, Editor-in-Chief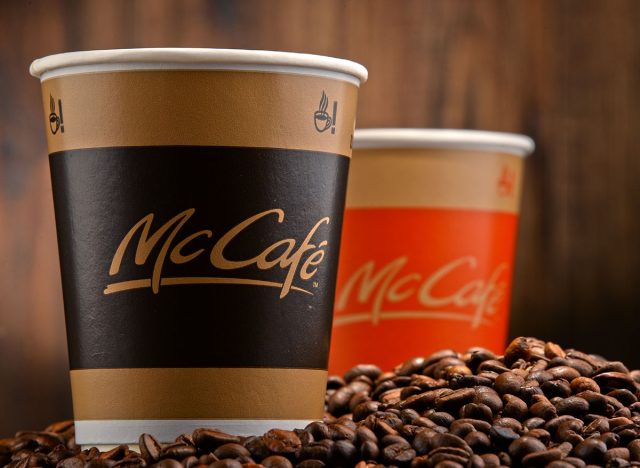 Premium Roast Coffee (Small): 5 cal, 0 g fat (0 g saturated fat), 10 mg sodium, 1 g carbs (0 g fiber, 0 g sugar), 0 g protein
When I'm on the road in the morning and in desperate need of a caffeine fix, I can always count on the McDonald's drive-thru to serve up a solid cup of hot coffee. I drink my coffee black and sugarless, so I refuse to suffer through any bitter or burnt brews. McDonald's roast is neither! It's a total win for coffee lovers.—Marisa DiPaolo, Social Media Director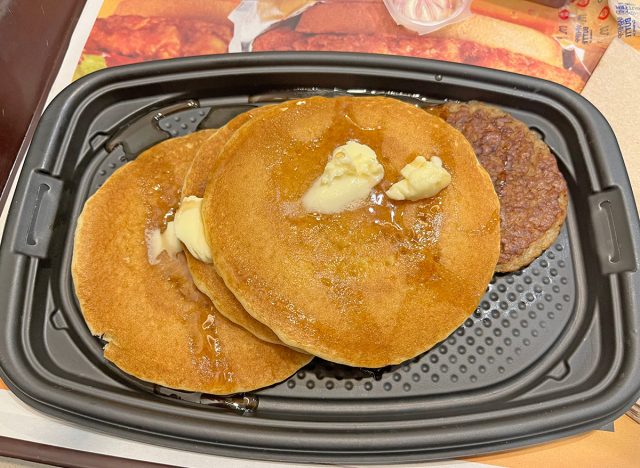 Hotcakes and Sausage: 770 cal, 33 g fat (12 g saturated fat), 810 mg sodium, 102 g carbs (2 g fiber, 46 g sugar), 15 g protein
My maternal grandfather, known as "the Colonel" within the family, was a Marine Corps vet and devout foodie long before the term even existed. He celebrated food in all its forms, from low-brow to high-end eats (a lengthy stint with military rations will do that to you), and he loved eating breakfast at McDonald's. The hotcakes and sausage were his go-to, and I like to indulge every now and then in his memory. This item hasn't changed at all since I was a kid. Well, except for the price. The hotcakes are still super light, soft and spongey—and they deserve every pat of whipped butter that you can manage to wrangle from the stingy counter staff.—Chris Shott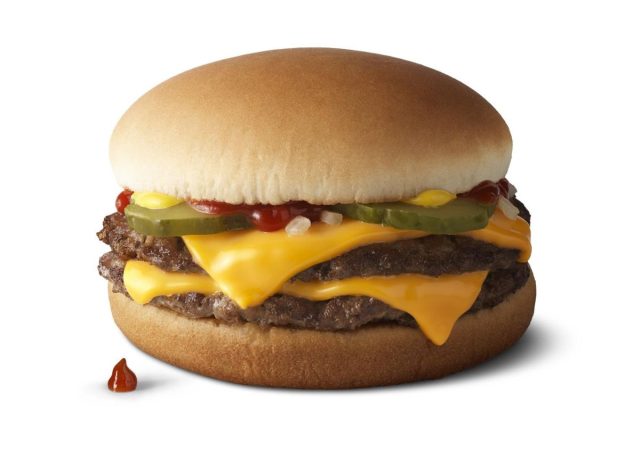 Double Cheeseburger: 450 cal, 24 g fat (11 g saturated fat), 1120 mg sodium, 34 g carbs (2 g fiber, 7 g sugar), 25 g protein
The Big Mac and Quarter Pounder with Cheese are probably the most famous burgers at McDonald's, but I think the Double Cheeseburger is super underrated. When I tasted the whole McDonald's burger menu earlier this year, I rated the Double Cheeseburger as the best value. Some of the more premium burgers cost upwards of $8 at McDonald's locations near me in New Jersey right now, but the Double Cheeseburger is usually $3 or less. It's also the perfect middle ground between the too-meaty Triple Cheeseburger and the regular Cheeseburger, which I think doesn't have enough meat.—Zoe Strozewski6254a4d1642c605c54bf1cab17d50f1e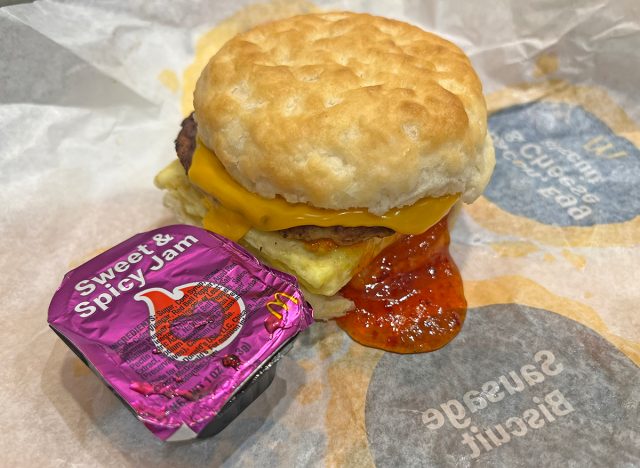 Sausage Biscuit With Egg: 530 cal, 35 g fat (15 g saturated fat), 1190 mg sodium, 38 g carbs (2 g fiber, 3 g sugar), 17 g protein
McDonald's has been serving breakfast since the 1970s but never offered its early-rising customers any sort of special sauce for its egg biscuits or McMuffins until now. The chain just unveiled its new Sweet & Spicy Jam, and it's exactly as advertised: a translucent, sugary fruit spread with a kick. Frankly, I liked it better than the chain's Mambo Sauce, another spicy new dip.
Both condiments were introduced at an exclusive tasting event last month in New York City. During the launch party, McDonald's paired the spicy jam with its Bacon, Egg & Cheese Biscuit. But, let's face it: McDonald's bacon isn't the best. So, when I went back to try the sauce again on my own, I slathered it on the Sausage Biscuit With Egg instead, and it did not disappoint. While the spicy jam doesn't officially debut until Oct. 9, I had no problem getting my hands on some a few days early from my local Mickey D's in Brooklyn, N.Y.—Chris Shott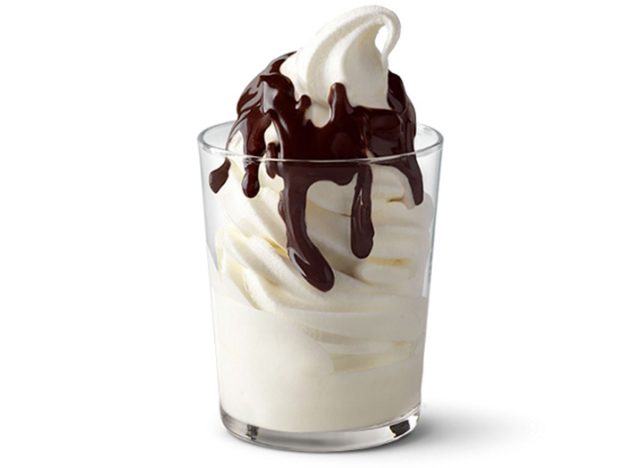 Hot Fudge Sundae: 330 cal, 10 g fat (7 g saturated fat), 125 mg sodium, 51 g carbs (2 g fiber, 44 g sugar), 8 g protein
There are some times when a fast-food hot fudge sundae just really hits the spot—and McDonald's version never fails me. The vanilla soft serve is always sweet and super creamy. The cold, frozen dessert is also the perfect contrast to the rich hot fudge. Trying to eat it before it melts is a challenge, but one I'm happy to take on.—Zoe Strozewski