The product recommendations in this post are recommendations by the writer and/or expert(s)
interviewed and do not contain affiliate links. Meaning: If you use these links to buy
something, we will not earn a commission.
When it comes to fast food right now—and old Marilyn Monroe movies, for that matter—some like it hot. Rising in popularity on menus in recent years, spicy food has become such a mainstay that it has spurred endless innovations and ideas, according to QSR Magazine.
Gen Z has played a major role in all that spicy popularity, too, prompting fast-food chains to crank up the heat. Now, beyond spicy snacks and hot sauces, spicy options can be found at just about every chain, from scorching sandwiches to pizza drizzled with hot honey.
Thus, we've entered the golden age of spicy fast-food. Seemingly every week, chains are one-upping each other with smoldering innovations, and finding new ways to punch up the heat in sauces, seasonings, and everything in between.
So far in 2023, we've seen a spate of bold new spicy fast-food items, many of which have been met with much fanfare. These are 10 of the best new spicy fast-food items that have hit menus this year.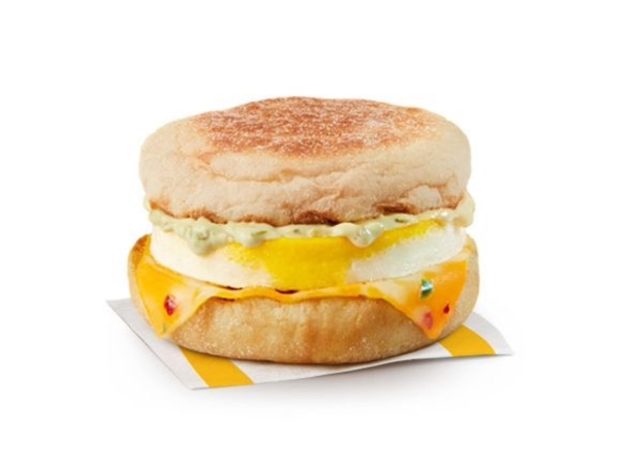 Morning, noon, and night, McDonald's is bringing the heat these days. Much of the chain's newer menu items this year have centered around spice, including a pair of fiery new dipping sauces released earlier this month: Mambo Sauce and Sweet & Spicy Jam.
In terms of sandwiches, the Cheesy Jalapeño Sausage Egg McMuffin first added a jolt to the morning menu. Made with a hot sausage patty, jalapeños, American cheese, cheese sauce, and egg on a toasted English muffin, it's simply a spicier riff on a breakfast staple for the brand—and it was welcomed with open arms. After trying it, one Reddit user said that, despite the fact that it wasn't actually that spicy, "it was so good," adding that "the jalapeños and cheese sauce had good flavor." And on TikTok, one user posted a rave review that inspired a slew of hungry comments.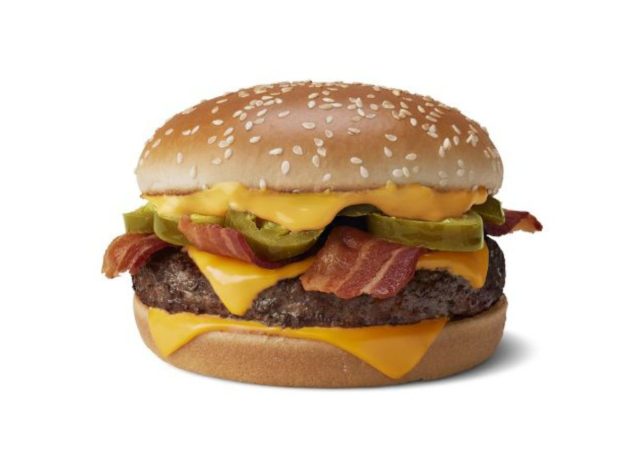 Even bolder, McDonald's also introduced a spicy twist on its famed Quarter Pounder with Cheese. Dubbed the Cheesy Jalapeño Bacon Quarter Pounder with Cheese, it's made with a signature Quarter Pounder with two slices of American cheese, thick-cut applewood-smoked bacon, pickled jalapeño slices, and creamy cheddar cheese sauce on a toasted sesame seed bun.
One dutiful YouTube review praises the burger for its appearance, its ingredients, its texture, and its flavor—sentiments echoed by comments like "[p]robably the best McD burger I've had in a long time" and another that said "I don't often order McDonald's but I tried this burger based on your recommendation. You are right, it's damn good! And it's a nice looking product to boot." And on Reddit, despite perhaps an excessive amount of jalapeños, comments about the burger described it as "pretty damn good," and a review by The Takeout went so far as to call it the tastiest McDonald's menu item in maybe forever.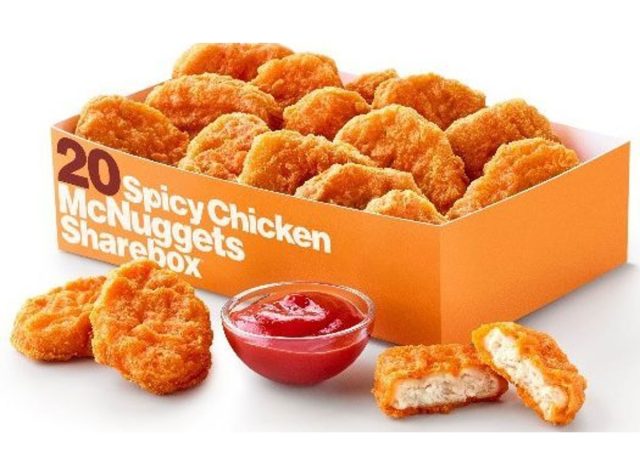 While not technically new, the Spicy Chicken McNuggets at McDonald's merit inclusion for their rarity, and for their ravenous fanbase. After all, it's not every day that the return of a cult-classic fast-food item earns the attention of Food & Wine. Back for a limited time this fall, these beloved nuggets are the same as the iconic originals, but with extra heft from a spicy blend of aged cayenne and chili pepper.
Any time the spicy nuggs make a return, they're met with a wave of praise and excitement, like from one Reddit user who refers to the texture as "just heavenly," and says "they's miles better than the standard nuggets." And another who makes the bold claim: "Not to be hyperbolic but these are the best fast food nuggets I've ever had." One Reddit user praises their consistency, calling them just as great as ever, and a "spicy nugget that's just enough to feel the small kick to it." One common grievance among fans? The Spicy Chicken McNuggets should be permanent.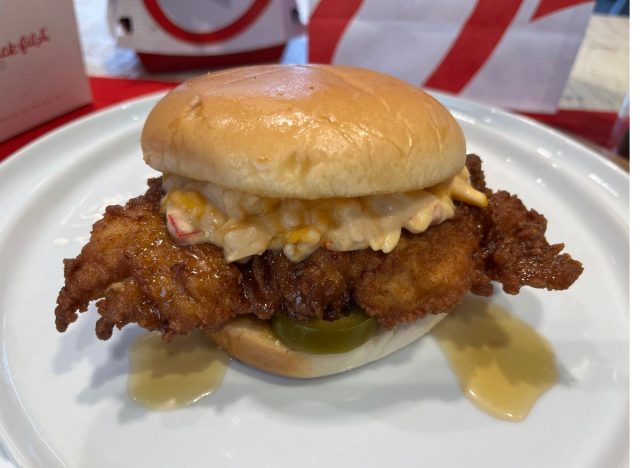 Customers go crazy for the original chicken sandwiches at Chick-fil-A, so it makes sense that adding pimento cheese to the equation only stokes the flames. The new limited-time Honey Pepper Pimento Chicken Sandwich was a big deal when it debuted, if for no other reason beyond the fact that the company called it "the first ever twist on the beloved original."
Made with the original chicken filet, creamy-spicy pimento cheese, mild pickled jalapeños, and a drizzle of honey for some sweet contrast, it's a masterclass in balance and texture. "We wanted to create a standout sandwich that would deliver a unique spin for our guests, without losing the classic taste of the Original Chick-fil-A Chicken Sandwich," explained Stuart Tracy, a Chick-fil-A chef and creator of the new sandwich. According to social media, that mission was accomplished. On Twitter, a media personality and radio host conducted a review on air, calling it "excellent," and lauding it for the sweetness of the honey working perfectly with the spice of the jalapeños and the pimento. Another user called it simply incredible.
A Reddit thread about the new sandwich was filled with praise, like one user who said it "might be one of the best fast food sandwiches on the market," another who said it's amazing, and yet another calling it a definite must-try.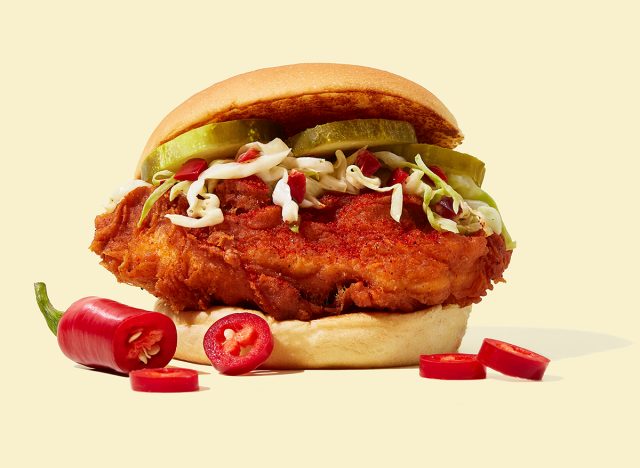 It wasn't enough for Shake Shack to simply bring back a spicy fan-favorite—the chain doubled down by also introducing a few brand-new spicy menu additions, too. As part of its "hot menu," Shake Shack revived its popular Nashville-style hot chicken sandwich for the first time in years, as well as a brand new Spicy Shackmeister Burger.
According to John Karangis, executive chef of Shake Shack and vice president of culinary innovation, the company had received numerous requests for the return of the Nashville-style chicken sandwich, made with a deep-fried buttermilk-marinated breast that's sprinkled with hot pepper seasoning and served with pickles and slaw on a toasted potato bun. On Instagram, a video of the sandwich beget a rush of ravenous comments, like "make this a permanent menu item," "plz I beg of you keep this on the menu permanently," "that filling is to die for!" and "looks delicious" with a heart-eyed emoji hankering for heat.
Online reviews for both the Nashville-style chicken sandwich and the new Spicy Shackmeister Burger have been strong, exalting both for the punch of heat that doesn't overwhelm and pairs well with the chain's high-quality ingredients. The latter is made with a signature smash burger topped with cheese, sprinkled with a hot pepper blend, and finished with fried onions and chopped pickled cherry peppers. According to Karangis: "We wanted to thoughtfully build a burger that itself was stand-alone delicious but had some crossover with the chicken." Again, anticipation and endorsements for both have been strong on Instagram.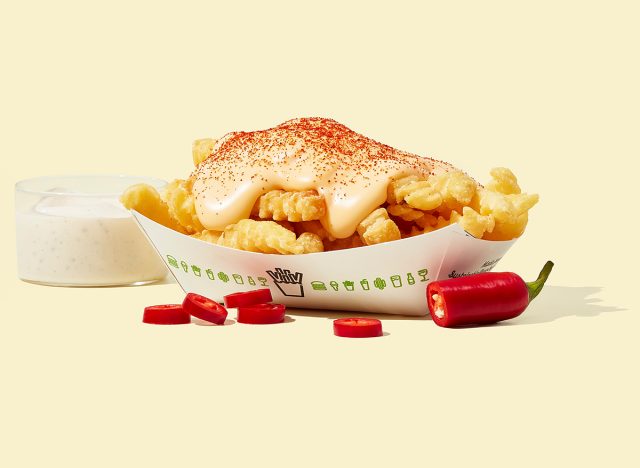 The Shack's spicy sandwiches aren't the only new "hot menu" items being greeted with adulation among pepper-heads. The chain also debuted its Spicy Fries, available with or without cheese, and served with a side of cooling Ranch Sauce. Per Shake Shack tradition, they're the classic crinkle-cut fries, made from Yukon Gold potatoes, but with added oomph from a hot pepper seasoning. For an upgrade, the addition of rich and creamy cheese sauce can be slathered overtop, which helps temper the heat. A Reddit thread got some attention from fans, including one saying "I'll have 2 of those, extra large" and another who just said "yummy!" Another review, from a first-time Shake Shacker, even preferred the spicy fries over the original.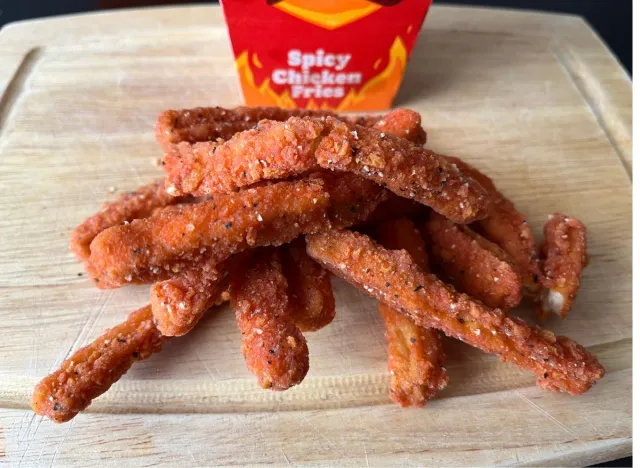 Chicken Fries remain a cult classic at Burger King, but it seems that the only way these tasty tidbits can get any better is with the addition of some spice. Flavored with ghost pepper, the chain's Cheetos-colored Spicy Chicken Fries earned high marks from Eat This, Not That! for their crunchy texture and tender meat. A Reddit thread review echoed those sentiments, saying "these are pretty great and I keep going back for them," and adding that they add an overall improved flavor profile from the originals. Another user proclaims "these are outstanding—had some fresh out of the oven a little over a week ago and they were the best I've ever had and among the best fast food I've ever eaten." In another Reddit thread, titled "Have you tried the new Spicy Chicken Fries," praise from customers was unanimous.
And this is just the tip of the spicy iceberg at Burger King, as the chain is about to introduce a new Ghost Pepper Whopper in time for Halloween.
Pizza Hut has been reinventing itself in recent years, tinkering with new items like sirloin steak and reasserting itself as the winner of the pizza wars. One thing that might explain its successes is the company's ability to hone in on trends and make them its own. Case in point: two new Hot Honey menu items that turned out surprisingly good!
Offered as limited-time menu items at select locations this year, there was a Hot Honey Pizza made with two kinds of pepperoni, including crispy cups designed to hold the spicy-sweet sauce, and Hot Honey Wings coated in hot honey and double-dipped in the elixir. In a rave review on his YouTube channel, BrickEats lauded the boneless wings as tasting like fresh chicken nuggets coated in a delicious hot honey sauce. "In a million years, I didn't think I'd like Pizza Hut's wings, but I dig these," he says.6254a4d1642c605c54bf1cab17d50f1e
The same goes for that Hot Honey Pizza, made with crispy pepperoni cups and regular pepperoni slices. He's surprised by how good the hot honey tastes on pizza, and how well it pairs with the meat. "Hot honey on pizza is the bomb!" he raves.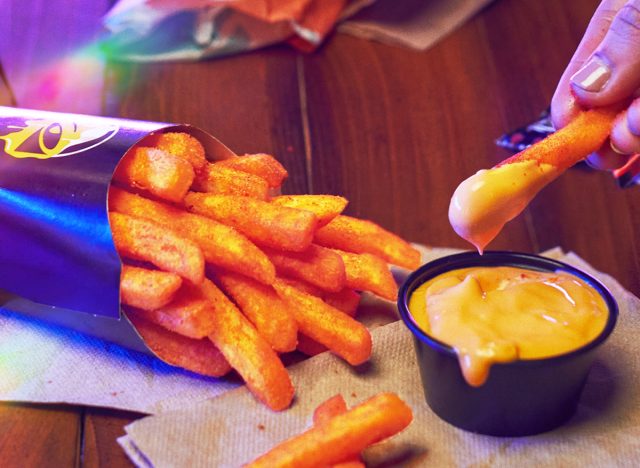 A recurring menu item, Nacho Fries at Taco Bell are another fan-favorite that customers constantly clamor about. So, it makes total sense that the clamoring would only get louder when things get spicier. The Spicy Nacho Fries are made with Taco Bell's famed fries topped with marinated steak, nacho cheese sauce, sour cream, diced tomatoes, and a drizzle of spicy habanero ranch. A reviewer for Eat This raved about menu item this past spring, noting how good it looks, how well it holds up in the drive-thru, how great the texture was, and how irresistible that Yellowbird sauce was.
When the fries made their menu comeback, Redditors were quick to highlight their love for that spicy Yellowbird sauce. One user reported that the steak was good with it, and the Yellowbird sauce is "tasty but not crazy spicy," and another called it the "BEST SAUCE YET!" On another Reddit thread, one commenter preferred Taco Bell's version over the bottled Yellowbird hot sauce from the store: "I thought it was amazing. I went straight to the store and bought their sauce. Not the same. It's vinegary like tabasco very different than the Taco Bell version."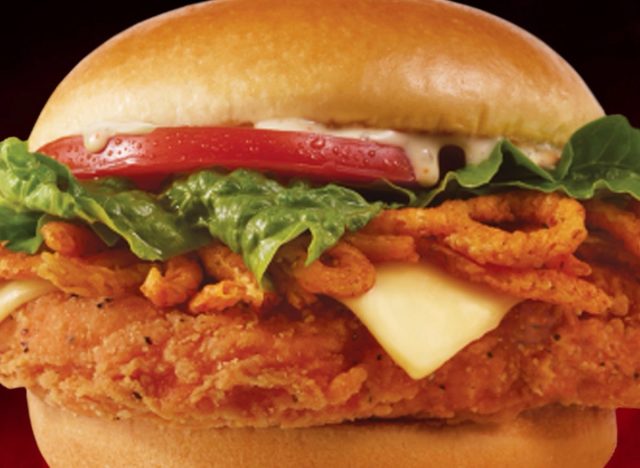 Wendy's is a chain that's constantly innovating, and constantly going to great lengths to give customers what they crave with new menu items. And since more customers are craving heat, the Ohio-based chain delivered the goods with this year's Ghost Pepper Ranch Chicken Sandwich, which uses a ghost pepper-infused American cheese, ghost pepper-seasoned crispy onions, and ghost pepper-infused ranch, to really amp up the spice.
On YouTube, The Report of the Week praised Wendy's for the freshness of the sandwich's ingredients, and while it's not as spicy as you might expect, he applauded it for having an extensive incorporation of ghost peppers across multiple elements. A review on The Takeout was similarly impressed for Wendy's ability to not only talk the talk, but walk the walk. And then there's the Reddit thread, simply titled "Ghost Pepper Chicken sandwich is amazing," in which a user proclaims Wendy's "the current chicken sandwich queen." And on another thread, a user echoes widespread raves by saying, "I was afraid it would just be a normal spicy chicken with their dipping sauce. But this sounds like a little extra effort."