The product recommendations in this post are recommendations by the writer and/or expert(s)
interviewed and do not contain affiliate links. Meaning: If you use these links to buy
something, we will not earn a commission.
Starting out as a mere hot dog cart in New York City back in 2001, Shake Shack ultimately went on to become one of America's leading fast-casual chains. Today, it operates nearly 450 locations across the globe, drawing in customers with its high-quality burgers, crinkle-cut fries, and shakes.
Beyond offering burger joint classics, the chain often releases different, creative items across its categories, most recently dropping three new spicy options. However, a unique meal at Shake Shack isn't confined to what's listed on the standard menu. It just requires a little imagination.
Whether you're looking to change up your usual order or you're just interested in discovering what else is out there, there are a variety of secret menu items at Shake Shack. Here are 10 of the best:
1. Quad Burger
This one is for those with a hearty appetite. Shake Shack's Quad Burger is exactly what it sounds like: four beef patties on any burger, similar to In-N-Out's 4×4 burger. While pricing will vary depending on the burger choice, Hack the Menu notes that customers should expect to pay an extra $2.80 per burger patty.6254a4d1642c605c54bf1cab17d50f1e
To take this order up a notch—or, rather, a patty—one Redditor was even able to get their hands on a "Quintuple Burger" from the chain.
RELATED: Shake Shack Debuting 3 Spicy New Items & a Returning Favorite
2. SmokeShack Quad Burger
If four beef patties isn't enough meat for you, the Smoke Shack Quad Burger should help you get your fix. Dubbed a "beast" by Secret Menus, this burger is just a Quad Burger with the addition of smoked bacon.
3. Shack-Cago-Burger
Shake Shack offers a Chicago-style hot dog, playfully dubbed the "Shack-Cago Dog." Drawing inspiration from this menu item and sold at limited locations, the Shack-Cago Burger is complete with all the same toppings. That means you can order a burger topped with Rick's Pick Shack relish, onions, pickles, tomatoes, sport peppers, celery salt, and mustard.
However, if you're unable to get this exact order, you can always opt for the DIY route. This would mean ordering both a Shack Burger and a Shack-Cago-Dog and switching the toppings around, leaving you with an extra hot dog on the side.
4. Cheese Fries With ShackSauce
Many will argue that Shake Shack's creamy, tangy ShackSauce is what sets its burgers apart. So why should the chain's other menu items be excluded from receiving that distinctive punch of flavor?
If cheese fries are your go-to but you think they need a little something extra, simply ask for a side of ShackSauce. According to Restaurant Clicks, "The combination of melted cheese and ShackSauce will give you every flavor and texture you need in one bite."
While the sauce's exact recipe has yet to be revealed, there are countless iterations to try, which contain a mixture of mayo, ketchup, mustard, cayenne pepper, and dill pickle brine.
5. Sport Pepper Cheese Fries
Although the burger chain currently has two spicy fry options on the menu, they're only available for a limited time. To satisfy your spice craving whenever it may strike, opting for one particular customization could be key. At Shack Shack, customers can order the chain's version of chili cheese fries, also known as the Sport Pepper Cheese Fries. This consists of the regular cheese fries topped with chopped sport peppers.
"These sport peppers may be small, but they pull their weight in the flavor department," Hack The Menu writes.
6. Protein-Style
In-N-Out isn't the only chain where you can get a burger served protein-style. This simple order consists of any burger of your choice wrapped in lettuce as opposed to two potato buns.
7. Ice Cream Sandwich
Ice cream sandwiches typically evoke images of ice cream layered between two chocolate wafers or chocolate chip cookies. Shake Shack, however, puts a spin on this beloved frozen treat by sandwiching its famous frozen custard between two grilled buns. To sink your teeth into one of these sweet items, simply ask for a toasted bun with your choice of vanilla or chocolate custard.
8. Garden Dog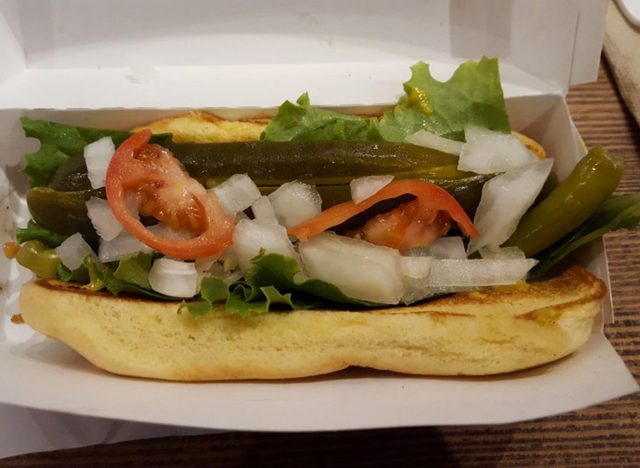 Shake Shack currently offers two vegetarian options: the 'Shroom Burger and the new Veggie Shack. But that's not all that veg-focused patrons can get at the chain. For something more refreshing and creative, try ordering the Garden Dog. This secret order swaps out the chain's beef hot dog with a pickle spear, allowing for plenty of room for additional toppings.
9. Beer Float
In addition to offering shakes, fountain sodas, and lemonades, Shake Shack is one of the few burger chains that also sells alcohol. The chain is home to both wine and beer, which has opened the door for some menu item innovation.
You might have seen the traditional root beer float on Shake Shack's menu, but did you know you could order this spiked—that is, with actual beer? Unfortunately, this frosty treat is only available in Las Vegas and other participating locations, according to Hack The Menu. But that doesn't mean you can't attempt to order it—or make it yourself while you're at Shake Shack.
10. Shandy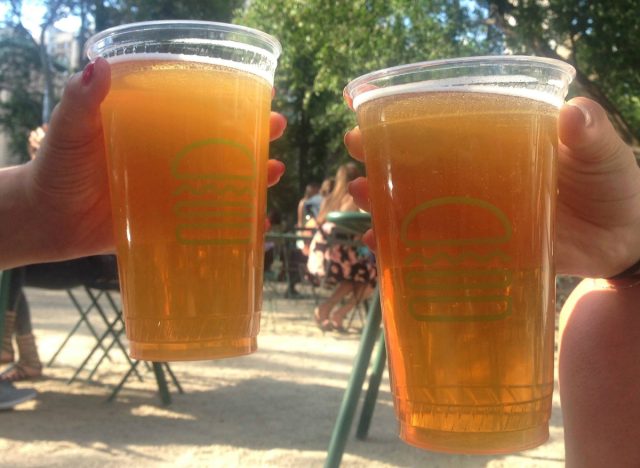 For a citrusy twist to your usual ale, Shake Shack can also serve you a Shandy. This secret beverage option is simply half beer, half lemonade. But if you want to make the drink even more unique, the chain offers a few other lemonade options beyond the classic, including strawberry and dragonfruit.