While some restaurants develop their menus with health and nutrition in mind, others focus on flavorful foods with less attention to nutritional factors. This is the case for TGI Fridays, which is known for its saucy ribs and gigantic burgers. All foods can be enjoyed as part of a healthy diet, but you may be surprised by some of the nutrition numbers of popular TGI Fridays orders.
Most restaurant meals are going to provide more sodium and fat than a similar dish you prepare at home, and many options are also going to come with more fat than you need in an entire day and more sugar than is recommended across several days. To combat this, try splitting less healthy dishes with friends or family. By sharing with others or planning on saving at least half of your entrée for leftovers, you can save significant calories, as well as grams of fat, saturated fat, sodium, and sugar.
Sometimes a restaurant meal is made in a way that even modifications won't improve its nutrition composition enough to create a balanced option. This is true for some of the worst items at TGI Fridays. Luckily, this restaurant also has several options that are much more calorie-conscious with reasonable nutrient composition.
To help you make healthier selections at your next TGI Fridays visit, here are their 10 best and worst menu items. Read on, and for more healthy dining out tips, check out The #1 Unhealthiest Order at 8 Major Seafood Chains.
The Best Orders at TGI Fridays
Best: Simply Grilled Salmon with Double Lemon Butter Broccoli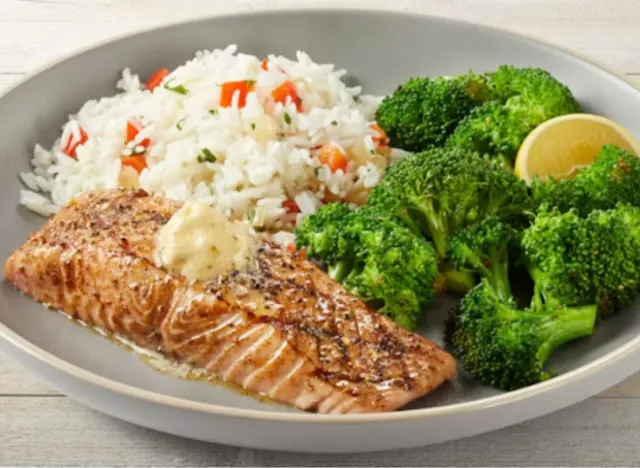 Per meal: 560 calories, 36 g fat (11 g saturated fat), 2,250 mg sodium, 29 g carbs (11 g fiber, 5 g sugar), 36 g protein
The double portion of vegetables in this meal provides 11 grams of fiber, which makes for a filling meal, especially when combined with the high protein content of salmon.
You can pick a sauce for your fish, but stick with the plain grilled option to save calories, sodium, and grams of sugar. Although this is one of the healthiest options on this list, it still packs a very high sodium count. To counter this, ask your server to "go light" on salt when placing your order and choose lower-salt foods for the rest of the day.
Best: 6-ounce Sirloin with Mashed Potatoes & Lemon-Butter Broccoli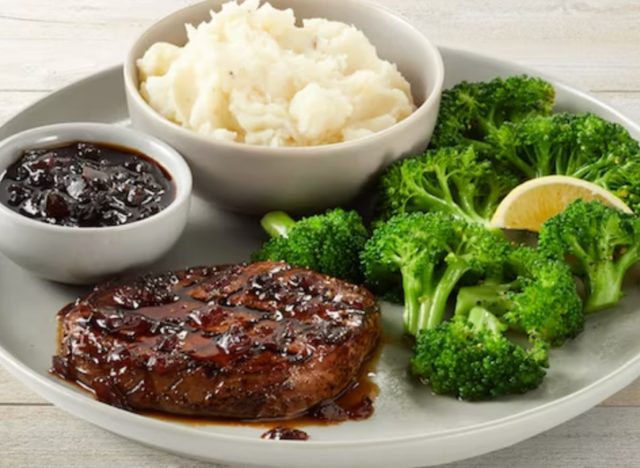 Per meal (6-ounce sirloin): 440 calories, 21 g fat (8 g saturated fat), 2,110 mg sodium, 36 g carbs (6 g fiber, 4 g sugar), 32 g protein
You won't often find steak as the healthiest menu item, but it certainly is at TGI Fridays. For under 500 calories, you can get a 6-ounce steak with potatoes and broccoli.
This calorie count works for many calorie budgets, and the meal comes with less saturated fat than most other menu items. Not to mention, it has a very low sugar content while still providing 6 grams of fiber. Boost fiber even more by going with double broccoli in place of the potatoes.
Best: Tortilla Soup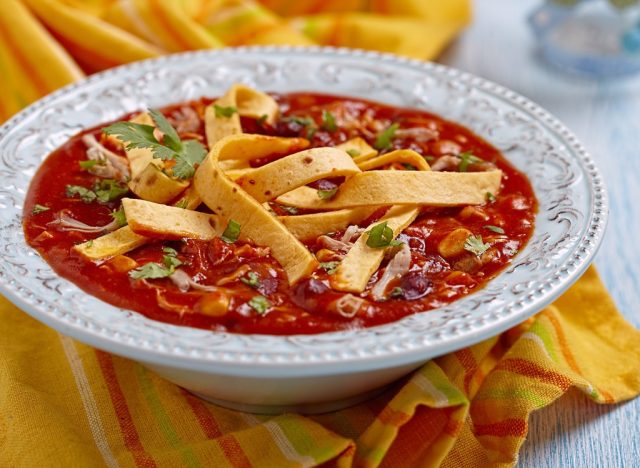 Per bowl: 210 calories, 6 g fat (2.5 g saturated fat), 670 mg sodium, 22 g carbs (4 g fiber, 6 g sugar), 12 g protein
Broth-based soups can be surprisingly low in calories, making them a reasonable menu item. At only 210 calories, you can add a side salad to create a well-rounded meal with a variety of textures.6254a4d1642c605c54bf1cab17d50f1e
This option has a filling 12 grams of protein, and when combined with a few more grams from a side salad, you've got a filling meal. Not to mention, this combination of this soup and salad packs an impressive amount of fiber, too.
Best: Fridays Combo Wings- Tradional Frank's Buffalo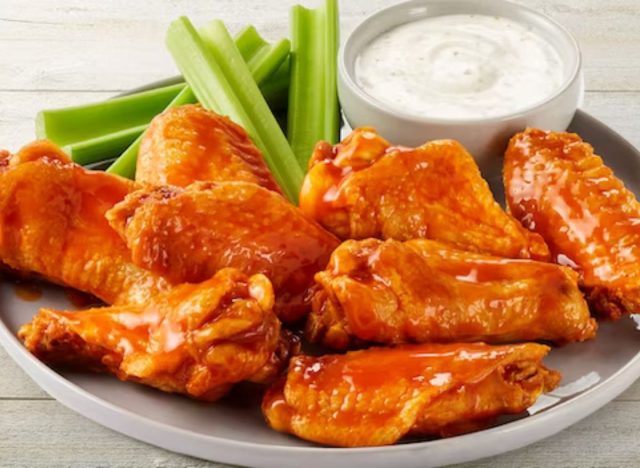 Per dish: 370 calories, 33 g fat (7 g saturated fat), 2,520 mg sodium, 0 g carbs (0 g fiber, 0 g sugar), 20 g protein
Another protein not known for its leanness, these wings are one of the better offerings at TGI Fridays. Compared to other wing varieties, this sauce option keeps calories, carbohydrates, and sugar low, while maintaining good protein content.
The wings aren't a full meal on their own, so pair them with a veggie side to incorporate fiber into your meal. Make sure to skip the ranch and other dipping sauces to avoid excess empty calories.
Best: Pan Seared Pot Sticker with Szechwan Dipping Sauce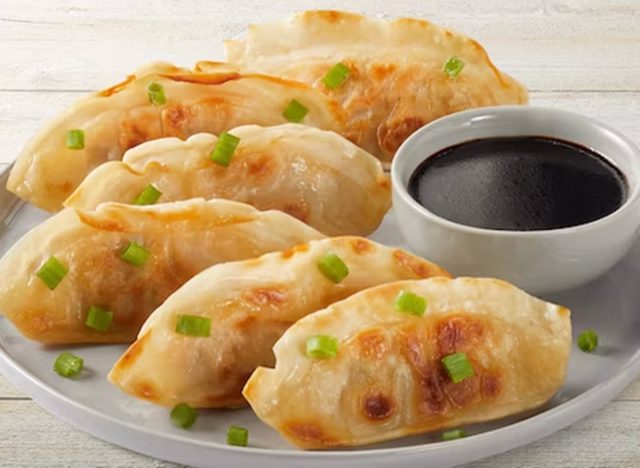 Per dish: 590 calories, 25 g fat (9 g saturated fat), 2,150 mg sodium, 72 g carbs (2 g fiber, 22 g sugar), 18 g protein
These Pot Stickers are filled with pork to provide 18 grams of protein. While they are considered an appetizer, they can work as an entrée, too. This calorie count includes the Szechwan sauce, which is typically made with soy sauce and sugar.
To lower calories, sodium, carbohydrates, and sugar in this meal, skip the sauce or use less than half of what is offered. This will open up calories in your meal to add in a vegetable side for a more balanced option.
The Worst Orders at TGI Fridays
Worst: Loaded Potato Skins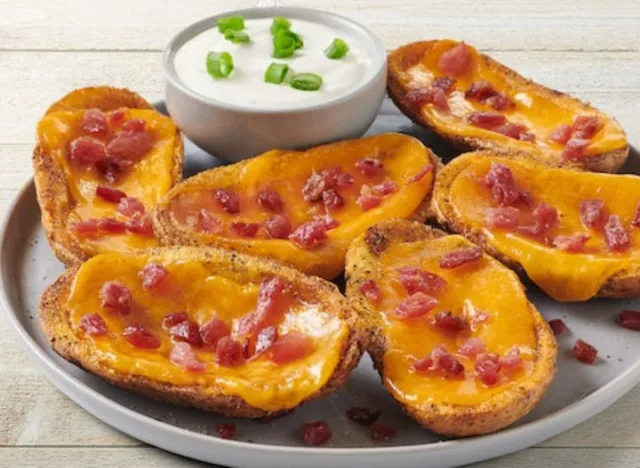 Per dish: 2120 calories, 92 g fat (26 g saturated fat), 1,450 mg sodium, 283 g carbs (49 g fiber, 10 g sugar), 44 g protein
A popular appetizer, the Potato Skins are loaded with cheese and bacon and served with a side of sour cream. This combination of ingredients creates a very high-fat and high-calorie appetizer.
This choice does pack plenty of fiber from the potato skin itself, but the toppings make this menu item one of the least healthy at TGI Fridays. If you are looking for a starter to share with the table, go with the chips and salsa for only 240 calories.
Worst: Fridays Signature Whiskey-Glaze Burger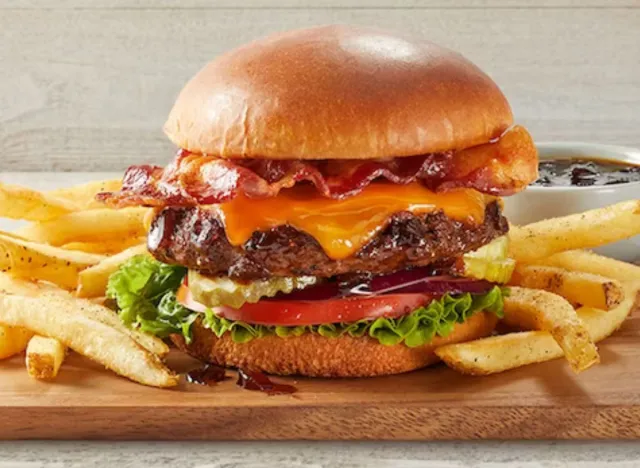 Per burger: 1,140 calories, 56 g fat (22 g saturated fat), 3,150 mg sodium, 117 g carbs (2 g fiber, 85 g sugar), 40 g protein
Burgers are generally made with higher-fat ground beef, leading to a high calorie and saturated fat count. Add a sugar-sweetened whiskey glaze to the burger and two ribs included in this meal, and you've got a high sugar count as well.
Not to mention, this meal packs way more sodium than is required in a day. This choice doesn't even include the side of fries, which will set you back another couple hundred calories. Instead, go with a plain hamburger with a side of fruit or veggies for a leaner, lower-sugar meal.
Worst: Red Velvet Cake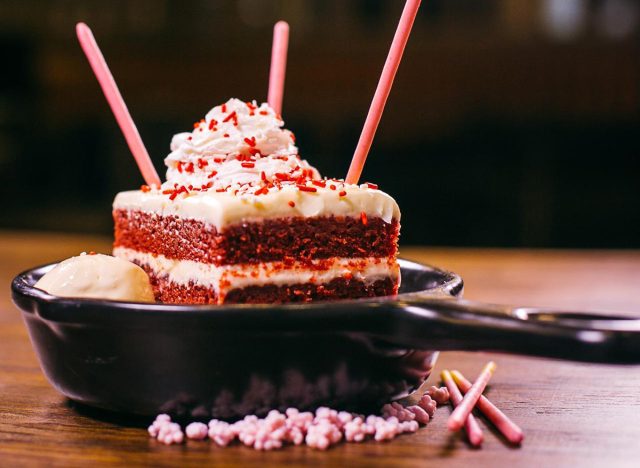 Per dish: 1,560 calories, 82 g fat (35 g saturated fat), 930 mg sodium, 191 g carbs (1 g fiber, 144 g sugar), 17 g protein
Desserts are notorious for their sugar content, and this cake is no exception. With nearly 150 grams of sugar per serving, this cake also packs more calories than many people need in an entire day. Unfortunately, the other dessert offerings here hover around 1,000 calories or more,  so you may be better off skipping dessert at the restaurant and having a small portion of dark chocolate at home to satisfy your sweet tooth.
Worst: Chicken Parmesan Pasta with Breadstick
Per meal: 1,630 calories, 75 g fat (28 g saturated fat), 3,990 mg sodium, 161 g carbs (8 g fiber, 16 g sugar), 71 g protein
You won't find a single pasta dish at Fridays that is under 1,000 calories. The Chicken Parmesan Pasta includes fried chicken, marinara, noodles, parmesan crisps, and a breadstick is a whopping 1,600 calories with nearly 4,000 milligrams of sodium.
While this meal does provide 8 grams of fiber, that isn't much relative to the total calorie and carbohydrate count. Pass on the pasta here and check the "best" list for healthier options at TGI Fridays.
Worst: Fridays Big Ribs with Seasoned Fries & Coleslaw
Per meal (Full Rack, Whiskey-Glaze): 1,620 calories, 81 g fat (25 g saturated fat), 3,410 mg sodium, 185 g carbs (5 g fiber, 153 g sugar), 44 g protein
Ribs are not considered a lean protein. This rib meal has nearly twice as much fat as it does protein. The Whiskey Glaze on the ribs contributes significant sugar to this meal, creating a savory dish with more sugar than the red velvet cake!
Choosing the broccoli and green bean sides instead of fries and coleslaw will save significant calories and fat grams, and swapping the Whiskey Glaze for a lower-sugar sauce like the Apple Butter BBQ will save significant grams of sugar.