As much as fast-food chains are tied to the iconic menu items they've served for decades, they're also continuously evolving. Some of these changes show up in the form of ingredient modifications while others are brand-new food launches.
However, as customers have come to learn, not all menu changes are minor tweaks or exciting introductions. Sometimes, fast-food chains remove options from their menu because of poor sales, operational issues, or for reasons unbeknownst to the public. This has resulted in many grieving fans, some of whom even created petitions to revive their favorite fast-food items. One chain that has experienced this multiple times is Wendy's.
Throughout its 53-year history, this popular fast-food chain has said goodbye to various menu items, sparking sadness, disappointment, and longing among customers. While some of these fast foods have had short returning stints on the menu, others haven't been seen for decades. Here are 10 discontinued Wendy's items customers still miss today.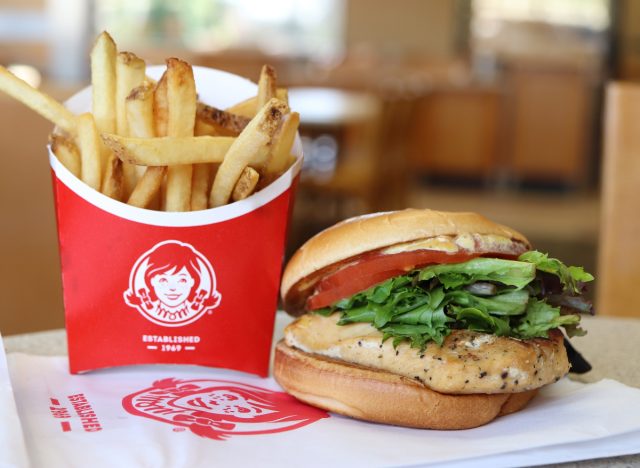 One of Wendy's more recent discontinuations took place last spring. To make room for its Grilled Chicken Ranch Wrap, the fast-food chain gave its Grilled Chicken Sandwich the ax. A simple favorite, this menu item was made with herb-marinated grilled chicken, mayo, lettuce, and tomato on a toasted bun.
Fans didn't take this news lightly and have even posted about the sandwich months after it was taken off the menu. "I will never forgive Wendy's for discontinuing the grilled chicken sandwich," one person wrote on X, formerly known as Twitter. "This was my favorite sandwich. So sad it's gone," another aggrieved fan said on Reddit.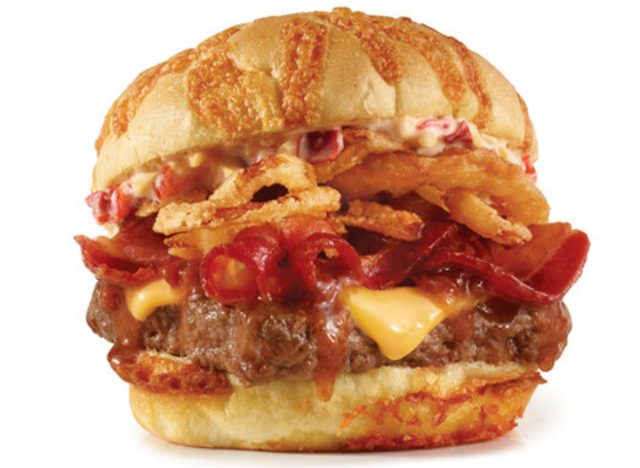 Wendy's Big Bacon Cheddar Cheeseburger made its debut in September 2021. However, it didn't last long and ultimately left the chain during the fall of 2022. The Big Bacon Cheddar Cheeseburger featured a burger patty topped with applewood smoked bacon, a custom bacon sauce, crispy onions, American cheese, and a cheddar cheese spread on a toasted cheddar bun.6254a4d1642c605c54bf1cab17d50f1e
"My light dimmed a little when i found out wendy's took away the big bacon cheddar cheeseburger. i don't know when i'll recover," one fan lamented on X last year. About two weeks ago, a Reddit user expressed their desire for the item's return by writing, "As a worker, everyone slept on those hard. best burger wendys ever made."
During the summer of 2022, Reddit users buzzed about the potential discontinuation of Wendy's hot honey sauce. A few weeks later, a spokesperson from the fast-food chain confirmed the news, telling Thrillist that the sweet and spicy condiment would be "phased out."
Wendy's hot honey sauce, which was launched in February 2022, featured habanero peppers and appeared on two menu items: the Hot Honey Chicken Sandwich and Hot Honey Chicken Biscuit.
About a year after this news broke, one fan tweeted, "I can't sleep, I'm up thinking about how Wendy's discontinued their hot honey sauce without asking me first."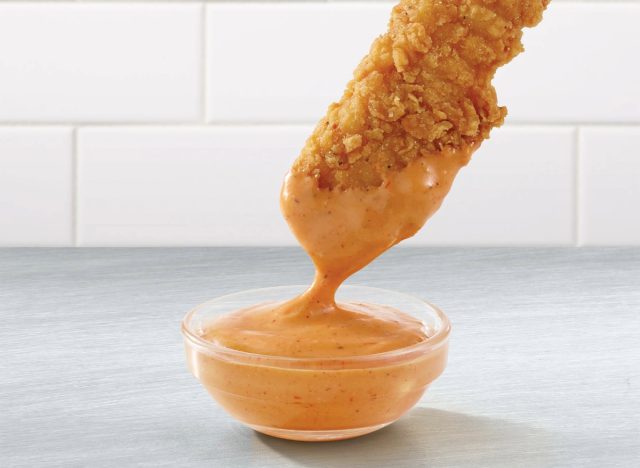 Hot honey isn't the only discontinued sauce occupying fans' minds. In 2017, Wendy's rolled out its S'Awesome Sauce, a tangy, sweet, and smoky sauce that didn't stay on the menu for long. To fans' dismay, this sauce left Wendy's in 2021 and still manages to infiltrate social media commentary two years later.
"I'd do anything for Wendy's to bring back the s'Awesome sauce," one fan wrote on X. "I miss Wendy's. I haven't been in years. The day they bring the S'awesome sauce back. I will make a return," another fan shared a few months earlier.
If you've never heard of Wendy's Fresh Stuffed Pitas, that's probably because they haven't been on the menu in over two decades. Back in 1997, Wendy's introduced its line of Fresh Stuffed Pitas, which were available in four varieties: Chicken Caesar, Ranch Chicken, Garden Veggie, and The Greek. Unfortunately, these sandwiches left Wendy's in 2000, leaving fans with nothing but fond memories.
Last week, one Reddit user started a thread dedicated to this menu item, prompting fans to share their love for it. "The chicken caesar pita was probably my favorite fast food item from any restaurant ever," one Redditor commented. "So delicious and refreshing. Miss these so much," another fan added.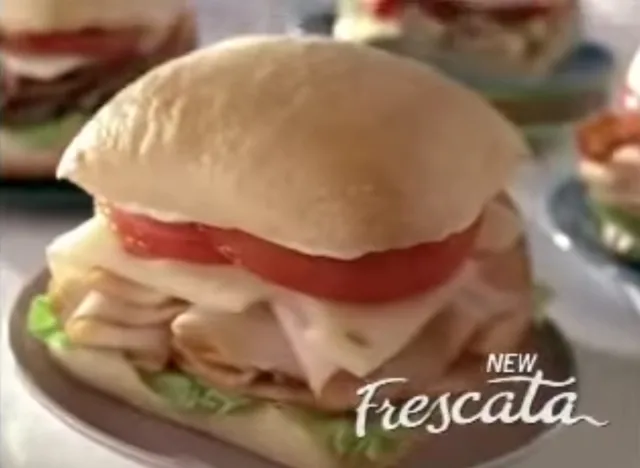 Wendy's gave deli sandwiches a try back in April 2006. But by December 2007, the chain did away with the sandwiches, which were available in four different choices. These included the Frescata Club, Roasted Turkey with Basil Pesto, Black Forest Ham & Swiss, and Roasted Turkey with Swiss.
Despite their 16-year absence from the menu, Wendy's Frescata Sandwiches are still making their way into online conversation in 2023. "I miss the frescata so much," one fan commented on a Reddit thread.
In 2010, Wendy's released its Bacon & Blue Burger, which included a beef patty, applewood smoked bacon, blue cheese crumbles, sautéed onions, and steakhouse sauce on a standard bun. Then, in 2015, a similar burger returned to menus—but this time, it had a brioche bun, blue cheese herb aioli, and spring mix, along with applewood smoked bacon.
Unfortunately for fans, this Bacon & Blue Burger was only available for a limited time. "The Bacon & Blue burger…I think about it allll the time. I custom order one, but it's not the same," one Reddit user shared.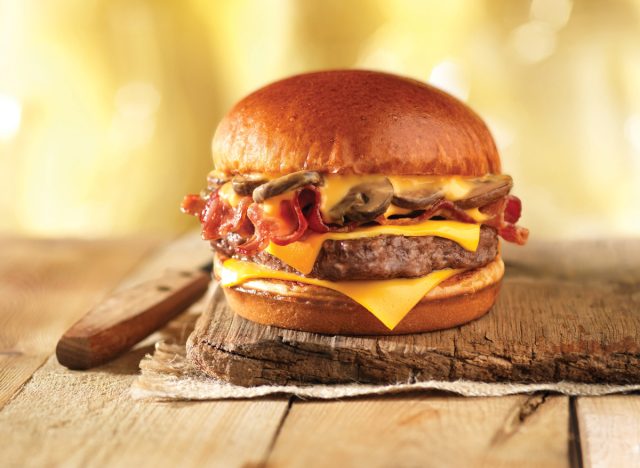 Another bacon burger that hasn't been on menus for years is the Bacon Mushroom Melt. Launched in the 1990s, this burger featured a beef patty, smoked bacon, portobella mushrooms, and a cheddar cheese sauce.
"The bacon mushroom melt. My favorite burger of all time….I still think about it," one Reddit user wrote.
However, Wendy's in other countries have added this item to their menus in recent years. For instance, Canadian locations briefly brought back this menu item, which it calls the "Bacon Portabella Mushroom Melt," in January.
What's a trip to a fast-food chain without picking up some fries? Over the years, Wendy's has tweaked its fry recipe twice, most recently introducing its Hot & Crispy Fries in 2021. These were reformulated to have "improved heat protection and crispiness," according to the chain. Prior to this launch, Wendy's changed its fries for the first time in 2010 by making them natural "skin-on" cut with sea salt.
Although these changes were intended to improve the beloved burger side, people still yearn for the chain's original recipe. "I miss the fries so much, they were the best of all the fast food chains by far. RIP Wendy's original fries," one Reddit user said. " They were crispy on the outside and fluffy on the inside. I haven't liked their fries since they changed," another noted.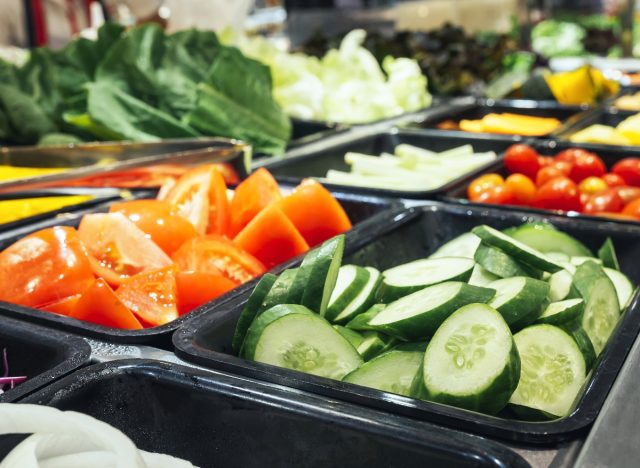 A salad bar at Wendy's might seem like an unlikely sight, but for many, it was a major attraction. Plus, this buffet feature wasn't limited to salad ingredients. Customers could also create their own pasta and taco dishes. Launched in 1979, the SuperBar was offered until 1997 when Wendy's decided to shift its focus on pre-packaged salads. Since leaving restaurants, it's continued to hold a special place in customers' hearts.
When asked to share which Wendy's items should return, multiple Reddit users expressed their longing for the self-serve salad station. "SUPERBAR!! That's an easy one," a commenter wrote. "This is the only answer!" someone else responded.