The product recommendations in this post are recommendations by the writer and/or expert(s)
interviewed and do not contain affiliate links. Meaning: If you use these links to buy
something, we will not earn a commission.
Appetizers are often a highlight of any meal, with classic go-to starters like nachos, mozzarella sticks, and chicken wings kicking things off with their crispy textures and salty, savory flavors. But, for seafood fans, fried calamari is usually the starter of choice.
Commonly served with some sort of dipping sauce, such as marinara and, in some cases, a zesty ranch, a platter of crispy, batter-fried, bite-sized calamari—or, squid, in Italian—is eminently shareable, making it a popular finger food for your whole group. Split them with the rest of the table, or keep them all to yourself—no judgment here.
Seafood chains, particularly those specializing in fried fish, are an obvious choice for finding a tasty basket of fried calamari. But, you will also want to check Italian chains, which often offer the appetizer, too. Whether you're partial to seafood or Italian cuisine, be sure to keep these restaurants in your back pocket when those calamari cravings kick in.
Red Lobster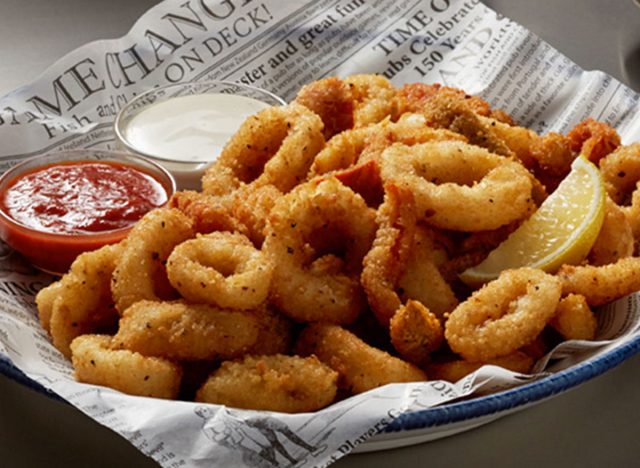 Hand-Breaded Calamari (1 order): 1000 cal, 70 g fat (0 g saturated fat), 2070 mg sodium, 44 g carbs (1 g fiber, 5 g sugar), 77 g protein
In a world of soaring restaurant prices, Red Lobster offers a more affordable, casual option for seafood lovers. The menu at Red Lobster isn't going to come with many surprises, but diners will be happy with its array of family meals, soups, entrées, and of course, theosefamous Cheddar Bay Biscuits. Calamari fans can indulge in their appetizer of choice at Red Lobster, as well. The chain's hand-breaded calamari comes golden-fried with jalapeño ranch and marinara sauce for dipping.
Olive Garden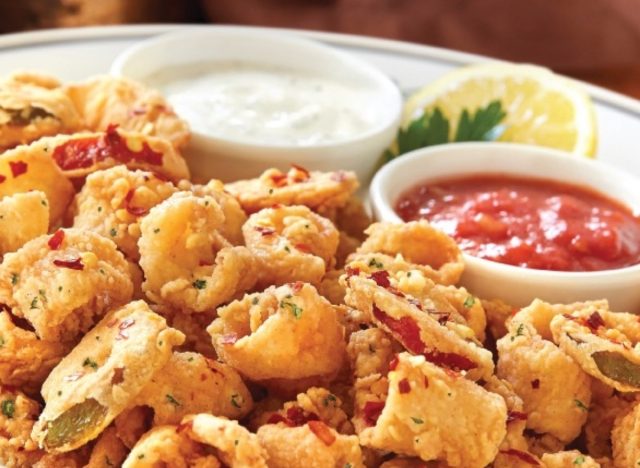 Calamari (1 order): 740 cal, 42 g fat (3.5 g saturated fat), 1600 mg sodium, 48 g carbs (2 g fiber, 3 g sugar), 24 g protein
Italian restaurant chains are a safe bet when looking for fried calamari, and Olive Garden is no exception. Before you dive into a Tour of Italy or fill up on a basket of endless breadsticks, you can order a plate of fried calamari off the menu for the whole table. These come served with both marinara sauce and a spicy ranch for dipping. A reviewer for Insider praised Olive Garden's calamari, saying, "the bits tasted tender without being rubbery, which was a huge plus in my book."
Bubba Gump Shrimp Co.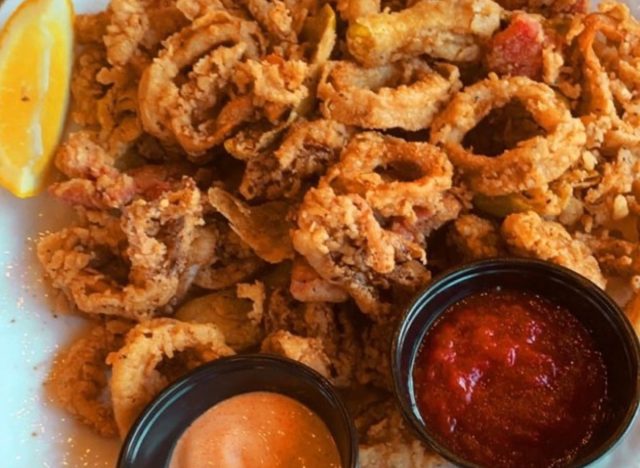 Calamari (Per Order): 670 calories
If you're familiar with the film Forrest Gump, then you probably remember the character Bubba sharing his dreams for a shrimping company, which the title character later starts in Bubba's memory.  That company inspired the real-life restaurant chain Bubba Gump Shrimp Co., with a menu filled with seafood-inspired dishes, including plenty of shrimp as well as fried calamari. Here, the crispy squid is served with roasted red bell peppers, pepperoncini, marinara sauce, and chili ancho aioli.6254a4d1642c605c54bf1cab17d50f1e
McCormick & Schmick's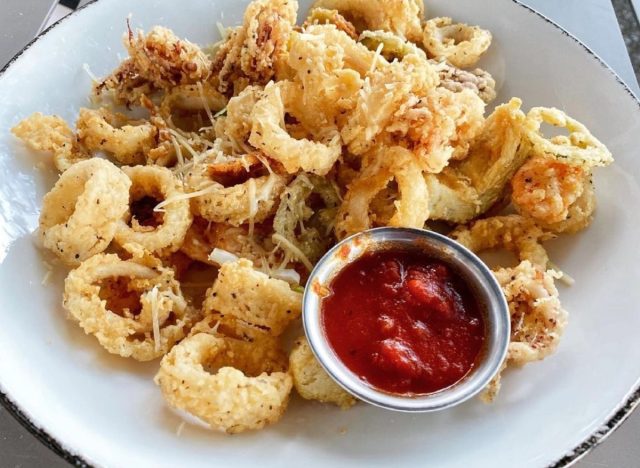 Nutrition information unavailable
Whether you're looking for a fresh seafood dinner or a signature selection of steak, McCormick & Schmick's aims to please anyone in the mood for surf or turf (or both). While there are plenty of classics on the menu, diners will also find one-of-a-kind variations that you won't find elsewhere. For example, McCormick & Schmick's takes a more unique twist on fried calamari, offering a Crispy Asian Calamari on its appetizer menu. The dish is served with a sweet and spicy glaze, Thai chilies, and green onions.
Eddie V's Prime Seafood
Kung Pao Calamari (1 order): 1450 cal, 106 g fat (17 g saturated fat), 3980 mg sodium, 93 g carbs (9 g fiber, 26 g sugar), 34 g protein
On the appetizer menu of this upscale seafood chain, you'll find calamari from the renowned squid-fishing town of Point Judith, R.I., served kung pao-style with wok-fried vegetables and roasted cashews. It's a unique spin on a classic seafood dish and one that customers rave about. One reviewer on Tripadvisor noted that the kung pao-style dish is "a must," adding, "The kung pao calamari was nice and chew, and the KP sauce rocks it." Another Tripadvisor reviewer kept things simple, noting that Eddie V's has the "best calamari ever."
Bonefish Grill
Calamari (1 order): 890 cal, 53 g fat (10 g saturated fat), 2030 mg sodium, 55 g carbs (2 g fiber, 17 g sugar), 43 g protein
The casual seafood chain Bonefish Grill offers an expansive food and bar menu. To kick things off, your table can share a plate of fried calamari, prepared Rhode Island-style with peppers and then served with a sweet and spicy Asian-style sauce for dipping. It's so good that you might find yourself ordering more calamari as your main course. A calamari connoisseur noted on Tripadvisor, "We also tried the calamari this time, and it was fabulous. We've had calamari all over the world, and this is in the top 5-10."
Brio Italian Grille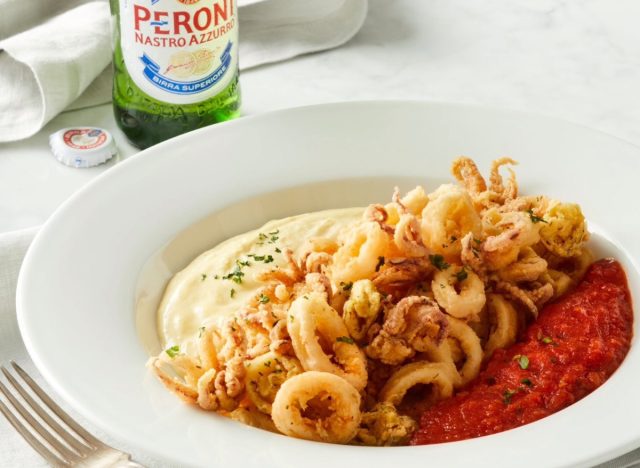 Calamari (1 order): 950 cal, 33 g fat (5 g saturated fat), 3290 mg sodium, 105 g carbs (5 g fiber, 8 g sugar), 50 g protein
Offering both an upscale and affordable dining experience, Brio Italian Grille is a restaurant chain of choice for many families, especially for special occasions. But, it's worth noting, you don't need any special reason to order a plate of calamari off the menu. Brio's crispy calamari has a few additional ingredients that make it stand out from other restaurant chains, served with pepperoncini along with arrabbiata and lemon aioli for dipping. The sauces elevates the dish to a whole new level. One Tripadvisor reviewer wrote, "Yes, it was very good fried calamari, but the two sauces served with it were amazing."
Carrabba's Italian Grill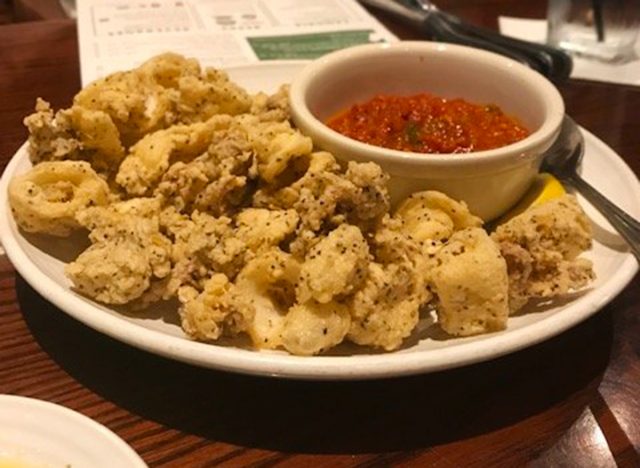 Calamari With Marinara & Ricardo Sauce (1 order): 1230 cal, 92 g fat (24 g saturated fat), 2570 mg sodium, 66 g carbs (5 g fiber, 7 g sugar), 33 g protein
Carrabba's Italian Grill is another beloved Italian chain with great calamari to enjoy as a starter before your pasta arrives. Carrabba's version is hand-breaded to order, giving you that perfect chewy and crunchy balance in texture. For dipping, you'll also receive marinara sauce and Carrabba's signature Ricardo sauce. The Ricardo sauce is a lemon butter sauce that fans love so much that they have attempted to recreate it and share copycat recipes online. One calamari fan shared on Tripadvisor, "I always get the fried calamari with the Ricardo dipping sauce with my meal." Another praised how the calamari was prepared on Tripadvisor, sharing, "The Calamari was cooked to perfection."
Romano's Macaroni Grill
Calamari Fritti (1 order): 760 cal, 55 g fat (9 g saturated fat), 700 mg sodium, 33 g carbs (4 g fiber, 7 g sugar), 33 g protein
With locations across 14 U.S. states, Romano's Macaroni Grill is an accessible choice for many families looking for a classic Italian meal. All of your favorites are on the menu, including fried calamari as an appetizer. This dish omes with a Calabrian pepper pesto and citrus black pepper aioli for a unique burst of flavor when used for dipping. "Started with some amazing soft calamari accompanied by a minced arrabbiata," raved one satisfied customer  on Yelp. "If you haven't tried, it's a must."
Legal Sea Foods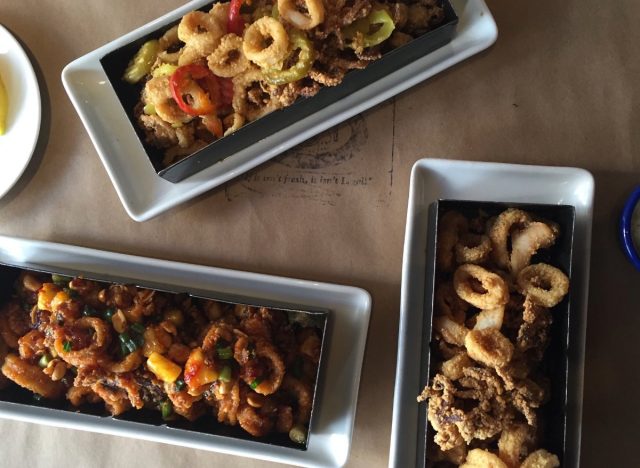 Calamari Fried Appetizer (1 order): 760 calories
If there is any region of the United States that is going to take its seafood seriously, it's the Northeast. Specifically, New England is where you'll find a chain of restaurants called Legal Sea Foods, with additional locations found around New England and the northeast. As you might guess, Legal Sea Foods is going to serve all of the usual suspects, including Crispy Calamari, which comes served with tartar sauce, and customers can also order the dish Rhode Island-style, meaning the calamari is tossed in hot peppers and garlic.