The product recommendations in this post are recommendations by the writer and/or expert(s)
interviewed and do not contain affiliate links. Meaning: If you use these links to buy
something, we will not earn a commission.
While entrées and sides get a lot of attention, appetizers are important, too. After all, these dishes come out first and set the tone for the rest of the meal—not to add any pressure or anything.
Those who love variety or are indecisive when it comes to eating at restaurants will be happy to hear that many top-rated dining chains provide plenty of appetizer combo options that check off all boxes. Some of the best appetizer combos feature a wide range of delicious foods, including crispy chicken fingers, mozzarella sticks, crunchy tortilla chips, onion rings, and more. Some spots even toss in unexpected yet equally delicious options like Southwestern eggrolls, chicken quesadillas, seafood hush puppies, and fried calamari. In other words, there's something for everyone.
From one highly popular steakhouse chain offering an appetizer combo with some of the tastiest comfort foods available to an iconic seafood spot that carries a starter made with crispy fried shrimp, here are 10 restaurant chains with the best appetizer combos.
The Classic Combo (1 order): 2230 cal, 38 g fat (1.5 g saturated fat), 5920 mg sodium, 189 g carbs (16 g fiber, 15 g sugar), 83 g protein
Perhaps one of the most recognizable casual-dining chains out there, Applebee's whips up a wide range of tasty dishes—from juicy burgers to filling desserts. The next time you stop at one of its locations, be sure to give the Classic Combo appetizer a try. Made with boneless chicken wings, spinach and artichoke dip, tortilla chips, chicken quesadillas, and mozzarella sticks, this app is everything you'd want in a starter, and then some.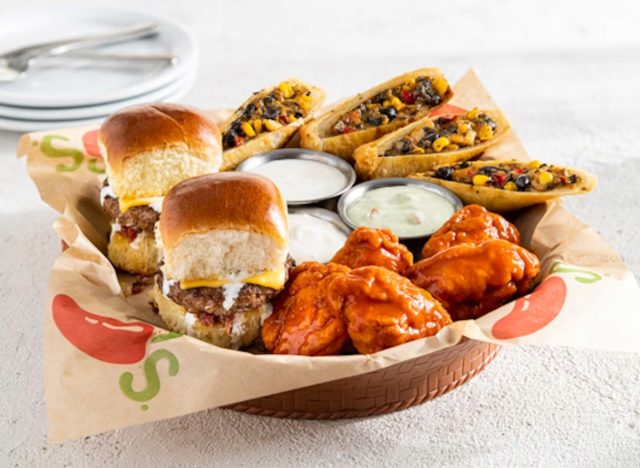 Tripple Dipper (Big Mouth Bites, Boneless Buffalo Wings, Southwestern Eggrolls): 2010 cal, 137 g fat (33 g saturated fat), 5120 mg sodium, 122 g carbs (10 g fiber, 19 g sugar), 110 g protein
Those who want variety should head on over to Chili's. The popular chain offers a couple of different appetizer combos that allow you to customize them to your liking. First up is Chili's Triple Dipper option, which lets you choose any three appetizers, including bone-in wings, boneless wings, brisket quesadillas, chicken bacon ranch quesadillas, Southwestern Eggrolls, fried mozzarella, crispy chicken fingers, sliders, and more.
For something lighter, try the chain's Dip Trio. Pick any three dips, including skillet queso, white queso, fresh salsa, fresh guacamole, and house-made ranch dressing. Even better? This pick is served with a heaping platter of crunchy tortilla chips. Soups, salads, and drinks can be added to both appetizer options for an extra fee.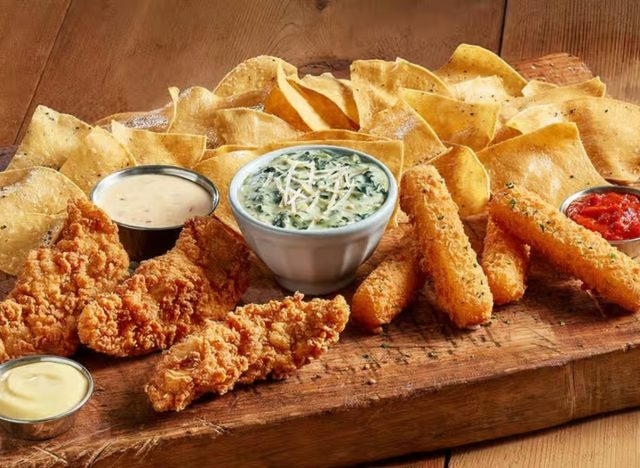 Ruby's Signature Sampler (1 order): 1400 cal, 72 g fat (24 g saturated fat), 3290 mg sodium, 126 g carbs (9 g fiber, 11 g sugar), 63 g protein
Ruby Tuesday's Signature Sampler is an excellent option for customers who want to try it all. Big enough to feed the whole table, this spread has juicy boneless wings, creamy spinach artichoke dip, and melt-in-your-mouth mozzarella sticks. Listed as one of the restaurant's featured menu items, enjoy this dish before one of its new entrées, like the New York strip steak or T-bone steak, both served with a baked potato.
The popular restaurant, which has over 200 locations throughout the country, was founded in Knoxville, Tenn., over 50 years ago and has become one of the country's most well-known restaurant chains. Besides its Signature Sampler, other dishes that deserve a try include the house-baked soft pretzels, BBQ chicken cobb salad, grilled salmon, and chicken fresco.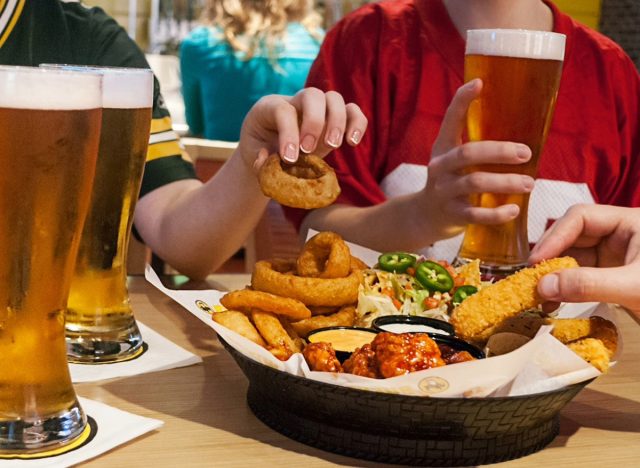 House Sampler (1 order): 2410 cal, 55 g fat (6 g saturated fat), 6660 mg sodium, 199 g carbs (19 g fiber, 28 g sugar), 81 g protein
Started in Columbus, Ohio, over 40 years ago, Buffalo Wild Wings has grown into one of the largest casual-dining chains in the world, with over 1,200 locations globally. The sports bar chain has built its reputation on its buffalo wings and sauces, but its appetizer combos deserve a mention, too. The restaurant offers two appetizer platters. The first is the House Sampler, a large spread with piles of chicken wings, nachos, mozzarella sticks, onion rings, dips, and more. Its other appetizer combo option is the Chips & Dip Trio, served with crispy tortilla chips, salsa, queso, and guacamole.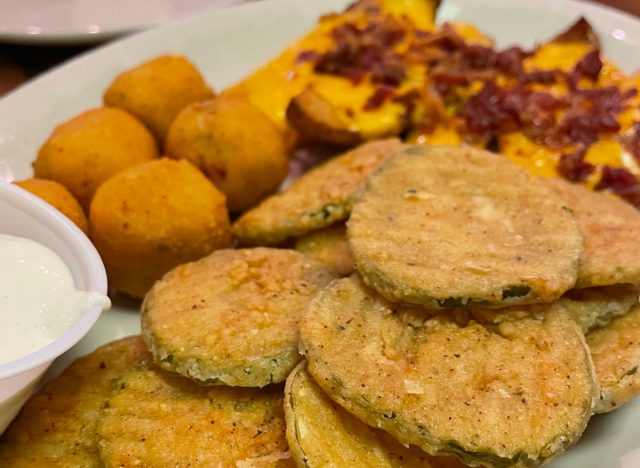 Combo Appetizer (Rattlesnake Bites, Fried Pickles, Tater Skins): 1100 cal, 72 g fat (32 g saturated fat), 3120 mg sodium, 69 g carbs (7 g fiber, 3 g sugar), 45 g protein
Freshly baked bread, hand-cut steaks, and homemade sides may be the first things that come to mind when you think of Texas Roadhouse, but the steakhouse chain offers so much more than just that. For starters, the Southwestern-themed chain carries a combo appetizer that blows all the others out of the water.
Pick three of the chain's beloved starters. Your choices include boneless buffalo wings in either mild or hot sauce, fried pickles, loaded potato skins, or "Rattlesnake Bites," the restaurant's folksy named take on fried jalapeño poppers. The platter also comes with your choice of two dipping sauces.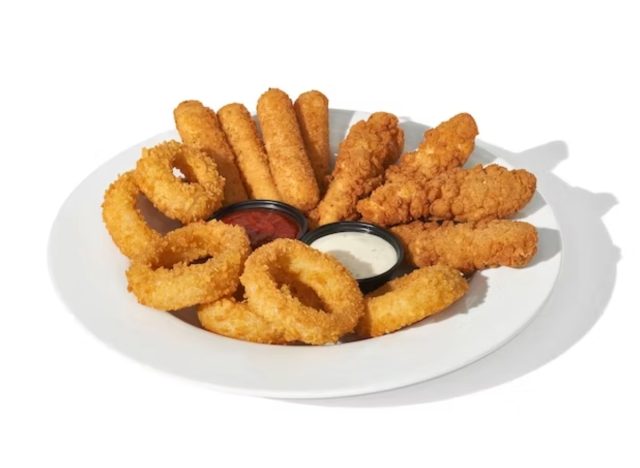 Appetizer Sampler (with marinara sauce): 1450 cal, 74 g fat (19 g saturated fat), 3590 mg sodium, 136 g carbs (10 g fiber, 12 g sugar), 60 g protein
IHOP is noted for its eggs and pancakes platters, but its appetizer sampler is great to order if you stop by the iconic chain during lunch or dinner hours (or, go ahead and order it with breakfast—it's that good). It comes with a mixture of different finger food favorites, including crispy mozzarella sticks, onion rings, and four buttermilk chicken breast strips made with all-natural chicken. A few dips, such as marinara sauce and your choice of honey mustard, ranch, or IHOP sauce, are also included.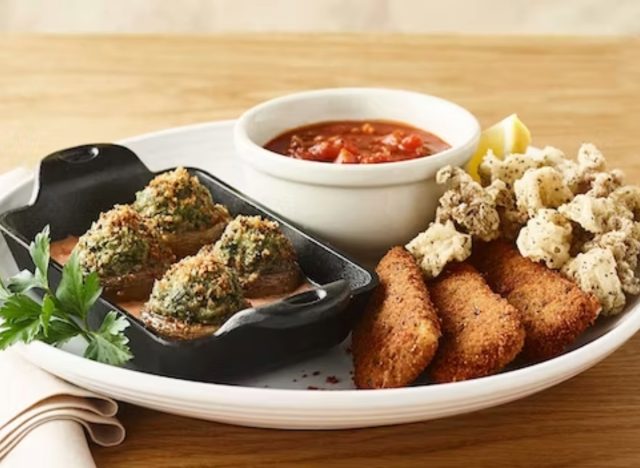 Classic Combo (1 order): 1390 cal, 104 g fat (34 g saturated fat), 3160 mg sodium, 59 g carbs (6 g fiber, 12 g sugar), 55 g protein
Carrabba's Italian Grill has become a go-to destination for signature Italian-American dishes made in a flash, like chicken parmesan, veal marsala, and spaghetti with meatballs. It also has a pretty excellent appetizer combo, dubbed the Classic Combinations. The plate is piled with hand-breaded calamari, mozzarella marinara, and four-cheese and sausage-stuffed mushrooms, all served with a side of tangy marinara sauce.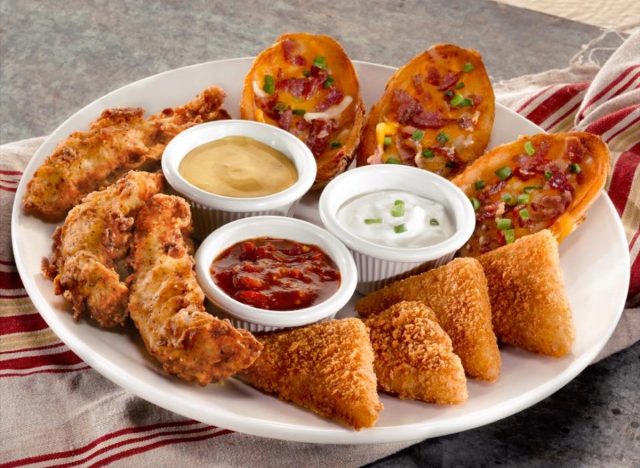 Top-Shelf Combo (1 order): 1880 cal, 132 g fat (48 g saturated fat), 3300 mg sodium, 74 g carbs (4 g fiber, 9 g sugar), 88 g protein
O'Charley's calls its appetizer combo the Top-Shelf Combo, and, honestly, this makes sense. This top-notch appetizer combo comes with the chain's famous chicken tenders, plus spicy Jack cheese wedges and loaded potato skins made with melted cheese, bacon, and chopped green onions. Enjoyed with a refreshing fountain drink and one of the restaurant's new sandwiches or wraps, and you have the recipe for a delicious meal.6254a4d1642c605c54bf1cab17d50f1e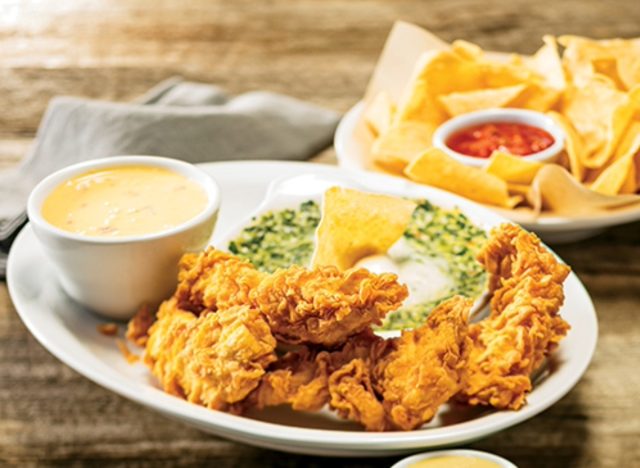 Cheddar's Trio Sampler (1 order): 2360 cal, 154 g fat (58 g saturated fat), 4410 mg sodium, 139 g carbs (15 g fiber, 29 g sugar), 106 g protein
If your idea of a great appetizer involves a variety of comfort foods, Cheddar's Scratch Kitchen is for you. Started in 1979, the Texas-based chain has an appetizer combo, dubbed the Cheddar's Trio Sampler, that comes with a bevy of fun snack foods, including four hand-breaded chicken tenders, Santa Fe spinach dip, homemade queso, salsa, and house-fried tortilla chips.
Run Across America Sampler (1 order): 1560 calories (additional nutrition information unavailable)
Bubba Gump—yes, the restaurant is named after two characters from the 1994 film Forrest Gump—has made a name off its delicious seafood dishes. Hence, it only makes sense its Run Across America appetizer samplers are filled with some of the restaurant's delectable seafood offerings. Big enough to satisfy the whole table, this pick features fried shrimp, seafood hush puppies, crispy chicken tenders, Bubba's Far Out dip, and tortilla chips. But that's not all. It also includes an array of dips and sauces, including cocktail sauce, remoulade sauce, and a tangy bourbon sauce.