The product recommendations in this post are recommendations by the writer and/or expert(s)
interviewed and do not contain affiliate links. Meaning: If you use these links to buy
something, we will not earn a commission.
If you ever lived in the northern parts of the Midwest, or have been lucky enough to visit, you are probably familiar with the squeaky joy of cheese curds. Whether eaten straight from the package or deep fried with dipping sauce—or, even served over fries and gravy, as your Canadian neighbors do it—they're hard to resist.
Humans have been crisping up small bites of cheese as a little treat since the days of ancient Rome, according to Radio Milwaukee. The Romans called them globuli. These primitive curds were fried in olive oil and rolled in honey. In modern times, an increasing number of restaurant chains have been catching on to the joys of fried cheese, too, which works rather well as an alternative to French fries.
Wisconsin-based Culver's may have been the first to offer fried cheese curds as a side, but it's certainly not the last. Right now, there are many places where you can enjoy these crispy, cheesy fingerfoods around the United States. Here are 10 of the very best spots for cheese curds across America.
A&W
Cheese Curds (regular): 570 cal, 40 g fat (21 g saturated fat), 1220 mg sodium, 27 g carbs (2 g fiber, 3 g sugar), 27 g protein
Opened as a root beer stand in California over 100 years ago, A&W now has over 450 locations around the U.S. The chain currently features two styles of cheese curds on its menu. While you can't go wrong with the traditional-style curds, made with white Wisconsin cheddar, there's a lot to love about the kicked up sriracha style that's got a little heat.
Buffalo Wild Wings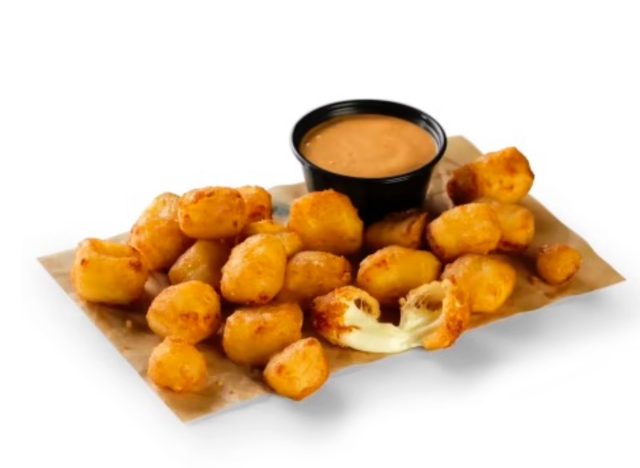 Cheddar Cheese Curds With Southwestern Ranch Dressing (side): 870 cal, 74 g fat (28 g saturated fat), 1980 mg sodium, 21 g carbs (2 g fiber, 3 g sugar), 29 g protein
"B-Dubs" is best known for its wings, but the popular sports bar chain dishes up other craveable bites, too. The cheddar cheese curds side can be a meal in and of itself if the mood strikes. The cheese is battered and then deep fried, and served with the chain's spicy southwestern ranch dressing. Pro-tip: You can normally order any of the sauces on Buffalo Wild Wings menu to dip your fried cheese in—and you absolutely should.
Cheddar's Scratch Kitchen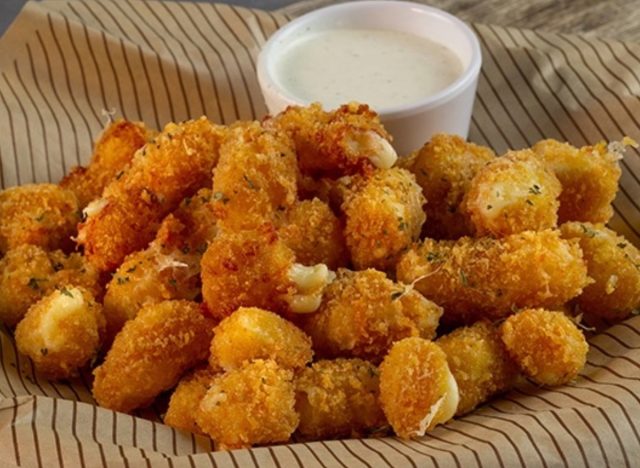 Wisconsin Cheese Bites (1 order): 1200 cal, 89 g fat (38 g saturated fat), 125 mg sodium, 49 g carbs (5 g fiber, <1 g sugar), 52 G protein
With over 180 locations primarily in the Midwest and Southern states, Cheddar's is a growing restaurant chain that makes everything on the menu to order. They offer an exceptionally crispy version of fried curds, that are and-battered, lightly fried. The Wisconsin bites are served with a side of homemade ranch dressing.6254a4d1642c605c54bf1cab17d50f1e
Cousin's Subs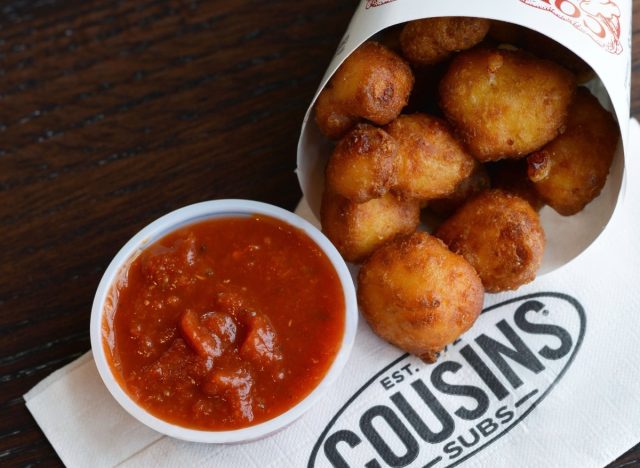 Wisconsin Cheese Curds (Regular): 680 cal, 56 g fat (27 g saturated fat), 860 mg sodium, 13 g carbs (0 g fiber, O g sugar), 30 g protein
Born from two cousins' quest for New Jersey-style subs all the way out in Wisconsin, and now partially owned by former Green Bay Packers receiver Donald Driver, Cousin's serves cheese steaks and classic sandwiches that are grilled to order. You can pair one of these sandwiches with a large or small side of crispy curds that you can order fried to order when you get to the restaurant. No sitting around—just gooey, freshly fried cheese.
Culver's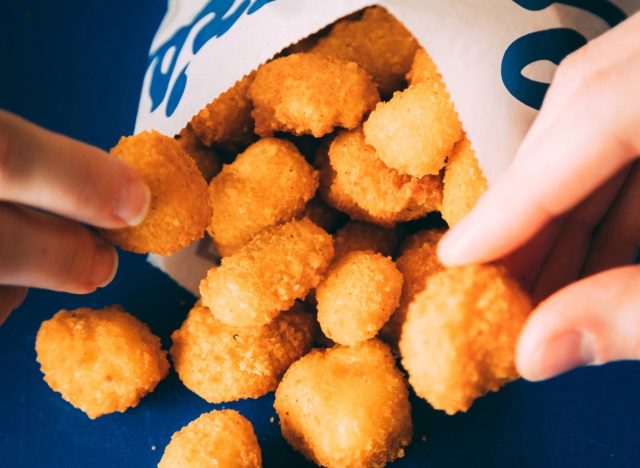 Wisconsin Cheese Curds (medium): 510 cal, 25 g fat (12 g saturated fat), 1230 mg sodium, 51 g carbs (0 g fiber, 4 g sugar), 20 g protein
This midwestern chain is famous for its deceptively simple butter burgers, but also for being one of the first to put cheese curds on the menu. They're made using fresh, unaged yellow and white Wisconsin cheddar, which is breaded and then deep fried to a crunchy, golden brown. The cheddar curds are provided exclusively to Culver's by La Grander Hillside Dairy in Stanley, Wis.
Dairy Queen
Cheese Curds (1 order): 500 cal, 34 g fat (19 g saturated fat), 990 mg sodium, 26 g carbs (0 g fiber, 1 g sugar), 24 g protein
Among the various kinds of cheese curds on this list, DQ's curds are probably the closest to a tater tot texture, and with the chain's over 4,000 locations around the US, they're probably the most widely available as well. These poppable bites come in regular and large sizes, and they're particularly melty compared to the rest.
Freddy's Frozen Custard and Steakburgers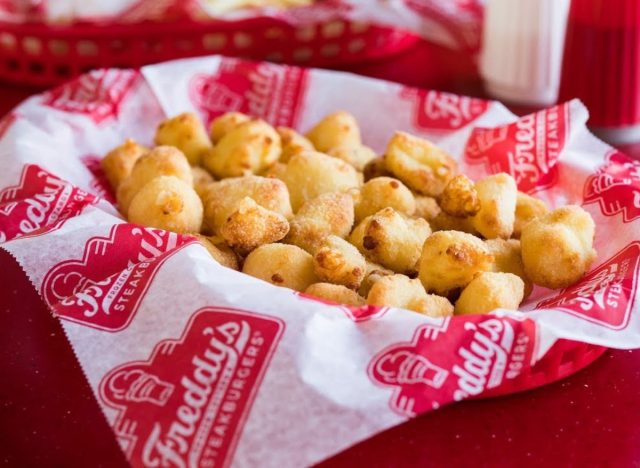 Regular Cheese Curds (1 order): 520 cal, 38 g fat (19 g saturated fat), 1180 mg sodium, 20 g carbs (0 g fiber, 1 g sugar), 24 g protein
With about 500 locations nationally, and many of them in Texas, Freddy's is a great place for homesick Midwesterners and cheese enthusiasts to get their fried cheese fix. The chain's curds, made with premium white cheddar cheese curds lightly covered with butter crumbs and fried, achieve the ideal crispy-to-gooey ratio in each bite.
Long John Silver's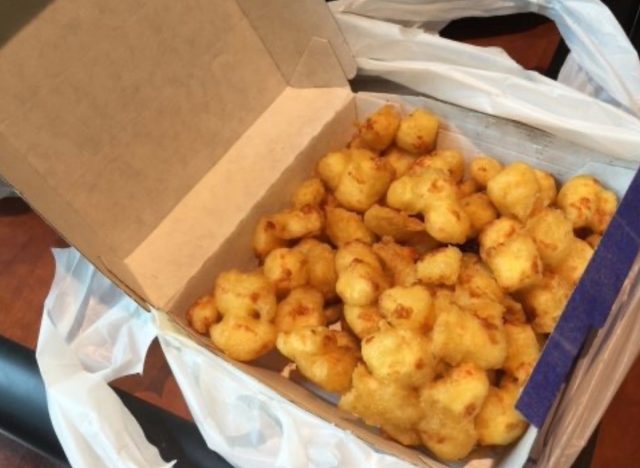 Nutrition information unavailable.
You might not expect a seafood-focused fast-food restaurant to have a strong entry in the cheese curd department, but if Long John Silver's knows anything, it's how to deep-fry food. The chain keeps it simple with these cheese bites, made with squeaky Wisconsin cheddar and breaded in the same style as its fish.
Tom's Drive In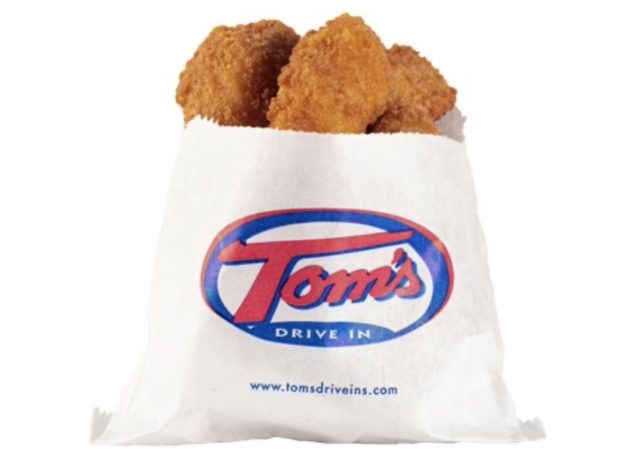 Nutrition information unavailable.
Since 1960, this small Wisconsin micro chain has been serving well-priced burgers and milkshakes to hungry locals. It also serves large, crunchy fried cheese curds that make its drive-ins worth seeking out. The cheesy sides come in small, regular, large, and box sizes. Yep, you can order a whole darn box of fried cheese curds at Tom's, and why wouldn't you?
Zaxby's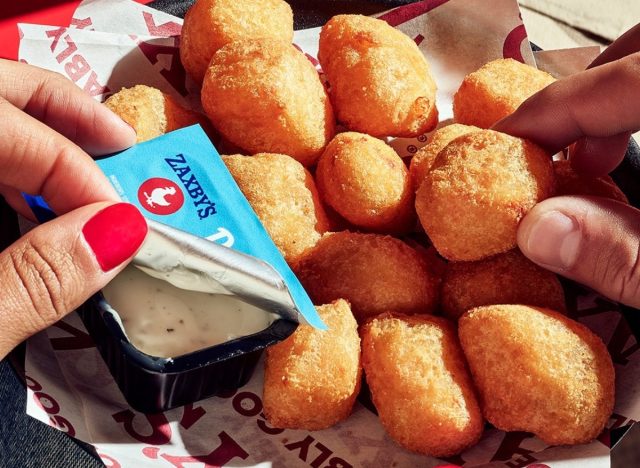 Fried White Cheddar Bites (1 order): 700 cal, 46 g fat (21 g saturated fat), 1550 mg sodium, 46 g carbs (3 g fiber, 2 g sugar), 27 g protein
Launched in Georgia in 1990 by two friends who wanted to serve good food at great prices, Zaxby's has spread to about 900 locations nationwide, with many in the South. There you can find fried white cheddar bites that are super crisp and customizable. Zaxby's is known for its creative sauces, and there are 13 varieties available for dipping your fried cheese in, such as hot honey mustard, sweet and spicy, buffalo garlic blaze, and of course, the house's signature Zax Sauce.