The product recommendations in this post are recommendations by the writer and/or expert(s)
interviewed and do not contain affiliate links. Meaning: If you use these links to buy
something, we will not earn a commission.
Delighting diners since the days of ancient Greece, the decadent cheesecake has been a fixture on restaurant menus in America for decades, joining other popular options like apple pie, carrot cake, and tiramisu.
Often made with cream cheese, ricotta, or curd, depending on the style, this dessert has evolved and become more inventive through the years. Today, you'll find an endless variety of options, incorporating everything from fresh fruit, salted caramel, and rich chocolate to seasonal ingredients like pumpkin. Some restaurants even put their own unique touches on the celebrated dish for a truly next-level experience.
Making cheesecake from scratch can be tricky, which is all the more reason to enjoy it at a local restaurant chain. Not to mention, dining establishments are constantly churning out new flavor combinations that keep things exciting. Scroll ahead for 10 restaurant chains that serve the best cheesecake.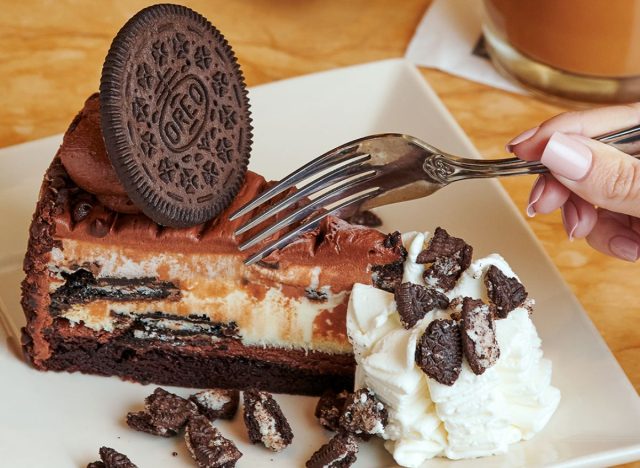 Oreo Dream Extreme Cheesecake (Per Serving): 1510 cal, 93 g fat (51 g saturated fat), 800 mg sodium, 166 g carbs (7 g fiber, 122 g sugar), 15 g protein
It's no surprise that Cheesecake Factory has some of the best cheesecakes out there—it's right there in its name, after all. The popular restaurant, which now has upwards of 300 locations, offers a (very) long list of flavors that cater to every palate.
For example, here you can expect the Oreo Dream Extreme cheesecake, made with the famous cookie; Godiva chocolate cheesecake, a flourless chocolate cake-cheesecake combo topped with chocolate mousse and whipped cream; and a birthday cheesecake option that features strawberry, vanilla, and chocolate mousse sandwiched between creamy cheesecake layers. And don't worry, Cheesecake Factory carries the classic options, too, like original and fresh strawberry.
Cheesecake (Per Serving): 720 cal, 43 g fat (23 g saturated fat), 430 mg sodium, 73 g carbs (1 g fiber, 60 g sugar), 11 g protein
Great entrées, delicious sides, and affordable prices: what's not to love about Chili's? The next time you stop by one of its locations do not skip out on dessert and make sure to order a slice of cheesecake. The restaurant prepares a sweet, straightforward version, boasting a smooth, creamy filling and a graham cracker crust. Even better? It's served over a fruity strawberry purée.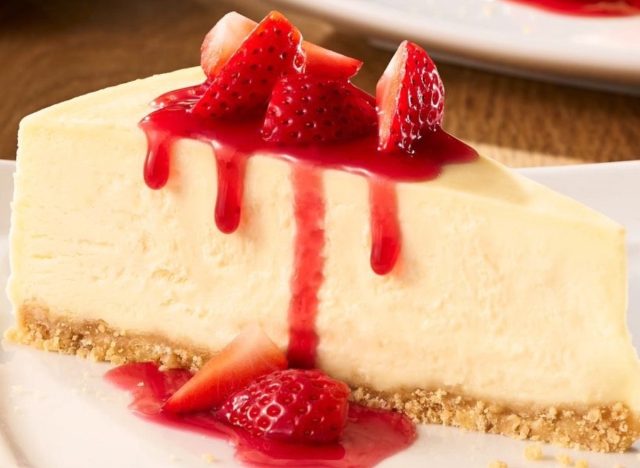 Sicilian Cheesecake With Strawberry Topping (Per Serving): 730 cal, 42 g fat (26 g saturated fat), 450 mg sodium, 78 g carbs (2 g fiber, 63 g sugar), 12 g protein
With nearly 900 locations, Olive Garden has been a go-to restaurant to enjoy meals with friends and family since 1982. Although most associated with its lunch and dinner menu items, like fettuccine Alfredo, breadsticks, and eggplant parmigiana, the chain also serves two types of cheesecake right now that incorporate the restaurant's own special touches. The first choice, the Sicilian cheesecake, features a ricotta cheesecake filling with a shortbread cookie crust and drizzled with strawberry sauce. The second option is a limited-time pumpkin cheesecake topped with caramel and whipped cream.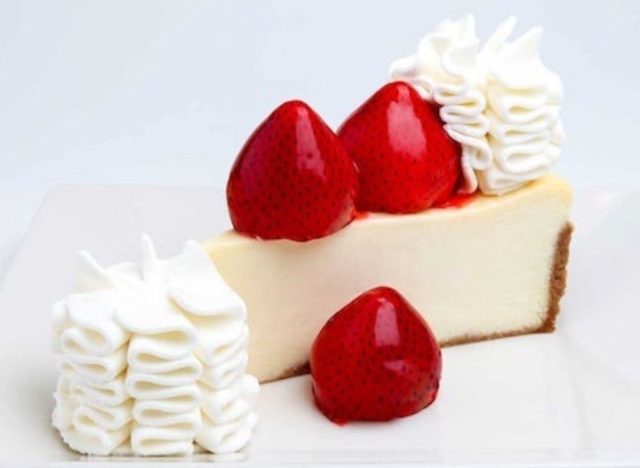 Nutrition information unavailable.
If you want to enjoy a delicious cheesecake in an elevated setting, look no further than Grand Lux Cafe. Owned by the Cheesecake Factory, the popular restaurant chain offers multiple cheesecake options, including its original and fresh strawberry variations, as well as a Godiva chocolate cheesecake, which is made with the famous Belgian chocolate, and a salted caramel cheesecake that is prepared with creamy caramel mousse and a blonde brownie all slathered in caramel sauce. One Yelp reviewer raved, "I thoroughly enjoyed the caramel cheesecake—it was heaven."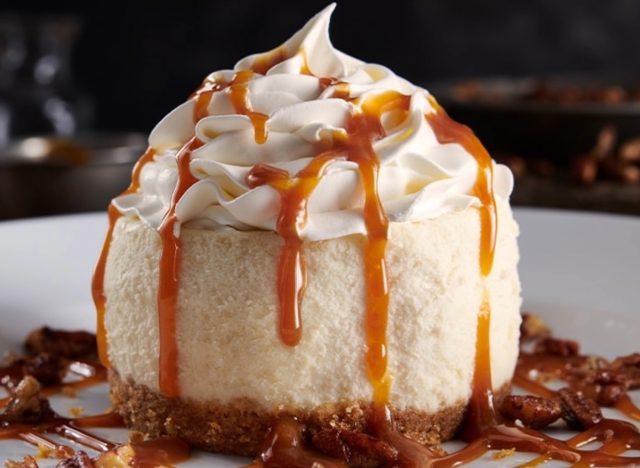 The Cheesecake (Per Serving): 1270 cal, 82 g fat (37 g saturated fat), 970 mg sodium, 117 g carbs (4 g fiber, 79 g sugar), 18 g protein
It's easy to associate LongHorn Steakhouse with beef, but the Atlanta-founded chain whips up a pretty great cheesecake, too. The famous steakhouse, which opened up in the 1980s, offers a decadent dessert option, simply titled "the Cheesecake." The 10-ounce indulgence features a creamy filling placed atop a honey graham cracker crust and plated with whipped cream, candied pecans, and caramel. The crunchy pecans and the smooth cheesecake center provide the perfect balance of texture, while the whipped cream and caramel act as excellent finishing touches.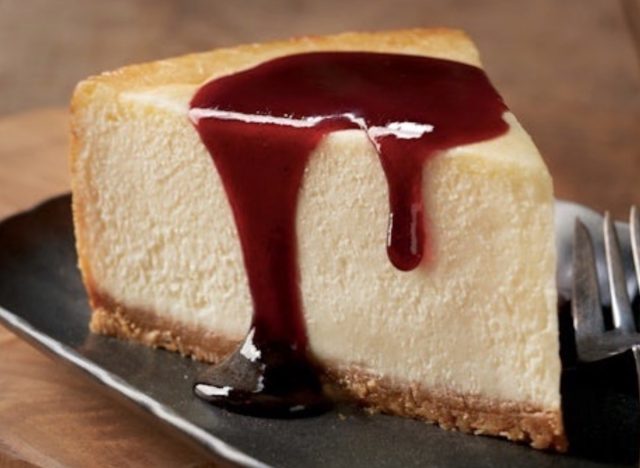 Cheesecake with Raspberry Sauce(Per Serving): 1040 cal, 64 g fat (38 g saturated fat), 690 mg sodium, 98 g carbs (2 g fiber, 83 g sugar), 16 g protein
Outback is another steakhouse that includes a delicious cheesecake dessert on its menu. The Aussie-themed chain, which has over 600 locations, whips up oversized slices of New York-style cheesecake served with your choice of raspberry or chocolate sauce, or you could order it plain if you'd like, too. "I love the cheesecake," wrote one Tripadvisor reviewer. " The portion was gigantic."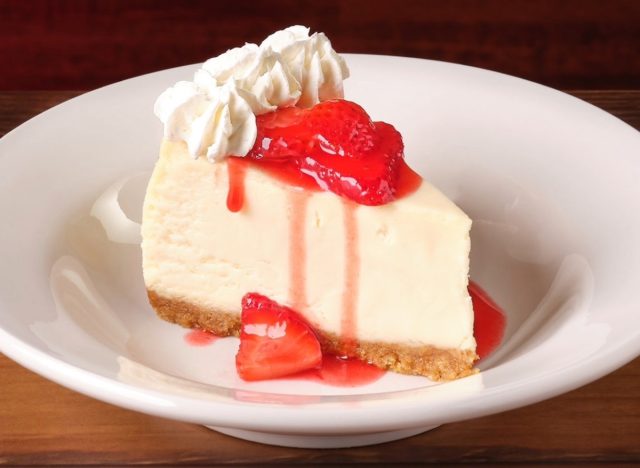 6254a4d1642c605c54bf1cab17d50f1e
Strawberry Cheesecake (Per Serving): 800 cal, 47 g fat (26 g saturated fat), 550 mg sodium, 76 g carbs (3 g fiber, 60 g sugar), 10 g protein
Started in 1993, Texas Roadhouse is the place to go for hand-cut steaks, amazing appetizers, top-rated margaritas (the chain makes 15 variations of the drink), and impressive sides, like fluffy mashed potatoes with gravy and Texas red chili. Ordering the cheesecake is also a great idea. Made New York-style, the chain's version of the buzzy dessert is topped with strawberry sauce and dotted with whipped cream. Enjoy it with a cup of coffee for the full effect.
Capital Grille Cheesecake (Per Serving): 1060 cal, 62 g fat (36 g saturated fat), 650 mg sodium, 110 g carbs (10 g fiber, 88 g sugar), 15 g protein
Capital Grille for the win. The high-end steakhouse, which burst onto the dining scene in 1990, serves top-notch steaks and incredible sides and prepares an enticing list of house made desserts, including cheesecake. Served brûlée-style with fresh berries, this elevated dessert option is unlike anything you've tried before. "The cheesecake crème brûlée was delicious!" one TripAdvisor reviewer commented. "It was the lightest and fluffiest crème brulee ever." An expertly made filet mignon with a side of red bliss mashed potatoes and an order of cheesecake—what could be better?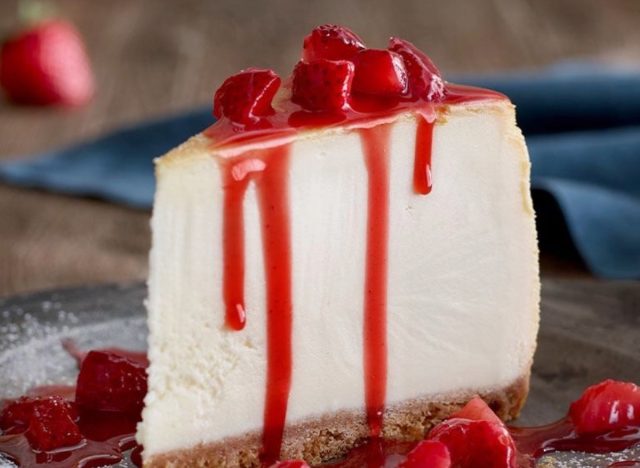 New York Cheesecake (Per Serving): 780 cal, 74 g fat (38 g saturated fat), 740 mg sodium, 96 g carbs (3 g fiber, 79 g sugar), 14 g protein
Ruby Tuesday has not one but two eye-catching cheesecake options on its menu that will surely hit the spot. The first one is the New York cheesecake, which, as described on the restaurant's website, is "thick, rich, and creamy" and comes with a generous serving of strawberry topping. For those who want a fall-themed dessert that highlights one of the season's most beloved flavors, try out the limited-time pumpkin cheesecake made with a pumpkin spice swirl and a graham cracker crust.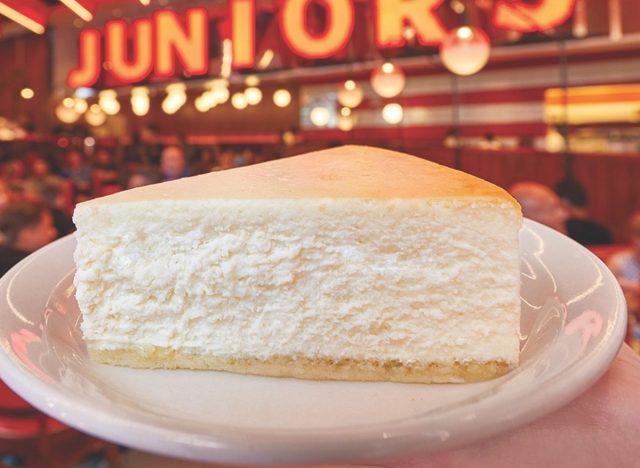 Nutrition information unavailable.
Although Junior's Restaurant only has a handful of restaurants throughout New York City and Connecticut, it still deserves a mention because it's a chain famous for its cheesecake. Started in Brooklyn over 70 years ago, Junior's has cemented itself as the place to go if you want unbeatable cheesecake available in a wide variety of options. Some of the flavors you can expect from here include the best-selling plain New York cheesecake, which was voted the best overall cheesecake by the Wall Street Journal. There's also the Brooklyn crumb cheesecake, which is half-coffee crumb cake, half cheesecake, and the brownie marble swirl cheesecake, made with a chocolate brownie bottom and a touch of chocolate brownie batter.
For those looking for even more inventive flavors, try out the pineapple cheesecake, topped with pineapple filling and a macaroon crunch, and the soon-to-be-launched Oreo cheesecake, featuring an Oreo buttercream and chocolate fudge frosting.