The product recommendations in this post are recommendations by the writer and/or expert(s)
interviewed and do not contain affiliate links. Meaning: If you use these links to buy
something, we will not earn a commission.
Fall is finally here, bringing promises of crisp, cozy nights, perfect for indulging in your favorite comfort foods. And alongside fan favorites like mac and cheese and chicken pot pie, there are few comfort foods quite as iconic as chili.
When done right, chili is a hodge-podge of some of the most tantalizing food qualities: warm, hearty, savory, spoonable, and sometimes spicy. It's also a perfect canvas for plenty of tasty toppings, from sour cream to an unreasonably big pile of shredded cheese.
There are plenty of fast-food chains where you can get a great cup of chili when you want it quickly and on the go. But when you want to sit back and really savor your bowl of this hearty dish, you should know that some restaurant chains throughout the United States serve a superior cup of chili.
Some of these chains rely on traditional recipes that have stood the test of time, while others mix it up by adding booze or swapping uncommon meats for the classic ground beef. Whether you're a chili traditionalist or want to get a little more adventurous, check out one of these 10 restaurant chains that serve the absolute best chili.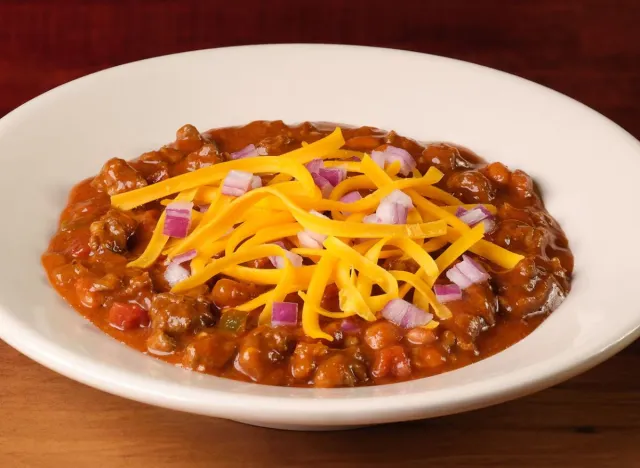 Texas Red Chili (with beans): 210 cal, 10 g fat (4 g saturated fat), 640 mg sodium, 14 g carbs (4 g fiber, 3 g sugar), 16 g protein
What makes the chili at Texas Roadhouse so special? For starters, the popular Texas Red Chili is made from scratch, just like many of the other craveable items you'll find on the steakhouse chain's menu.
It's also topped with flavorful additions like cheddar cheese and onions, and it's customizable to suit the customer's appetite and preferences. You can order it in a cup or a bowl, and with or without beans—so even bean haters aren't excluded from enjoying this comforting dish.
"I could eat Texas Roadhouse chili for every meal," one fan gushed on X.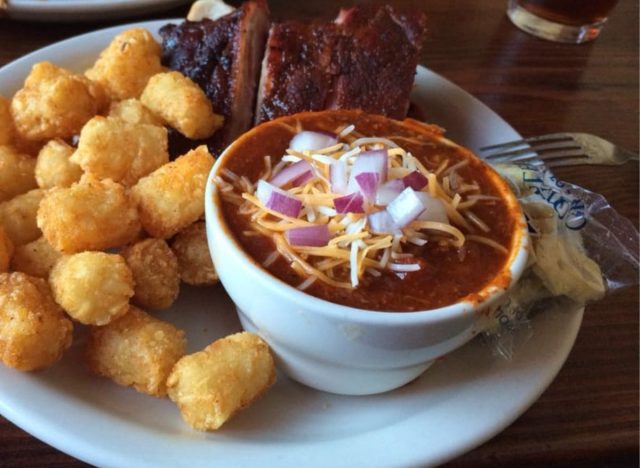 Fox Bros Bar-B-Q, a small barbecue chain with just a handful of locations in the Atlanta, Ga., area, currently serves the highest rated burger in the country. But don't let that distract you from its very special chili—customers say it's some of the best they've ever had.
The brisket in Fox Bros' popular Brisket Chili is Certified Angus Beef, a brand with exceptionally high quality standards. Fox Bros will top your bowl of this flavorful, smoky dish with diced red onions and cheese. The restaurant also serves it atop tater tots and combines it with mac & cheese for a classic chili-mac. Whichever way you choose to eat it, prepare yourself for a potentially transformative experience.
"That brisket chili is to die for, and is packed with so much flavor," one customer raved on Yelp earlier this year.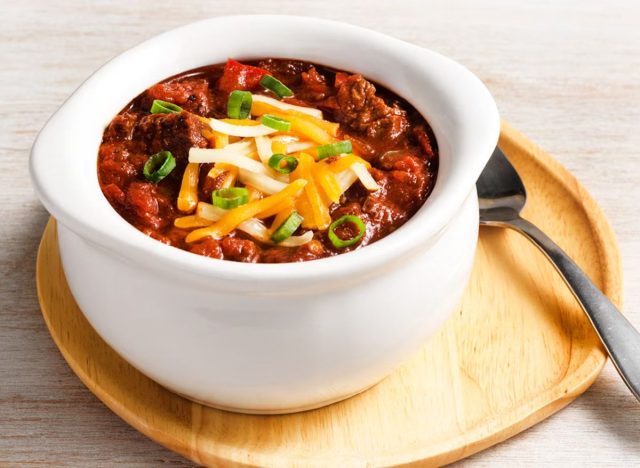 Tasmanian Chili (cup): 200 cal, 14 g fat (6 g saturated fat), 760 mg sodium, 7 g carbs (2 g fiber, 3 g sugar), 12 g protein
If you want an extra special cup or bowl of chili to warm your soul during the upcoming cold months, consider heading over to your local Outback Steakhouse. Unsurprisingly, the chain's chili features its signature beef item: steak. 
That's right! Outback's replaces the traditional ground beef in its Tasmanian Chili with bites of steak. Topped with cheese and green onions, this is a great option for chili lovers who aren't big on beans since the dish completely leaves out the legumes that some recipes contain. As for the taste, customers on social media have touted the Tasmanian Chili as "awesome" and their "favorite."
3-Way (Regular): 800 cal, 44 g fat (20 g saturated fat), 2,040 mg sodium, 50 g carbs (0 g fiber, 0 g sugar), 16 g protein
Cincinnati-style chili quite literally isn't your average chili. It's thinner, flavored with Mediterranean spices, and often served atop pasta, hotdogs, or fries with a generous layer of shredded cheese. Few places are quite as famous for serving this regional dish as Skyline Chili, a regional chain with more than 150 locations across four states. Its signature dish is called a "3-way," featuring the chain's original chili served over spaghetti and topped with cheese. You can also add beans or diced onions ("4-way") or both ("5-way").
More than 70 years after the Lambrinides family opened the first Skyline in 1949, the chain still uses the original secret family chili recipe that's been passed down through generations. Customers say you can always rely on these beloved restaurants for a great chili dish.
As one fan noted on Yelp back in 2020: "The world is full of chaos these days, but you can always count on the consistent deliciousness of Skyline."
Original Chili (cup): 300 cal, 17 g fat (6 g saturated fat), 1,000 mg sodium, 14 g carbs (1 g fiber, 2 g sugar), 14 g protein
Considering the name of this national restaurant chain, it's not really a surprise that chili holds a special spot on the menu. In fact, chili was on the menu at the original Chili's in Dallas, Texas, when it opened back in 1975, WFAA reported. The dish remains there to this day, giving customers the opportunity to get a taste of this menu classic nearly 50 years later.
That classic chili is made with the chain's original recipe, featuring beef, onions, and a signature blend of spices. As an extra touch, Chili's also tops the dish with cheese and tortilla strips.
Customers can enjoy this signature chili by itself, pair it with a salad, or order it as a side for their main dish. 
Chili (cup): 250 cal, 11 g fat (4 g saturated fat), 930 mg sodium, 20 g carbs (4 g fiber, 7 g sugar), 15 g protein
Sandwiches are undoubtedly the star at Potbelly, a fast-casual chain that's mostly concentrated in the Midwest. But if you're craving a stellar side to go with your toasted sub, you should know that customers adore Potbelly's Chili.6254a4d1642c605c54bf1cab17d50f1e
The chili features beef, kidney beans, bell peppers, and onions, all of which make for a flavorful and hearty dish. Fans on social media say this "10/10" chili is so good that they could eat it "every day."
"Potbelly chili has to be the most underrated soup out there," one fan raved on X, formerly known as Twitter.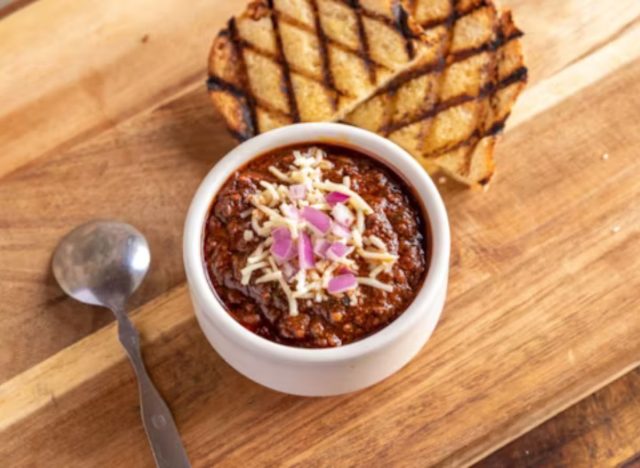 Brisket Chili (cup): 240 cal, 16 g fat (6 g saturated fat, 0.5 g trans fat), 680 mg sodium, 10 g carbs (3 g fiber, 4 g sugar), 15 g protein
Twin Peaks may be best known for its wings and waitresses, but customers also say it serves a pretty dang good cup of chili.
Its Brisket Chili, available in either a cup or a bowl, is topped with pepper jack cheese and red onions. It's also served with a slice of grilled sourdough that you can use to sop up some of that flavorful stew-like dish.
Some fans are so devoted to this chili that they say it's the best you can get aside from making it yourself. Others swear Twin Peaks' chili is even better than homemade version.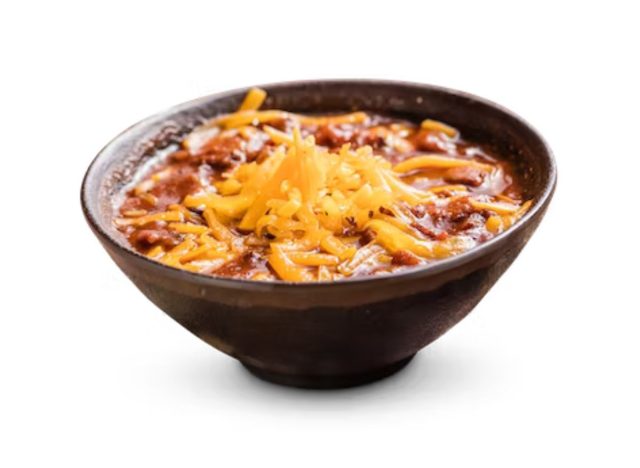 Dave's Famous Chili: 620 cal, 36 g fat (15 g saturated fat), 1,330 mg sodium, 41 g carbs (11 g fiber, 12 g sugar), 31 g protein
Famous Dave's might draw customers in with its big portions and smoked meats, but chili fanatics shouldn't skip the chain's version of the popular dish.
Dave's Award-Winning Chili is a scratch-made concoction that, unlike most chilis you'll see, includes hot link sausage. There's also hamburger, chili beans, onions, chipotle peppers, signature spices, and a touch of Dave's very own Rich & Sassy BBQ sauce. The result? A flavorful dish that customers can't get enough of.
"Famous Dave's got the best chili ever," a customer wrote on X last year.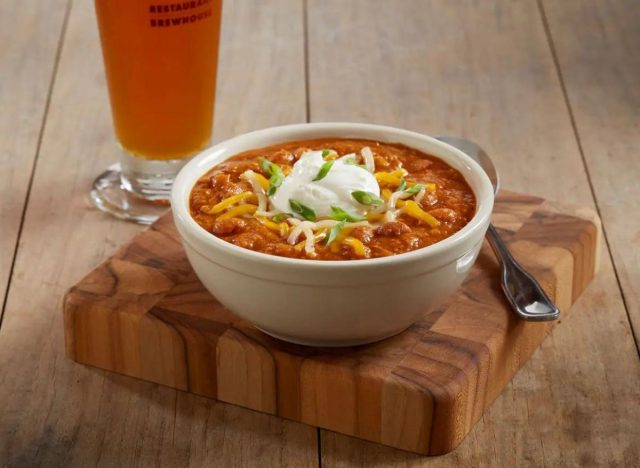 Piranha Pale Ale Chili (cup): 400 cal, 26 g fat (13 g saturated fat), 1,109 mg sodium, 22 g carbs (5 g fiber, 4 g sugar), 19 g protein
BJ's Restaurant & Brewhouse reaches for a unique ingredient when crafting its chili: booze. 
For the uninitiated, BJ's brews its own beers and serves them in its restaurants across the country. The chain adds one of those signature brews—the hoppy and citrusy Piranha Pale Ale—into its Piranha Pale Ale Chili.
"You might say it's the Piranha that gives our chili its bite," the chain riffs on its website.
The chili is topped with jack and cheddar cheeses, sour cream, and sliced green onions. Customers can enjoy cups or bowls of the chili, or up the indulgence factor even more by ordering it in a rustic bread bowl.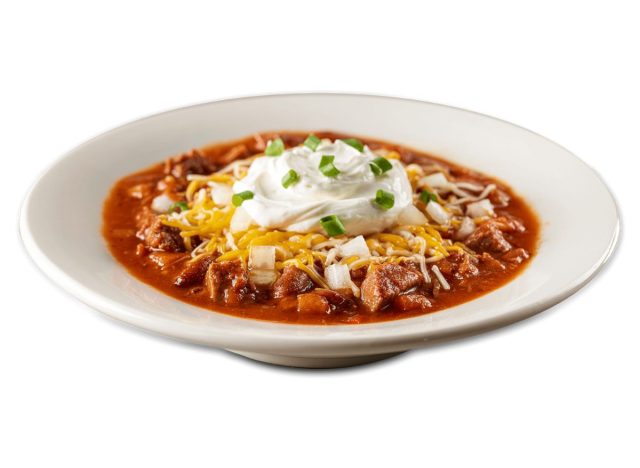 Fox Bros Bar-B-Q and Famous Dave's are proof that barbecue chains boast some of the most unique chili dishes out there. Smokey Bones, another barbecue chain with around 60 locations, is no exception to this rule.
The chain's Smoked Brisket Chili, as the name implies, features brisket in lieu of the traditional ground beef. Smokey Bones also packs the chili with pinto beans, peppers, onions, and tomatoes, and then tops it with cheddar jack cheese, onions, sour cream, and green onions. Customers have grown quite infatuated with that special chili.
"The way I am addicted to that Brisket Chili at Smokey Bones is crazy!" one fan wrote on X.