The product recommendations in this post are recommendations by the writer and/or expert(s)
interviewed and do not contain affiliate links. Meaning: If you use these links to buy
something, we will not earn a commission.
There's bread, and then there's garlic bread. An otherwise simple carb is instantly elevated to a crunchy, flavorful appetizer or side dish by the simple addition of garlic, often topped with a blend of parsley and parmesan cheese. Toasted to perfection, garlic bread is a popular shareable dish.
Whether you prefer yours as a loaf, breadsticks, or garlic knots, this app comes in all shapes and sizes. It is a simple dish to make at home, but what about on the days when you don't feel like cooking?
As you might imagine, pizza chains represent the majority of restaurants that include garlic bread on their menus, but they aren't the only places where you'll find them. Garlic bread is served in multiple chains across the United States. In fact, the garlic breadstick has risen in popularity as the appetizer of choice in the South. So, there's clearly a demand, and the following restaurant chains have risen to the occasion. Make sure to keep them in your back pocket the next time you are in the mood for some garlic-laden carbs.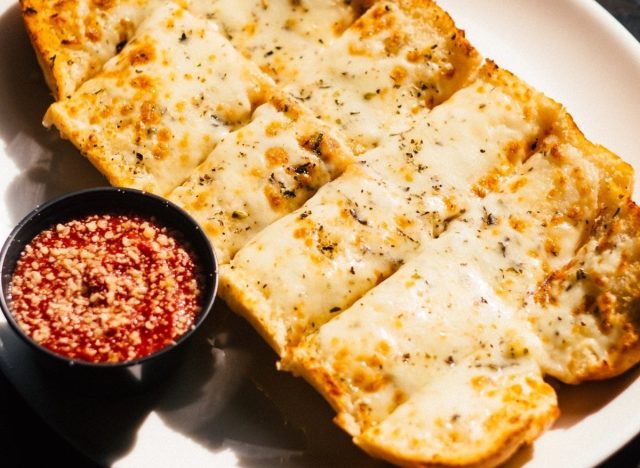 Cheese Bread: 830 cal, 42 g fat (26 g saturated fat), 1400 mg sodium, 83 g carbs (6 g fiber, 4 g sugar), 37 g protein
Pizza chains are a reliable source when looking for garlic bread, as most carry some form of them on their appetizer or sides menus. Some even take it a step further, like Mellow Mushroom, which knows exactly what the people want: melted cheese. Its cheese bread is the ultimate example of a great garlic bread, made with French bread "smothered in garlic butter, melted mozzarella and sprinkled with Italian seasoning." Dip it in a side of Mellow red sauce, and you may not even need a pizza afterward.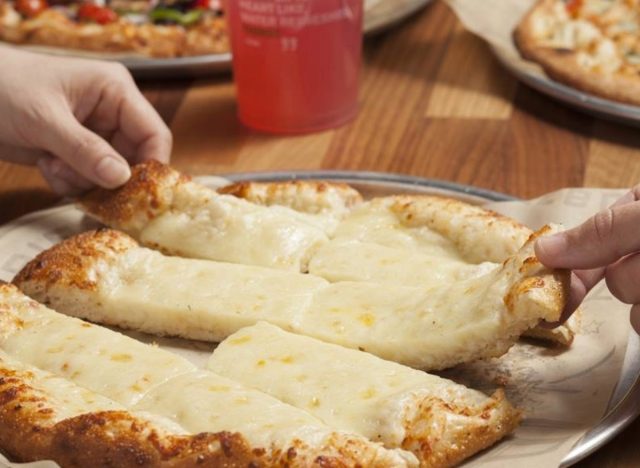 Per Serving: 1570 cal, 62 g fat (25 g saturated fat), 3330 mg sodium, 200 g carbs (6 g fiber, 9 g sugar), 54 g protein
Pizza chain Pieology also makes sure garlic bread fans are taken care of when they order take out or dine in. Its Garlic Cheese Bread is made with hand folded dough, garlic herb butter, and mozzarella romano. Don't forget to pick up a side of Pieology's house made red sauce for dipping.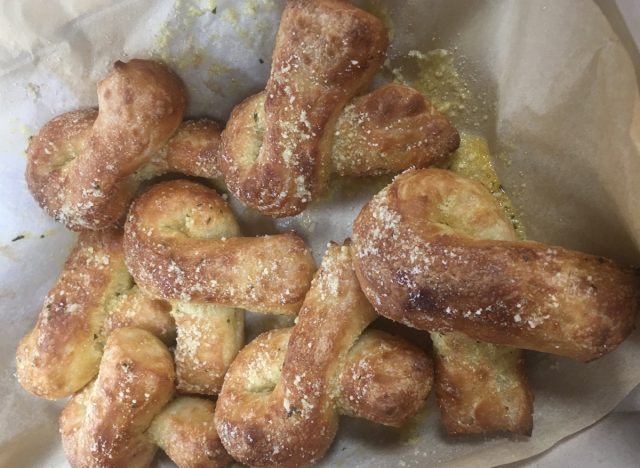 Per Serving (2 pieces): 220 cal, 11 g fat (4.5 g saturated fat), 220 mg sodium, 27 g carbs (1 g fiber, 1 g sugar), 5 g protein
The next time it's 10:00 p.m., and you're craving takeout pizza, Domino's is there in your time of need. As you build your late-night dinner, don't forget to add an order of Garlic Bread Twists to your basket. These are handmade "from fresh buttery-tasting dough and baked to a golden brown," according to the chain. The twists are then "drizzled with buttery garlic and Parmesan cheese seasoning," and each order comes with a side of marinara sauce.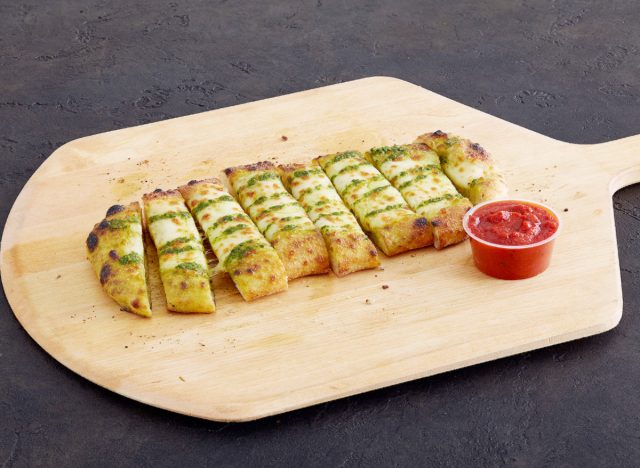 Per Serving: 750 cal, 21 g fat (11 g saturated fat), 1770 mg sodium, 101 g carbs (6 g fiber, 9 g sugar), 32 g protein
One of the most unique garlic breads you'll find comes from Blaze Pizza. The made-to-order pizza chain has a wide selection of toppings to customize your pizza however you choose, and that standout array of ingredients extends to its garlic bread—specifically, its Pesto Garlic Cheesy Bread. It's made with the chain's classic pizza dough, topped with shredded mozzarella cheese, oregano, chopped garlic, and the pièce de résistance: pesto drizzle. Two servings of red sauce for dipping are served on the side.
Per Serving: 470 cal, 17 g fat (4 g saturated fat), 983 mg sodium, 66 g carbs (4 g fiber, 6 g sugar), 13 g protein
BJ's Restaurant and Brewhouse serves all kinds of appetizers and entrées, but it is perhaps best known for its pizza. The pizza theme even extends to its dessert menu, where repeat customers enjoy ordering a warm and gooey Pizookie. To start things off, however, garlic fans will be happy to know that they can order a plate of Garlic Parmesan Breadsticks. These garlicky carbohydrates are topped with parmesan cheese and parsley and served with marinara sauce for dipping.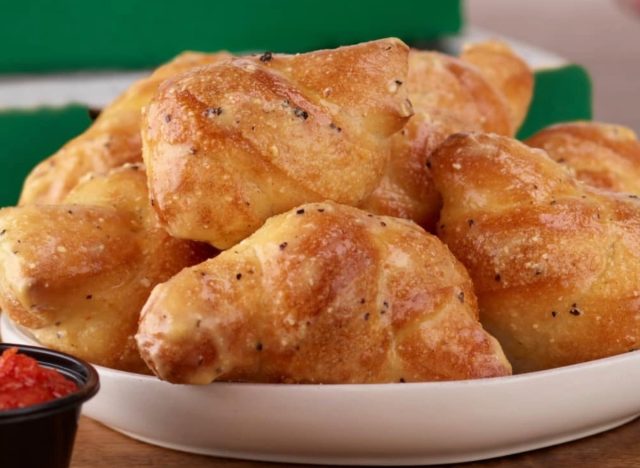 Garlic Knots (1 knot): 110 cal, 40 g fat (4.5 g saturated fat), 260 mg sodium, 14 g carbs (0 g fiber, 1 g sugar), 2 g protein
Papa John's gives its customers not one but two options for satiating those garlic bread cravings. First up are the Garlic Knots: one order includes eight knots made with fresh dough, topped with a garlic parmesan seasoning. Each order comes with Papa John's original pizza sauce for dipping. For an option that's perhaps a little more easily handheld, you can also order Garlic Parmesan Breadsticks. Rather than coming topped with seasoning, however, the breadsticks are topped with a special garlic sauce and parmesan cheese, served with that same pizza sauce for dipping.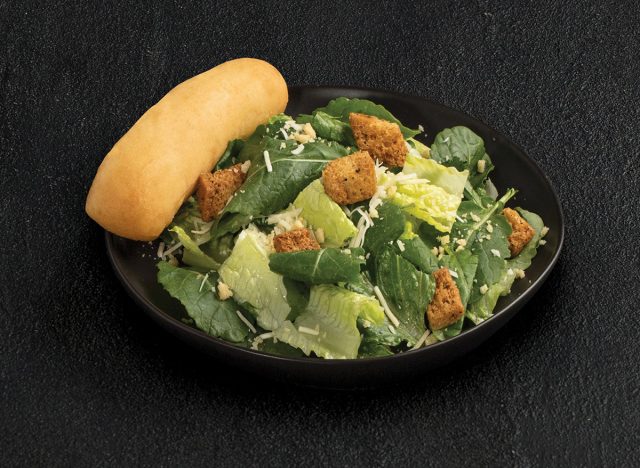 Party Tray (12): 2250 cal, 114 g fat (30 g saturated fat), 4320 mg sodium, 324 g carbs (12 g fiber, 36 g sugar), 20 g protein
Garlic breadsticks are abundant at TGI Fridays, if you know where to look. Order several of its pasta dishes, including the Cajun Shrimp and Chicken Pasta, or the Chicken and Broccoli Alfredo Tortelloni. Not feeling a rich and savory pasta dish? The garlic breadsticks also come as a side when you order a house salad. Or, to make things super simple, TGI Fridays has party trays of its garlic breadsticks, available for ordering when you have a lot of people over, or if you have a strong craving for garlic bread and you don't feel like sharing.6254a4d1642c605c54bf1cab17d50f1e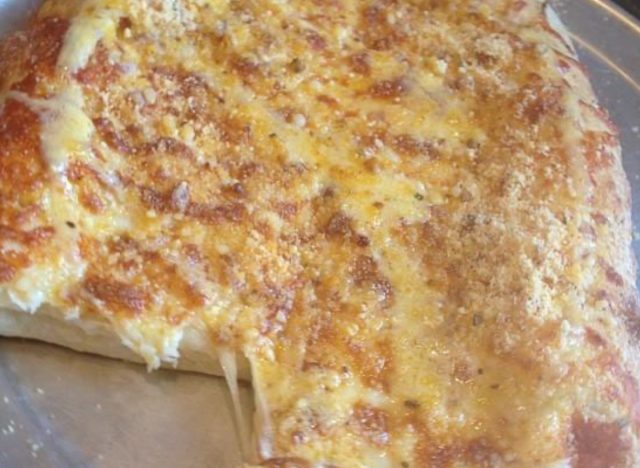 Cheezybread with Signature Pizza Sauce (1 piece): 120 cal, 2.5 g fat (1 g saturated fat), 270 mg sodium, 17 g carbs (1 g fiber, 3 g sugar), 4 g protein
The trend with most garlic breads is to cover freshly baked bread with parmesan cheese. Marco's Pizza takes things to the next level, topping its fresh-baked bread strips with three different kinds of cheese, as well as a garlic sauce to create its delectable Cheezybread. Each order of Cheezybread comes with a side of Marco's Pizza's original pizza sauce, as well as ranch dressing for dipping.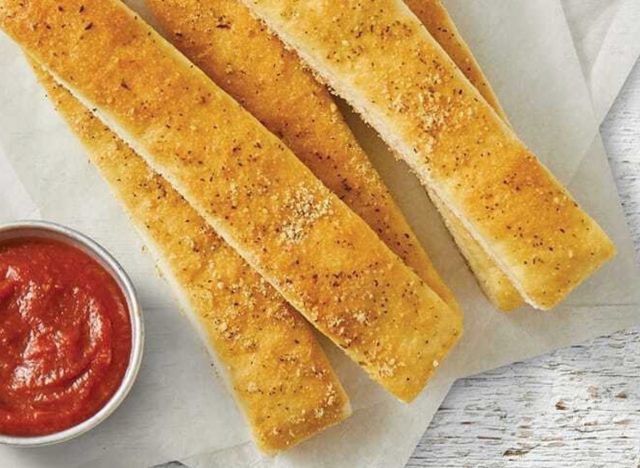 Garlic Cheesesticks (1 stick): 180 cal, 70 g fat (7 g saturated fat), 350 mg sodium, 21 g carbs (1 g fiber, 1 g sugar), 7 g protein
According to Pizza Hut's website, "nobody does breadsticks like the hut." Its breadsticks are sure to satisfy any hungry customer looking for their garlic bread fix, as the ones from Pizza Hut offer the perfect marriage of crispy on the outside yet soft on the inside. The bread comes seasoned with both garlic and parmesan and served with a cup of marinara sauce for dipping.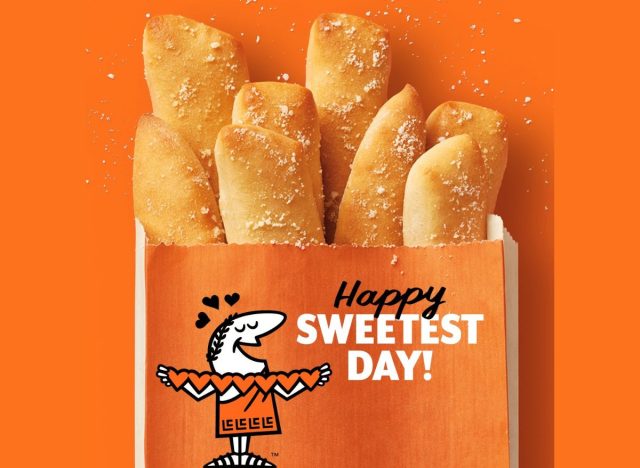 Crazy Bread (8 breadsticks): 800 cal, 22 g fat (4.5 g saturated fat), 1290 mg sodium, 128 g carbs (5 g fiber, 6 g sugar), 25 g protein
Little Caesars may want to contemplate changing its slogan from "Pizza Pizza" to "Garlic Bread Garlic Bread" to appease fans of the pizza chain's Crazy Bread. It's Little Caesar's take on breadsticks with butter and garlic sprinkled with parmesan cheese. Simply put, it's the perfect accompaniment to any slice of pizza. One Redditor also had a rave review for Little Caesar's Italian Cheese Bread, saying it's "the best cheesy garlic bread on the market bar none. You couldn't get better cheesy garlic bread at a 5-star Italian restaurant."