The product recommendations in this post are recommendations by the writer and/or expert(s)
interviewed and do not contain affiliate links. Meaning: If you use these links to buy
something, we will not earn a commission.
Cold sandwiches might offer convenience and minimal preparation, but a hot sandwich can be an especially comforting option when you're craving a cozy meal. Some swear by paninis. Others favor French dips. However, the hot sandwich landscape wouldn't be complete without the presence of subs, most notably the meatball sub.
Often associated with Italian-American cuisine, this hot sandwich typically consists of meatballs smothered in tomato or marinara sauce and topped with mozzarella or provolone cheese on toasted bread. When well-executed, the meatballs are tender, the cheese is gooey, and the bread has just the perfect amount of crunch, delivering a flavor-packed bite with varying textures.
If your mouth is already watering, there are several places where you can score this popular sandwich—and in a rather quick manner at that. Here are 10 chains that serve some of the best meatball subs.
Firehouse Subs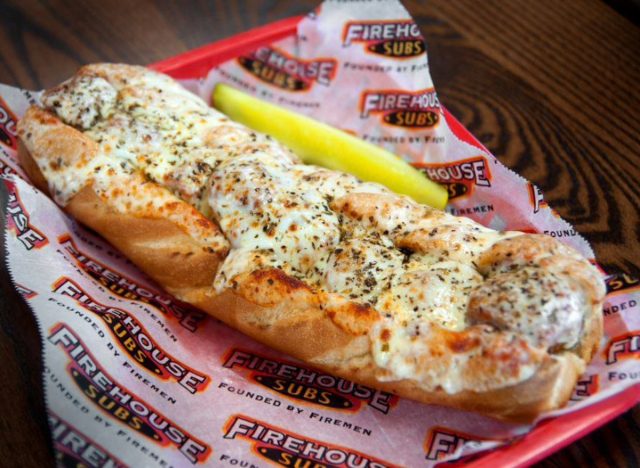 MEDIUM MEATBALL SUB: 830 cal, 51 g fat (19 g saturated fat) 1,930 mg sodium, 54 g carbs (4 g fiber, 9 g sugar), 37 g protein
Founded in 1994 by two former firefighter brothers, this sandwich chain boasts more than 1,250 locations across the United States. Peruse the menu and you'll encounter a selection of hot and cold subs, a few of which feature meatballs.6254a4d1642c605c54bf1cab17d50f1e
First, there's the classic meatball option, which has Italian meatballs, melted provolone, zesty marinara, and Italian seasonings, along with a dill pickle spear on the side.
"The meatball sandwich is an absolute must-have at the Firehouse in DFW," one Yelp reviewer wrote.
Then, for those seeking some heat, there's the Sweet & Spicy Meatball Sub. This has all of the ingredients found in the classic version but with the addition of Captain Sorensen's Datil Pepper Hot Sauce and red pepper flakes.
"I liked [the Sweet & Spicy Meatball Sub] so much I bought a bottle of their datil sauce, I've been using it on beef sliders and homemade meatball subs lol," one Reddit user shared.
Potbelly's Sandwich Shop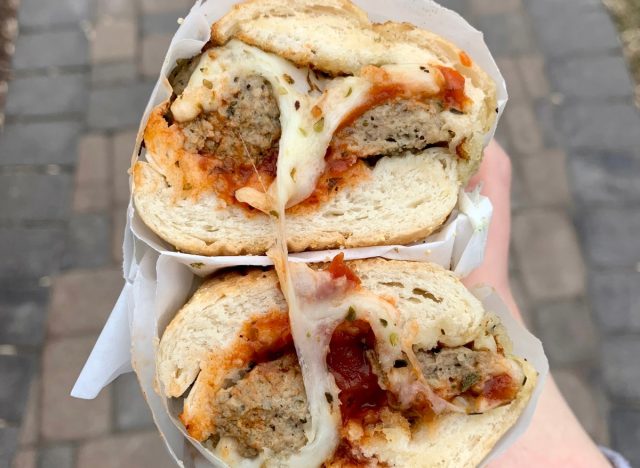 MAMA'S MEATBALL, ORIGINAL: 910 cal, 47 g fat (20 g saturated fat, 1 g trans fat) 1,990 mg sodium, 73 g carbs (6 g fiber, 5 g sugar), 44 g protein
Potbelly's Sandwich Shop got its start in Chicago back in 1977 and has since spread across the U.S. with more than 400 locations. Among the chain's hot subs is Mama's Meatball, which is made with homestyle beef and pork meatballs covered in marinara sauce, provolone cheese, and Italian seasoning.
One fan on X shared their love for the sandwich by asserting that "the best meatball subs of all time" are from Potbelly's. Another one described this sandwich as "God tier."
DiBella's Subs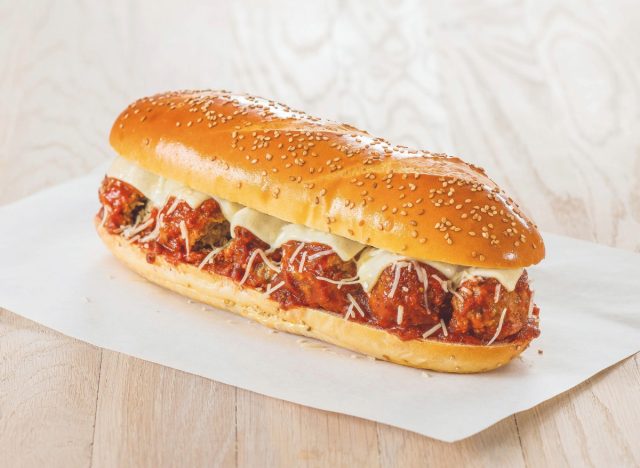 7-INCH ITALIAN MEATBALL SUB: 960 cal, 45 g fat (17 g saturated fat) 2,320 mg sodium, 92 g carbs (6 g fiber, 6 g sugar), 46 g protein
Operating 44 locations across five states, DiBella's Subs is known for serving classic American subs on fresh-baked bread. The chain's Italian meatball option features beef and pork meatballs cooked in marinara sauce. While the chain notes that the sandwich is traditionally made with mozzarella cheese, it encourages people to customize to their liking: "We think it's pretty great with grilled peppers and onions!"
Taking pride in its bread, the sandwich chain explains on its website that its sub roll dough is aged on a daily basis for a minimum of 16 hours, scored and seasoned by hand, and baked at a minimum of twice a day to ensure that every roll is "no more than a few hours out of the oven."
Capriotti's Sandwich Shop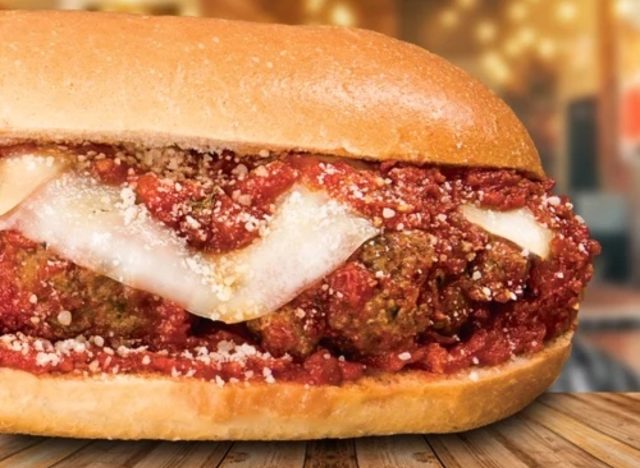 8-INCH HOMEMADE MEATBALL SUB: 850 cal, 48 g fat (19 g saturated fat, 2 g trans fat) 2,280 mg sodium, 70 g carbs (4 g fiber, 9 g sugar), 66 g protein
Recently named one of America's fastest-growing sandwich shops by Inc. Magazine, Capriotti's often receives attention for its Thanksgiving-themed sub, also known as "The Bobbie." However, if you're not in the mood for turkey, there are still plenty of other options on the menu—like the Classic Meatball. This sandwich is layered with the usual (but beloved) suspects: meatballs, marinara sauce, provolone, and for additional cheesiness, Romano cheese.
Lenny's Grill & Subs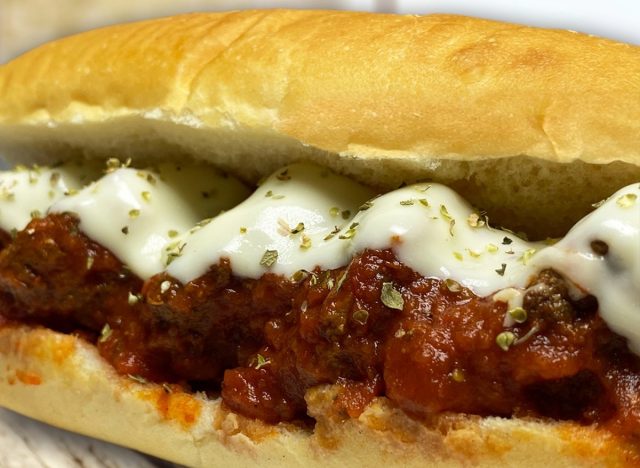 7.5-INCH MEATBALL SUB ON WHEAT: 880 cal, 49 g fat (21 g saturated fat), 2,750 mg sodium, 68 g carbs (6 g fiber, 12 g sugar), 44 g protein
Known for its made-to-order deli subs and Philly cheesesteaks, Lenny's Grill & Subs serves all kinds of sandwiches to customers in the southeastern and south central U.S. Standing alongside the Hot Italian and five different cheesesteak varieties is another hearty grilled option that one Yelp reviewer called a "hidden gem"—the Meatball Classic.
Served on a freshly baked white or wheat sub roll, this menu item is filled with Italian meatballs covered in marinara sauce and blanketed with melted Swiss American cheese, parmesan, and oregano. Customers may also further customize this sandwich by loading on additional toppings.
Dave's Cosmic Subs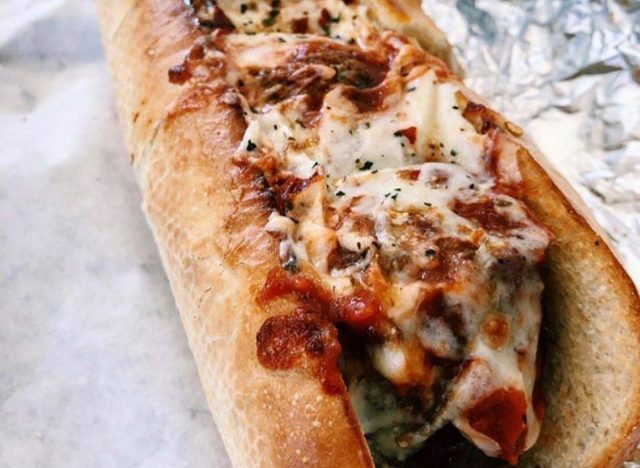 Nutrition information unavailable.
Described as a "rock 'n' roll sandwich shop," this Ohio-based chain serves all sorts of sandwiches, ranging from the classics to "creative cosmic creations." One tempting option is Dave's Best Meatball Ever, which is topped with three large meatballs, Dave's Cosmic Sauce (a creamy vinegar-based Italian dressing), fresh garlic, tomato sauce, provolone, and Romano cheese. The sandwich is then sprinkled with herbs and crushed red peppers. Customers can order this sandwich on Italian, wheat, gluten-free bread, or a bed of lettuce.
With a name as enticing as this one's, it's no wonder it's received rave reviews. One Yelp reviewer called the chain's meatball sub "nothing short of amazing," comparing the sandwich to "meatballs wrapped in cheesy garlic bread."
Fazoli's
MEATBALL SUB (PER ORDER): 1,050 cal, 29 g fat (26 g saturated fat, 2 g trans fat) 3,150 mg sodium, 61 g carbs (4 g fiber, 8 g sugar), 45 g protein
This fast-casual Italian-American restaurant chain dishes out comforting favorites like pasta, pizza, and subs. Plus, the eatery gives customers unlimited breadsticks throughout their meal when they dine in the restaurant.
For those craving even more bread, one popular menu item is the meatball sub. This sandwich starts with a toasted garlic roll and is then piled with the chain's famous meatballs, melted mozzarella, and another ingredient that's not traditionally seen on meatball subs: pepperoni.
As one fan noted on X, "Fazolis had a great, not good, great meatball sub."
Which Wich
REGULAR MEAT BALR: 550 cal, 23 g fat (11 g saturated fat), 1,370 mg sodium, 62 g carbs (1 g fiber, 6 g sugar), 23 g protein
This sandwich chain sets itself apart from the others by having customers select their order on a brown paper bag that lists the chain's ingredients. After choosing their toppings, signing their name, and handing in their order, customers will then receive their sandwich packaged in the same bag they marked up.
Listed under the chain's signature sandwich category are options like the pizza-inspired Za-Wich, Cali Club, Philly Cheesesteak, and the Meat Balr. Simple yet classic, this sandwich is solely made with Italian meatballs, marinara sauce, and provolone.
Togo's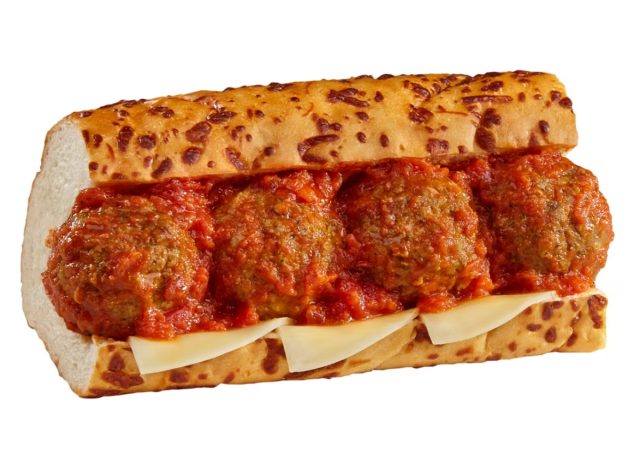 REGULAR MEATBALL SUB: 890 cal, 40 g fat (17 g saturated fat), 2,700 mg sodium, 81 g carbs (5 g fiber, 8 g sugar), 46 g protein
What started out as a sandwich shack in San Jose, Calif., has ultimately transformed into a 150-plus-unit sandwich concept that continues to grow. The menu currently features a selection of hot and cold sandwiches, subs, wraps, and salads. Also known as a #6, Togo's Meatball Sub is categorized under the chain's classics and features Italian beef and pork meatballs with marinara sauce and provolone.
Wawa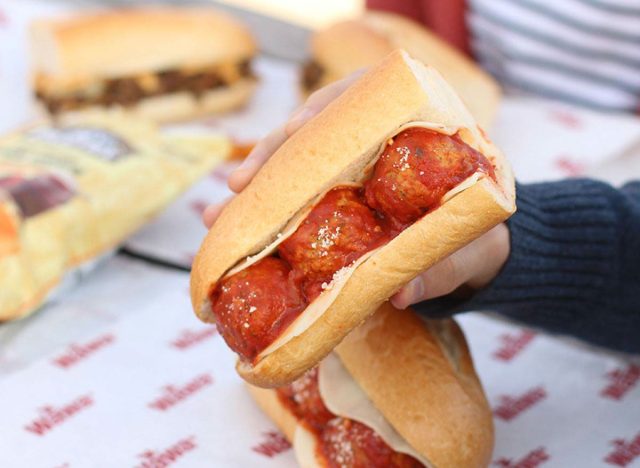 CLASSIC MEATBALL PARMESAN ON A CLASSIC ROLL: 1,300 cal, 77 g fat (27 g saturated fat, 1.5 g trans fat), 3,430 mg sodium, 98 g carbs (2 g fiber, 14 g sugar), 46 g protein
As many fans will tell you, Wawa is much more than a chain of gas stations and convenience stores. It's also a sub hotspot, though loyalists know better than to call a Wawa sandwich anything other than a hoagie. Within the hot hoagie section, customers can choose from several options like the chicken cheesesteak, hot turkey, and pepperoni marinara.
If you want to get your meatball sub fix, there's the meatball parmesan, which is consists of beef and pork meatballs, provolone, and parmesan cheese. Customers can also customize this sandwich as they wish, opting for a different cheese, adding toppings, and so on.
"Wawa meatball subs are just…….the best thing ever," one fan wrote on X earlier this year. "You get it," another fan replied.