The product recommendations in this post are recommendations by the writer and/or expert(s)
interviewed and do not contain affiliate links. Meaning: If you use these links to buy
something, we will not earn a commission.
When looking to eat a bit healthier, many people cut back on red meat and choose lean cuts of turkey and chicken instead. For burger lovers, that usually means switching to turkey burgers.
Hailed as the better-for-you pick for decades, ground turkey has become the default healthy stand-in for ground beef. Want healthier burgers? Swap in ground turkey. The bottom line is, if you're eating for a healthy heart, lean ground turkey is lower in saturated fat, and thus, the better pick for you.
However, some turkey burgers can be dry and flavorless, which makes juicy ground beef so much more tempting. However, flavor-packed, juicy turkey burgers do exist and they're available at some of your favorite burger chains, casual family-style restaurants, and even a wine bar chain!
Here are 10 popular chains that serve better-for-you turkey burgers.
The Cheesecake Factory's Factory Turkey Burger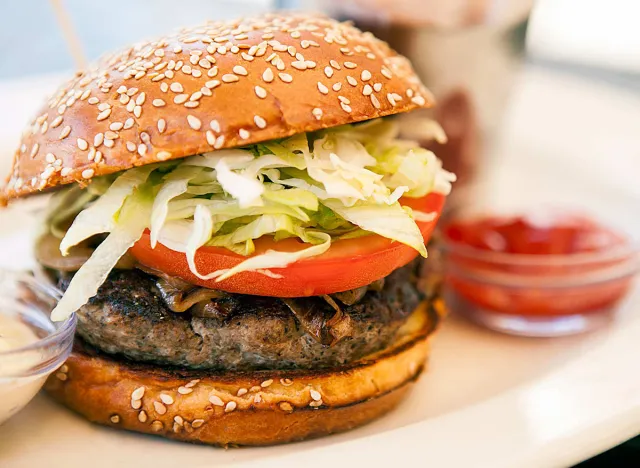 Per Serving (1 tbsp): 1110 cal, 76 g fat (30 g saturated fat), 2260 mg sodium, 57 g carbs (7 g fiber, 14 g sugar), 52 g protein
With perhaps the largest menu of all the chain restaurants, it's no surprise the Cheesecake Factory has a fresh and flavorful turkey burger on its menu. This version is served on a wheat brioche bun, with a patty that is ground turkey mixed with fresh mushrooms, garlic, and spices. The patty is charbroiled and topped with fontina cheese, avocado, tomato, arugula and marinated onion.
Mooyah TurCali Club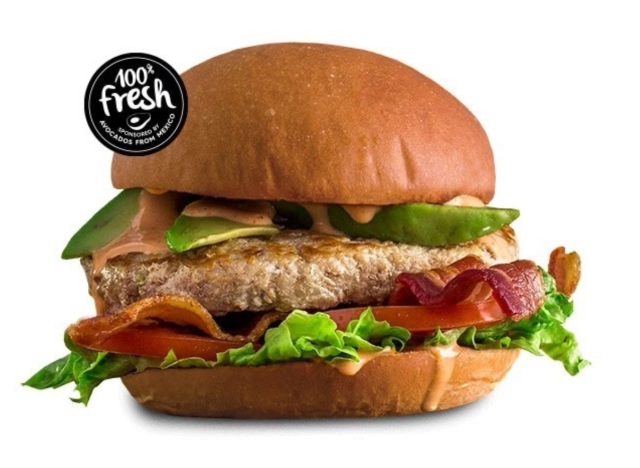 Per Serving (11.4 oz.): 680 cal, 38 g fat (8g saturated fat), 2340 mg sodium, 42 g carbs (6 g fiber, 5 g sugar), 44 g protein
This Texas-based fast-casual chain has around 80 locations in the U.S. and was founded by two veterans. Beloved for its high-quality ingredients, the restaurant offers a turkey burger on the menu that plays with club sandwich ingredients, and it's a perfect match. The burgers are made with all natural Jennie-O Turkey, topped with fresh avocado, applewood smoked bacon, lettuce, tomato and spicy ranch, all tucked into a potato bun.
Bareburger's SoCo
Per Serving (1 order): 575 to 1145 calories
Founded in Queens, N.Y., in 2009, Bareburger is a relatively new entrant to the chain restaurant burger world, but this micro-chain, with 30 locations in Connecticut, New Jersey and New York, built a big following with its wide array of burger options. The SoCo burger rises above many turkey burger options with an all-natural turkey patty that is topped with avocado, organic tomato, organic baby kale, raw red onion, and spicy green goddess dressing. You can choose a traditional bun, lettuce wrap, or even a gluten-free roll for your handheld!
Johnny Rockets Turkey Burger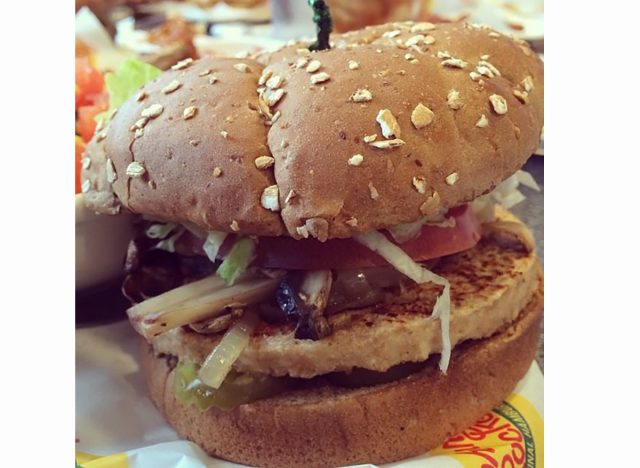 Rocket Single With Turkey Burger (1 Serving): 580 cal, 50 g fat (10 g saturated fat), 1210 mg sodium, 10 g carbs (0 g fiber, 0 g sugar), 30 g protein
What's great about Johnny Rockets, besides the throwback 1950s vibes, is how customizable the burgers are. There isn't a specific turkey burger that makes this list, because you can choose a turkey burger for any of the burger combos on the menu, including the simple Rocket Single all the way to the Double Bacon Cheddar.
Burgerville Best Coast Turkey Burger
Best Coast Turkey Burger (1 burger): 380 cal, 16 g fat (2.5 g saturated fat), 620 mg sodium, 32 g carbs (1 g fiber, 6 g sugar), 27 g protein
For over 60 years, this chain has been slinging burgers at over 30 locations in the Pacific Northwest, including a deceptively simple turkey burger made with a turkey patty topped with red onions, lettuce, and tomato on a bun, but the addition of garlic herb aioli means the flavor of this sandwich packs a real punch.
Plan B Burger Bar Turkey Burger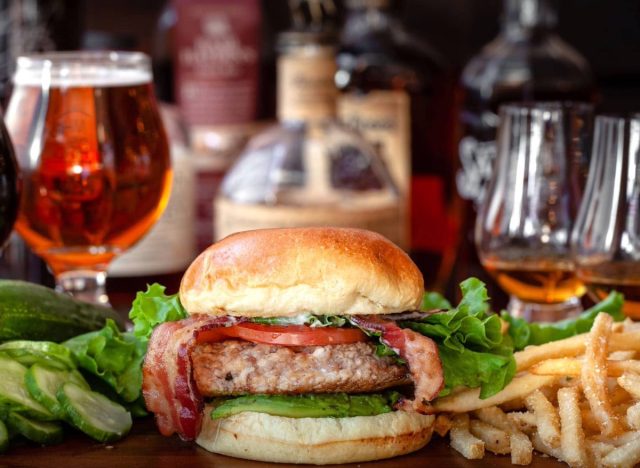 Nutrition information unavailable.
With nine locations in Connecticut and Massachusetts, this micro chain's build-a-burgers (paired with beer or bourbon, as one does) let the diner decide exactly what they're going to eat. Choose your turkey burger, and then pick a traditional bun, a pretzel roll, croissant, and then choose your toppings, which range from ketchup and mustard to caramelized onions and avocado. This handheld can be as healthy—or indulgent—as you want!
Fatburger's Turkeyburger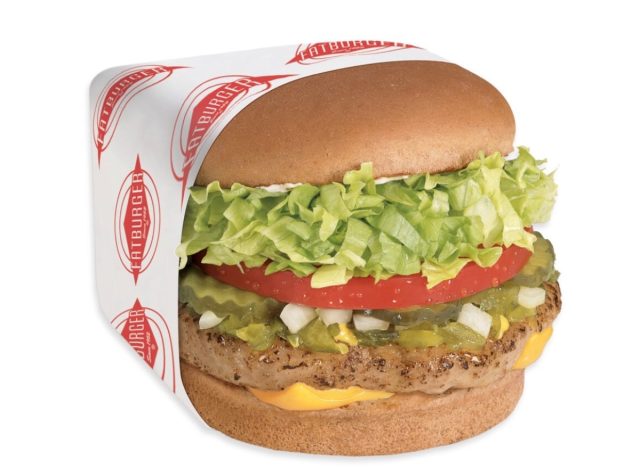 Turkeyburger (per order): 480 cal, 21 g fat (4.5 g saturated fat), 1270 mg sodium, 50 g carbs (3 g fiber, 10 g sugar), 76 g protein
Since 1947, this burger stand has been slinging classic burgers to hungry West Coasters, and even got a mention in Ice Cube's 1992 hip-hop classic "It Was a Good Day." Craving a turkey burger? This chain has got you covered with a seasoned, juicy patty served on a whole wheat bun with your choice of toppings.
Red Robin's Grilled Turkey Burger
Grilled Turkey (per order): 780 cal, 51 g fat (14 g saturated fat), 1360 mg sodium, 43 g carbs (3 g fiber, 8 g sugar), 39 g protein
This casual chain, with over 500 locations around the U.S., has a burger or a sandwich fit for just about anyone you're going to be dining with, including an easy-to-enjoy turkey burger that sees a seasoned patty topped with pepper jack cheese, lettuce, tomato, and a smoky chipotle aioli for a little extra kick.
Smash Burger Scorchin' Hot Mac 'n' Cheese Turkey Burger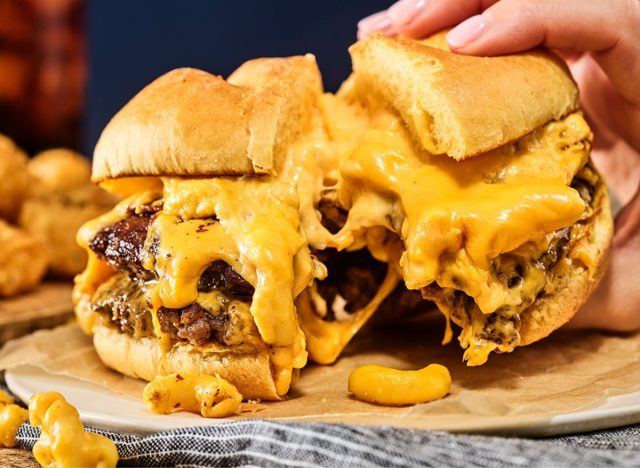 Per Serving: 780 calories
Unlike some of the turkey burgers on this list, Smash Burger's indulgent mac and cheese version makes zero pretense of being healthy. The chain, founded in Denver, has over 200 locations around the country, and this is where you go for an over-the-top turkey burger topped with Nashville hot seasoned mac 'n' cheese that's been smashed on the grill to crisp up the cheese and served on a toasted bun.6254a4d1642c605c54bf1cab17d50f1e
Zinburger's Turkey Burger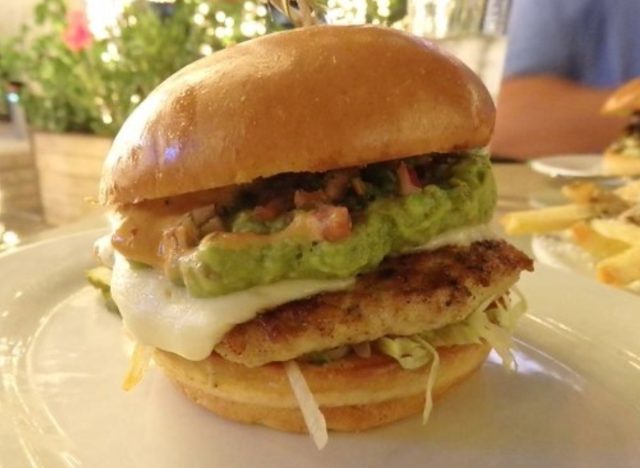 Nutrition information unavailable.
This Arizona-based micro-chain combines a few of our favorite things: Wine and burgers. This upscale wine bar has a nice menu of burgers, and a favorite is the flavorful turkey burger that sees a patty topped with whipped tahini, cucumber, pepperoncini, lettuce, tomato and a flavorful harissa spiced yogurt.