The product recommendations in this post are recommendations by the writer and/or expert(s)
interviewed and do not contain affiliate links. Meaning: If you use these links to buy
something, we will not earn a commission.
Anyone with a sweet tooth will agree that the best part of any meal is the dessert. For some, it may not even matter what kind of dessert options exist, just as long as there is something sugary to enjoy after dinner. When it comes to chocolate desserts, however, brownies are a favorite choice for many.
Whether you like them fudgy and gooey or with a more cake-like consistency, brownies are a popular dessert that hits the spot when those chocolate cravings kick in. While brownies have adopted different flavors over the years, like pumpkin and raspberry, the classic chocolate variety remains a top-tier dessert of choice.
Most restaurant chains will include at least one or two dessert options on their menus, but how many are in on the brownie action? Luckily, there are many businesses, both fast food and table service alike, that serve brownies to satisfy those cravings.
Whether you like them with or without chocolate chunks, as-is or à la mode, there's a restaurant chain out there that has a brownie with your name written all over it.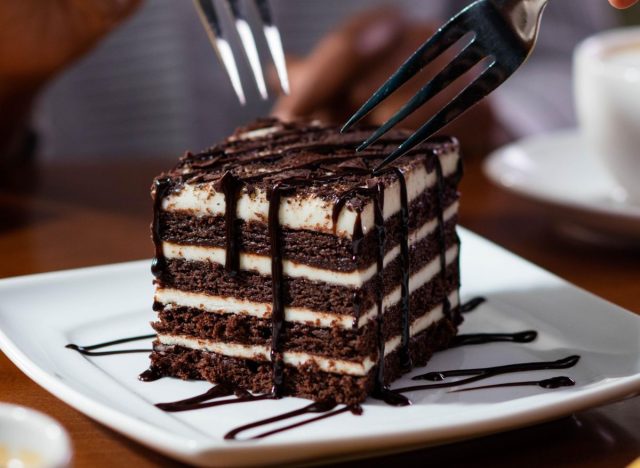 Chocolate Brownie Lasagna: 910 cal, 52 g fat (27 g saturated fat), 580 mg sodium, 144 g carbs (6 g fiber, 103 g sugar), 13 g protein
If there is any room left in your stomach after a large bowl of pasta and several rounds of unlimited breadsticks, Olive Garden offers a dessert that chocolate fanatics will dream about. According to Olive Garden's website, its Chocolate Brownie Lasagna features "[e]ight decadent layers of rich, fudgy brownie and sweet vanilla cream cheese frosting, topped with chocolate shavings and a chocolate drizzle." When those chocolate mints just won't cut it as an after-dinner sweet, you can load up on not just one brownie but several layers of them.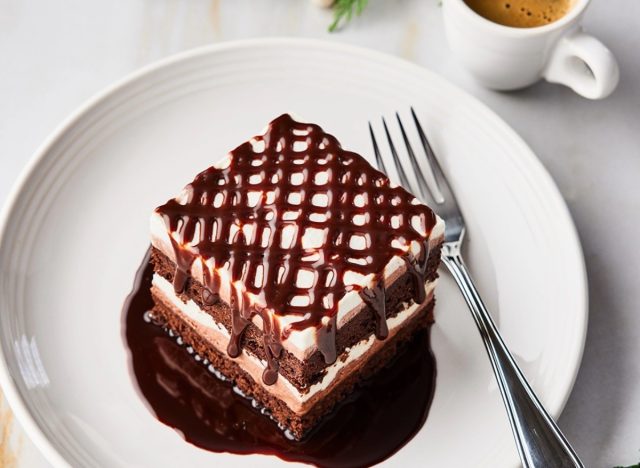 Sogno di Ciccolata: 1050 cal, 74 g fat (33 g saturated fat), 540 mg sodium, 94 g carbs (4 g fiber, 76 g sugar), 9 g protein
When you think about an Italian restaurant chain, the first dessert that likely comes to mind is tiramisu. Over at Carrabba's Italian Grill, however, chocolate is front and center. Its Sogno di Cioccolata, which translates to "Chocolate Dream," is a favorite among dessert aficionados. According to the website, the Sogno di Cioccolata is a "rich fudge brownie with chocolate mousse, fresh whipped cream, and homemade chocolate sauce." One review on Tripadvisor describes the Chocolate Dream as "just that, an absolute dream."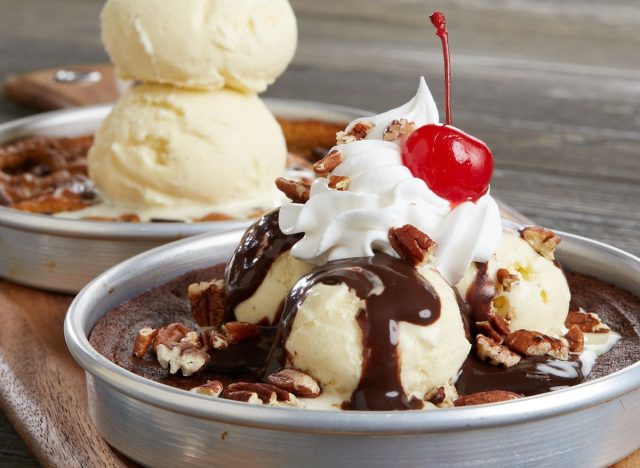 Hot Fudge Brownie Pizookie: 1140 cal, 64 g fat (27 g saturated fat), 337 mg sodium, 129 g carbs (7 g fiber, 102 g sugar), 15 g protein
If you have ever dined at a BJ's Brewhouse, you'll probably be familiar with its menu's proclivity to featuring pizzas and its pizza-inspired "pizookies" for dessert. Essentially think about a cookie baked in a small round tray to resemble a pizza pie. If you're in the mood for a brownie, however, BJ's Brewhouse offers a Hot Fudge Brownie Pizookie, which comes with a brownie and rich vanilla bean ice cream (you can also substitute in chocolate ice cream), topped with dark chocolate hot fudge, toasted pecans, whipped cream, and a cherry. It is a fun twist on a classic dessert.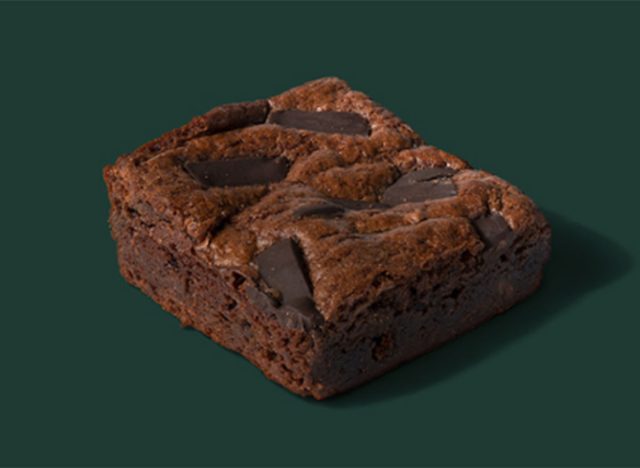 Double Chocolate Brownie: 480 cal, 28 g fat (9 g saturated fat), 220 mg sodium, 55 g carbs (3 g fiber, 37 g sugar), 6 g protein
Starbucks is, of course, known for its coffee beverages, especially seasonal favorites like the Pumpkin Spice Latte and its many holiday-inspired specials. Visit a Starbucks with more of an appetite, however, and you will find an array of breakfast sandwiches and baked goods you can order to go along with your coffee. Whether it's later in the day or you are feeling like dessert for breakfast, Starbucks sells a Double Chocolate Brownie, perfect for those chocolate cravings. It's a quick and easy way to grab a brownie on the go, and it pairs wonderfully with a hot latte.6254a4d1642c605c54bf1cab17d50f1e
Chocolate Fudge Brownie: 380 cal, 21 g fat (7 g saturated fat), 150 mg sodium, 48 g carbs (2 g fiber, 36 g sugar), 4 g protein
As long as it's not on a Sunday, when all locations are closed, hungry customers can pick up a Chocolate Fudge Brownie with their meal at Chick-fil-A. The dessert is described by Chick-fil-A as "a decadent dessert treat with rich semi-sweet chocolate melted into the batter and fudgy chunks." Fans of Chick-fil-A's brownies have come up with clever ways of taking things to the next level, like one Redditor who suggests, "Next time get you get a brownie, take it home and warm it up a little bit and add some vanilla ice cream. Delicious."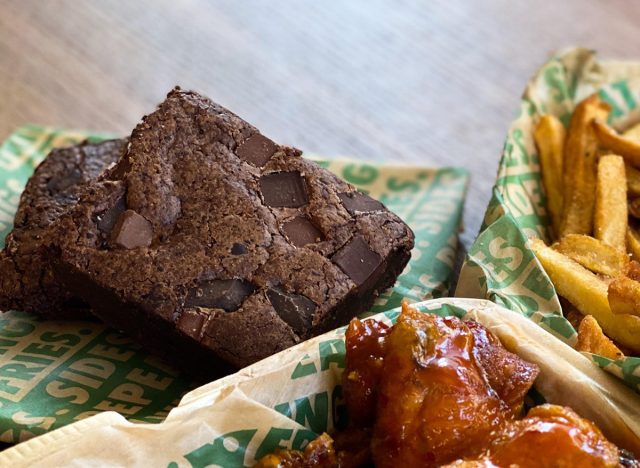 Triple Chocolate Chunk Brownie: 430 cal, 24 g fat (10 g saturated fat), 160 mg sodium, 49 g carbs (3 g fiber, 33 g sugar), 6 g protein
If you are ordering food from Wingstop, you likely have one thing on your mind: chicken wings. And that's for good reason: Wingstop is raved about by professional chefs, so rest assured that your tastebuds are on point when they recognize a tasty wing. Aside from its highly-rated wings and plentiful wing sauce options, Wingstop can also provide a sweet treat at the end of your meal. Its Triple Chocolate Chunk Brownie is a favorite among customers and a great way to close off your meal. One reporter from Insider actually preferred Wingstop's brownie over Chick-fil-A, noting,"It was delicate, seemed fresh, and had both chocolate chips and chunks in it."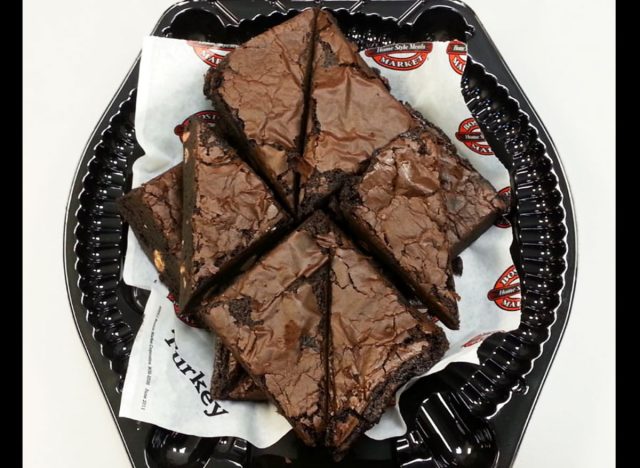 Chocolate Brownie: 470 cal, 19 g fat (4g saturated fat), 340 mg sodium, 74 g carbs (3 g fiber, 55 g sugar), 8 g protein
Boston Market knows what it's selling by listing its brownie on the menu as an "Indulgent Chocolate Brownie." Like many other restaurant chains, Boston Market's brownie comes with chocolate chunks, giving the dessert a nice play on texture. But Boston Market also goes the extra mile by adding a chocolate drizzle on top of its brownie, ensuring that each bite is as rich as the last. Just so you don't have to share with others, there's a family-size option as well.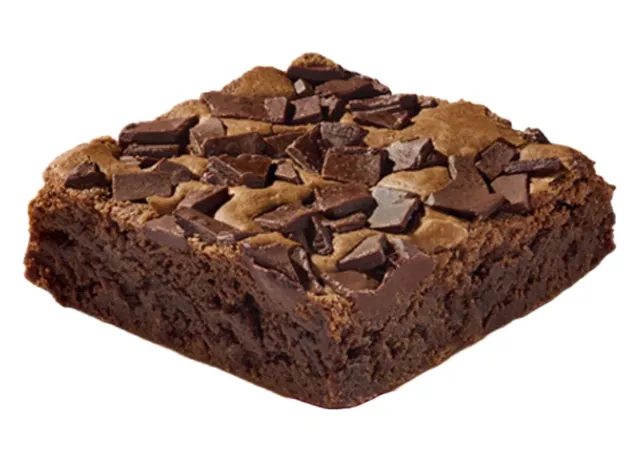 Fudge Chocolate Brownie: 350 cal, 19 g fat (6 g saturated fat), 135 mg sodium, 46 g carbs (2 g fiber, 33 g sugar), 4 g protein
There is something about sandwich shops that make their desserts as good as any bakery. Just like Subway customers cannot help but add a cookie to their order, folks at Jimmy John's are inclined to pick up a Fudge Chocolate Brownie as a dessert. The brownie is a fairly new menu addition, arriving at Jimmy John's in the spring of 2023, per QSR Magazine. The brownie is a chocolate explosion featuring semi-sweet chocolate, cocoa, and melted chocolate.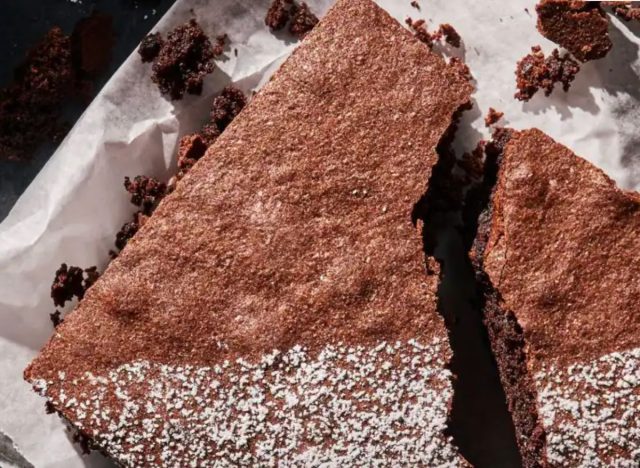 Brownie: 470 cal, 18 g fat (6 g saturated fat), 95 mg sodium, 69 g carbs (4 g fiber, 50 g sugar), 7 g protein
Panera Bread begins baking its products early every morning, including sweet treats that customers can pick up along with their lunch. While some items may not be as fresh as you think, the chain touts that its bakery items are made fresh daily. That would include its brownie, which comes dusted with powdered sugar.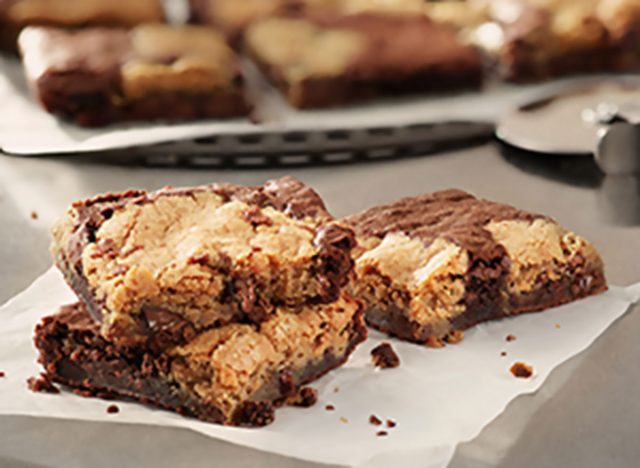 Marbled Cookie Brownie: 200 cal, 10 g fat (3.5 g saturated fat), 125 mg sodium, 26 g carbs (0 g fiber, 19 g sugar), 2 g protein
Domino's is best known for its takeout and delivery pizzas, but customers can also pick up dessert along with their order. The next time there's a party or special occasion that calls for a baked good to go along with dinner, customers can order a Marbled Cookie Brownie. Big enough to share with friends, this dessert is a combination of a "gooey milk chocolate chunk cookie and delicious fudge brownie," according to the chain. Customers and employees alike seem to be in agreement that these are best when freshly baked and still warm, with one Redditor sharing that they are "[s]o good when they're hot right out the oven!"