They say the best things in life are free. Dine out at a restaurant, and you'll understand why.
Standalone restaurants and chains alike will often serve complimentary items like freshly baked bread or chips and salsa prior to customers receiving their orders. This practice not only helps keep guests' hunger at bay, but it can also ramp up the excitement for the main meal.
While bread and butter is arguably one of the most popular free restaurant offerings, several eateries have added their own twist to these items. Take Texas Roadhouse, for example. America's leading steakhouse chain pairs its famous rolls with a cinnamon honey butter instead of the regular dairy spread.
If you're curious where you can score some delicious free food, there is a wide range of restaurant chains to choose from. Whether you're craving a casual Tex-Mex meal or an Italian dinner, here are 10 spots to consider visiting the next time you're planning to grab a bite to eat.
One of America's most popular sit-down restaurant chains, Texas Roadhouse isn't only famous for its hand-cut steaks. The restaurant's made-from-scratch dinner rolls are beloved almost as much as the beef.
"Seriously though, Texas Roadhouse rolls are the bread of the Gods!" one fan recently raved on X, formerly known as Twitter. According to the steakhouse chain's website, the cherished bread item is baked fresh every five minutes.
While many restaurants serve complimentary bread and butter to start, Texas Roadhouse puts its own spin on the standard freebie by offering a sweeter spread with its rolls: honey cinnamon butter. The item's popularity has even ventured outside the dining room. In 2022, Texas Roadhouse released a honey cinnamon butter scented candle, which is currently available online for $15.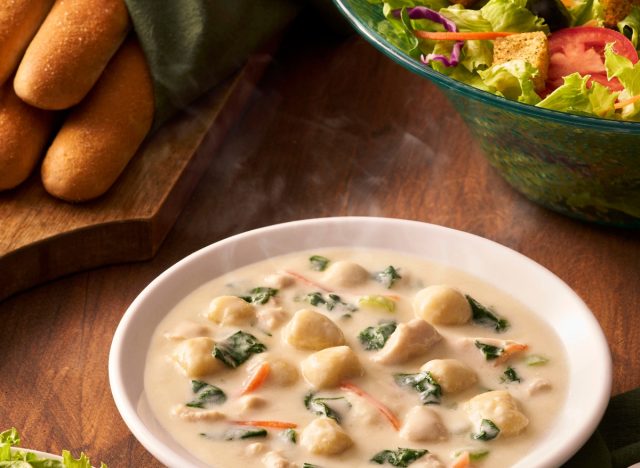 It's the deal that's practically synonymous with Olive Garden: Never-Ending Soup, Salad and Breadsticks. With every meal, Olive Garden offers dine-in customers free refills of breadsticks, house salad with Italian dressing, and a choice of four soups. Options include zuppa toscana, minestrone, pasta e fagioli, and chicken gnocchi.
While this first course could be enough to keep you satisfied, don't forget about your entrée. Last month, Olive Garden brought back its Never-Ending Pasta Bowl deal, which is only available through Nov. 19.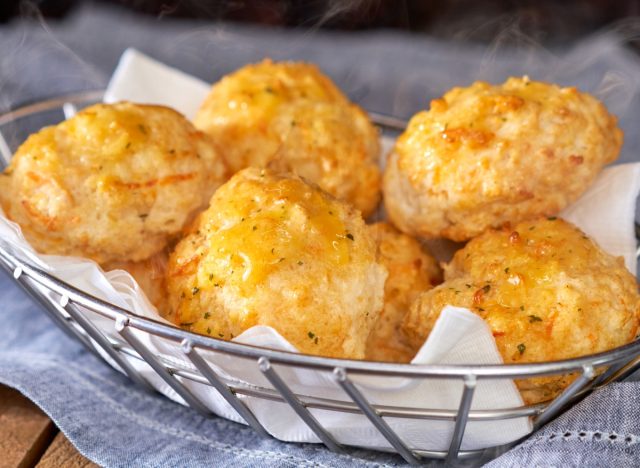 Aside from its seafood offerings like popcorn shrimp, live Maine lobster, and the Admiral's Feast, Red Lobster is continuously celebrated for one cheesy staple that always arrives free of charge: the Cheddar Bay Biscuits. Released in 1992 as a replacement for the chain's hush puppies, the beloved biscuits were once called "freshly baked, hot cheese garlic bread,"
Since shortening the name, Red Lobster has even inspired people to replicate the biscuits in their own kitchen, with many fans sharing copycat recipes. But, for those seeking a shortcut, the chain also sells a baking mix and frozen version of its Cheddar Bay Biscuits, which can be found at various food retailers.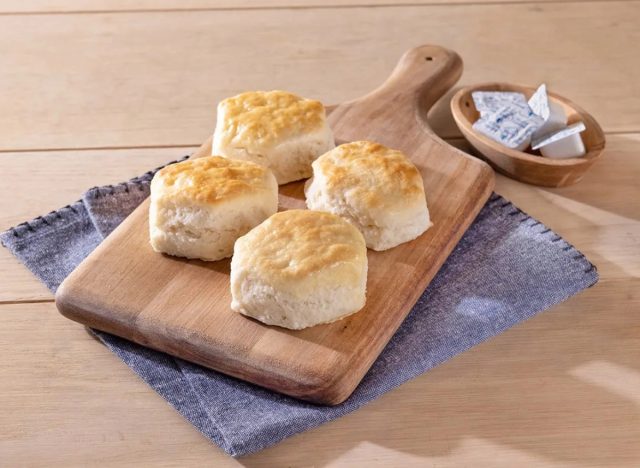 Unlike countless restaurants that serve complimentary items before the meal, Cracker Barrel's standard policy is to include bread—either biscuits or corn muffins—with the meal. That being said, the chain notes on its website that customers can get these items before their meal—they'll just have to ask.6254a4d1642c605c54bf1cab17d50f1e
Like Red Lobster, fans can recreate the corn muffins and biscuits at home with the chain's baking mixes, which are available online for $5.99 each.
A few months ago, Cracker Barrel revealed that it serves over 210 million biscuits a year, which breaks down to 825,000 biscuits per day across its some 664 locations. The biscuits are made with the chain's custom-designed rolling pins and biscuit cutters and they're baked in an oven dedicated to the item. Now, that's a chain that takes biscuits seriously.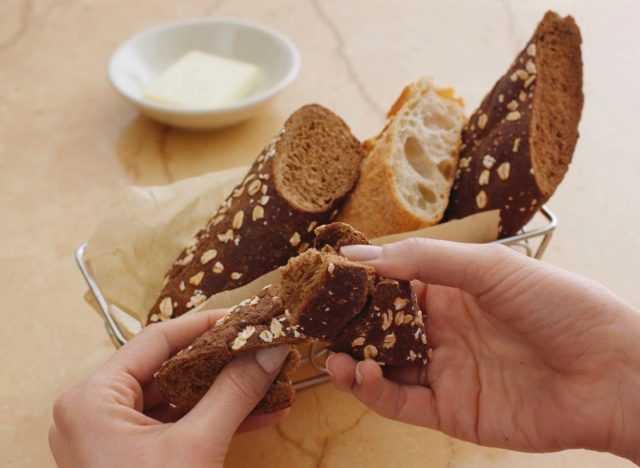 Famous for its expansive menu, the Cheesecake Factory keeps its complimentary items rather simple by offering just two options. Each bread basket is complete with one loaf of traditional French bread and another, arguably more popular, sweet wheat loaf, commonly referred to as "brown bread." The baskets feature butter, as well.
After garnering praise from adoring fans for years, the Cheesecake Factory finally made its iconic brown bread available in grocery stores in 2018. The bread is offered in baguette, dinner roll, and sandwich bread form.
"My favorite bread at the Factory!!!!" one Instagram user wrote on a post featuring the restaurant chain's brown bread. "I always ask for this bread ONLY!!!!"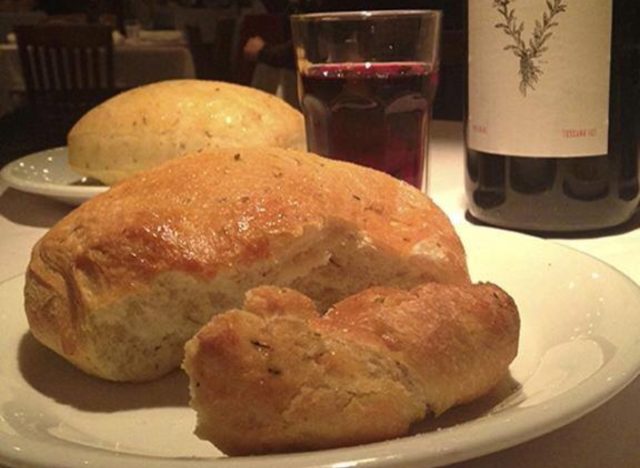 Move over, basic bread and butter. At Romano's Macaroni Grill, each table is presented with fluffy rosemary peasant bread and a side of olive oil for dipping. Although the chain has yet to disclose its recipe, fans have taken it upon themselves to share their own iterations.
According to the chain, three loaves of bread are typically included free of charge with every large order, which usually includes an entrée, salads, grill selections, or "Create Your Own Pasta" dishes. Small orders will get two loaves of bread. Those who wish to exceed this limit may order additional loaves for an extra charge.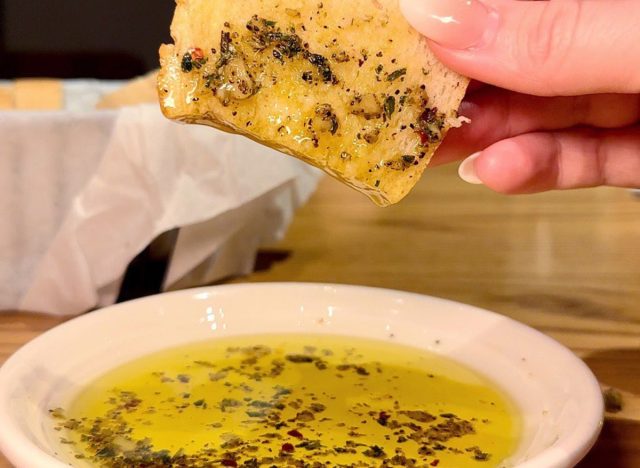 At first glance, Carrabba's complimentary bread might look rather standard. But, pair it with the chain's dipping oil, and you might change your mind.
"The best combo of herbs, spices, olive oil and bread!" one Facebook user wrote on a post showcasing the signature complimentary item.
Although the restaurant chain doesn't have the exact ingredient combination readily available, many copycat recipes feature the same ingredients. These include olive oil, crushed red pepper flakes, oregano, rosemary, basil, parsley, garlic powder, salt, and pepper.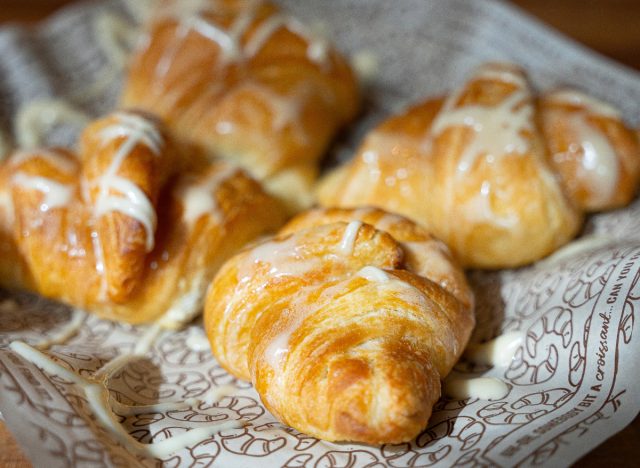 Looking to start off with something sweet? Cheddar's Scratch Kitchen has just the thing for you. Prior to serving American favorites like burgers and ribs, this restaurant chain offers customers honey butter croissants. According to the chain's website, the croissants are baked fresh to a golden brown and are drizzled with a house-whipped honey butter. However, Cheddar's notes that free croissants are not available at its Colorado and franchise locations.
Straying from the ways of competing fast-casual Mexican brand Chipotle, Moe's gives customers a side of chips and salsa for free with every order. Even more, there are three complimentary salsa options to choose from.
For those seeking something mild, there's the tomatillo salsa, which is made with citrus, jalapeño, and cilantro. Then, there are two medium-heat options. The Kaiser features all-natural diced tomatoes, onions, and fresh cilantro, while El Guapo salsa consists of all-natural fire roasted tomatoes.
"Moe's is so much better than chipotle. Imagine having to pay for chips??" one Redditor wrote on a thread comparing the two chains.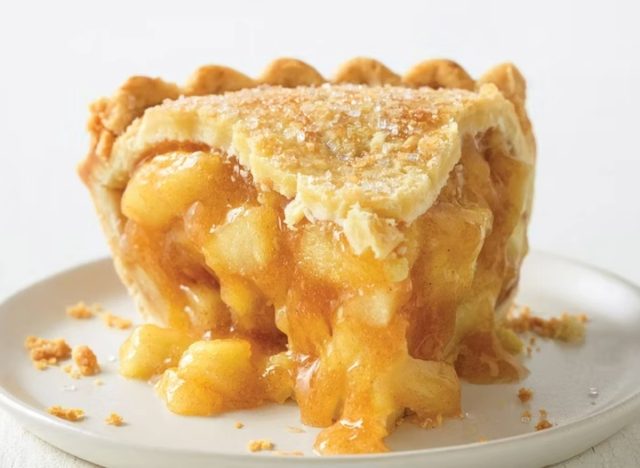 Unlike the other chains on this list, Village Inn's free food isn't served before or during the meal. It's served at the very end—and only once a week. As part of its Free Pie Wednesday deal, the casual restaurant chain dishes out free slices of select pies to guests with their purchase of a dine-in entrée from 10:00 a.m. to 10:00 p.m.
While the chain doesn't specify which pies are included in this deal, the website boasts a variety of options, some which have previously won awards from the American Pie Council. Flavors range from fruity favorites like apple and cherry to more decadent choices like French Silk and Chocolate Peanut Butter Cup Silk.