The product recommendations in this post are recommendations by the writer and/or expert(s)
interviewed and do not contain affiliate links. Meaning: If you use these links to buy
something, we will not earn a commission.
Dessert is such a wide-ranging food category that people can go as big or as small as they want to with their post-dinner sweet treats. Dessert can be as simple as a couple of spoonfuls of ice cream from the pint in your freezer, a bowl of fresh fruit, or even a leftover peanut butter cup from Halloween. People can also take a much maximalist approach to dessert by indulging in something over-the-top yet undeniably fun, like molten chocolate cakes or sundaes piled high with loads of sweet toppings.
When you're seeking something a little more extravagant or flamboyant—like when celebrating a special occasion or rewarding yourself after a long week—there are a handful of restaurant chains throughout the United States where you can cure your cravings. And even though the dessert menus vary between each of these chains, what binds them all together is the "more is better" type of philosophy. We're talking big portions, lots of different flavor elements, and flashy presentations.
Here are 10 restaurant chains serving up some of the most over-the-top desserts right now.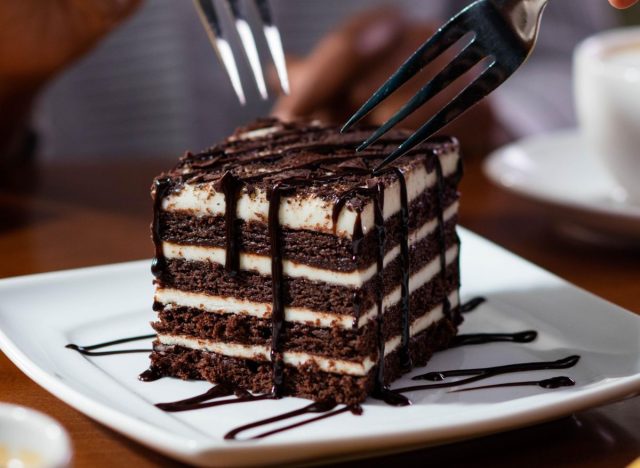 Chocolate Brownie Lasagna: 910 cal, 52 g fat (27 g saturated fat), 580 mg sodium, 144 g carbs (6 g fiber, 103 g sugar), 13 g protein
Olive Garden is probably one of the only, if not the only, place in the United States where you can order lasagna for both dinner and dessert. 
The chain's Chocolate Brownie Lasagna features a whopping eight layers of fudgy brownies stacked with vanilla cream cheese frosting and topped with chocolate shavings and a chocolate drizzle. So, if you're planning to order and finish this dessert at the end of your Olive Garden meal, you might want to avoid filling up too much on the free breadsticks and salad.
The Chocolate Lasagna is only one of several big, decadent desserts you can snag at Olive Garden. Another standout is the Black Tie Mousse Cake, which features layers of chocolate cake, dark chocolate cheesecake, and creamy custard mousse.
Capt. Jack's Buried Treasure: 1420 cal, 70 g fat (42 g saturated fat), 770 mg sodium, 164 g carbs (2 g fiber, 147 g sugar), 8 g protein
If you love over-the-top desserts and you're not already familiar with Miller's Ale House, you should get acquainted with the chain immediately. While the chain does offer some toned-down traditional desserts, including a Key Lime Pie and Strawberry Cheesecake, it also isn't afraid to get a little extravagant with its sweet options.
Look no further than The Mad Captain's Triple Treasure, which saves you the trouble of choosing your dessert by combining three into one. It features a ​​Ghirardelli brownie topped with a slice of Capt. Jack's Buried Treasure ice cream cake and a few mini glazed donut bites.
Customers can also snag a whole, eight-slice Capt. Jack's Buried Treasure cake or a sizable Ghirardelli Chocolate Brownie Sundae served in a skillet with vanilla ice cream and hot fudge sauce.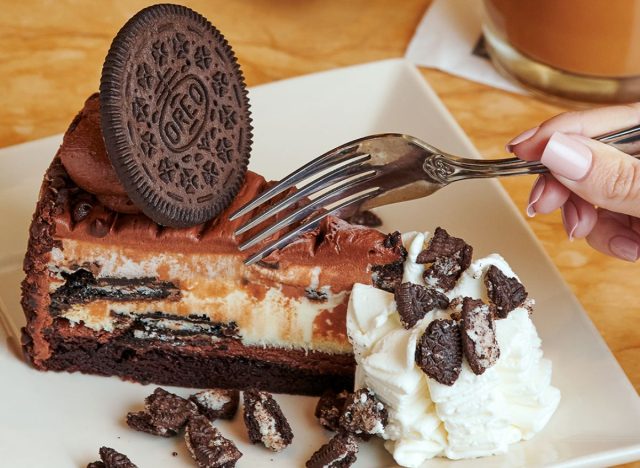 Oreo Dream Extreme Cheesecake: 1510 cal, 93 g fat (51 g saturated fat), 800 mg sodium, 166 g carbs (7 g fiber, 122 g sugar), 15 g protein
Cheesecake Factory's dessert menu is, expectedly, comprised mostly of cheesecake—but that doesn't mean its dessert options are even the least bit basic. Simply peruse its cheesecake roster and you'll find plenty of massive slices with lavish flavor combinations.
Some of the most intricate and indulgent options include the Oreo Dream Extreme Cheesecake, layered with Oreo cookies, an Oreo mousse, and chocolate icing, as well as the Cookie Dough Lover's Cheesecake, which is loaded with actual chocolate chip pecan cookie dough and topped with a cookie dough frosting.
If neither of these suit your fancy, fear not. You have dozens of different cheesecake options to choose from, ranging from the tried-and-true basics to the wildly unique.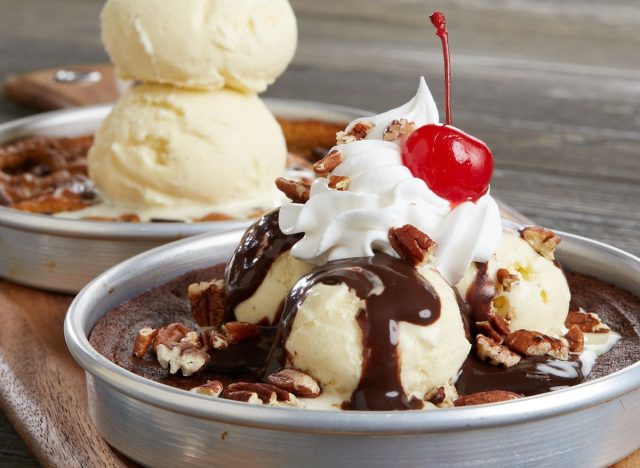 Chocolate Chunk Pizookie: 1170 cal, 45 g fat (29 g saturated fat), 839 mg sodium, 177 g carbs (3 g fiber, 129 g sugar), 17 g protein
At BJ's Restaurant & Brewhouse, your dessert options include Pizookies, Pizoookies, and more Pizookies. For the uninitiated, this signature dessert from the restaurant chain centers around big, thick cookies served in pans.
Customers can choose from several different Pizookie flavor varieties, all of which come with unique toppings and sauces to up the indulgence factor even more. The classic Chocolate Chunk Pizookie, for example, comes with scoops of vanilla bean ice cream, while the Strawberry Shortcake Pizookie comes with fresh strawberries, strawberry puree, and vanilla bean ice cream stacked on a buttery sugar cookie base.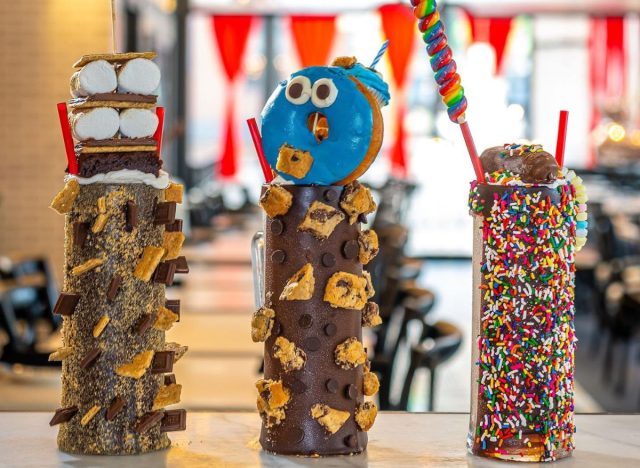 Insane Milkshakes: Nutrition information unavailable
Sugar Factory isn't nearly as large as some of the other chains on this list—it currently operates more than 20 restaurants across the United States, with a few others coming soon. However, its dessert lineup still packs a massive punch. 
For starters, Sugar Factory is best known for its massive drinks served in glass goblets and garnished with a myriad of different sugary treats, like fruit gummies and lollipops. There are plenty of big and bold options peppered throughout other parts of its menu as well, including the aptly named "Insane Milkshakes." These come in heavily decorated cups and feature all sorts of wild toppings, including whole doughnuts, cotton candy, and actual slices of cheesecake.
We'd be remiss if we didn't also shout out the World Famous Sugar Factory King Kong Sundae, piled high with 20 scoops of ice cream, caramelized banana, chocolate chip cookie hunks, marshmallows, a glazed doughnut, a vanilla cupcake, waffle cones, and a lengthy list of other sauces and toppings. Come with a big appetite and plenty of cash if you plan to order this, since it'll run you about $100.
Tim Tam Brownie Cake: 1500 cal, 85 g fat (49 g saturated fat), 790 mg sodium, 174 g carbs (6 g fiber, 130 g sugar), 18 g protein
If you don't fill up on Bloomin' Onions and beef during your next Outback Steakhouse visit, the steakhouse chain has several extravagant dessert options that will ensure you leave with a full belly. The Tim Tam Brownie Cake, for example, is a stacked, multi-faceted dessert that features chocolate brownies, peanut butter and chocolate mousses, caramel sauce and Arnott's Tim Tam cookies from Australia.
For the particularly diehard chocolate lovers, there's also a Chocolate Thunder From Down Under, which comes with a big pecan brownie topped with vanilla ice cream, warm chocolate sauce, chocolate shavings, and whipped cream.
Even chocolate haters who want an extra special dessert should be able to find something to suit their fancy between the Triple-Layer Carrot Cake, adorned with rich cream cheese frosting, and big Salted Caramel Cookie Skillet, served with pieces of white chocolate, almond toffee, pretzels, and vanilla ice cream.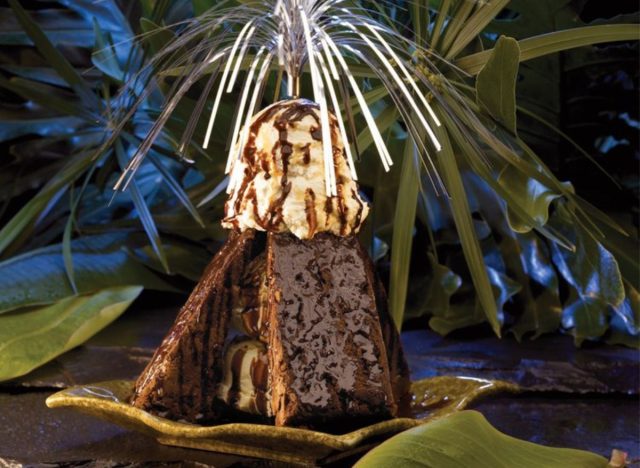 Sparkling Volcano Cake: Nutrition information unavailable
Eating at Rainforest Cafe is already an over-the-top experience in and of itself, thanks to the jungle-themed animatronics and fake rainstorms, so why not get something a little extravagant for dessert while you're there?
The chain's Sparkling Volcano Cake is undoubtedly the most outrageous dessert on the menu, featuring rich chocolate brownie cake stacked high with vanilla ice cream and topped with caramel sauce, chocolate sauce, and whipped topping. These cakes also used to come with a lit sparkler crackling on top, but they now have a plastic replica adorning them instead.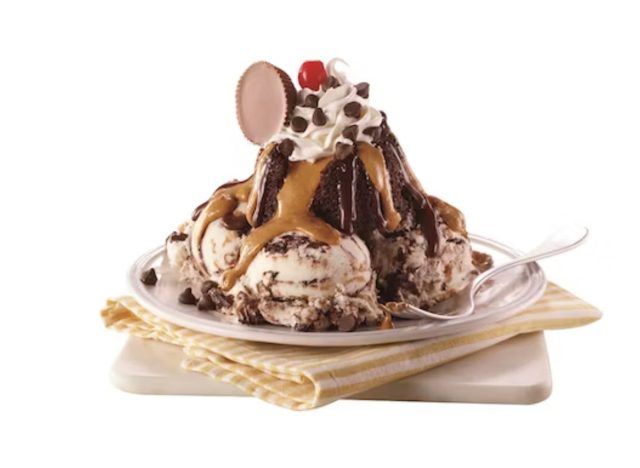 Hunka Chunks PB Fudge Lava Cake: 2,488 cal, 158 g fat (52 g saturated fat, 0 g trans fat), 1,348 mg sodium, 226 g carbs (15 g fiber, 157 g sugar), 46 g protein
Ice cream is a key category of the Friendly's menu, so it's no surprise the chain has concocted some big, grandiose sundaes to please its most fearless guests.6254a4d1642c605c54bf1cab17d50f1e
A shining example is the Hunka Chunka PB Fudge Lava Cake, a massive dessert that is literally and figuratively a mouthful. It includes a peanut butter-filled chocolate cake and three scoops of Hunka Chunka PB Fudge ice cream, all of which is topped off with peanut butter, fudge, chocolate chips, and a Reese's Peanut Butter Cup.
There are plenty of other sundaes and scoops to choose from, but if you want to go big, you can also opt for Friendly's Caramel Fudge Brownie Sundae that includes three scoops of vanilla ice cream and two brownies, or the Royal Banana Split with a myriad of different ice creams, sauces, toppings, and, of course, a freshly split banana.
Butter Pecan Blondie: 1,040 cal, 59 g fat (30 g saturated fat), 910 mg sodium, 116 g carbs (2 g fiber, 71 g sugar), 13 g protein
If you ever stay for dessert at Applebee's, just be prepared to go big. The chain doesn't offer a ton of desserts, but those that are available are super indulgent, intricate, and often drowned in sweet sauces.
The Triple Chocolate Meltdown certainly lives up to its name thanks to the combination of warm chocolate cake, a fudge filling, and an extra drizzle of hot fudge, all of which is served with vanilla ice cream. Applebee's also serves a sizable Sizzlin' Butter Pecan Blondie, drizzled with a maple cream cheese sauce and topped with vanilla ice cream and candied pecans. Pair one of these lavish options with one of Applebee's goblet-sized cocktails for a truly over-the-top dining experience.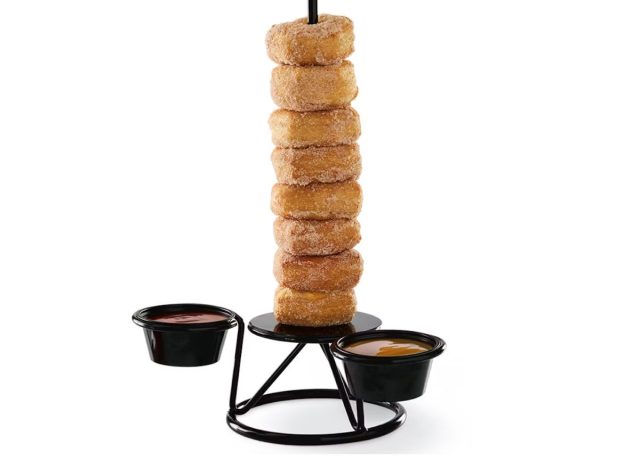 Cinnamon Sugar Towering Doh! Rings: 1,550 cal, 51 g fat (31 g saturated fat, 0.5 g trans fat), 1,230 mg sodium, 259 g carbs (6 g fiber, 124 g sugar), 19 g protein
Red Robin is well known for its massive onion ring towers, but did you know the chain also serves towers of sweet treats? The chain's Cinnamon Sugar Towering DOH! Rings dessert comes with eight croissant doughnut rings that are dusted with cinnamon sugar, stacked high, and served with caramel and fudge for dipping.
The sweet extravagance doesn't stop there. Red Robin also serves a Mountain High Mudd Pie with an almost unbelievably tall layer of chocolate ice cream, as well as chocolate chip cookies stuffed with actual fudge.