Philadelphia is known for its cheesesteaks. New York is celebrated for its bagels. Head down South, and you'll likely encounter plenty of barbecue favorites.
America is known as the "melting pot," and this blending of cultures has greatly influenced the food found all over the country. No matter where you are in the United States, there are various dishes that each region does best. While many of these have gained a presence across the nation, others are less well-known, mostly familiar among the residents who live where those specific foods are commonly served.
The next time you cross state lines, you'll want to try some local specialties. It would be nearly impossible to round them all up, but you have to start somewhere. Here are just 11 of the many iconic regional dishes that are popular in different parts of the U.S.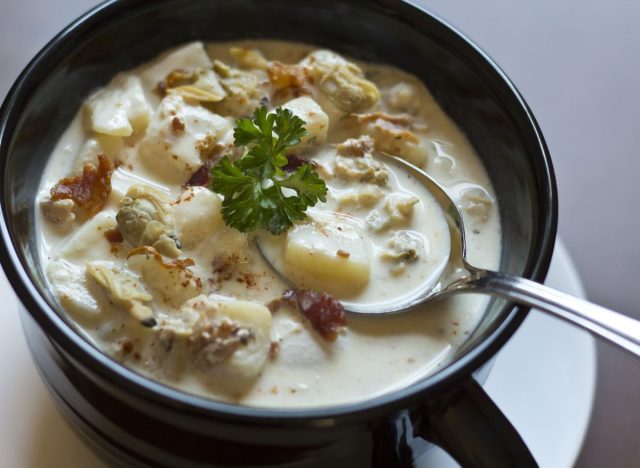 No trip to New England would be complete without a warm, comforting bowl of chowder. Unlike Manhattan clam chowder, which is made with a tomato-based broth, New England clam chowder is thicker and creamier, starting with a base of milk or cream. In addition to clams, this regional favorite commonly contains potatoes, onions, and salt pork, and is often served with oyster crackers.
Although this soup can be found all over the country, it's most commonly associated with Massachusetts and Maine and sometimes referred to as "Boston Clam Chowder."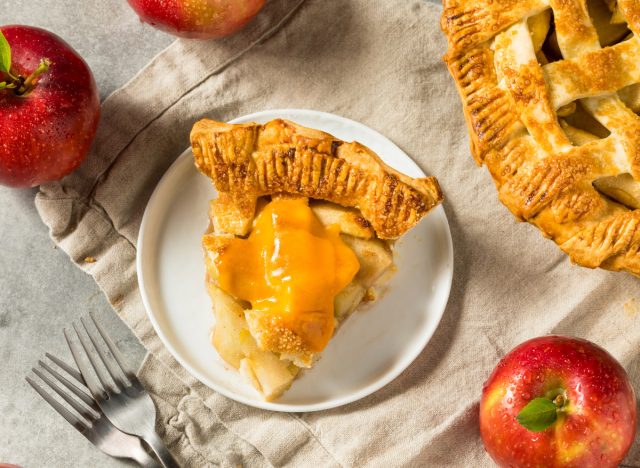 There's nothing more American than apple pie, and this New England version has a salty twist. It also holds significant importance to the state of Vermont, which made apple pie the official state pie in 1999. This law says those serving apple pie in the state of Vermont should make a "good faith effort" to pair it with a cold glass of milk, a slice of cheddar cheese weighing at least half an ounce, or a large scoop of ice cream. While some people will top their apple pie with cheese, others will bake it into the crust or filling.6254a4d1642c605c54bf1cab17d50f1e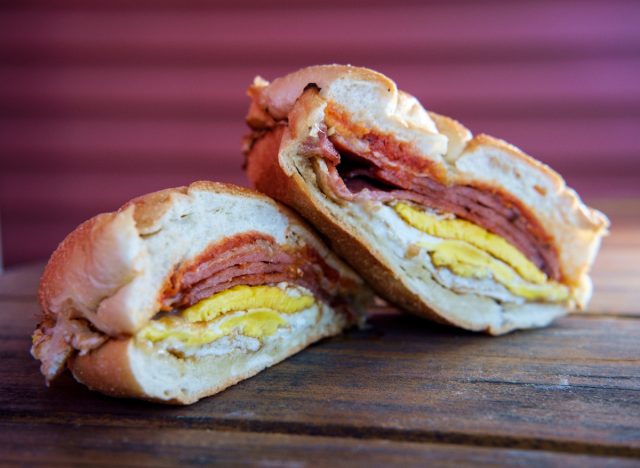 You're going to want to be careful when ordering this food because its name is the center of an ongoing heated debate between northern and southern New Jersey residents. North Jersey refers to it as "Taylor ham," while South Jersey calls it "pork roll." No matter which name you favor, it's still the same product: processed smoked pork, typically eaten on a sandwich with other ingredients like eggs and cheese. Interestingly enough, the "Taylor Swift Ham, Egg and Cheese" was recently named New Jersey's state sandwich, marking a win for North Jersey.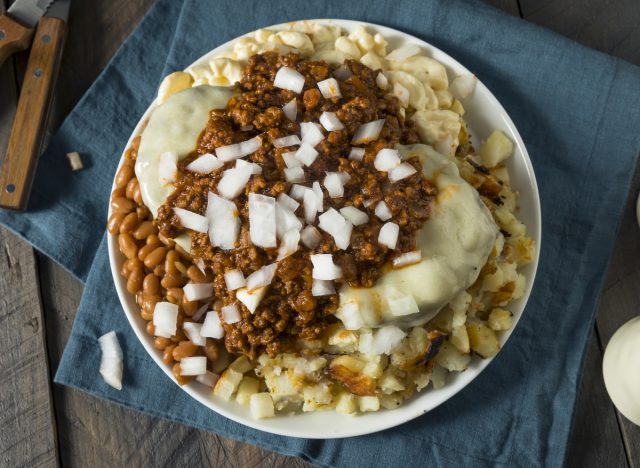 The name of this dish might not sound too enticing, but in Rochester, N.Y., and surrounding areas, it's a delicacy. Born in 1918 at Rochester restaurant Nick Tahou Hots, the garbage plate features layers of all kinds of ingredients.
According to Visit Rochester, a traditional plate includes a choice of hamburger, cheeseburger, Italian sausage, steak, chicken, or red or white hots (Rochester's hot dog variation). This protein is then served on top of a combination of home fries, french fries, baked beans, and macaroni salad, and is often finished with a spicy meat sauce.
As the story goes, Nick Tahou invented the garbage plate after college students asked for a "plate with all the garbage on it." It ultimately grew in popularity and has since taken on various names, including the "Trash Plate," "Compost Plate," and "Junkyard Plate."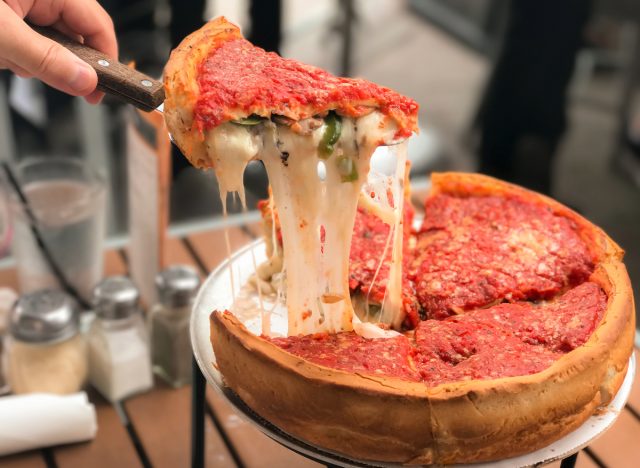 Venture over to this midwestern city, and you're guaranteed to come across deep-dish pizza. While New York-style pizza has a thin crust topped with tomato sauce and mozzarella cheese, Chicago-style—or deep-dish—puts a twist on this ingredient combination. Believed to be first introduced at Uno Pizzeria in 1943, this regional pizza style has a thick crust with a notably high edge, thanks to the deep circular pan it's baked in. Setting itself apart even more, the ingredients are added in reverse order—cheese, then toppings, and sauce last.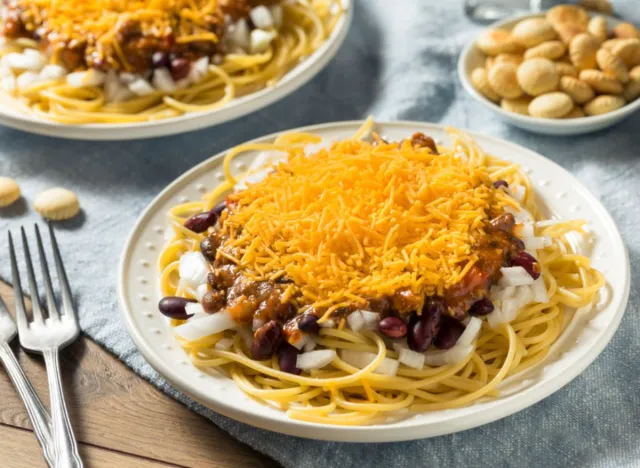 Despite being made with tomatoes and ground meat, Cincinnati chili is completely different from the standard Texas variety. Introduced in the 1920s, this iconic midwestern dish is known for its sauce-like consistency and sweeter flavor. This can be attributed to the addition of different spices like cinnamon, cloves, nutmeg, allspice, and allegedly even chocolate.
The dish's non-traditional elements don't stop there, though. Cincinnati chili is typically served over spaghetti and often comes topped with cheddar cheese (known as a "three-way"), plus onions or beans ("four-way"), or both ("five-way"). The midwestern favorite took the spotlight last Super Bowl season and even earned a spot on Google's highest-trending recipe list in 2022.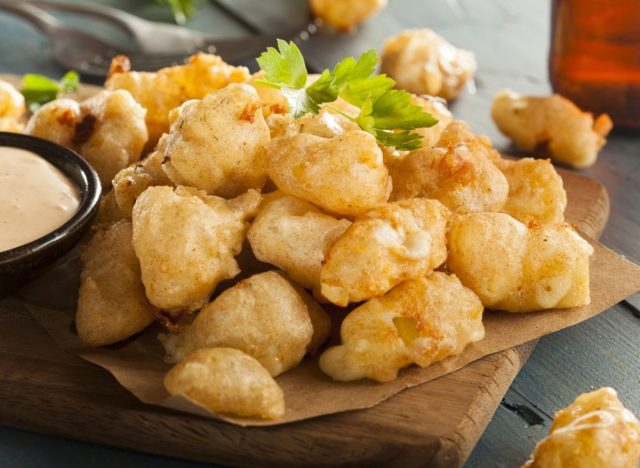 Wisconsin is practically synonymous with cheese, so if you find yourself in the Badger State, you'll want to pick up some fried cheese curds. This regional food, also popular in other midwestern states, consists of fried pieces of curdled milk—also known as cheese curds. Unlike most cheeses you'll find at the store, curds don't undergo an aging process. As loyalists know, a proper cheese curd is one that squeaks. Yes, it actually makes a noise when you bite into it, which is an indicator of freshness.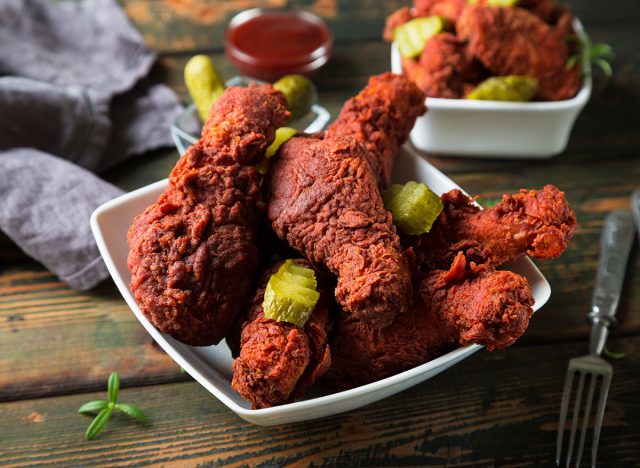 Known for its reddish hue, this popular fiery chicken is traditionally made with whole cuts of chicken that are marinated in buttermilk and hot sauce, breaded, deep fried, and coated in a spicy red sauce made with cayenne pepper.
Numerous restaurants have created their own iterations of this spicy, crispy dish, but the original version can be traced back to one woman's revenge plot. Thornton Prince, a known "womanizer" in the 1930s, came home late one night, leading his girlfriend to seek vengeance. This woman, whose name is still unknown, covered Prince's fried chicken in hot pepper one morning, but her plan backfired. Instead of crying in agony, Prince loved this dish, attempted to replicate it, and went on to open a chicken shack in Nashville, which is now called Prince's Hot Chicken Shack.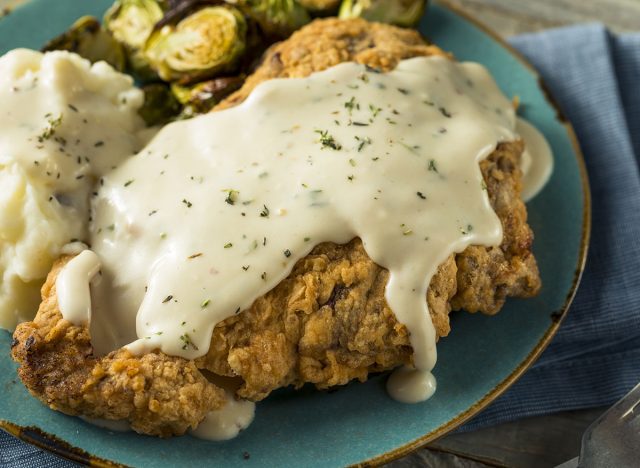 Contrary to this dish's name, there's not actually any chicken in chicken fried steak. It's simply a piece of steak that's battered and fried, similar to how fried chicken is made, and often served with a creamy white gravy. This dish isn't to be confused with country-fried steak, which is lightly battered in flour and usually served with brown gravy. Although the exact origins of this fried food are unclear, the Texas town of Lamesa claims to be the birthplace of chicken fried steak and has been hosting an annual festival for this dish since 2011.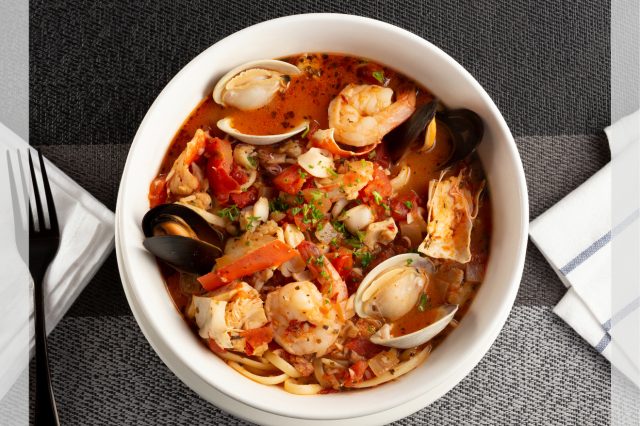 From fortune cookies to chicken tetrazzini, numerous beloved foods got their start in San Francisco, one being cioppino. This Italian-American seafood stew often includes a variety of fish and shellfish, such as Dungeness crab, clams, shrimp, scallops, squid, and mussels in a tomato-based sauce.
According to KQOD, the regional soup dates back to the mid-to-late 1800s when it was created by Italian fishermen. While Italy had been home to ciuppin—or fish stew—for years, the fishermen's inclusion of spicy chili peppers made the San Francisco dish unique.
In July 2017, this berry-loaded confection became Oregon's state pie. Grown exclusively in Oregon, the marionberry is a cross between Chehalem and Olallie blackberries. It's sometimes referred to as the "king of blackberries" and has been said to have a "tart, earthy sweetness."