When it comes to Mexican cuisine in America, there's authentic and then there's . . . the opposite. While Tex-Mex and other Americanized dishes can be tasty, they're certainly not the types of foods you'd find if you actually traveled to Mexico, a country with a cornucopia of fresh, flavorful ingredients and ancient food traditions. Sometimes, though, it can be tricky to discern the difference.
So besides knowing what not to order at a Mexican restaurant, what are the dishes to go for when searching for authenticity? A good rule of thumb, for starters, is avoiding any place that advertises with Pete Davidson. But beyond that, what are the dishes you should prioritize over, say, chimichangas? Sticking to Mexican restaurants where chefs actually eat is a good start, but honing in on the right menu and the right dishes can be a tad overwhelming, especially when eating your way through a country as varied and regional as Mexico.
"One of my culinary supervisors, who comes to us from Mexico City, and I often discuss the differences between Mexican cuisine and Mexican-American cuisine," explains Cliff Benavidas, a Mexican and Puerto Rican chef who works at The Driskill in Austin. "We agree that what truly makes a delicious Mexican culinary experience is utilizing the freshest ingredients and avoiding manufactured products or canned goods unless absolutely necessary."
Fresh ingredients are a good starting point, but the overall atmosphere of the restaurant needs to align as well. According to Abner Peralta, chef de cuisine of Alejandra's Fine Mexican Food and Cantina in San Diego County, "the experience starts at the first step once you enter the place, how they welcome you, and how the vibe is." He reads through the menu and asks for the server's favorite appetizer, then orders any traditional items that match the concept, be it queso fundido, carnitas, or chilaquiles. "Mexican cuisine is something that will always reflect flavors, aromas, and spices even on the simplest dishes."
Concept matters because Mexico is such a massive country, distinguished by its regional ingredients and foodways. It's something stressed by chefs like Arnaldo Richards, a Mexican native and the owner and chef of Houston's longstanding Picos. "Mexico, composed of seven unique culinary regions, offers a variety of distinct flavors based on the natural ingredients found in each area," explains the chef. "When searching for culturally significant and authentic dishes on any menu, our suggestion is to look for dishes with named native ingredients, such as hoja santa, epazote, cilantro, achiote seeds, and dried peppers like guajillo, ancho, de arbol and morita, which give depth and natural flavor that represent their origin."
Respecting regionality is echoed by Sarah Thompson, executive chef at Casa Playa at the Encore Las Vegas. Her advice? "Always research the region or style of Mexican cuisine the chef or restaurant specializes in. For example, at a Coastal Mexican restaurant like Casa Playa, explore the ceviche and aguachiles along with some coastal seafood entrees such as zarandeado or Baja fried fish tacos. If the chef is from Oaxaca, focus on the moles and masa-based dishes such as tlyaudas." At the end of the day, says Thompson, "Mexican cuisine is extremely diverse, and each region is unique and has district culinary dishes and techniques. Chefs take pride in showcasing dishes from their hometowns that might not be as commonly known here."
And it helps to approach your Mexican meal with an open mind and a willingness to explore. "You need to be open to surprises," says Mariam El Haj, co-founder of Calaca Mamas Cantina in Anaheim. "Mexico is a vast country with so much culture and passion, so the same dishes can often vary depending on the areas, due to regional preferences or the availability of ingredients. There isn't a whole lot of Mexican food that I've met and not liked, and with such a huge country, there is definitely deliciousness to be found all around!"
With this in mind, here are 11 authentic dishes to order at Mexican restaurants.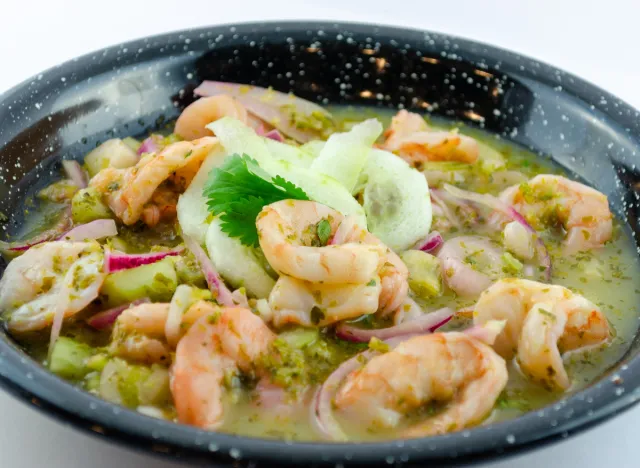 For starters, one stereotype worth debunking is the notion that Mexican food is all cheesy, heavy, and laden with meat. Case in point: a refreshing plate of aguachile. The raw fish dish is a favorite for chef Omar Rodriguez of Oyamel Cocina Mexicana in D.C. "When I eat at a Mexican restaurant, there are several dishes I always want to try because they scream authentic," he notes.
"First is aguachile, a ceviche dish that hails from Sinaloa, which is made with raw shrimp lightly cured in lime juice and a good amount of spice." He loves it because it is ingredient-driven, which means if the chef isn't using the freshest ingredients, the dish won't strike the balance of being refreshing, spicy, and acidic all at once. "For me, it's one of the best things on a hot summer day."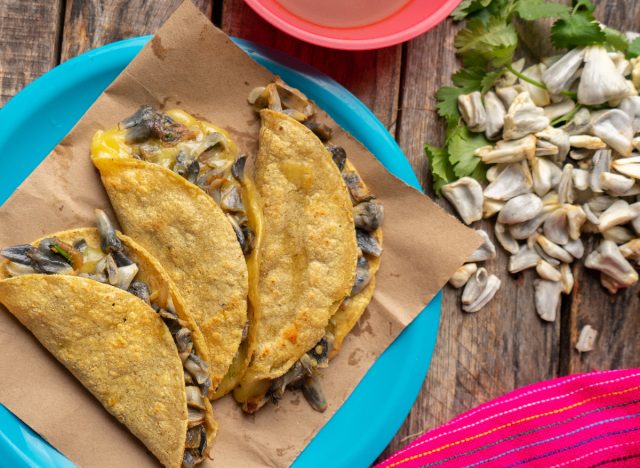 Otherwise known by the less-appetizing name "corn smut," huitlacoche is about as legit as it gets. This fungus, which grows on corn, is used to make everything from tamales and stews to quesadillas and sauces. "If I had to choose one original yet unique Mexican dish to try, I would choose huitlacoche," explains Claudio Hotter, executive chef of Mexico's Marquis Los Cabos. "It is a true delicacy that combines sweet and tangy flavors. Personally, I like to order it in quesadillas, but its versatility makes it a great for empanadas, quesadillas, creamy sauces, and a side dish to fresh fish."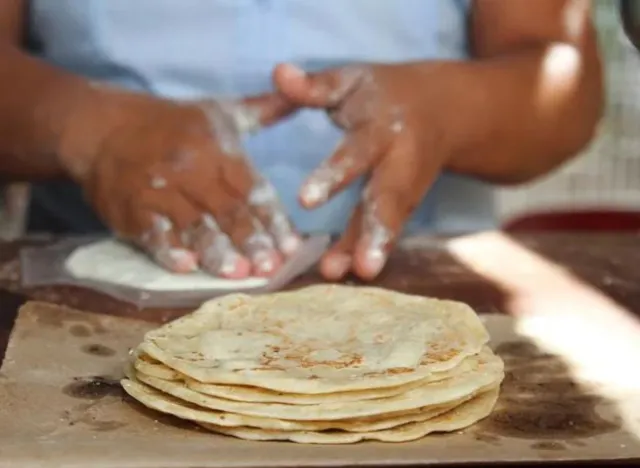 Taking it back to bare basics, one of the core elements of an authentic Mexican meal is masa, the ingredient used to make tortillas and other all manner of maize wonders. And it's rightfully a priority for chefs.6254a4d1642c605c54bf1cab17d50f1e
"I would definitely say good tortillas and a good salsa are essentials at any quality Mexican restaurant," notes Gabriela Guitrón Ramírez, chef at Zeru Miami. "Tortillas are typically the transport of almost any dish, if the tortilla is good, you're already 50% there!"
Taking it to 100%, chef Anthony Sitek, owner of Cincinnati's Crown Restaurant Group and Crown Cantina, likes to use scratch-made tortillas for the perfect tacos. "When I want an authentic experience at a Mexican restaurant, it's got to be about the perfect taco. The secret to a perfect taco, in my opinion, is all about the tortilla." At Crown Cantina, for example, he uses corn locally sourced in Ohio, and they do the entire nixtamalization process in-house, making the tortillas to-order. "Nixtamalization is a traditional process in Mexico and Central America where the corn is treated with lime, cooked, dried, and ground to produce the flour we use to make tortillas. The perfect tortilla is a like blank canvas to really show off all the other ingredients for a flavor impact that is fresh, bright, and bold."
Beyond tacos, though, there's a whole world of things that masa can achieve. According to Christian Irabien, chef of Amparo Fondita in D.C., looking at different variations of corn masa beyond tortillas is one of his favorite ways to dive into regional Mexican flavors. "Look for tlacoyos, sopes, tamales, gorditas, salbutes, panuchos, tlayudas, tetelas, and memelas—the variations can be endless depending on the region of Mexico being represented in the restaurant you are visiting."
The humble bean is another menu item that Irabien recommends ordering. Beyond re-fried stereotypes, though, there's much more to the legume than meets the Tex-Mex eye.
"While often rice and beans can be an afterthought staple in Mexican cuisine, the true mark of an excellent meal is the beans." He adds that beans, much like corn, come in many different varieties, colors, textures, and cooking methods, and spices used to cook beans can have a huge effect on the end product. "I especially love them when they are cooked with avocado leaf, which imparts an amazingly earthy and anise-y flavor," he says. "Epazote is also one of those herbs that immediately takes me home, so any time you see it listed on a menu, try to order it and savor its unique and complex flavor and aroma."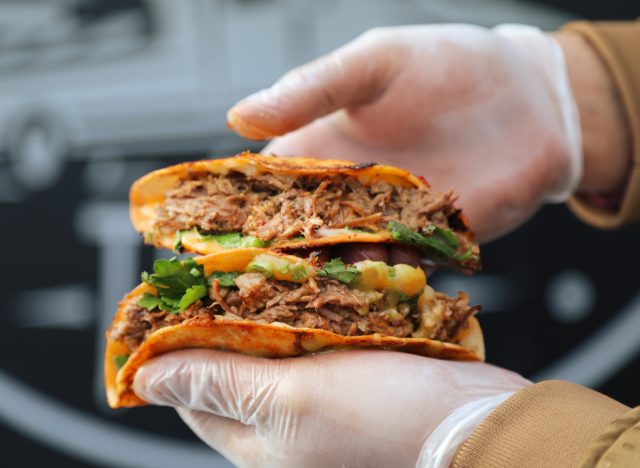 Within the whole wide world of tacos, what distinguishes an authentic taco from something with Doritos in the name is all a matter of adventurous appetite. For Rich Garcia, executive chef of Rocco's Tacos & Tequila Bar in Florida, tacos are his favorite order at Mexican restaurants worth their salt. "For me, it's all about the tacos," he proclaims. "I enjoy the classics, street tacos, and tacos that are unique to a chef or restaurant." His favorites are birria tacos, a traditionally spicy Mexican beef or goat stew that's slow-cooked until the meat is tender and succulent. "Someone had the amazing idea to stuff this meaty goodness into a taco shell, and then dip the whole thing into the stew and fry it up."
Omar Rodriguez of D.C.'s Oyamel seconds that endorsement of distinguished tacos. Specifically, his favorite is taco de lengua, aka beef tongue tacos. "This one is my childhood favorite, and really demonstrates a true understanding of cooking technique and how to handle a tough cut of meat. The meat should be moist and with an almost melt-in-your-mouth texture."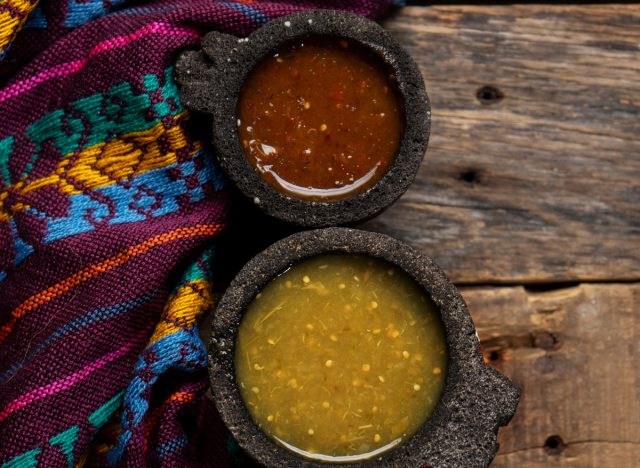 Not to be outshone by their entree counterparts, small ingredients and sides are just as important when it comes to authenticity. Lorena Garcia, chef of CHICA in Miami, Las Vegas, and Aspen, says that she always starts with salsas and housemade sauces. "From there, I'll know the chef's flavor profile and the origins of their cooking. Since everyone cooks their regional food proudly, this helps guide what style of authentic Mexican food I'm about to enjoy."
Cliff Benavides agrees. The sous chef of The Driskill in Austin says that salsa is a good harbinger of authenticity. "When I think of truly authentic Mexican cuisine, I think about the quality and freshness of ingredients and the time and effort put into a dish," he notes. "With this in mind, I tend to look for a delicious, flavorful, and colorful salsa to start; if the salsa doesn't bring much to the table, then it leaves little desire to move forward with the rest of my dining experience. But if it starts off with a bang, then I shift my attention to the next item on the menu."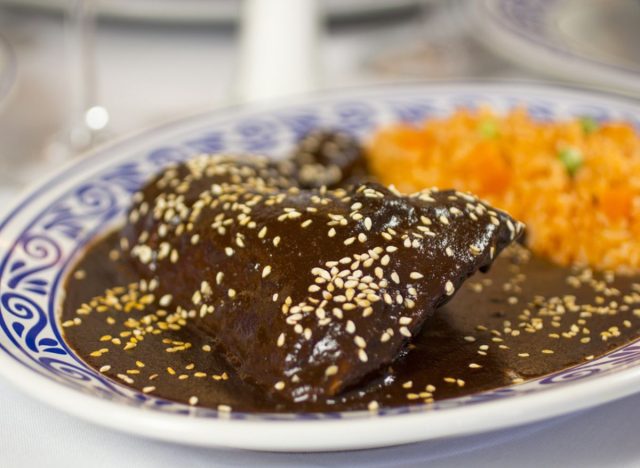 In terms of classic, regional, and intensive menu items, it doesn't get much more legit than mole, a nuanced sauce with seemingly infinite variations throughout Mexico—and authentic Mexican restaurants. "When I dine out at a Mexican restaurant, I like to browse the menu for mole," says Iliana de la Vega, owner and executive chef of El Naranjo in Austin. "Mole is one of the most complex dishes in the Mexican repertoire, and depending on the region of Mexico the restaurant represents, it will have different spices." For example, mole should be perfectly balanced and well-seasoned without any one ingredient overpowering the overall profile. "If it contains Mexican chocolate or Mexican canela (Ceylon cinnamon), it should be just a hint, not the main flavor."
Mole is another authenticity market for Brent Allison of Matador Restaurants in Portland, Ore. "With all my time spent in Mexico and other parts of Central and South America, mole is an item that I don't see replicated in other places. It's inherently Mexican, and if I saw it on a menu, I would know that I was in a Mexican restaurant." Speaking to its nuances, he points out that many moles use warming spices like allspice, cinnamon, and clove, along with other Mexican spices like burnt or charred corn tortillas, and burnt garlic. "And finally, in a few of the darker moles, you have chocolate, with origins that go back to the Aztecs. That's why I find this sauce to be the most authentic."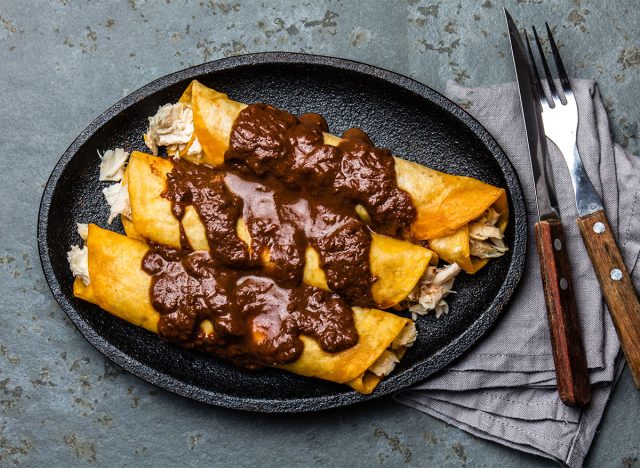 When determining authenticity, it helps to start with dishes that are as plain and simple as they come. That's the thinking from Zac Lennox from Palacios Murphy hospitality group in Houston. "I can tell a lot about a sushi restaurant by how they make a California Roll. It is so simple you can't hide. You can really tell a lot about how good a kitchen is when you order something that is so straightforward you can't hide anything about it."
And that's precisely what he does at Mexican restaurants, too, where his go-to order is something as simple as cheese enchiladas. "There is nowhere to hide," he says. "They are good or they are not good. They can be different or unique and still be great, but the dish is so simple it has to be well thought out." For instance, this'll help him determine details in the cheese, the sauce, the rice and beans, and even the temperature of the plate. "Each of these questions says a lot about an operation and what they prioritize. Again, I don't think there is one recipe that is better, but you can tell if someone is on their game and serious about their food or if they are phoning it in."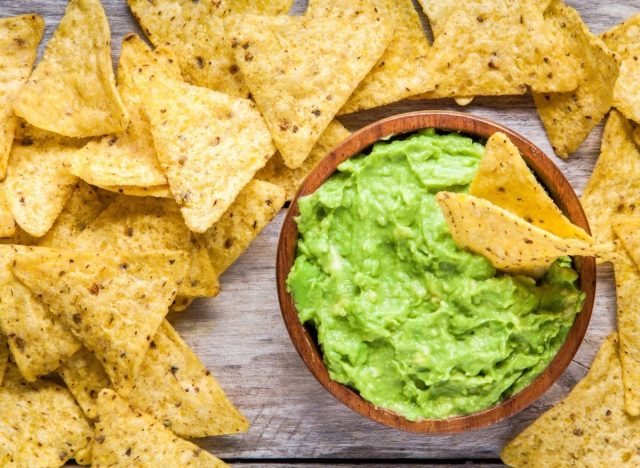 Guacamole is another classic Mexican order that can make or break a restaurant in terms of authenticity. It's a must-order side dish for Lennox, who brings the same minimalist approach to the table. "Is it fresh enough that you still get the tang from the lime juice? Are the onions still crunchy? Is there enough salt? Is it bright green? Is there cilantro in it? Is it chunky like someone made it by hand or is it puree? Do they commit the big sin and put tomato in their guac to make it cheaper?"
For Roberto Santibanez, chef of Fonda in New York City, guacamole is his menu metric as well. "There are a few different things to look for when ordering a truly authentic dish at a Mexican restaurant," he suggests. "For example, guacamole should always be served fresh and made to order, not cold. The avocado, onions, and jalapeños should be sharp and fragrant with strong flavors in the lime juice, color in the avocado, and taste in a recently diced onion."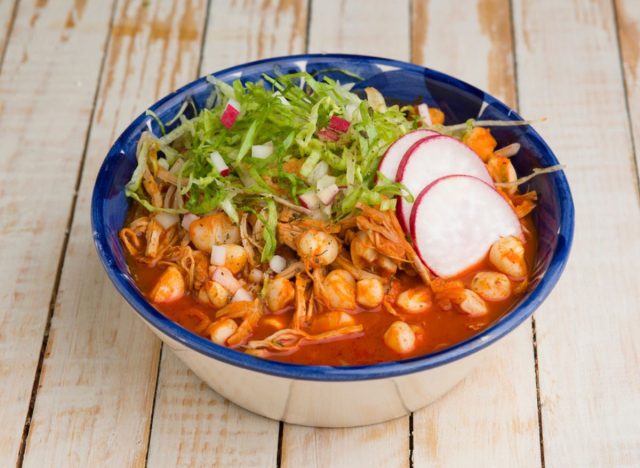 A hearty hominy stew, often simmered with various meats and spices, pozole is a top pick for Gavin Fine, owner of Fine Dining Restaurant Group in Jackson, Wyo. "Mexico is one of my favorite places in the world to spend time. For many years, I've spent time traveling throughout the country, enjoying the culture, people, and food from different regions. So when I'm looking for authentic Mexican dishes at restaurants in the States, I go straight for pozole."
So infatuated by pozole he opened Pure Madness Cafe, which specializes in a variety of pozoles, Fine adds that he likes his with braised pork shoulder or chicken thigh, and authentic toppings like lettuce, radish, onion, lime, and avocado. "Our culinary team includes chefs from around Mexico who have contributed their own takes on this traditional soup, resulting in authentic creations in four variations: verde, rojo, negro, and pinto. Ultimately, it's all about the pozole for me!"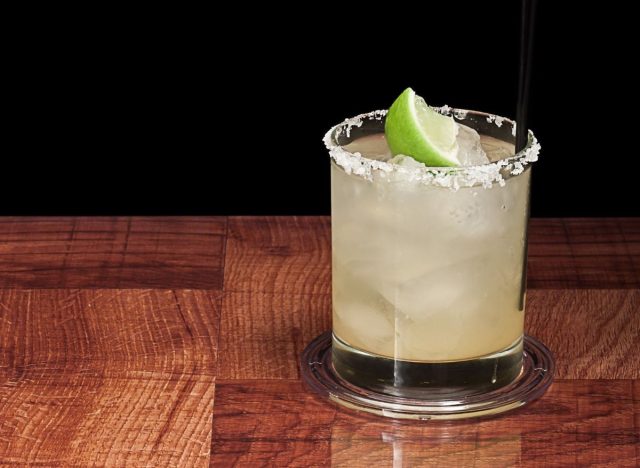 Although not a dish per se, it wouldn't be a Mexican meal without a margarita. But just like the food, there's a stark difference between authentic margaritas and those made with treacly syrups and fillers. To discern between the two, we got tips on what to look for from Courtenay Greenleaf Torren, beverage consultant for Houston-area Mandito's Tex-Mex and ARMANDOS.
For her, there are a few major factors that come into play, starting with tequila. "I love seeing a tequila in a margarita that I would sip neat," she says. "With that being said, I love to taste the agave; notes of citrus, pepper, vegetal and bright. I am not a fan of blanco tequilas that taste like sweet vanilla. Yes, some of the nuances of the tequila are obscured by the other ingredients, but when a margarita is composed of fresh quality balanced ingredients, all components complement each other and let each one shine on its own, without overpowering the others."
Then there's fresh lime juice. "Anytime I see 'sour mix' on a menu, I think 'oh no!' says Greenleaf Torren. "If it's a store-bought mix, I'm not so inclined to imbibe. I like to see if the lime juice is fresh. There's nothing like tasting fresh squeezed lime juice, especially when it's done right in front of you."
The last staple ingredient is salt. "This is the ingredient that really wraps up a completely balanced cocktail. The spirit is highlighted and balanced by the citrus, which is complemented by the sweetness, which is complemented by the salt, which makes you want to dive back in for another boozy citrus sip."
Make better eating choices every day by signing up for our newsletter!
Read the original article at Eat This, Not That!