The product recommendations in this post are recommendations by the writer and/or expert(s)
interviewed and do not contain affiliate links. Meaning: If you use these links to buy
something, we will not earn a commission.
There's a popular saying that goes "breakfast is the most important meal of the day." Well, if that were true, then why do so many restaurants put limits on when breakfast is served, restricting this all-important meal to just a few hours in the morning? That is especially problematic if you aren't exactly an early bird, because many of these menu items suddenly vanish before you have a chance to head out the door.
Thankfully, there are other restaurant chains that understand the importance of breakfast and make it a point to have it available throughout their operating hours.
All-day breakfast is a popular menu option. Even McDonald's got in on the craze for a short time. After all, who wouldn't want bacon, waffles, and omelets available all day, every day? The next time you are looking for breakfast, don't look at the clock. Just reference this list of restaurants to know where you can satisfy your cravings.
Sure, breakfast may not always be the healthiest meal of the day, but thanks to some of these restaurants, it can remain one of the most accessible. Whether it's early in the morning, in the middle of the afternoon, or late at night, here are the restaurant chains that currently serve breakfast no matter what time of day it might be.
Few things in life are guaranteed, like death, taxes, and all-day breakfast at Denny's. The restaurant chain also has lunch and dinner options on its menu, but those always seem to fade into the background. Competing for diners' attention with meals like the Grand Slam and Moons Over My Hammy is a difficult task indeed.
The International House of Pancakes, more commonly known as IHOP, would likely be committing a cardinal sin if it didn't serve breakfast all day. The chain is so closely associated with the morning meal that customers might not even realize that you can order lunch and dinner items off the menu, from hamburgers to T-bone steak dinners. Enter an IHOP with a hankering for breakfast, however, and it won't matter the time of day—those pancakes, omelets, and waffles will be ready.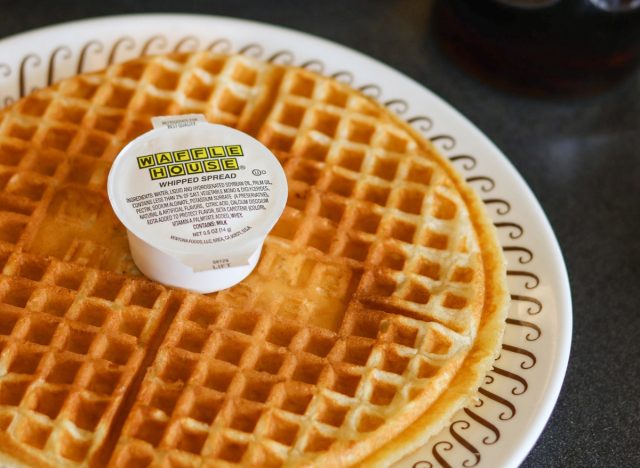 It's not just a Jonas Brothers hit! The popular diner chain Waffle House is open 24 hours a day. There are over 1,900 locations scattered across the country, though you're most likely to one in the southern U.S. Waffles are, of course, on deck no matter what time of day you visit, but all-day breakfast items also include omelets, sandwiches, hash browns, and biscuits.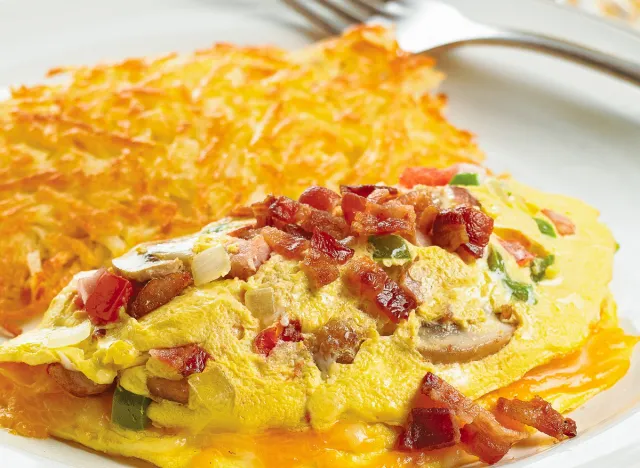 Growing up, your freezer may have been filled with Marie Callender's microwave dinners, but there's also a small chain of restaurants under the same household name, each serving all-day breakfast. There are not many locations left, and they are mostly found in western states, but the ones that remain open are where you can find all-day breakfast meals like omelets and pancakes. Unique menu items also include quiche, Eggs Benedict, and Sunrise Skillets.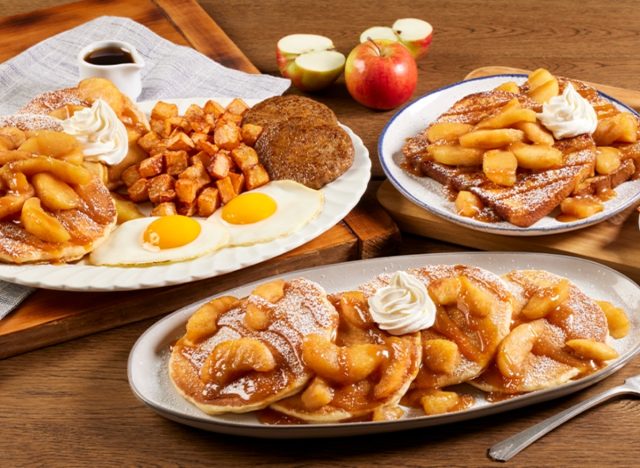 Regular customers at Bob Evans likely return week after week thanks to the restaurant chain's commitment to serving fresh ingredients, a practice that was established when the Evans family opened its first sausage shop in 1962. While the chain has been around for decades, its menu stays fresh, including its all-day breakfast offerings. Seasonal options include the Caramel Apple Farmer's Choice breakfast and newer dishes like its Farmhand Biscuit Sandwich Platter. Whether you like to stick to the classics or you're looking for something new, Bob Evans will have it ready any time of day.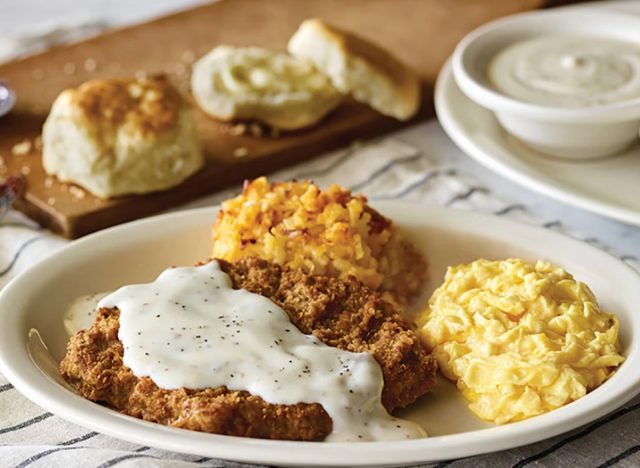 Just like its oversized rocking chairs beckoning you into the front doors, Cracker Barrel is known for a few key staples that its customers come to expect. With its general store in the front and full restaurant in the back, families have made trips to Cracker Barrel a tradition over the years. One of those tried-and-true features of Cracker Barrel that keeps its hungry customers coming back is an all-day breakfast, with options that include Grandpa's Country Fried Breakfast and Momma's French Toast Breakfast. Also, enticing families to frequent its restaurant is an all-new rewards program, so that you can earn points on all those times you order those Loaded Hashbrown Casserole Tots.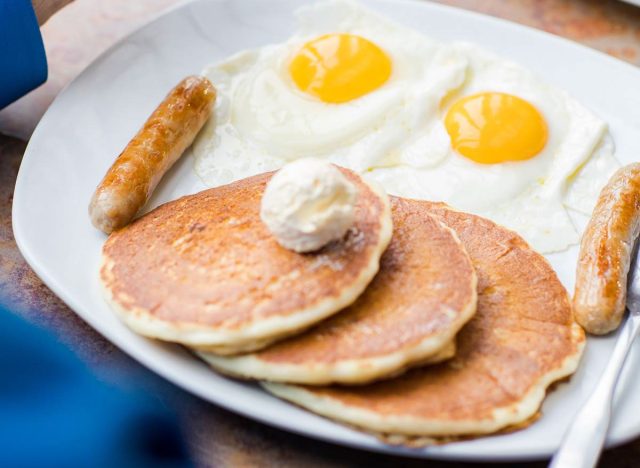 There are a lot of things to love about Perkins, including the fact that it was ranked as one of the best-tasting breakfast chains. As good as its breakfast items are, they are made even better by the fact that Perkins serves breakfast all day long. Its menu is filled with the usual suspects, as well as more indulgent breakfast meals like the Classic Eggs Benedict and Top Sirloin Steak and Eggs. Can't decide what to order? Perkins also allows its customers to build their own breakfast so it is exactly to their liking.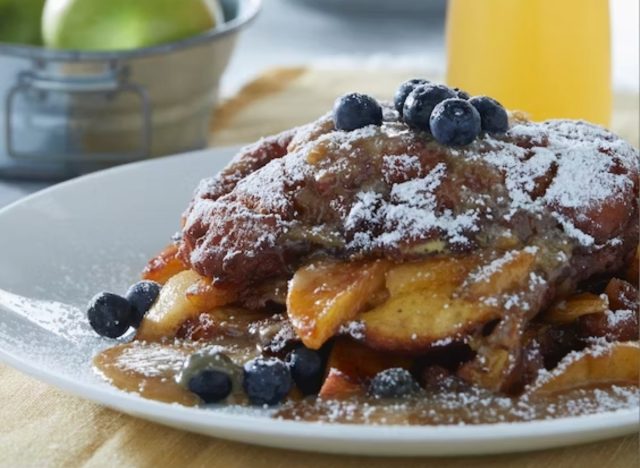 If you look forward to Sunday brunch and mimosas with your friends each week, then you might have stopped by Another Broken Egg Cafe once or twice. This restaurant chain with over 80 locations is known for its indulgent breakfast and brunch offerings, which include an entire brunch cocktails menu. Its food menu is also filled with one-of-a-kind meals you don't find everywhere, like Crab Cake Benedict, Apple Fritter French Toast, and Lobster and Brie Omelets. The good news is that you don't have to wait until Sundays to enjoy these items. Another Broken Egg Cafe serves its scrumptious menu every day.6254a4d1642c605c54bf1cab17d50f1e
Biscuitville leaves little to the imagination when it comes to its specialty. Whether you're looking for a sandwich or a full platter, your breakfast will include biscuits in some capacity. That's just fine with Biscuitville customers, who frequent the restaurant chain for its fresh ingredients found throughout its menu. That commitment to freshness helped Biscuitville earn the title of best fast-food breakfast joint in 2023 poll by USA Today. Its scratch-made biscuits, along with its other breakfast menu items, are available all day long.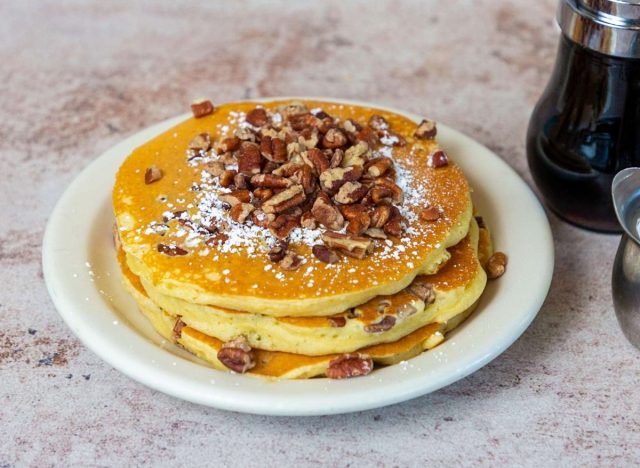 Around since 1953, the Original Pancake House has kept things simple. Even its website is reminiscent of a menu at a diner that serves a top-notch breakfast. According to the website, its all-day breakfast menu items are made with the finest ingredients, "such as 93 score butter, pure 36% whipping cream, fresh grade AA eggs, hard wheat unbleached flour, and our own recipe sourdough starter." Expect tantalizing items like crepes, sourdough flapjacks, and corned beef hash.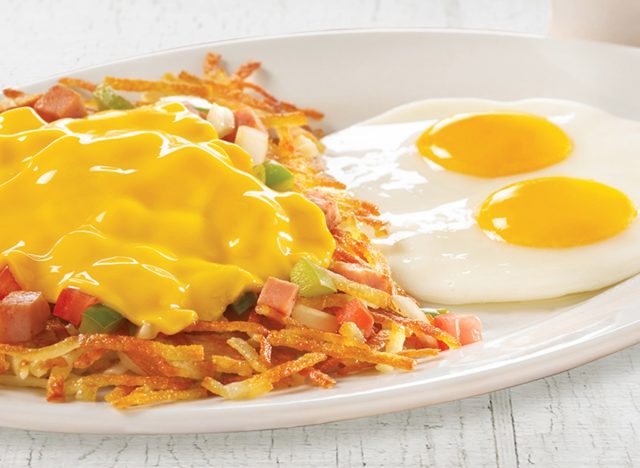 If your idea of breakfast extends beyond the morning hours, look no further than Huddle House. The restaurant chain serves its bacon, eggs, home fries, and more, all day long. Whether you prefer your breakfast to be savory or sweet, there's a wide selection of menu options available morning, noon, and night. When it's dinner time, and everyone around you is ordering a hamburger or a ribeye steak dinner, go right ahead and order your western omelet.