The product recommendations in this post are recommendations by the writer and/or expert(s)
interviewed and do not contain affiliate links. Meaning: If you use these links to buy
something, we will not earn a commission.
A great side dish can elevate a meal from good to spectacular. You probably have your own go-to side of choice, that one option where if you see it on the menu, you order it without hesitation. Pretty much everyone does! If you prefer veggies, you may be on the lookout for Brussels sprouts or grilled asparagus. For those who want something a little starchier, there's the quintessential loaded baked potato.
There are your standard potatoes, and then there are loaded potatoes. The basic baked potato is a great accompaniment by itself, sure, but it can also serve as the perfect blank canvas for an array of toppings. Those toppings range from cheese and sour cream to bacon, chives, and broccoli, but really the sky is the limit. If you have tried every potato skin appetizer that there is to try and you want more of that cheesy, bacon-coated goodness, make sure to upgrade to a loaded potato for your side dish.
Many restaurant chains serve great loaded potatoes, but steakhouses are the most common establishments you'll come across. Whether it's a perfectly baked potato or unique toppings, there are many ways these chains have elevated the art of spud loading. Here are 10 of the absolute best.
LongHorn Steakhouse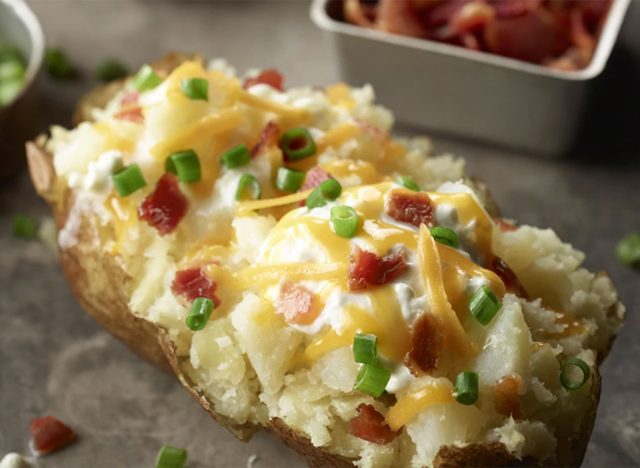 Loaded Idaho Baked Potato (Per Order): 470 cal, 20 g fat (12 g saturated fat), 2570 mg sodium, 65 g carbs (6 g fiber, 4 g sugar), 11 g protein
LongHorn Steakhouse is a fan favorite for many reasons, and it seems as though its popularity is only growing. When it comes to side dishes, LongHorn Steakhouse makes sure the favorites are all accounted for. Its Loaded Baked Potato comes topped with Applewood smoked bacon, sour cream, aged yellow cheddar cheese, butter, and green onions. If you want to switch things up, LongHorn also sells a Loaded Potato Soup that comes with all of the usual loaded potato fixings.
Texas Roadhouse
Loaded Sweet Potato (Per Order): 740 cal, 28 g fat (10 g saturated fat), 390 mg sodium, 118 g carbs (10 g fiber, 68 g sugar), 6 g protein
Texas Roadhouse takes the often-pricey steakhouse dinner and makes it more accessible to families without sacrificing on taste. On top of that, it has a decently large menu for customers to order from. Case in point: Texas Roadhouse sells not just one kind of loaded potato. Its traditional loaded potato comes with butter, sour cream, cheddar cheese, and bacon, with the option of adding beans, aka Texas Red Chili. But, if the usual russet potato isn't your thing, you can also try its loaded sweet potato, which comes with a Honey Cinnamon Caramel Sauce and toasted marshmallows.
Outback Steakhouse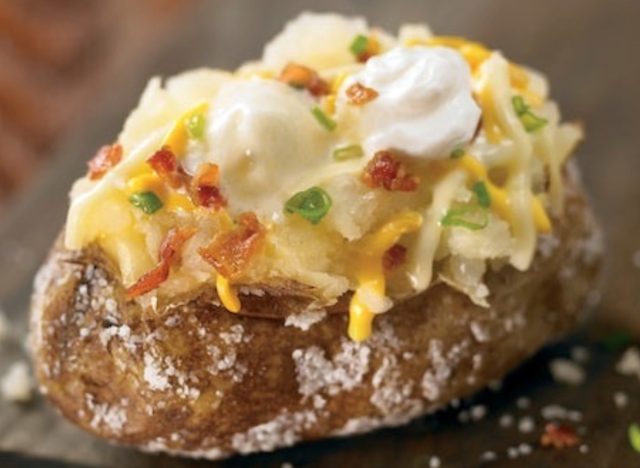 Loaded Baked Potato (Per Order): 340 cal, 130 g fat (14 g saturated fat), 160 mg sodium, 47 g carbs (3 g fiber, 3 g sugar), 9 g protein
When most people think about loaded potatoes, the sight of a perfectly baked russet potato piled high in toppings often comes to mind first. That is precisely what Outback Steakhouse offers with its dressed baked potato. Toppings include cheese, sour cream, butter, bacon, and chives. But who said loaded potatoes always have to come baked? Outback also has its loaded mashed potatoes, which come with the same toppings. Perhaps you aren't a fan of potato skins or you simply prefer your side to come mashed. Either way, you don't have to sacrifice those loaded toppings when choosing your potato side dish at Outback.
Cheddar's Scratch Kitchen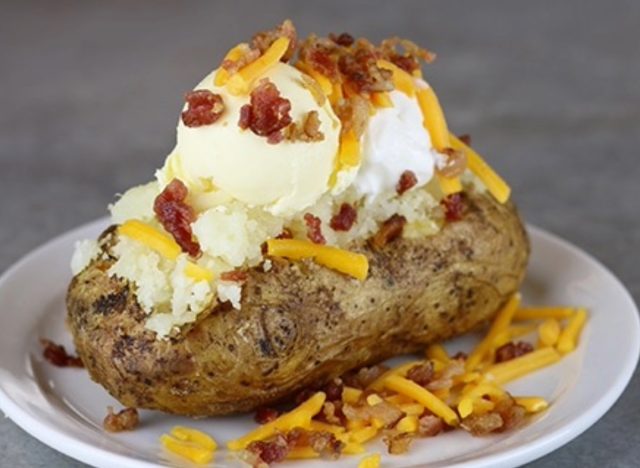 Loaded Baked Potato With Bacon (Per Order): 540 cal, 29 g fat (14 g saturated fat), 1340 mg sodium, 51 g carbs (5 g fiber, 5 g sugar), 18 g protein
Cheddar's Scratch Kitchen prides itself on serving food that is made from scratch in its kitchens, hence the name. That policy extends to its loaded baked potato, which can be served with or without bacon. Cheddar's also has a cheese and bacon mashed potato side dish as well. The loaded potatoes from Cheddar's may not be as flashy as other restaurants and have fewer toppings, but the chain's commitment to serving from-scratch ingredients makes this or any side dish a great choice.
Cracker Barrel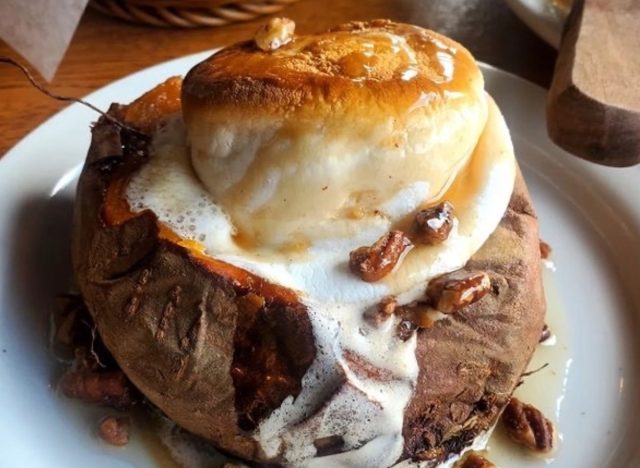 Loaded Baked Sweet Potato (1 tbsp): 530 cal, 25 g fat (12 g saturated fat), 230 mg sodium, 75 g carbs (7 g fiber, 40 g sugar), 6 g protein
Cracker Barrel may be best known for its Southern staples like Chicken N' Dumplins, but diners should not pass on the opportunity to try the loaded potatoes. The popular down-home, comfort-food chain has two options. The first is a traditional loaded baked potato, which comes topped with shredded colby cheese, bacon bits, whipped butter, sour cream, and chopped green onions. Or, you can go for the loaded sweet potato, which comes topped with brown sugar cinnamon butter, toasted marshmallow, butter pecan syrup, and candied pecans.
Ocean Prime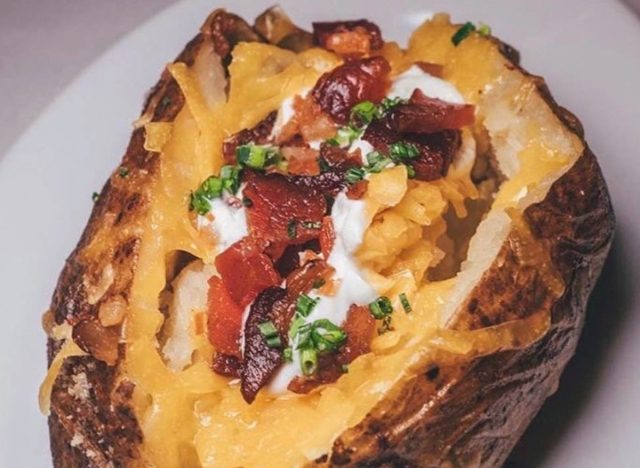 Nutrition information unavailable.
Loaded potatoes are not just a great accompaniment to a steak dinner. They also pair wonderfully with seafood dishes, as well. Just take Ocean Prime as an example. Whether you order surf or turf, its loaded baked potato is one of the many side dishes to consider. Ocean Prime surely knows its starchy sides, as other options include a twice-baked Potato, whipped potato, roasted garlic mashed potato, or smoked gouda tater tots.
Claim Jumper Steakhouse & Bar
Loaded Baked Potato (1 order): 766 cal, 36 g fat (20 g saturated fat), 706 mg sodium, 84 g carbs (6 g fiber, 4 g sugar), 22 G protein
Claim Jumper Steakhouse & Bar is a smaller casual steakhouse chain located primarily on the West Coast. Even if you have never been, you don't have to think too hard to guess what you can order. Steak dinners come with your choice of side, which includes a loaded baked potato. "You can't go wrong with potatoes, and that's certainly true here!" wrote one happy customer on the restaurant's website. "The Loaded Baked Potatoes are a hit every time!"
Morton's The Steakhouse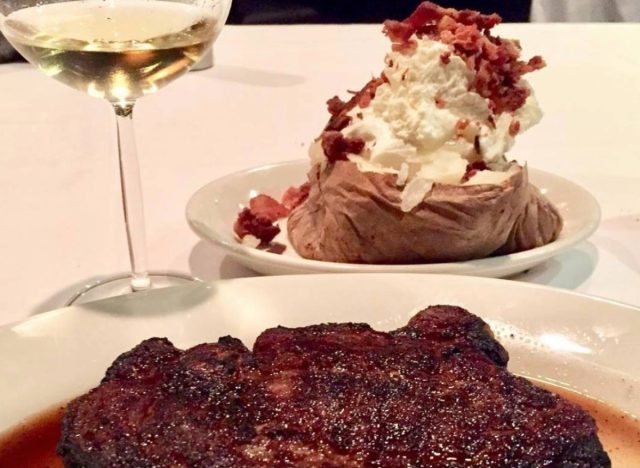 Loaded Baked Potato (1 order): 1430 calories
From butters and sauces to several different steak enhancements, there are many ways to jazz up an otherwise standard slab of meat at Morton's. On top of those options, customers can also choose from several different side dishes, which includes a loaded baked potato. One reviewer on  Tripadvisor described their fully loaded baked potato as "a perfect complement to the steak."
Del Frisco's Double Eagle Steakhouse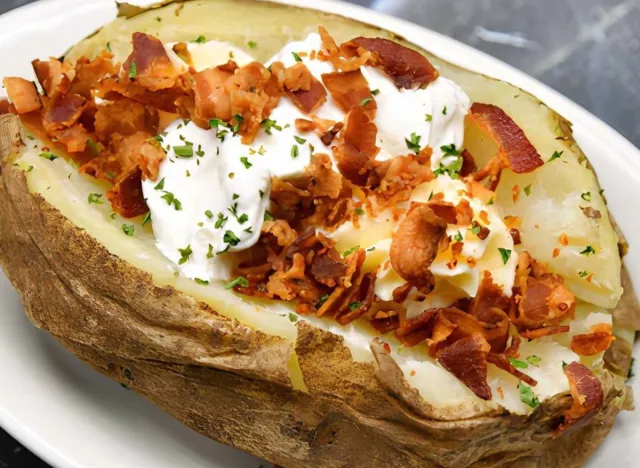 Nutrition information unavailable.
The price of one loaded baked potato at Del Frisco's may give you sticker shock—it's $16 in New York City. But ,one Yelp reviewer pointed out that it's "large enough for more than 2 people." So, you may want to consider splitting one with your dining companion, giving you a little more bang for your buck. Another reviewer shared on Yelp that they ordered the mashed potatoes, which also came loaded with toppings. "These are sort of like a loaded baked potato all mashed up," the reviewer wrote. "As such, they were not smooth like potato purée but were very tasty."
Ruth's Chris Steak House
Baked Potato Fully Loaded (1 order): 800 calories
There are several ways to enjoy a potato at Ruth's Chris Steak House. One of those ways is a fully loaded baked potato, weighing in at a whopping one pound. Toppings on the potato include cheese, bacon, sour cream, butter, and chives. This side dish, along with the high-quality meat it accompanies, adds up to a memorable dining experience. As one Tripadvisor shares, "We both love the loaded baked potato…This place is a winner if you want a fine dining experience that serves excellent food."6254a4d1642c605c54bf1cab17d50f1e
Fleming's Prime Steakhouse & Wine Bar
Loaded Baked Potato (1 order): 910 calories
Fleming's Prime Steakhouse is probably better known for its au gratin potatoes, known as Fleming's Potatoes, but customers can also order a baked potato, either plain or loaded, as an accompaniment to their steak dinner. One customer who left a five-star review on Yelp noted that the loaded potato was "excellent." Another customer on Tripadvisor  described it as "delicious" and large enough to share with another person.