Once lunchtime rolls around and you realize you forgot your brown bag, the nearby submarine sandwich shop easily could be calling your name. The simplicity and convenience of these shops can also fit your schedule without breaking the bank while on the clock during a busy workday. These restaurants offer various combinations of similar sandwich formats but give you some power in customization. Some of these establishments also allow menu items served up on buns, in wraps, inside bowls, or atop salads.
Jersey Mike's is a popular sub shop you might stumble upon. Here, you may not find sandwiches dripping with sauce, oil, or cream, but there could still be hidden sources of excess fat and sodium, while maybe some surprises with added vegetables and fiber. We have assembled some strategies to order better at Jersey Mike's, as well as menu options to pass by. Follow this guide to choose your next sub with confidence.
How to order the healthiest sandwich at Jersey Mike's:
Steer clear of extra cheese. More melted (or cold) cheese can amass calories quickly and none of the cheese used at Jersey Mike's aligns with the Dietary Guidelines for Americans 2020-2025 recommendations of reduced fat, low fat, or fat-free cheese.
Avoid too much meat. More meat might make us assume that there is simply more protein within final nutrition facts. However, many times meat at submarine sandwich shops is animal protein like bacon, roast beef, salami, and ham, which also racks up saturated fat.
Order "Mike's Way." The chain's unique ordering phrase means your meal comes prepared with nutritious onions, lettuce, tomatoes, olive oil blend, red wine vinegar, and spices.
All menu item nutrition facts are for the "regular" size unless listed otherwise. Read on to find out the best subs at Jersey Mike's as well as what to avoid, and for more, don't miss The Unhealthiest Fast Food Sandwiches in America—And 10 Healthier Options.
The 5 Best Menu Items at Jersey Mike's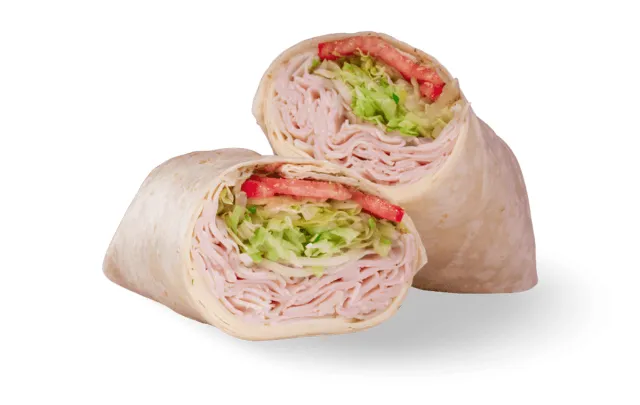 780 calories, 45g total fat (13g saturated fat), 1877mg sodium, 58g carbs (8g fiber, 5g sugar), 39g protein
As one of the highest-fiber menu items you can build, the Turkey and Provolone on a wheat wrap (regular sandwich pictured above) has 8 grams of fiber per serving and under 800 calories when customized as a wheat wrap.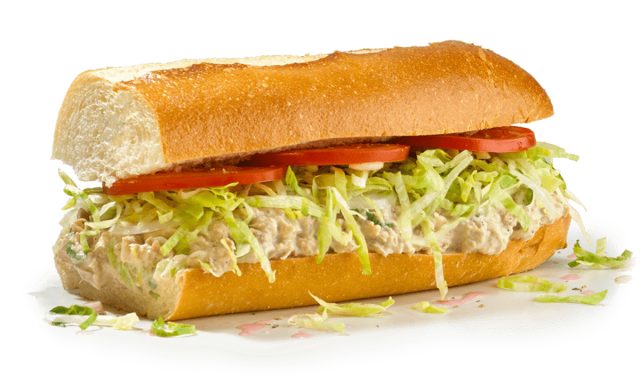 620 calories, 42g total fat (6g saturated fat), 753mg sodium, 38g carbs (4g fiber, 5g sugar), 20g protein
Albeit perhaps disheartening, falling below 800 milligrams of sodium and 10 grams of saturated fat per serving is quite an accomplishment for a submarine sandwich restaurant. The Mini Tuna Fish Cold Sub comes in at 753 milligrams of sodium and manages to have just 6 grams of saturated fat per sandwich while supplying an adequate 20 grams of protein.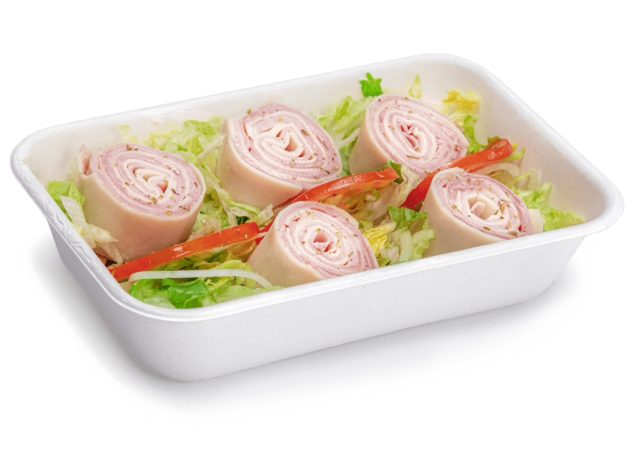 580 calories, 48g total fat (12g saturated fat), 1272mg sodium, 13g carbs (5g fiber, 7g sugar), 28g protein
The "bowl" format option for menu items at Jersey Mike's drops the calorie count substantially (261 calories saved to be exact) and puts your favorite ingredients instead on a bed of lettuce. Order the Ham & Provolone Sub as a bowl, and add avocado to provide some creaminess without mayonnaise or extra cheese.
630 calories, 30g total fat (10g saturated fat), 730mg sodium, 63g carbs (7g fiber, 9g sugar), 26g protein
You can't miss the vegetables on the Grilled Portabella Mushroom & Swiss Hot Sub, and we decided to make it that much more obvious by selecting "extra grilled portabella mushrooms". This sandwich gets you to around 1 ½ servings of vegetables (that's over half of the daily vegetable recommendations if you're following a 2,000-calorie diet).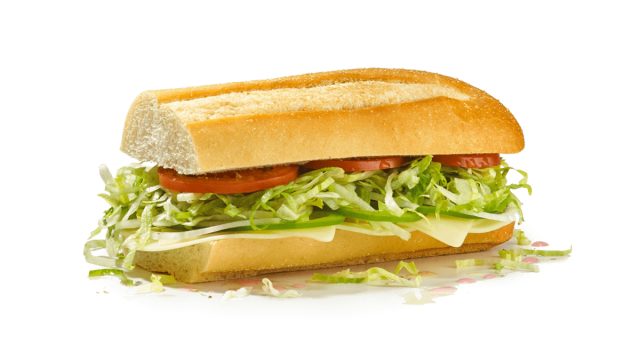 730 calories, 43g total fat (12g saturated fat), 775mg sodium, 59g carbs (7g fiber, 7g sugar),24g protein
The Veggie Cold Sub with Swiss is a vegetable-forward sandwich made on wheat, rather than white, bread (increasing the fiber by 2 grams). By removing the provolone cheese but keeping the Swiss cheese, you'll decrease grand totals by a considerable 190 calories and 15 grams of fat.
The 7 Worst Menu Items at Jersey Mike's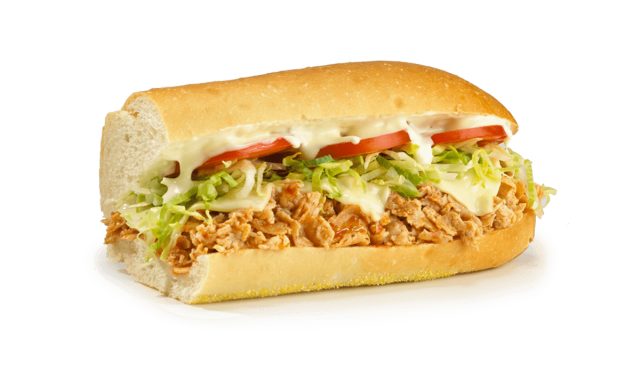 870 calories, 47g total fat (14g saturated fat), 3344mg sodium, 65g carbs (4g fiber, 10g sugar), 49g protein
One of our "biggest losers," the Buffalo Chicken Cheese Steak Hot Sub comes in at a slap-in-the-face 3,344 milligrams of sodium, which is over double the amount of sodium recommended daily by the American Heart Association.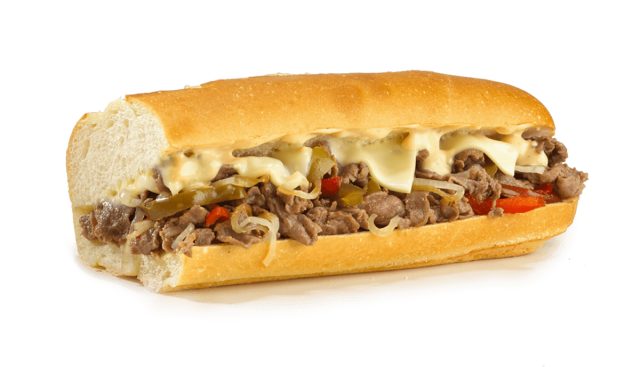 990 calories, 62g total fat (19g saturated fat), 2317mg sodium, 64g carbs (3g fiber, 9g sugar), 45g protein
With a disappointing just 3 grams of fiber per sub, the Chipotle Cheese Steak Hot Sub has 62 grams of total fat (32 grams of that just from the Chipotle mayo) and barely-there vegetables.
910 calories, 49g total fat (16g saturated fat), 2694mg sodium, 62g carbs (4g fiber, 9g sugar), 58g protein
The four words "bacon", "ranch, "cheese" and "steak" in the title of a menu item probably indicate this food isn't the best choice, and you would be right. The Bacon Ranch Chicken Cheese Steak Hot Sub is loaded with calories, saturated fat, and sodium, even when ordering the "regular" size.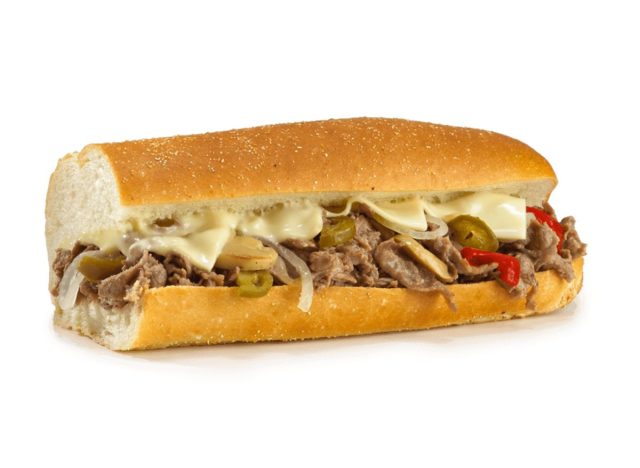 880 calories, 42g total fat (19g saturated fat), 2615mg sodium, 66g carbs (3g fiber, 9g sugar), 61g protein
Although the Big Kahuna Cheese Steak Hot Sub delivers over 100% of the Recommended Dietary Allowance (RDA) of protein, it does so at the expense of also having 19 grams of saturated fat, which is barely shy of the total 20 grams of saturated fat intake recommended each day.
1020 calories, 59g total fat (17g saturated fat), 1753mg sodium, 58g carbs (4g fiber, 7g sugar), 61g protein
The "Cancro Special," named after Jersey Mike's founder Peter Cancro's brother, carries the family name via a surplus of calories, fat, saturated fat, sodium, and enriched carbs. This is all achieved by building a sandwich that includes pepperoni, roast beef, provolone, white bread, and pepperoni.6254a4d1642c605c54bf1cab17d50f1e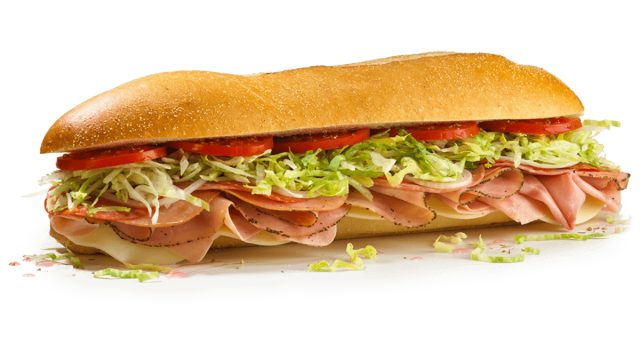 1730 calories, 103g total fat (28g saturated fat), 4471mg sodium, 121g carbs (8g fiber, 18g sugar), 80g protein
We sure hope you intend to split the Giant The Original Italian Cold Sub with a friend (or multiple friends), but if not, be prepared for your heart to work overtime, responding to the excessive 4,471 milligrams of sodium and 28 grams of saturated fat.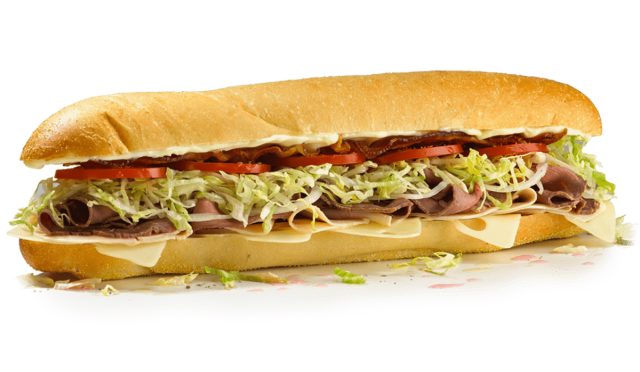 2310 calories, 160g total fat (38g saturated fat), 3686mg sodium, 116g carbs (8g fiber, 12g sugar), 109g protein
By achieving a day's worth of calories in one sandwich, you don't need to eat anything else all day, right? Wrong. The Giant Club Supreme Cold Sub is too big, too fattening, and too salty to eat altogether. Take your knife and cut this into four small subs (which is what Jersey Mike's recommends on their menu homepage), eat just one of those, and ask for a tossed salad on the side (available at some locations)
For more healthy restaurant choices, check out The #1 Healthiest Order at 9 Major Mexican Chains or 8 Healthiest McDonald's Orders.