The product recommendations in this post are recommendations by the writer and/or expert(s)
interviewed and do not contain affiliate links. Meaning: If you use these links to buy
something, we will not earn a commission.
Grab a spoon—and maybe a bib—because you are currently standing at the threshold of soup season. Countless flavors and ingredients are already starting to be ladled into bowls all across the country, but one soup which recaptures America's attention fall after fall is none other than French onion soup–affectionately shortened to "FOS" by die-hard fans.
Famous cooks throughout history have created their own versions of this soup, including Anthony Bourdain, Julia Child, and Martha Stewart. But, the popular soupe à l'ognion got its start centuries before any of these chefs even learned how to boil an egg. One oft-told legend suggests that the French King Louis XV was craving a late night snack and found only onions, butter, and Champagne in the kitchen. And, to this day, the recipe hasn't become much more complex.
The mark of a good French onion soup is really in the caramelized onions. There is some debate around whether white or yellow onions are best, but either way, they must be quality and achieve that soft, viscous texture. The broth must be flavorful, but not too salty. A piece of toasty bread or a crouton that won't get too soggy is another important piece of the puzzle. And, last but not least, it must be absolutely smothered in a thick layer of bubbly cheese. Gruyère, Swiss, provolone, parmesan, and any combination of the above have all been used at one time or another.
If you have the patience and chops, FOS is something you can surely master at home. But, there are also many restaurants—and easy-to-find chain restaurants at that–which also have the process perfected, so you can just sit back and enjoy. This autumn when you have a French onion soup hankering, grab a crock full at one of these chains. Bon appétit!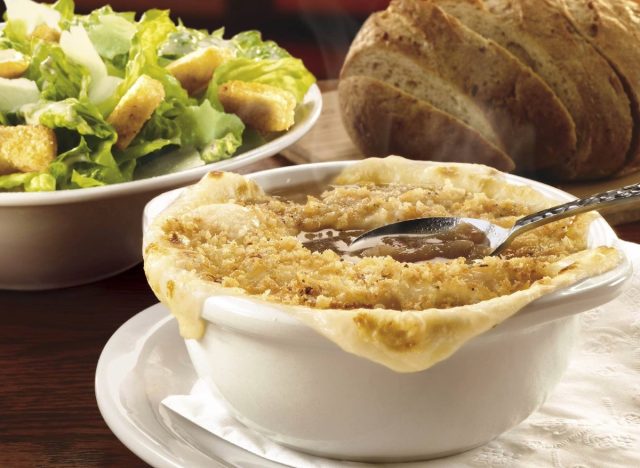 Per Serving (1 bowl): 480 cal, 31 g fat (18 g saturated fat), 1830 mg sodium, 20 g carbs (0 g fiber, 7 g sugar), 30 g protein
LongHorn's claim to fame–as hinted at by its name–is perfectly cooked, perfectly juicy steaks. But, no delicious steak would be complete without a buddy. Some people opt for a carb like mashed potatoes or fries, but other Longhorn customers swear by the chain's French onion soup.
"LongHorn Steakhouse might be a chain but their French Onion is the bomb. Probably the best bang for your buck," wrote one fan on Reddit. There are additionally a slew of TikToks erected in the soup's honor, each one showing off that all-important cheese pull. TikTok's @soupreviews also notes that it has the "perfect ratio of cheese, bread, onion, and broth," and therefore gives it a 9.8 out of 10 rating.
But, what else makes this French onion variation so memorable? One blogger suggests that the sirloin beef stock used in the broth makes a big difference. The soup's crostini (or toasty bread) adds an additional layer of seasoned goodness. And, to top everything off, the chain's signature parmesan and garlic cheese crust adorns its Swiss and provolone cheese hat for some added flavor.
Per Serving (1 bowl): 448 cal, 21 g fat (12 g saturated fat), 1994 mg sodium, 45 g carbs (3 g fiber, 10 g sugar), 18 g protein
Who better to trust with a mouthwatering French onion soup than an actual French-inspired bistro? Mimi's Cafe–with close to 50 locations across the U.S.–serves up both French and American-style fare all day long from breakfast to dinner and dessert. And, among all its menu items, a few are done exceptionally well, including the chain's fresh bakery items and its cozy FOS.
Mimi's describes the soup on its menu as "a savory broth with onions topped with crouton, Swiss and parmesan cheese," although copycat recipes also list mozzarella as a third cheese added into the mix.
In a review on TripAdvisor, one customer writes that Mimi's is "one of the few places that gets this soup done right," and specifically calls out the "thick soup broth" and the cheese, which was perfectly broiled until it was "super hot and bubbly."6254a4d1642c605c54bf1cab17d50f1e
Per Serving: 290 cal, 15 g fat (7 g saturated fat), 1310 mg sodium, 21 g carbs (3 g fiber, 8 g sugar), 14 g protein
Something's brewing at Miller's Ale House, and it's more than just beer. A hearty bowl of French onion soup is also a staple menu item at this Florida-based restaurant and sports bar chain. As you root for your favorite football team or chat with your fellow patrons, you can dig your spoon into an inviting combination of beef broth, sherry, and caramelized onions, topped off with a toasted crouton and melted provolone cheese. It's a work of art even a true Parisian would be proud of.
One customer concurred after a trip to the restaurant, specifically mentioning the soup's impeccable seasoning–something that is often overlooked under the gobs of onions and cheese.
"Wholly moly!!!" the customer wrote. "I've eaten FOS in too many restaurants and too many cities to count. But this had to be maybe the best I've ever had. It was PERFECTLY seasoned. Rich without too much sodium taste, perfectly melted & roasted cheese on top with the crustini. I really could have had 3 bowls of it and would've wanted more. Bravo. They say it's an easy soup but it's also easy to screw up. Thanks to the chef – perfection!"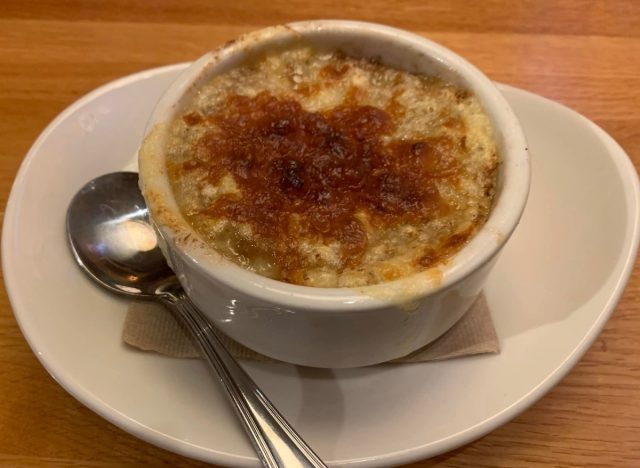 Per Serving: 370 cal, 22 g fat (12 g saturated fat), 1250 mg sodium, 26 g carbs (2 g fiber, 9 g sugar), 16 g protein
As you scan Applebees' extensive food menu of American classics, you may be surprised to find French onion soup buried in the sides section. You may be even more surprised to learn that it's actually quite good. "I have always thought that the Applebee's chain offers one of the best French Onion soups," wrote one fan on TripAdvisor. "So every once in awhile, no matter where I am, I seek out an Applebee's to enjoy it."
The chain doesn't reveal much about its version online, but fans describe it as a classic take on the traditional preparation. Imitation recipes online suggest that beef broth and slivered white onions are at the core of its makeup. It also wouldn't be complete without croutons and a blend of white cheese baked on top.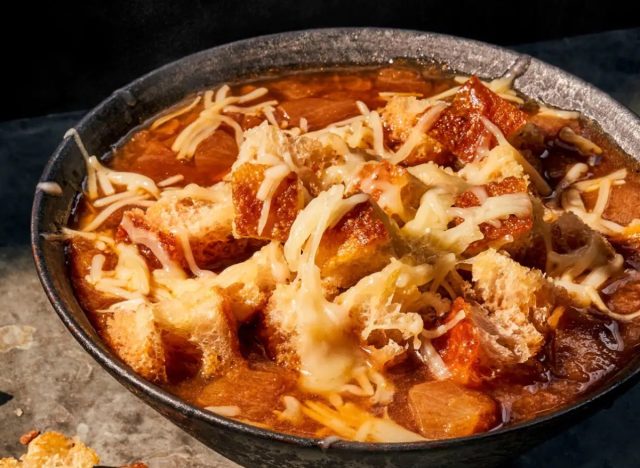 Per Serving: 310 cal, 12 g fat (5 g saturated fat), 1990 mg sodium, 39 g carbs (3 g fiber, 16 g sugar), 12 g protein
You know something is good when its disappearance causes an absolute uproar. This is exactly what happened when Panera Bread tried to quietly replace its staple Bistro French Onion Soup with another seasonal option back in 2019. The pushback across social media was so great that the chain jokingly hired Phyllis Smith from TV's The Office to manage customer comments and complaints.
Needless to say, Panera reintroduced the savory soup just months later. According to the chain's website, the recipe includes "sweet caramelized onions in a savory broth with a sherry wine vinegar gastrique, sea salt, topped with cheese and our homemade black pepper focaccia croutons."
Since Panera is a fast-casual restaurant, the cheese on the soup is not a gooey shell which covers the entire bowl like you would find at other dine-in eateries. It is instead shredded fontina mozzarella cheese sprinkled over the top. But, clearly this small variation hasn't changed consumers' opinions. And, in a Panera soup taste test, Tasting Table still ranked the French onion as one of the chain's absolute best options, noting that it had an "elevated taste" and it "positively transported [them] to Paris."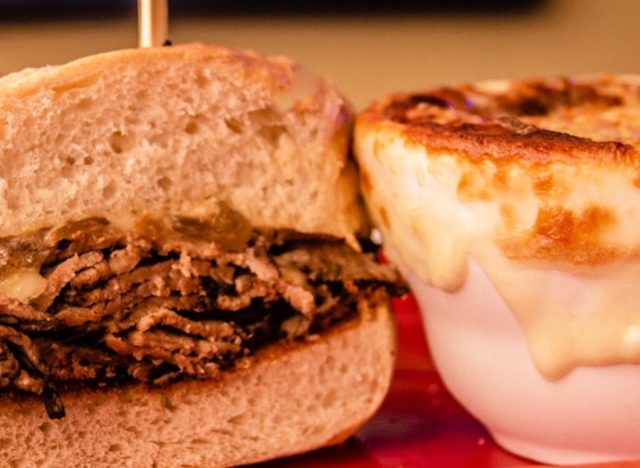 Per Serving (1 Bowl): 250 cal, 16 g fat (8 g saturated fat), 550 mg sodium, 14 g carbs (2 g fiber, 6 g sugar), 15 g protein
Alongside gourmet burgers and onion ring towers, Red Robin also dabbles in a couple hearty soups, including the French favorite. "You'd never think that a 'chain restaurant' would serve exceptional French Onion Soup, but that's just what you get at Red Robin," one fan proudly declared on TripAdvisor.
The burger joint's rendition starts out with a rich beef broth as its base–no big surprise there. Sautéed onions are plentiful and an indispensable crouton layer sits on top. Everything is then covered with a sizable amount of Swiss and parmesan cheese. Et voilà! You have a delicious dish that's capable of filling you up and giving you just as much joy as the restaurant's bottomless fries.
At one point, the chain was so inspired by this soup creation that it even unveiled its own French Onion Ringer Burger in 2019. The sandwich included all of the soup's essential fixin's including Swiss cheese, plenty of crispy onions, French onion spread, and three large onion rings mounted high on top. This creation was unfortunately short-lived. But, don't worry. The original French onion soup isn't expected to go anywhere anytime soon.