The product recommendations in this post are recommendations by the writer and/or expert(s)
interviewed and do not contain affiliate links. Meaning: If you use these links to buy
something, we will not earn a commission.
When it comes to comfort food to keep you warm on a cold winter's day, few dishes can compare to shepherd's pie. The minced meat-based dish, layered with vegetables and gravy before getting topped with a buttery mashed potato crust, has been served for generations.
If you want to discuss technicalities, most of what diners would consider shepherd's pie today is actually cottage pie. A traditional shepherd's pie is made with ground lamb meat, whereas a cottage pie is made with the more commonly available ground beef. Over time, it became the cultural norm in the United States to label the beef version of the dish shepherd's pie. The technicalities continue, as shepherd's pie is commonly associated with Irish food, though the dish actually originates in northern England and Scotland.
Here in the United States, as you might imagine, the dish is mostly found in small, independently owned Irish- and British-style pubs—the ones with the dark-toned wood, the bartender who's been working there for 40 years, and live music every Sunday night. However, there are a few chains that carry the dish as well. They may be few and far between, but some of the chains that wisely carry this savory dish have a wide reach, and you may be closer to a shepherd's pie than you realize.
The Cheesecake Factory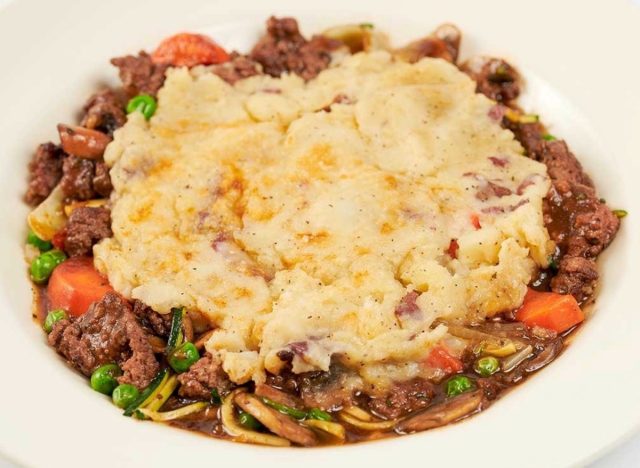 Shepherd's Pie (Dinner Serving): 1460 cal, 85 g fat (42 g saturated fat), 3300 mg sodium, 90 g carbs (13 g fiber, 16 g sugar), 79 g protein
Restaurant chain juggernaut the Cheesecake Factory has a menu that is a mile long, seemingly including every type of dish under the sun. Whether you are in the mood for chicken, pasta, seafood, or a salad, there are at least four or five different options to suit your taste buds. That also includes shepherd's pie, which is included in the specialties menu. The Cheesecake Factory sticks to the script with its traditional shepherd's pie, made with ground beef, carrots, peas, zucchini, and onions, cooked together in a mushroom gravy and covered with a mashed potato-parmesan cheese crust.6254a4d1642c605c54bf1cab17d50f1e
The Cheesecake Factory receives good marks from satisfied customers for its large portion size and incredible taste. One Tripadvisor reviewer noted that it "was a huge portion and came with lots of meat. Very tasty and served hot." Another Tripadvisor reviewer shared, "The Shepherd's Pie is so good. I recommend it to everyone."
Maggie McFly's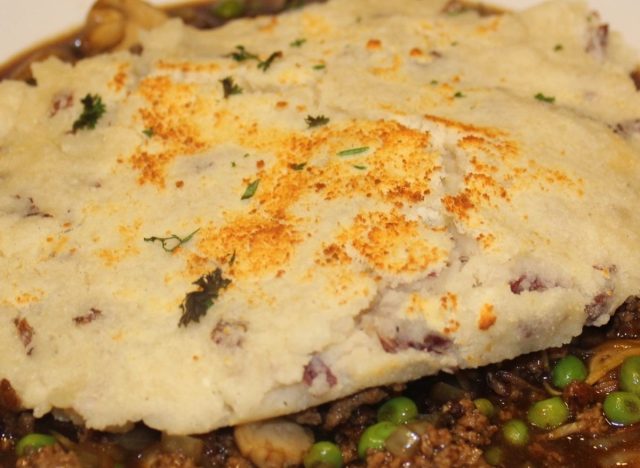 Maggie McFly's is a smaller restaurant chain found primarily in Connecticut, but it has a few additional locations up and down the East Coast. Its menu is large and includes a wide array of cuisines and dishes, including shepherd's pie. Maggie McFly's takes a few liberties with this dish from what you would typically expect to find. Its shepherd's pie is made with the usual suspects of ground beef, mushrooms, peas, carrots, onions, and gravy, but also throws in squash and zucchini for good measure. It's then topped with parmesan-crusted asiago mashed potatoes.
Marie Callender's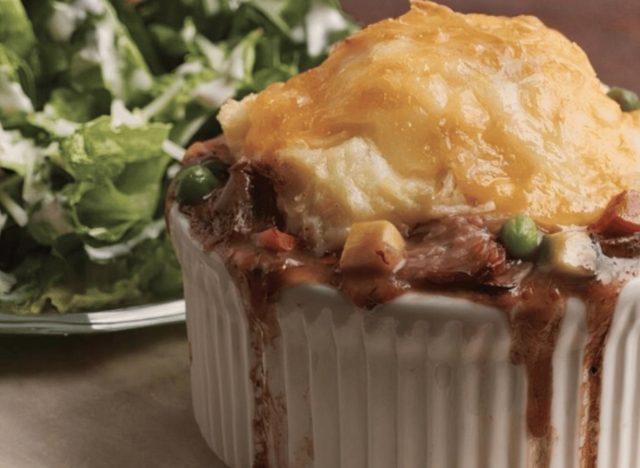 You may have grown up with Marie Callender's as your family's go-to frozen TV dinner. The company also operates a small chain of restaurants, with its menu featuring some of the same classic entrées. Marie Callendar's serves a shepherd's pie as part of a combo meal, guaranteed to keep you full and satisfied as you leave. The shepherd's pie is made with tender beef, carrots, zucchini, peas, and mushrooms, cooked in a mushroom burgundy sauce. It's then topped with mashed potatoes and a three-cheese blend to give it a nice crust. As part of the combo, you also receive a Caesar salad and a free slice of pie for dessert.
Beef 'O' Brady's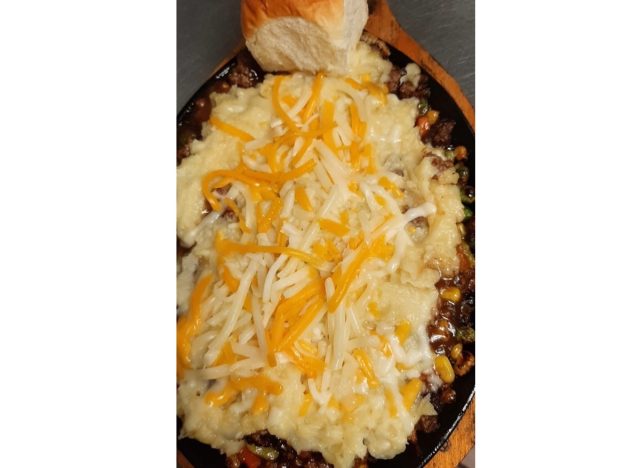 With a name like Beef 'O' Brady's, it should be no surprise to see meat-heavy fare on the menu. The chain was actually struggling quite a bit in recent years but began to make a huge comeback in 2022. You'll have to keep your eyes peeled for its Shepherd's Pie, however, as it appears as a restaurant special. When you order it, you'll find "layers of ground beef, vegetables," and "mashed potatoes, topped with melted cheese," according to the restaurant. Beef 'O' Brady's recommends you call ahead to ask about the Shepherd's Pie availability–it's a hot commodity whenever it makes an appearance.
Welly's Restaurant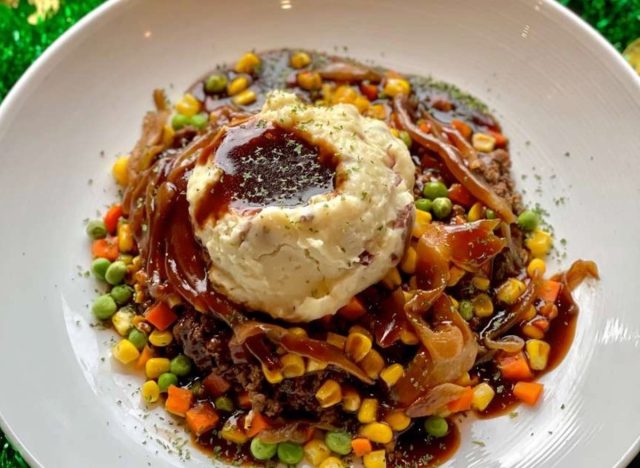 Welly's Restaurant is a small chain in Massachusetts with just two locations: one in Marlborough and one in Hudson. There's plenty of Irish influence to go around in the Northeast, and finding a dish like shepherd's pie on the menu does not come as a surprise. Welly's Restaurant makes its shepherd's pie as classic as possible, with seasoned ground beef, corn, peas, diced carrots, and caramelized onions, topped with mashed potatoes and a demi glaze.
One customer left a review on Welly's Restaurant's website, admitting that "The Shepard's Pie is amazing," wrote one customer on the restaurant's website. "I have ordered to go more times than I can count." Another customer shared, "This is my favorite Shepherds Pie. And that's hard for me to find! This Irish countryside Shepherd's Pie might beat my mom's homemade one!"
Boston Tavern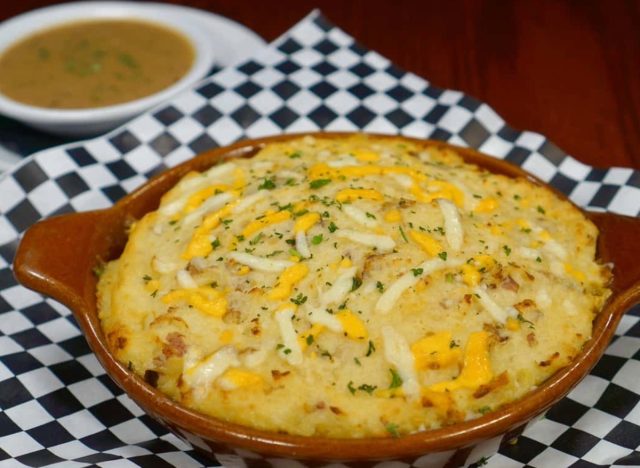 You will only find the Masachusetts-based Boston Tavern in the towns of Norwood and West Bridgewater. The small chain has all of the typical Irish comfort foods on the menu, including shepherd's pie. Boston Tavern makes its pie with ground Angus sirloin, along with a double serving of kernel and creamed corn, as well as peas. It's then topped with whipped potatoes and shredded Monterey jack cheese before being "baked to perfection in the oven." If that was not mouth-watering enough, it comes with a side of Boston Tavern's rosemary gravy.
Customers seem more than satisfied with this Shepherd's Pie. Reviews on the restaurant's website note, "One of the best Shepard's Pies I've ever had, and that's saying a lot! The gravy they serve with it is to die for! It's big enough to feed two!" Another review echoed the sentiment of the large portion size giving you a real bang for your buck, adding, "It was ridiculously way too big a portion. Made for great leftovers."