The product recommendations in this post are recommendations by the writer and/or expert(s)
interviewed and do not contain affiliate links. Meaning: If you use these links to buy
something, we will not earn a commission.
In the right hands, at the right restaurant, side dishes can rise from afterthought to the main attraction. From barbecue restaurants to fast-food chains, a good side dish can sometimes even steal the show from the entrées, and the sentiment certainly holds true at steakhouses, a brand of restaurant particularly renowned for its decadent sides.
Sure, most folks go to steakhouses for things like filets, while others might prioritize a good surf and turf. And let's not underestimate the gravitational pull of a potato. But it can't be understated how impressive some steakhouse sides can be, too. In fact, plenty of chains are just as known for their sides as they are their steaks.
From bacon-flecked Brussels sprouts to broccoli au gratin, these are the best sides to order at seven of America's major steakhouse chains.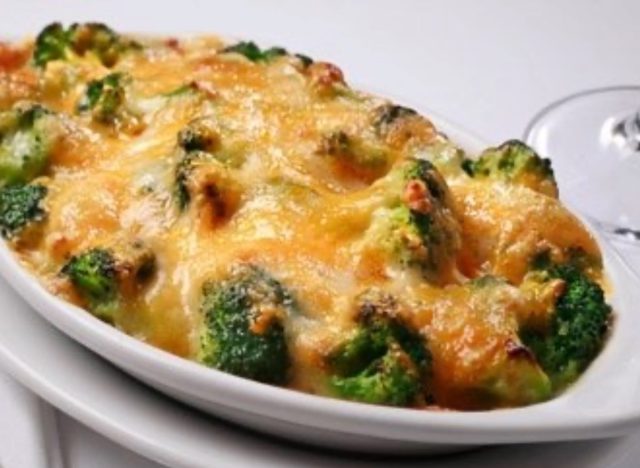 The fast-growing Ruth's Chris Steak House chain, which has been on its own Beyoncé-style renaissance tour since the start of its recent comeback, is not only known for serving some of the best-quality meat in the U.S., but also some of the best-quality sides. Just ask Matthew Brennan, executive chef of the JW Marriott Tampa Water Street.
"Sides in a steakhouse are paramount to an enjoyable dining experience," stresses Brennan, who goes on to rave about Ruth's Chris in particular. "My personal favorite is the broccoli au gratin at Ruth's Chris, which is very underrated and has great flavor." Also at Ruth's, he loves the sweet potato casserole, which he likes to level up with some insider-y pro tips: "Order it well done so the crust caramelizes nicely, and add a scoop of vanilla ice cream and a shot of Maker's Mark to enjoy it affogato-style," he suggests. "This will show that aside from being a connoisseur of steaks, you know your sides as well."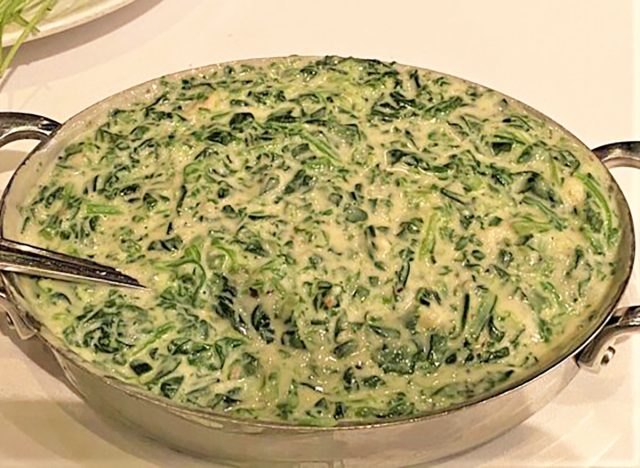 The Capital Grille does a lot of things well. From a superlative ribeye to an unparalleled wine list, this ritzy chain covers all the bases. The same is true of its sides, which have a fan in chef Richard Sandoval, whose Latin-leaning restaurants include the newly opened Lona in Tampa.
"My go-to perfect steakhouse chain side dish is from The Capital Grille," says Sandoval. "I love their creamed spinach. It's rich with pecorino romano and flavors of nutmeg and garlic that are well-balanced and pair nicely with the rest of my meal."
While you're there, order the soy-glazed Brussels sprouts with bacon, too. They're a favorite steakhouse side for Tobias Cox, vice president of food and beverage for Fort Lauderdale-based Dimension Hospitality.
Sometimes the best steakhouse side dishes are the most infamous. Case in point: the love-it-or-fear-it Bloomin' Onion from Outback Steakhouse. One chef who stands firmly in the "love it" category is Rafael Gonzalez, executive chef of the JW Marriott Houston Downtown.
His go-to move? Order the Bloomin' Onion with the spicy aïoli. "It can be a bit messy, but definitely worth the effort," he notes. "Their batter is amazing." His added pro tip is to make sure that you eat it at the restaurant, rather than to-go. "For the best version of this, eat it in the restaurant. It doesn't taste the same when you get it for takeout."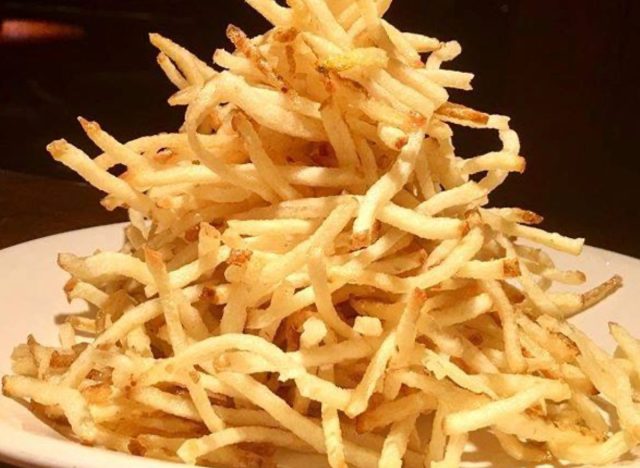 Regarded as one of the more underrated steakhouse chains, and one where chefs actually frequent, Hillstone (otherwise known as Houston's in some locations) has its fair share of fans as well. Like Diana Manalang, chef/owner of Little Chef Little Café in New York City.
"It will always be the crispy shoestring fries at Hillstone (also known as Houston's) for me," she raves. "They are my favorite because they are thin, delicious, and perfect, and remind me of ones that come in the can but so much better. So so good."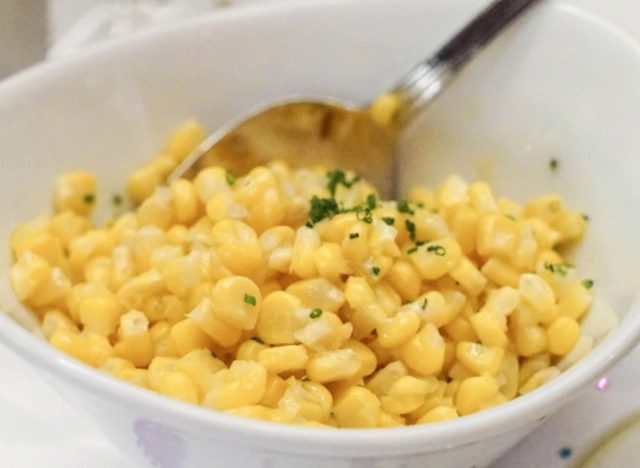 Another top pick is Ocean Prime, a rapidly growing chain that's known for its huge steaks and, as the name suggests, its fresh seafood. It's also, according to industry pros like Cox, a hidden gem for side dishes. His pick here is the Chophouse Corn, and it's easy to see why. In a recipe shared by Ocean Prime restaurateur Cameron Mitchell, the dish is a buttery bowlful of fresh-cut corn with white wine, cream, chives, shallots, and a pinch of sugar.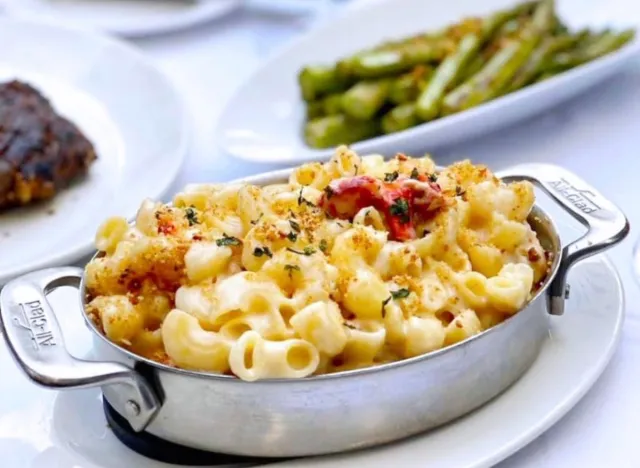 Considering Del Frisco's Double Eagle Steak House is regarded as one of the steakhouse chains with the best side dishes, it's clearly a spot you should prioritize for a well-rounded meal. And of all the sides, for the inside scoop on the best of the bunch—or at least the personal favorite—chef Brad Buchman of Del Frisco's in Beverly Hills chimed in with some insight.6254a4d1642c605c54bf1cab17d50f1e
"I think you can find out a lot about a steakhouse by ordering the simplest of items on the menu, especially when it comes to side dishes," explains Buchman, citing lobster mac & cheese as a prime example. "Everyone knows what makes a good mac & cheese, but being able to actually execute it well tells you about the level of care and attention to detail within the four walls of a restaurant."
For instance: "Is the pasta cooked to a perfect al dente after you've tossed it in a hot, bubbly sauce? Is the cheese melted enough to give you that velvety, smooth consistency that has the perfect balance of cheese that pulls with every bite, but is also creamy enough not to leave you feeling like you are eating just cheese? Did they take the time to properly season and toast the breadcrumb topping, or does it just taste like toasted bread? Is the lobster still tender, plump, and vibrant?" Anyone can boil noodles, melt cheese into cream, throw seafood in it, and call it lobster mac & cheese, but as Buchman notes, what takes a dish to the next level and makes it excellent is the level of care and attention to detail that is taken and put into every step.
Potato dishes are arguably the most iconic side dishes at steakhouses, available in forms from mashed to French fried. Jose Zarate, in-house chef at a few southern California locations of Morton's The Steakhouse, prefers his spuds Lyonnaise-style.
"My guilty pleasure is the Lyonnaise potatoes because of the contrast between the potatoes and onions," he says. "They complement one another but they also have the right amount of crunch." And since a side dish isn't a side without a centerpiece, he suggests pairing that with the bone-in ribeye.