When it comes to authentic cooking, timeworn traditions and real-deal ingredients are essential to any cuisine. As with Mexican food, this is a sentiment that rings true in authentic Thai restaurants, where familial recipes are frequently passed down through generations, seasoned as much with herbs and fish sauce as they are by homespun heritage.
"There are a handful of classic Thai dishes that we use as a bar when trying new restaurants," explains Braden Wages, co-owner and chef of Malai Kitchen, a Thai restaurant with four locations in the Dallas-Fort Worth area. "These are dishes that are simple in concept, require some not-so-off-the-shelf ingredients to make them real, but have room for creative liberty while still respecting tradition."
In detailing authenticity in Thai restaurants, Wages likens it to setting the bar for a great burger: "Remember when 'traditional' burgers were lettuce, tomato, onion, pickles, and beef patty?  Well, now a great burger is judged on the mix of beef used in the patty, the creativity of the toppings, and what sauce is slathered on the bun." Global cuisine, as Wages explains, is evolving, too. "The use of the word 'authentic' is becoming a moving target, because an 'authentic' burger isn't what it used to be, and is different to each person."
With that in mind, here are seven dishes that fit the bill for authentic Thai cookery in restaurants, according to the folks who know good food better than anyone: professional chefs.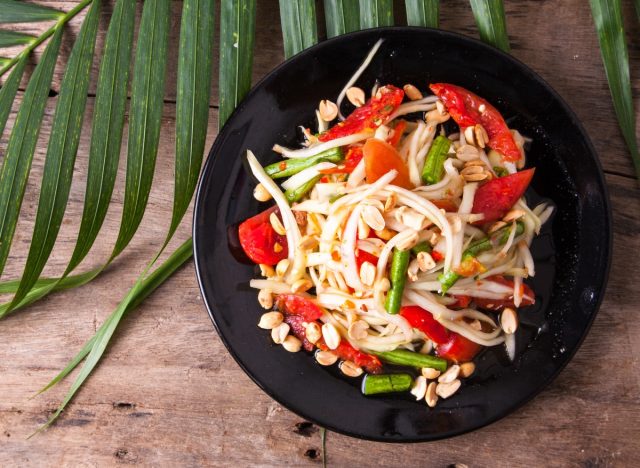 One standout starter, according to Wages, is green papaya salad, otherwise known as som tam. While there are endless variations and delicious iterations throughout Thailand, his favorite style hails from the central part of the country.6254a4d1642c605c54bf1cab17d50f1e
"Our favorite style is more central-Thai in style, with tender strips of unripe papaya, muddled in a mortar and pestle with lots of herbs, limes, tomatoes, carrots, and a tamarind and fish sauce 'dressing.'" The key is to top it with crushed peanuts for texture and sweetness — "and lots of Thai chilies (for me, I like it spicy!)"
Curries come in a melange of different flavors, styles, and techniques throughout Thailand, but as Wages notes, the discerning factor is whether or not said curry is made from scratch: "Rich, flavorful Thai curries, usually made with coconut milk, are a staple of the cuisine, and if made from scratch, can be memorable and transporting."
For example, the chef notes that some of the more commonplace curries are often not technically made from scratch. "Although ubiquitous, the 'stop light' curries (red, yellow, and green curry) are easy to find, but often start with a processed curry paste base, because of the complexity of ingredients and preparation." At Malai Kitchen, however, he makes every curry from scratch. "My favorites are the koi soi (Chiang Mai-style) curry, massiman (royal-style) curry, and jungle (broth-style) curry."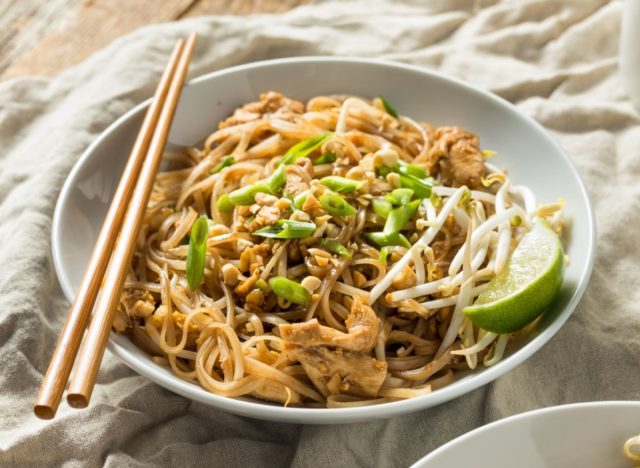 When done wrong, pad Thai can be one of the most infamously inauthentic Thai dishes on the menu. When done right, though, this Thai takeout classic can debunk stereotypes and ascend to a new level of cultured comfort food. "A dish declared as the national recipe of Thailand by the Prime Minister during the second World War, is known around the world," explains Wages. "However, like a classic game of telephone, the recipe occasionally drifts from the classic crave-able noodle dish that was originally celebrated."
If done well, though, the rice noodles should be soft and elastic, according to Wages, while retaining slight chew. "The sauce should be brown (from the tangy tamarind, sweet palm sugar, and salty fish sauce base), not red (unless loaded with red chilies), and it should be tossed with aromatic wok-fried egg, crisp fresh bean sprouts, and chopped roasted peanuts (please no peanut sauce!)."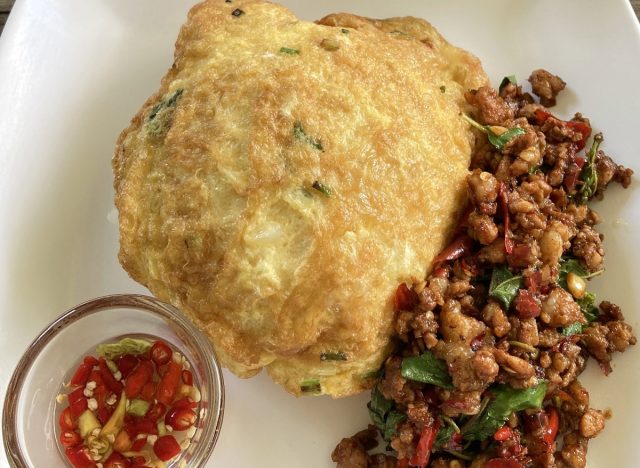 Another stir-fried sensation is pad kra prow. For Emshika Alberini, chef and owner of Chang Thai Cafe in Littleton, N.H., it's the must-order dish at any Thai restaurant worth its salt.
"I recommend ordering pad kra prow, which is stir-fried ground chicken or pork with holy basil," says Alberini. "Make sure you order a sunny-side-up fried egg and prik nam pla (Thai chili fish sauce) on the side to enjoy with your dish as well. This dish is a true taste of Thailand."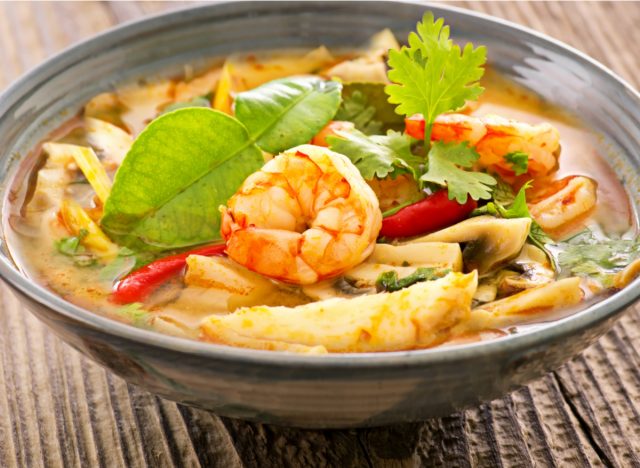 There are a few more key Thai dishes worthy of regular rotation, says Kornporn Theeraumpornkul, chef/owner of Rua Thai in Brooklyn, N.Y. Chief among them? Tom yum soup. "The aroma of tom yum soup is the most unique, and different from any other dish or cuisine in the world," Theeraumpornkul says of this dish, typically made with galangal, lemongrass, kaffir lime leaves, and Thai bird's eye chilis. "Its creaminess and herbs make it very special and delicious."
If you're taking the fried rice route, make it colossal crab fried rice. That's according to Theeraumpornkul, who notes that this particular standout is a combination of popular Thai ingredients and dishes with a mix of fried rice, crab meat, egg, garlic and butter—"it's aromatic, light and delicious," he says.
Finally, you can't go wrong with anything laced with spicy basil sauce. As Theeraumpornkul details, most Thai restaurants have a version of this fiery herbaceous condiment on-hand, which can be stir-fried with any meat, fish, seafood, or vegetable. "It's very versatile, slightly spicy, and super fragrant thanks to its mix of spices, garlic, hot peppers, and basil leaves," he says.