The product recommendations in this post are recommendations by the writer and/or expert(s)
interviewed and do not contain affiliate links. Meaning: If you use these links to buy
something, we will not earn a commission.
When it comes to superlative steaks from restaurant chains, it's no surprise that steakhouses and even seafood places source and serve some of the best cuts of meat. But finding a quality steak at a non-steakhouse chain? That can get dicey. Sure, you're likely to find some more affordable filets, but cutting corners on cost also often means cutting corners on quality.
However, there are certain chains out there that, despite not specializing in steak, still put concerted effort into cooking and serving some of the best cuts on the market—and no, we're not talking about the cheesesteak at Pizza Hut.
Nowadays, when even Target is getting into the organic steak business, it's becoming easier to find access to top-notch beef. It might mean navigating your way through overrated menu options, but if you know where to look—and where to spend your money—you're sure to find a meal that's just as reputable as one from America's best steakhouses. From national mega-chains to regional favorites, these are the restaurants that serve the best steaks.
Classic Sirloin (6 oz): 250 cal, 12 g fat (4.5 g saturated fat), 630 mg sodium, 1 g carbs (0 g fiber, 0 g sugar), 34 g protein
Chili's is the type of Tex-Mex favorite that, when it comes to steak, is mostly renowned for its fajitas. It turns out, though, that those sizzling platters aren't the only use of steak at Chili's (as evidenced by the new addition of grills specially designed for cooking steaks). The classic sirloin, as comparatively simple as it might sound, is a menu favorite for Emerio Viramontes, executive chef of Chef's Palette at the Canvas Hotel Dallas.
"A lot of people overlook the fact that there are a lot of non-steakhouses that serve good steaks," he says, touting Chili's as a prime example. "I would say the best steak from a non-steakhouse would be from Chili's, specifically the classic sirloin. It's flavorful, filling, and a good price. Overall, they have a solid variety of steaks available."
Hibachi Steak: 1380 cal, 85 g fat (34 g saturated fat), 3280 mg sodium, 97 g carbs (10 g fiber, 37 g sugar), 57 g protein
For a restaurant with a menu is infamously long as a phone book, it's no surprise that the Cheesecake Factory serves steak. But does the chain serve it right? According to Mike Futia, steak aficionado and editor-in-chief of Grill Frenzy, it does. Although the chain is more known for its namesake cheesecake, and also has one of the best kids' menus for a chain, the eclectic eatery also knows how to make a great steak—particularly, according to Futia, their hibachi steak.
"The steak is tender and full of flavor," he says. "It's cooked just right. The mushrooms, onions, and asparagus that come with it add a nice contrast. They're fresh and well-prepared." He adds that the accompanying hibachi sauce adds some depth and contrast, describing it as sweet, tangy, and smoky all at the same time."This dish is more than just a meal. It's a well-rounded experience, and it shows that The Cheesecake Factory can do more than just desserts."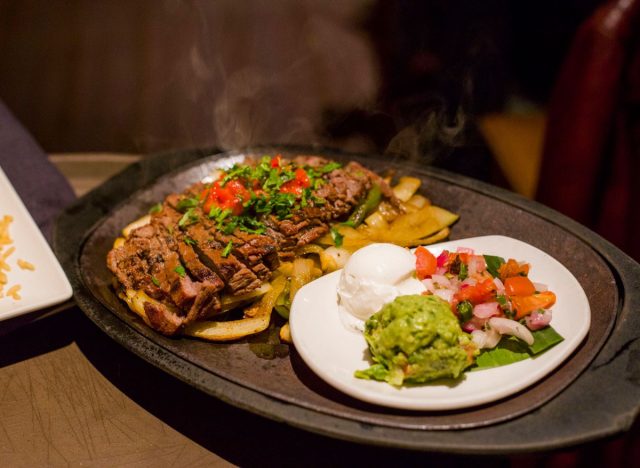 Known for its wide array of Mexican and Tex-Mex dishes, from guacamole to enchiladas, Cantina Laredo is a chain that takes quality ingredients seriously — a through line that weaves its way into every item on its expansive menu, including its beefy carne asada.
"Our sourcing is driven by a belief that freshness is paramount to quality ingredients," explains David Wierman, president of Cantina Laredo. "That is why we make our salsas and pico de gallo from scratch using café tomatoes sourced through a network of local produce houses. Our guacamole is made from only fresh whole Haas avocados. Our tortillas chips are prepared fresh throughout the day."
It's a sentiment that holds true with its burlier proteins, too. This means sourcing Certified Angus Beef for its skirt steak, for example, used for vibrant and fresh dishes like quesadillas stuffed with fire-charred skirt steak, ground sirloin enchiladas, grilled skirt steak tacos, fajitas, and of course, a carne asada plate that features charred skirt steak with chimichurri sauce, lime-marinated onions, avocado, black beans, and cilantro-lime rice.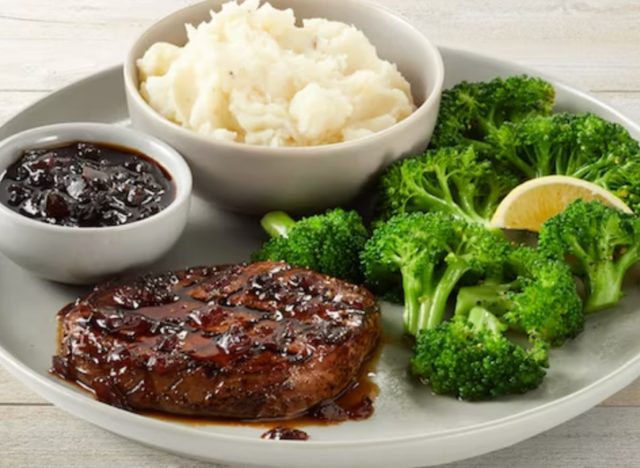 Sirloin (6 oz) With Mashed Potatoes & Lemon-Butter Broccoli: 440 cal, 21 g fat (8 g saturated fat), 2110 mg sodium, 36 g carbs (6 g fiber, 4 g sugar), 32 g protein
Although TGI Friday's may be more known for chicken wings than steak, this rapidly growing chain takes its beef just as seriously—and just because it's expanding across the country doesn't mean it's taking any shortcuts when it comes to quality.
According to the company's corporate responsibility philosophies, animal welfare and sustainability is a key tenet. "Our goal is to ensure that our suppliers utilize sustainable and humane methods of raising, housing, and processing meat," says the company, going so far as to ensure all of its suppliers are in compliance with said commitment through third-party auditing. Additionally, by 2024, the company goal is to ensure all suppliers are utilizing humane methods of raising meat.
That meat is used for various steak dishes, like a 12-ounce New York strip, six-ounce center-cut sirloin, and eight-ounce flat-iron steak. A new addition, upping the ante on the chain's focus on quality steak, is its Grilled & Sauced Menu, which focuses on customization and allows guests to choose from an array of flame-grilled proteins (like several cuts of steak), and then pair them with various sauces, rubs, and sides. For example, that New York strip can come with Korean red chili, spiked orange glaze, or al pastor sauce, along with sides like broccoli slaw, elote street corn, and garlic-butter beans with bacon.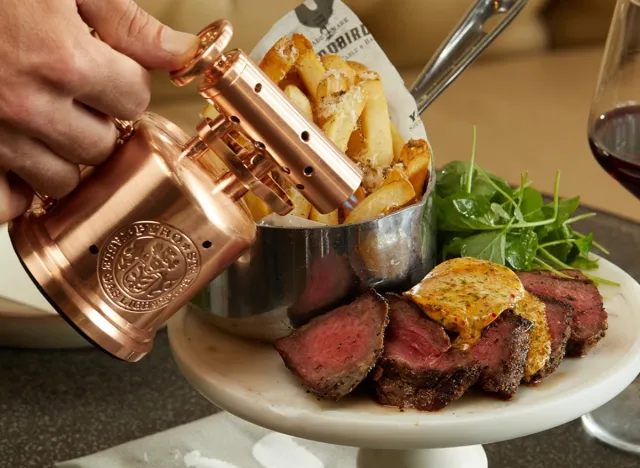 As its name implies, poultry gets much of the attention at this steadily growing high-end chain. Originated in Miami, Yardbird now boasts locations Las Vegas, Dallas, D.C., Chicago, Los Angeles, and most recently, Denver. The star of the show, unsurprisingly, is chicken, but don't sleep on the steaks, which get the same diligent quality control—and chef-driven preparation—as the famed fried chicken.
"Regionally, we source all our products pending the season and proximity to ensure the highest caliber of freshness with minimal footprint," says corporate executive chef Patrick Rebholz. "We also procure ingredients that are of the highest quality we have encountered in our culinary voyages." This is true of its chicken, its charcuterie, and even its rice, sourced from Geechie Boy Farms in Edisto Island, S.C. And the same holds true for its beef, be it a plate of ribeye steak frites with harissa butter or a 12-hour smoked brisket. "Outside of procurement, I think what makes our products high quality is a product of our scratch kitchens," adds Rebholz, pointing out everything from the 27-hour brined rotisserie chicken to the aforementioned brisket.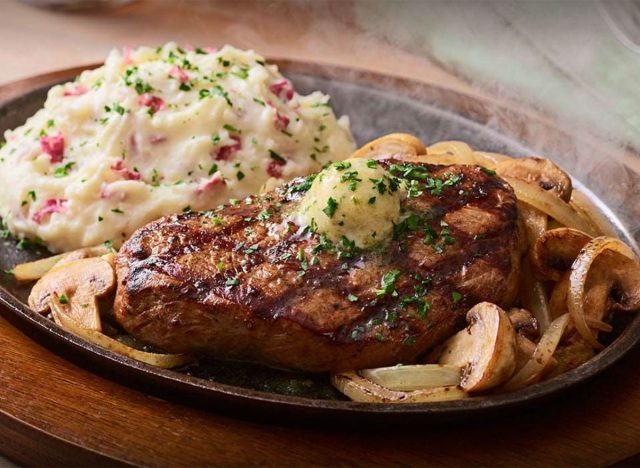 Bourbon Street Steak: 100 cal, 47 g fat (11 g saturated fat), 1940 mg sodium, 48 g carbs (5 g fiber, 7 g sugar), 52 g protein
In terms of steak from dine-in chains, Applebee's is more regarded for its affordable options, but don't count out the quality control here, either. The fact that the chain serves some of the best steak sandwiches is indication enough that the entrée-style steaks are just as worthwhile.
Similar to the efforts it puts into its hand-crafted burgers, and in line with its core values rooted in innovation and excellence, the company converted to sourcing USDA Choice steaks, and hand cuts them in-house, according to Fortune. Now, customers have a handful of customizable options, like an eight-ounce top sirloin, a 12-ounce ribeye, and the show-stopping Bourbon Street Steak served sizzling in a cast-iron pan with garlic butter and Cajun spices.
Although Eataly is technically more of a grocery store, the fact that it has on-site restaurants, and that it's a chain with some of the best in-store dining in the country, earns it a spot on this list of superb steak. The chain, which is in the midst of an expansion boom, boasts top-notch butcher counters at each location, sourcing meat exclusively from sustainable farms and ranches that prioritize animal welfare and open-pasture grazing. This means Wagyu steak, and Prime Black Angus beef are readily available at each Eataly, both at the butcher counter and at its Italian-inspired restaurants.6254a4d1642c605c54bf1cab17d50f1e
Each location, which ranges from Dallas and Boston to Chicago and Las Vegas, features a distinct lineup of restaurants, both quick-service and dine-in. For instance, Terra is a wood-fired restaurant at Eataly Dallas that specializes in steaks like an eight-ounce Double R Ranch hanger steak with aged balsamic vinegar, a 16-ounce prime boneless rib-eye with potatoes, and a whopping 38-ounce Creekstone Farms tomahawk steak for two. Meanwhile, Capri at Eataly Los Angeles serves sliced Creekstone Farms hanger steak, while Eataly Las Vegas features a roasted eight-ounce Creekstone Farms filet with fried artichokes, black truffle sauce, and mashed potatoes.