If a healthy breakfast is your objective, you probably know swinging through the drive-thru isn't your best bet. Most fast-food restaurants are scant on nourishing meals to start the day. Like many of its fellow quick-bite restaurants, Burger King isn't exactly a paragon of healthy breakfasting. In fact, other than a handful of lighter choices, BK is heavy on salty meats, high-fat croissant sandwiches, and sweet, carb-y pancakes.
As a nutritionist, I'd far more recommend a healthy breakfast at home than a heavy fast-food breakfast—but hey, sometimes we all end up hitting the drive-thru for one reason or another. Just in case a Burger King trip is in the cards at breakfast time, be sure to opt out of these seven unhealthiest orders. Read on, and for more on what to order instead, don't miss these 5 Healthiest Burger King Breakfast Orders.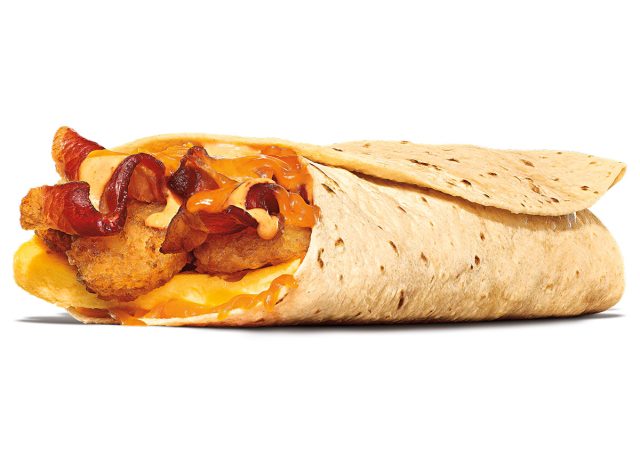 829 calories, 45 g fat (17 g saturated fat), 2,055 mg sodium, 69 g carbs (4 g fiber, 4 g sugar), 35 g protein
Let's start with a culprit as obvious as its name: the Egg-Normous Burrito. Though it contains an impressive 35 grams of protein, this epic Mexican-style breakfast leaves a lot to be desired in the rest of its nutrition. At 829 calories, it's one of the highest-calorie items on Burger King's breakfast menu. And since it packs nearly an entire day's worth of sodium—and more than a whole day's worth of saturated fat—it's not a great way to start the day.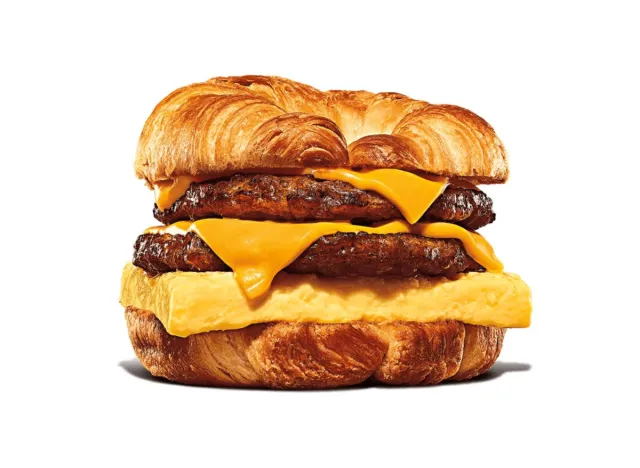 882 calories, 65 g fat (28 g saturated fat), 2,196 mg sodium, 33 g carbs (1 g fiber, 5 g sugar), 39 g protein
Burger King's Croissan'wich has been a signature breakfast item at the chain for years. In the double sausage, egg, and cheese version, a flaky croissant is home to two sausage patties, two slices of American cheese, and a thick egg square.6254a4d1642c605c54bf1cab17d50f1e
It's a tall stack of breakfast you're better off skipping because it has nearly 900 calories, 65 grams of fat (28 of which are saturated), and sky-high sodium. Diets high in sodium and saturated fat have a well-established link to heart disease. Avoid this veritable heart attack on a plate.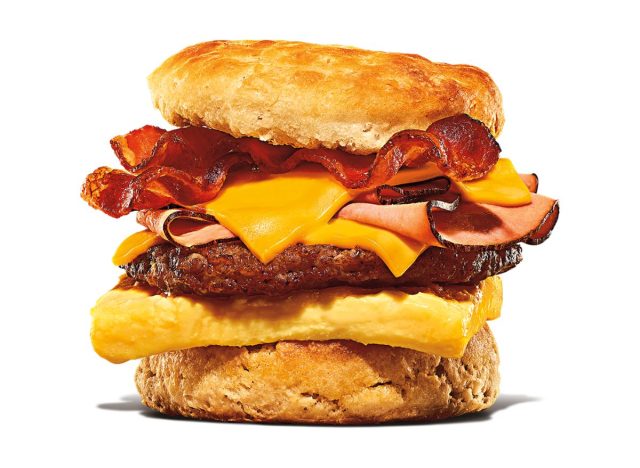 640 calories, 44 g fat (20 g saturated fat), 2,340 mg sodium, 34 g carbs (1 g fiber, 4 g sugar), 31 g protein
This BK breakfast is indeed fully loaded—and not with nutrition. Its salty biscuit, bacon, ham, sausage, and cheese add up to a serious sodium count, while its saturated fat hits a hefty 20 grams. Plus, you'll get just 1 measly gram of fiber from this meat-heavy meal. That's not a great thing. Animal studies have shown that low-fiber diets can cause the depletion of healthy gut bacteria.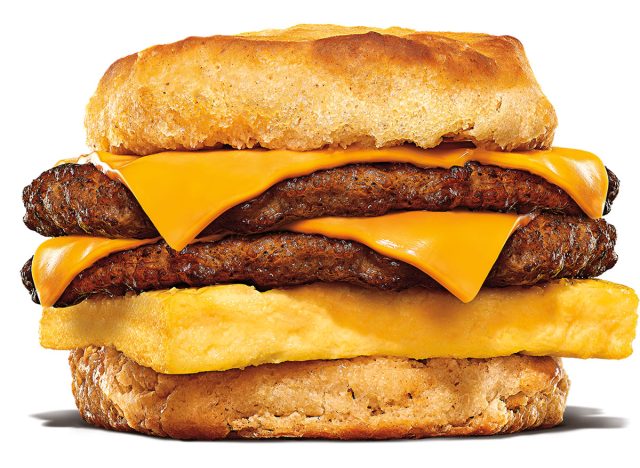 852 calories, 65 g fat (29 g saturated fat), 2,526 mg sodium, 34 g carbs (1 g fiber, 4 g sugar), 33 g protein
As you stare at the backlit BK menu in the early hours of the morning, be sure to take note of how many calories and grams of fat you'll get from the Double Sausage, Egg, and Cheese Biscuit. It's an eye-popping 65 grams, 29 of which are saturated.
Plus, on a 2,000-calorie per day diet, this choice provides 43% of your daily calories. And since there's not even a hint of fruits, vegetables, or whole grains in this breakfast beast, you'll get next to no fiber or antioxidants here.
714 calories, 49 g fat (22 g saturated fat), 2,235 mg sodium, 33 g carbs (1 g fiber, 6 g sugar), 35 g protein
Just how many servings of meat do you need at breakfast? One is reasonable—but three? I'm not so sure. Yet that's what the Fully Loaded Croissan-wich provides with ham, sausage, and bacon piled high atop cheese and eggs. In addition to the rather shocking fat and sodium content here, the amount of processed meats in this one could also be detrimental to your health. Research has linked red and processed meats with colorectal cancer.
714 calories, 53 g fat (24 g saturated fat), 2,389 mg sodium, 35 g carbs (1 g fiber, 4 g sugar), 29 g protein
Burger King's parade of high-calorie breakfast sandwiches continues with the Bacon, Sausage, Egg, and Cheese Biscuit. There aren't many redeeming qualities to this choice. Like BK's other epic breakfast sandwiches, it's extremely high in calories, fat, saturated fat, and sodium. Consider the Bacon, Egg, and Cheese Biscuit instead to shave off over 250 calories.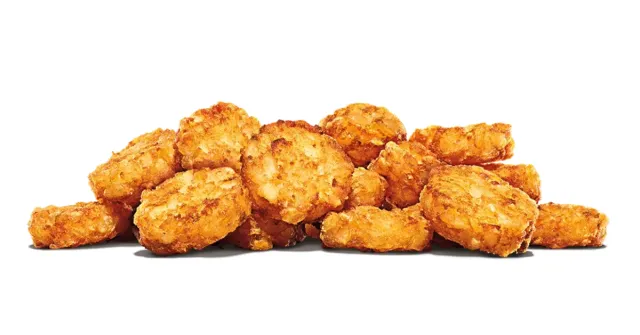 740 calories, 48 g fat (9 g saturated fat), 2,040 mg sodium, 75 g carbs (6 g fiber, 1 g sugar), 6 g protein
Looking for a light breakfast side? Don't make it the large hash browns at Burger King (unless you plan on sharing with several friends). In just one side dish, you'll knock back 740 calories, 48 grams of fat, and over 2,000 milligrams of sodium. If you're craving taters, BK's large French fries are actually a better choice. They contain a comparably low 440 calories, 19 grams of fat, and 320 milligrams of sodium.