The product recommendations in this post are recommendations by the writer and/or expert(s)
interviewed and do not contain affiliate links. Meaning: If you use these links to buy
something, we will not earn a commission.
Fast-food soft drinks round out the perfect burger, chicken, or french fry combo. What's especially cool is how many of the biggest fast-food restaurants work hard to offer customers unique drinks they can't find anywhere else, ensuring each dining experience is extra special down to the last sip.
Some, like Taco Bell and McDonald's, offer exclusive soda options to quench your thirst with something different. Others, like Sonic, go the chilled-drink route, and then there's always the chance to snag a refreshing iced tea, lemonade, or combo of both, at places like Chick-fil-A.
The next time you're looking for a beverage with your meal, look beyond the milkshake and consider these tasty options. Their added touch of specialty flavors will make your experience even more enjoyable. Here's a look at some of the best drinks you can find at major fast-food restaurants.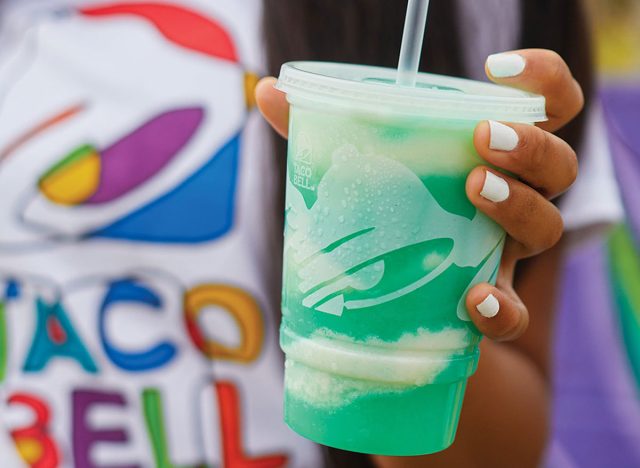 Per Serving (16 ounces): 220 cal, 0 g fat (0 g saturated fat), 65 mg sodium, 59 g carbs (o g fiber, 59 g sugar), 0 g protein
Taco Bell's Baja Blast Mountain Dew has earned a cult following since its debut in 2004. This teal-colored, sweet lime-flavored soda was created exclusively for Taco Bell and feels like the only correct beverage to have with a Cheesey Gordita Crunch, Doritos Locos Taco, or Mexican Pizza.
If you're worried about the sugar content, opt for a Mountain Dew Baja Blast Freeze, which has 51 grams of sugar. This version is the go-to beverage of choice for celebrity T-Bell fans like pop singer Olivia Rodrigo, who orders it along with a Crunchwrap Supreme filled with refried beans.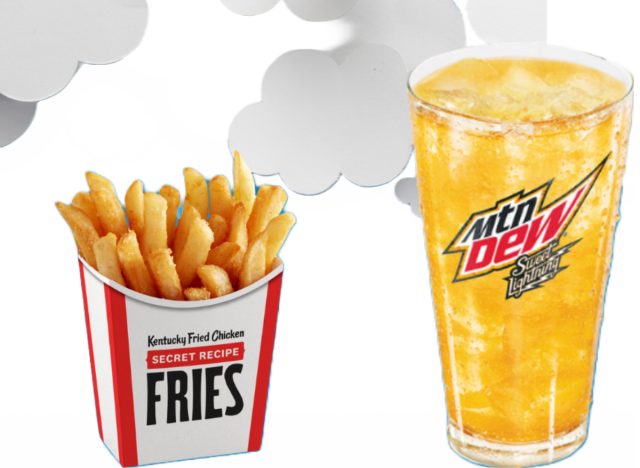 Per Serving (20 ounces): 120 cal, 0 g fat (0 g saturated fat), 190 mg sodium, 32 g carbs (0 g fiber, 25 g sugar), 0 g protein
Sweet Lightning Mountain Dew is an extra sweet soda that was literally engineered to compliment your KFC bucket of chicken and the chain's famous fries. Yum! Brands developed the beverage after studying the wild success of the Baja Blast at sister-restaurant Taco Bell. It became the first-ever exclusive drink available at KFC, and "blends the southern flavors of sweet peach and smooth honey" that "wonderfully complements" the chain's crispy fried chicken, according to the restaurant's website. 
DJ from the Industrial Industries World Radio YouTube channel tried the drink when it first came out in 2019 and gave it another go in 2023. It still seems to hold up: "The peach is so strong, it's like you can literally taste the fuzziness of an actual peach," he said.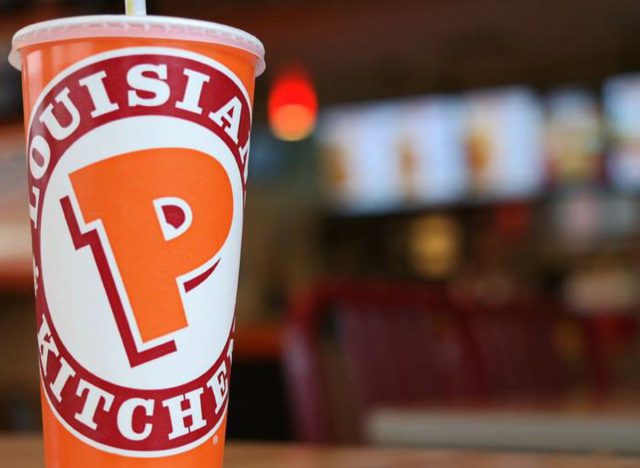 Per Serving (22 ounces): 180 cal, 0 g fat (0 g saturated fat), 190 mg sodium, 71 g carbs (0 g fiber, 68 g sugar), 0 g protein
Fried chicken, biscuits, and sweet tea—Popeyes Louisiana Kitchen sticks to tradition with its smooth, sweet brewed Cane Sweeeet Iced Tea, made from a "blend of orange pekoe and pekoe cut black teas from Asia and South America" according to the restaurant's website. What really makes the drink stand out from other fast-food sweet teas is how the restaurant uses pure cane sugar to sweeten the beverage.
The drink is so popular that people have tried to make their own version at home. One enterprising Reddit user discovered that the Popeyes recipe really isn't so complicated at all. "They use Luzianne for the tea base and a simple syrup made from cane sugar," the Redditor wrote, "just for posterity."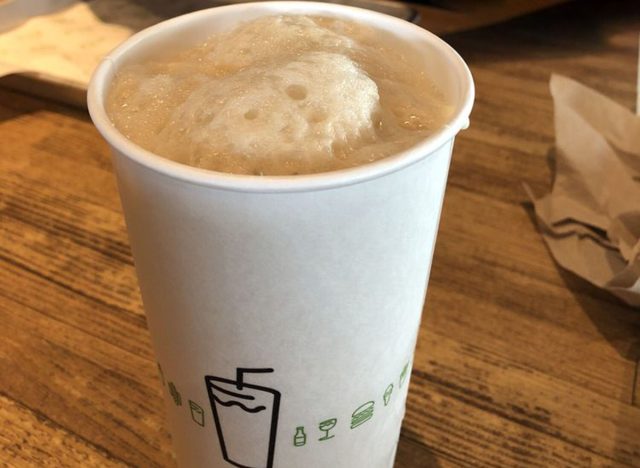 Per Serving (small size): 170 cal, 0 g fat (0 g saturated fat), 15 mg sodium, 42 g carbs (0 g fiber, 36 g sugar), 0 g protein
This classic burger restaurant doesn't use typical fountain soda root beer. The company prides itself on sourcing its root beer from a beverage company called Abita, located in Louisiana. Shake Shack's root beer uses real cane sugar and comes from a tap, so it's always served fresh.6254a4d1642c605c54bf1cab17d50f1e
Have it as a regular soft drink to complement your Bourbon Bacon Jam burger or level it up with a Root Beer Float using the company's famous Frozen Custard.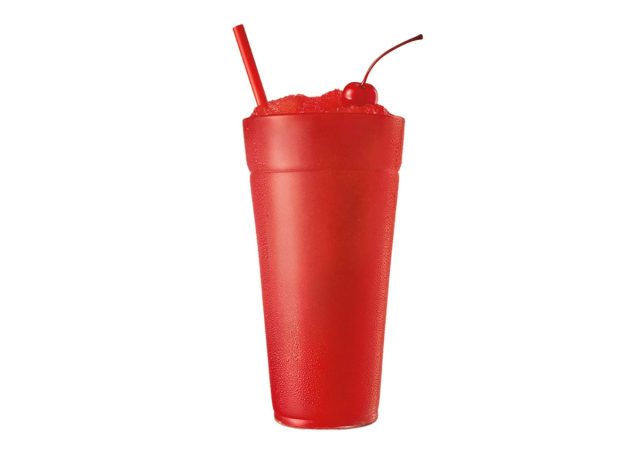 Per Serving (plain slush only—no syrup small): 180 cal, 0 g fat (0 g saturated fat), 30 mg sodium, 48 g carbs (0 g fiber, 48 g sugar), 0 g protein
No drink defines Sonic more than its wide array of slush flavors, especially when served to you by one of its roller-blading staff members. This signature, extra-icy drink comes in a variety of flavors, many of which are seasonal or limited-time offers, so there's always an interesting option to choose from. The Cherry and Blue Raspberry flavors are classics, but for a more interesting twist, try the Cranberry flavor with real Minute Maid Cranberry Juice, or the Powerade Mountain Berry Blast Slush.
Which flavor rises above the rest? With so many to choose from, it's often hard to rank. YouTubers Collin & Michael conducted a tournament-style tasting with eight of Sonic's Slush flavors, where they surprisingly enjoyed the lemon flavor the most, while David Gross, executive chef at The Standard in New York City's East Village, is "a big fan of Sonic's tots with a Strawberry Slush."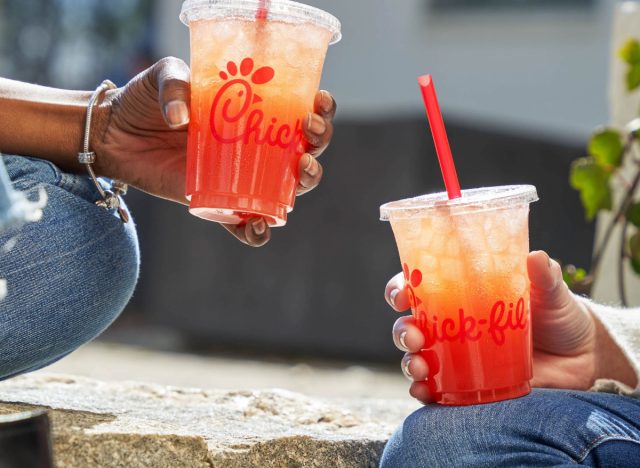 Per Serving (small half-tea, half-lemonade): 120 cal, 0 g fat (0 g saturated fat), 0 mg sodium, 33 g carbs (0 g fiber, 32 g sugar), 0 g protein
Some might call a mix of lemonade and iced tea an Arnold Palmer, but at Chick-fil-A, the Sunjoy is its own blend of the company's beloved non-soda drinks. It combines the restaurant's lemonade and freshly brewed sweetened iced tea, and is a refreshing option for pairing with the chain's famous chicken sandwiches or chicken nuggets. Chick-fil-A also offers seasonal versions of the drink, like the White Peach Sunjoy, to give customers additional flavor options all-year round.
The combination has always been an off-menu favorite for in-the-know customers, but Chick-fil-A officially launched Sunjoy as a menu item in 2021. "The name itself is inspired by two of our favorite words: sunshine and enjoy," the official press release explained. "We like to say that even the look of a Sunjoy tea lemonade evokes a sunbeam, with its amber-orange color and light reflection." It's also available in a lower-calorie form using the diet lemonade and unsweetened tea, which comes in at 20 calories per container.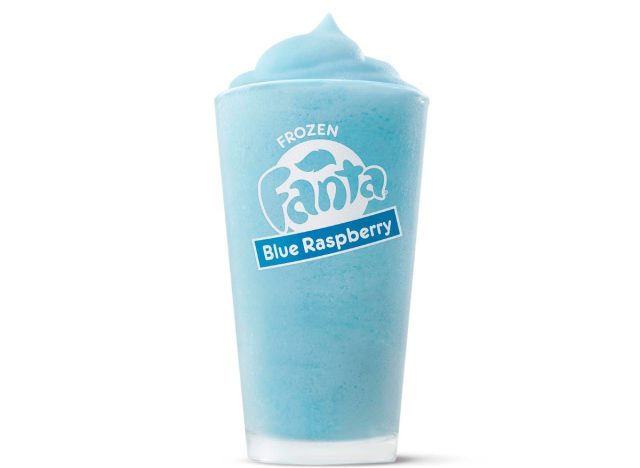 Per Serving (small): 60 cal, 0 g fat (0 g saturated fat), 30 mg sodium, 16 g carbs (0 g fiber, 16 g sugar), 0 g protein
The Frozen Blue Raspberry Fanta at McDonald's offers diners a "sweet, fruity raspberry flavor with a hint of tartness for a super cool refreshing treat that's perfect for the summer," according to the company's website. Thankfully it doesn't take a (usually broken) McFlurry machine to create the creamy, frosty take on a classic soda. A specially-designed machine turns the bright blue fruity soda into a slushie-like frozen treat.
The TikTokers at BlondesWhoEat like to pair their McChicken sandwiches with the drink because the "straight-up blue raspberry deliciousness…brings back memories" of the flavor from their childhood.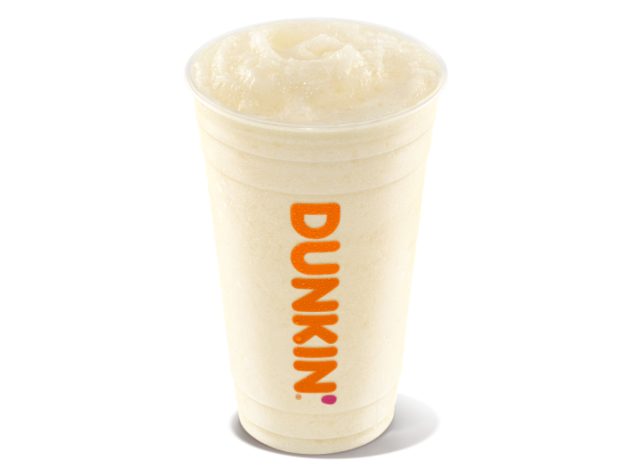 Per Serving (medium): 590 cal, 4.5 g fat (2.5 g saturated fat), 240 mg sodium, 129 g carbs (0 g fiber, 125 g sugar), 7 g protein
Not quite a milkshake, not quite a slushie, Dunkin's Coolattas are in a beverage category all their own. These drinks are made by blending ice, syrups, and milk, with the classic vanilla bean flavor reigning supreme since 1997. The flavor and consistency just hits right when paired with a donut or some Munchkins, and it's proven to be a fan-favorite for folks in the mood for an icy, non-coffee-or-soda-based drink on a hot day.
TikToker @The_HungryMuncher was really impressed by the drink after learning about it from the kids she babysat. She described the drink as "vanilla bean ice cream I can slurp out of a straw." Though not the healthiest drink on the menu, it's still a better choice than the brand's Frozen Hot Chocolate, where a medium will set you back around 700 calories.