The product recommendations in this post are recommendations by the writer and/or expert(s)
interviewed and do not contain affiliate links. Meaning: If you use these links to buy
something, we will not earn a commission.
Typical fast-food restaurants, like McDonald's, Burger King, and Taco Bell, are great, but fast-food chains that serve delicious Southern recipes are a real treat. If you're not already familiar, there are many restaurants out there where you can enjoy famous Southern dishes—think biscuits, fried okra, fried chicken, dirty rice, corn fritters, sweet tea, chicken and dumplings, and more.
Found mostly throughout, you guessed it, the Southern United States, these buzzy restaurant chains have been perfecting the art of Southern cooking for decades and have not only become can't-miss establishments but have also ingrained themselves as part of Southern culture.
From a famous chain that got its start in a pizza shop over 50 years ago to another that puts fun twists on traditional classics—Cheerwine floats, anyone?—we've rounded up some of the most beloved fast-food restaurants that serve the best Southern food.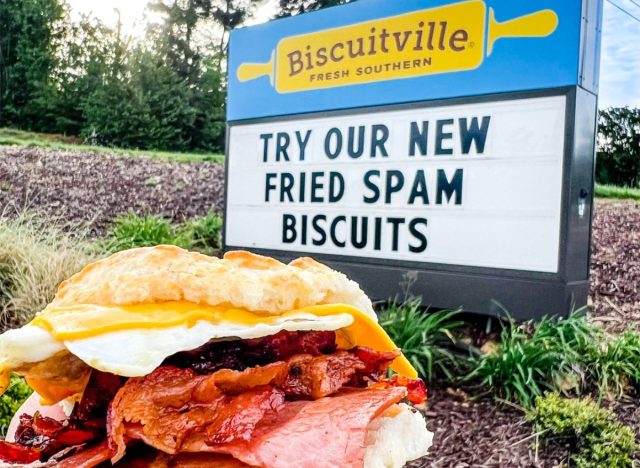 Biscuitville is the place to go if you want authentic Southern biscuits and breakfast dishes. The iconic Southern chain was founded by a former flour broker who got his start by opening up two Mountainbrook Fresh Bread & Milk stores in Burlington, N.C., in the 1960s. A year later, he opened a handful of pizza shops where he began to whip up delicious biscuits for customers, and, well, the rest is history.
The first Biscuitville opened its doors in the 1970s, and today there are nearly 70 locations as well as a huge 78,000-square-foot distribution center in North Carolina. The chain's biscuits and breakfast dishes are made from scratch and use ingredients from local farms and family-owned partners. You can expect delicious options, like bologna biscuits, which use bologna sourced from a family-owned business in Tennessee, slow-cooked grits with melted cheddar cheese, and a Southern steak and cheese biscuit, which features fried steak, local jalapeño pimento cheese, and Cackalacky sauce. You can also fill up on Cheerwine, the famous Southern cherry-flavored soft drink. Even better? Biscuitville also has "biscuit windows," which allow you to take a glimpse into the baking process.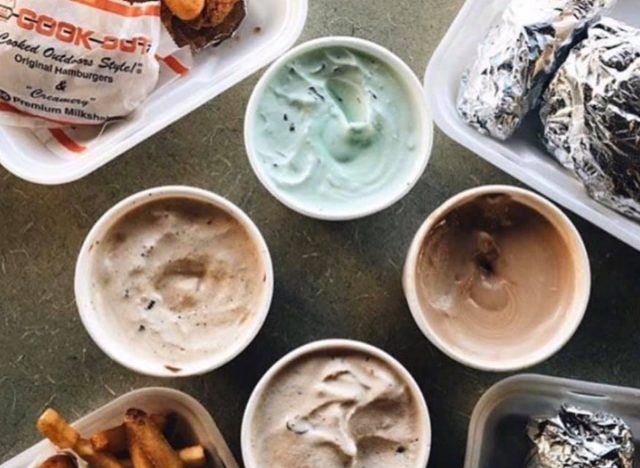 In the mood to enjoy food typically served at a cookout but don't feel like firing up the grill? If so, pay a visit to Cook Out, the popular Southern chain that got its start in North Carolina over 30 years ago. In fact, Southern Living writes that "Cook Out is to the South what In-N-Out Burger is to the West Coast," which probably makes you want to try the chain even more.
The buzzy spot has a stacked menu filled with endless options, like char-grilled hamburgers, Cajun fried chicken, hush puppies, watermelon shakes, fresh brewed sweet tea, Cheerwine—and even Cheerwine floats!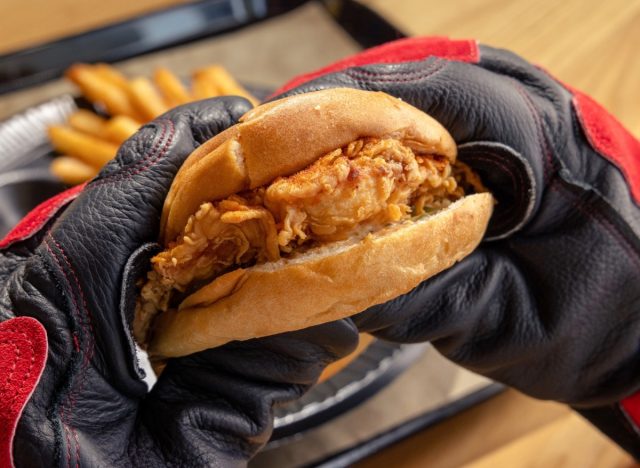 Opened by a World War II Navy veteran in the late 1960s, this Texas-founded chain has over 200 locations throughout the Lone Star State, as well as Oklahoma, Georgia, Florida, and Louisiana. Since the beginning, the chain has prided itself on making its dishes from scratch and paying particular attention to the quality of its food.
Here, you can expect an extensive menu filled with top-notch options like hand-breaded fried chicken, fried okra, dirty rice, corn nuggets, hot yeast rolls, and more. The chain also has a famous fresh-brewed sweet tea, which you must try if you stop by.
Don't let its name fool you: Texas Roadhouse first opened in Clarksville, Indiana, and is currently headquartered in Louisville, Kentucky—not Texas. Even so, the incredibly popular restaurant chain specializes in Southwestern and Texan cuisine and is the place to go if you want to get your hands on some mouth-watering Southern delicacies.
Its fried pickles are so popular that's there are tons of copycat recipes for them online. The menu also features Texas red chili, country-fried sirloin, and the whimsically named, deep-fried Rattlesnake Bites, made from chopped jalapeños and cheese and served with Cajun dipping sauce. Texas Roadhouse prides itself on making each of its dishes from scratch. The chain's famous rolls are baked every five minutes and are served with delicious cinnamon butter. Its steaks are always fresh, not frozen, and are hand cut by an in-house butcher. According to the restaurant's website, even the bacon bits, croutons, and dressings are whipped up in-house.
Another place you cannot miss is Frenchy's, the famous Southern eatery that started in Houston, Texas, over five decades ago. The restaurant specializes in authentic New Orleans-inspired Creole cuisine. Its tantalizing menu includes Southern staples like fried chicken, fried shrimp, collard greens, red beans, and cornbread.
You'll also find delicious fried boudin balls, made from rice and pork, and dirty rice, too, the classic Cajun-style seasoned rice dish, made with meat, green bell pepper, celery, and onion. Dishes are inspired by family recipes and are bursting with flavor.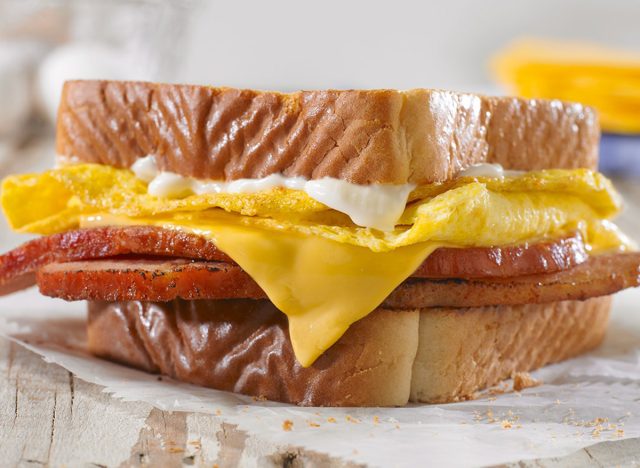 If you need an excellent spot for lunch or dinner, look no further than Jack's. Opened as a hamburger joint in Alabama in 1960, the beloved Southern chain has grown to include nearly 200 locations throughout Alabama, Tennessee, Georgia, and Mississippi.6254a4d1642c605c54bf1cab17d50f1e
Fans love the chain's scrumptious menu items, which include fried chicken sandwiches, fruit-filled fried pies, buttered biscuits, freshly brewed sweet tea, lemonade, and more. Even better? If you're unsure what to order, try the Southern Made Meal Deal, which includes a hand-breaded fried chicken sandwich, crispy fries, a tasty fried pie, and refreshing sweet tea.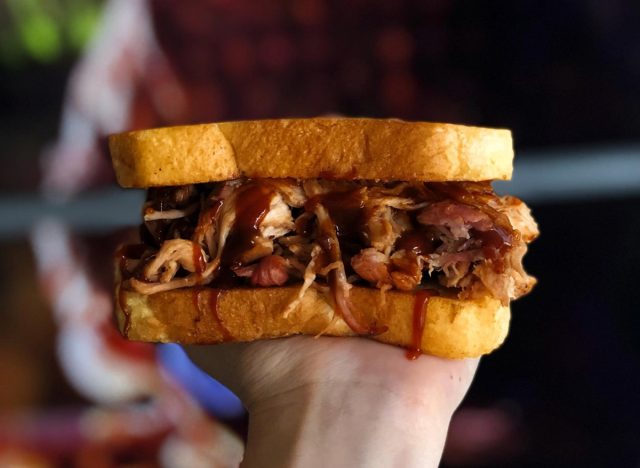 What's better than Southern barbecue? Sonny's BBQ, the famous Southern chain with over 100 locations, started over 50 years ago in Florida and has been expanding ever since. It's renowned for making slow-cooked barbecue over oak and dishing out heaping portions.
The impressive menu boasts fantastic dishes, like corn nuggets, fried okra, pulled pork sandwiches with Sonny's signature Carolina sauce, original recipe BBQ beans, fresh banana pudding, and the chain's signature sweet tea. Sonny's even makes mouth-watering cinnamon sugar doughnut holes served with a  sweet tea glaze.
If you've never been to Cracker Barrel, the inimitable Southern theme-styled chain with over 600 locations, you're missing out. Started in Lebanon, Tenn., in the late-1960s, the beloved spot serves tons of tasty Southern dishes, including smoky Southern grilled chicken, chicken and dumplings, hash brown casserole tots, beignets, turnip greens, pinto beans, fried okra, and country-fried shrimp. And you can wash it all down with Southern-style libations like freshly brewed sweet tea and lemonade.
Cracker Barrel sources its ingredients domestically and prides itself on using the highest quality ingredients, such as syrups without any preservatives, and cod from 100% sustainable fisheries. Many dishes are made fresh in house. Cracker Barrel hand-rolls its biscuits, mashes its own potatoes, makes gravy fresh daily, and slow-roasts is own beef for over 18 hours. Staffers even bread the chicken for their Sunday Homestyle Chicken by hand.