The product recommendations in this post are recommendations by the writer and/or expert(s)
interviewed and do not contain affiliate links. Meaning: If you use these links to buy
something, we will not earn a commission.
When you were a kid and you had the rare privilege of sitting in a restaurant, your parents probably told you time and time again not to fill up on bread before the main course. Now, as an adult, you may look back on these moments and realize just how wrong your parents were—as it turns out, filling up on bread (at least a little) is a legitimately cost-effective way to dine out.
Of course, having more breadsticks in your life isn't a strictly practical matter. There's something extremely satisfying about beginning your meal with a warm and fluffy-on-the-inside, golden brown-on-the-outside piece of bread. Though breadsticks are one of the menu items most likely to fly under your radar, they can really make the meal when the flavors and textures are just right.
Thankfully, there are a handful of places that have mastered the art of breadsticks—and some even pull out all the stops with creative and unexpected flavors. Whether you like a classic breadstick or a souped-up recipe with all the bells and whistles, read on to find out which eight chain restaurants serve the best ones.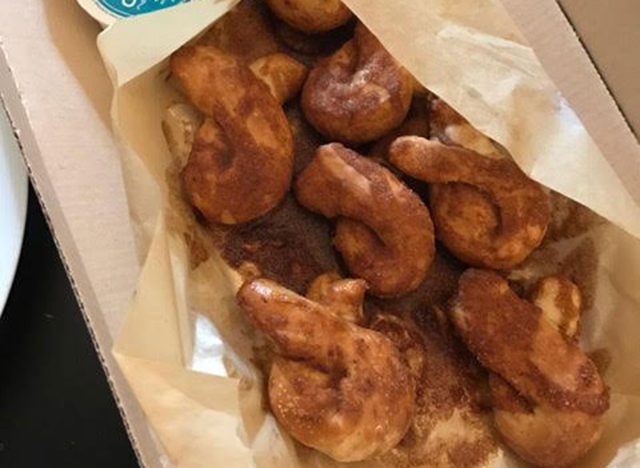 Domino's has recently expanded its menu to include much more than pizza—it now features a collection of bread appetizers that it bills as "better than breadsticks."
The chain's collection of Bread Twists, available in parmesan, garlic, and cinnamon, are handmade from pizza dough and baked until soft and golden brown. Both the parmesan and garlic appetizers come with a savory marinara dipping sauce, while the cinnamon Bread Twists make a perfect dessert, sprinkled with sugar and cinnamon and served with hot icing.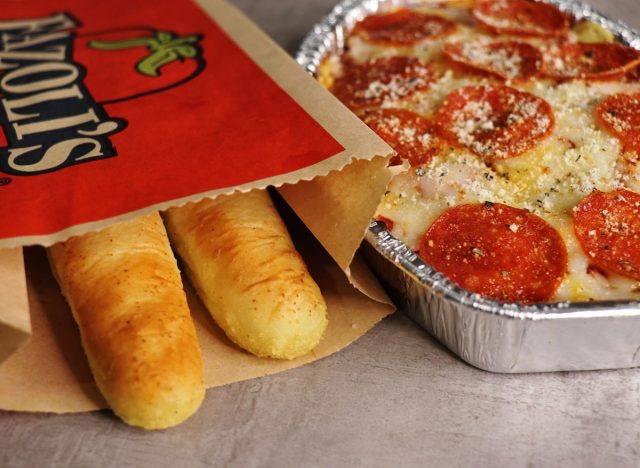 Breadsticks aren't just a menu item at Fazoli's—they're part of the Italian way of life. Operators of the pizza, pasta, and subs chain will explain that to truly enjoy an Italian meal down to the last bite, you'll need to save one piece of bread to soak up the last of the sauce before letting the waiter take your plate.
"At Fazoli's, there's no need to save any bread for the end of your meal, though, because when you dine-in, we're happily serving unlimited breadsticks throughout your meal," according to the company's website. "We believe that life is better with breadsticks, and we hope you do too."
At Fazoli's, a new batch of breadsticks comes out of the oven every 15 minutes to ensure that you get the freshest batch. Piping hot and perfectly garlicky, you can also enjoy these breadsticks as the bread base for the restaurant's sliders. You'll get those same freshly-baked baked breadsticks topped with customer favorites like meatballs, Genoa salami, pepperoni, capicola, and mozzarella cheese.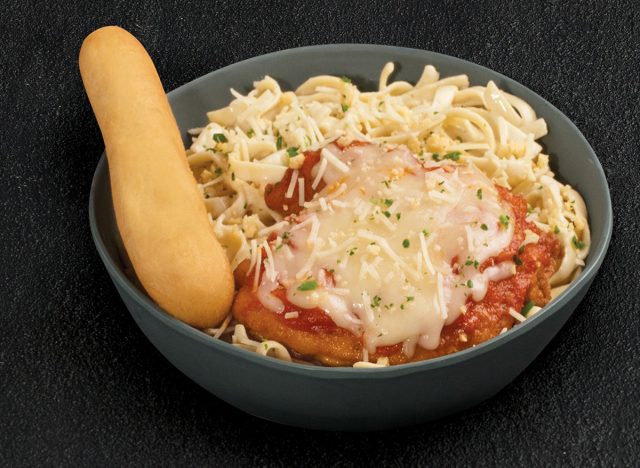 If you've come to dine with a group, you're going to need an appetizer large enough to quell a hungry crowd. TGI Fridays offers a "party tray" of 12 light and fluffy garlic breadsticks, to make the time between sitting and ordering just a bit more bearable. For a smaller group, opt for the shareable basket of breadsticks, which comes with a half-dozen. By choosing any pasta dish on the menu, you'll also receive one free garlic breadstick with your order.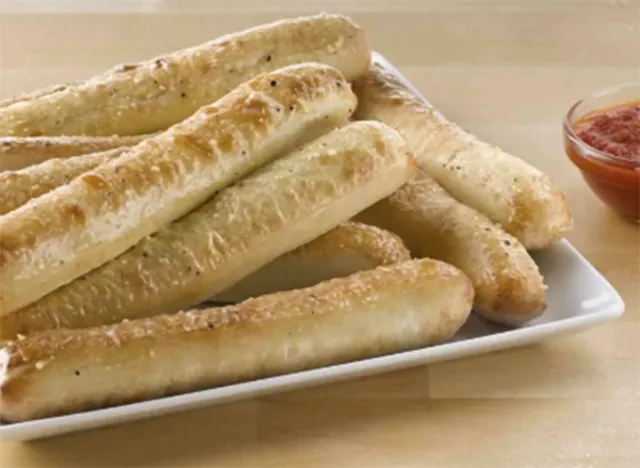 If your regular pizza order leaves you unsatisfied, worry not. An order of Papa John's garlic parmesan breadsticks comes in a box of 10, and is sure to fill up your tank.6254a4d1642c605c54bf1cab17d50f1e
Though they're notorious for coming in irregular shapes and sizes, these garlic parmesan breadsticks have a few advantages over the other bread-based items on the menu. Not only do they pack in far more flavor when compared to Papa John's original breadsticks, but they also have a more even bake than the chain's garlic knots, which can tend to stay chewy and slightly undercooked in the center.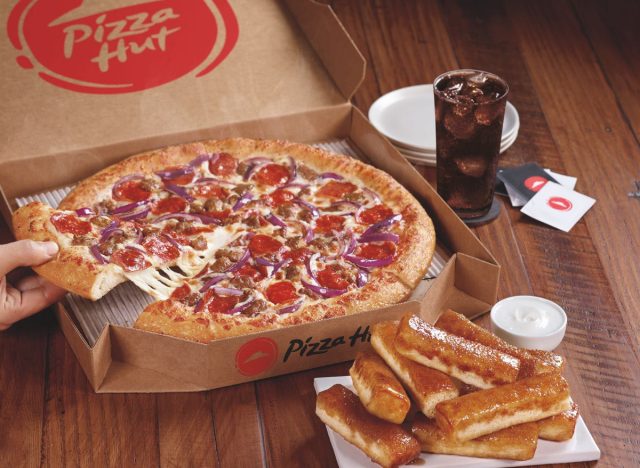 Admittedly, Pizza Hut cinnamon sticks are more of a dessert than a traditional breadstick, but they make the list for their uncomplicated take on a classic. Coated with a sizable sprinkling of cinnamon and sugar, and served hot from the oven with a warm icing for dipping, these breadsticks make for an indulgent treat that you'll want to recreate at home.
With 10 in each box, you'll have enough for the whole table for just $6.99. Pro tip: order an additional dipping sauce for 75 cents if you plan to share.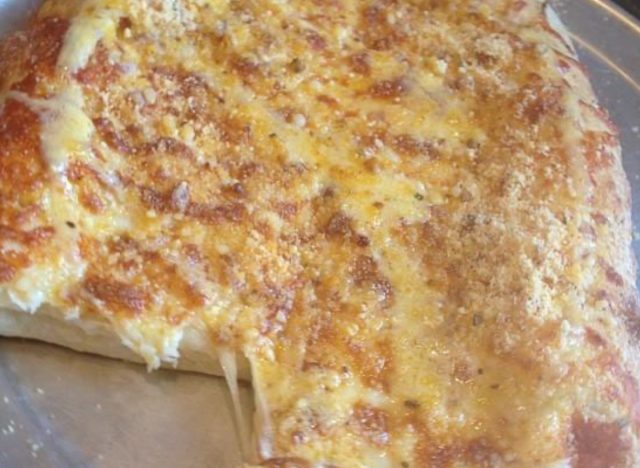 Given the overlap in ingredients, it should come as no surprise to learn that a pizza chain excels at making mouthwatering cheesy breads.
Marco's Pizza offers freshly baked bread strips topped with garlic sauce and the chain's signature three cheeses. (Though these are a trade secret, the internet speculates it's a combination of mozzarella, pecorino, and romano.) You'll also get a side of marinara sauce, as well as a ranch dipping sauce for a variety of satisfying flavors.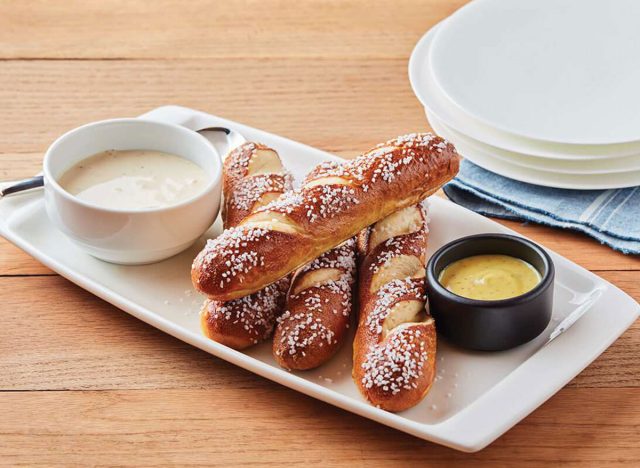 Applebee's Brew Pub Pretzels are one of the most interesting takes on the breadstick. You'll get four soft twisted, salt-dipped Bavarian-style stick-shaped pretzels along with two delicious dipping sauces: white cheddar beer cheese and a honey dijon mustard sauce.
As far as flavor is concerned, this one is hard to beat. That said, a single order of brew pub pretzels includes a whopping 1,160 calories. By sharing with the table you can spread the cheer, while also saving room for the main meal.
Of course, when it comes to breadsticks, there's a clear fan favorite: the unlimited breadsticks at Olive Garden, which have inspired more than a few copycat recipes and high-profile admirers. In fact, one unlikely celebrity pair, TV talk-show host Jimmy Fallon and pop star Post Malone, recently visited an Olive Garden and sang the breadstick's praises. "It's garlicy, it's salty, it's buttery, it's hot… What else do you want?" Fallon said during "The Tonight Show" segment after savoring a bite.
Dairy-free diners have even more reason to rejoice: Olive Garden breadsticks are fully vegan, made without any traces of dairy. Even the chain's beloved and buttery garlic salt topping is made with melted margarine, meaning everyone can enjoy this unlimited appetizer.