The product recommendations in this post are recommendations by the writer and/or expert(s)
interviewed and do not contain affiliate links. Meaning: If you use these links to buy
something, we will not earn a commission.
You won't find it anywhere in Italy, but chicken parmesan has been a staple of Italian-American restaurants since the 1950s. Likely adapted from eggplant parmigiana in the Old Country, according to the New York Times, the popular entrée was created by Italian immigrants in the northeastern United States, combining the breaded meat cutlet (far less common in Italia) with tangy tomato sauce and melted mozzarella cheese.
It's still a mainstay at many Italian-American restaurants nationwide, but not all kitchens make chicken parm the same way. Some dedicated chefs painstakingly craft their versions using only top-quality ingredients, while other less committed cooks tend to cut corners.
Since restaurant menus often don't list all ingredients, the price can be a good clue. "A very low price indicates poor ingredients," says Domenico Sacramone, owner and chef of Sac's Place, an Italian-American restaurant in New York City. According to Sacramone, a "great chicken parm" often starts with an all-natural chicken cutlet, scratch-made bread crumbs seasoned with grated parmesan, and a homemade tomato sauce. "Also, chicken cutlets should be baked in pure vegetable oil," he adds. All of these factors contribute to the dish's flavor and quality.
Steve Chiappetti, executive chef at the Albert Chicago, shares that he likes to look for variation in the chicken breast when making his own chicken parmesan. "I look for a variation where the chicken breast has been sliced down its thickest side, creating a butterflied cut," he explains. Chiappetti also pays close attention to seasoning the breadcrumbs, ensuring they include ingredients like shredded parmesan cheese, oregano, granulated garlic, and granulated onion for flavor.
"Personally, I do a double dip through the process, which gives the chicken a light crust prior to cooking and really holds in the moisture of the chicken," he adds. "You can't just rely on the sauce—you want the chicken breasts themselves to be moist underneath that lightly crisped surface." He likes to finish it off with a simple tomato garlic sauce and a sprinkle of grated mozzarella, if it's Italian-American style.
Although it might be tricky to check off all these boxes when dining out, there are many Italian restaurant chains that still do an excellent job of making delicious chicken parmesan that doesn't skimp out on flavor and is made with high-quality ingredients. From family-style institutions that have been around for decades to newer, buzzy eateries that specialize in the iconic entree, here are eight restaurant chains that serve the best chicken parmesan.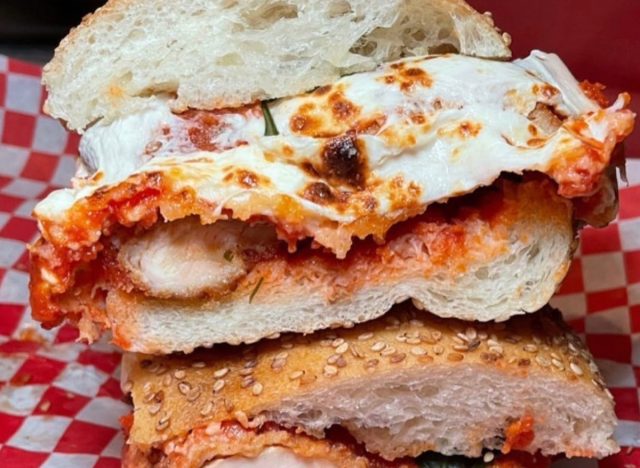 This casual Italian-themed restaurant, which has several locations in New York and Boston, is famous for its chicken parm, hence the name. Fans on Yelp applaud the dish for its great flavor and "perfect" tomato sauce. The restaurant's trademark dish is available to order as a sandwich, served on a sweet semolina roll or a classic sesame hero. You can also get it on a platter, served with a side of spicy rotini. Be sure to enjoy it with the chain's signature Caesar salad and its popular tri-flavor ice cream cake as dessert for the full Parm experience.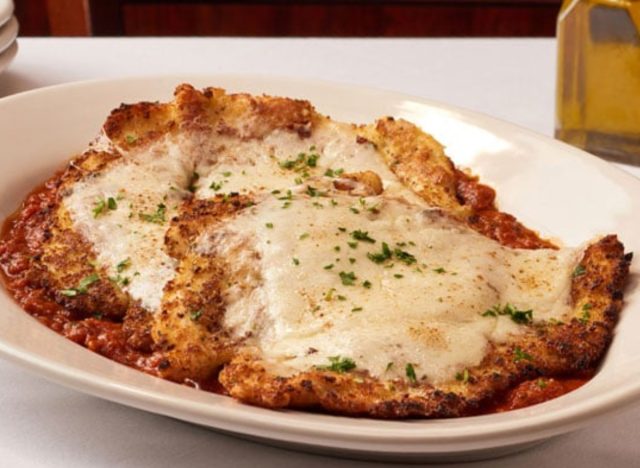 For those looking for an Italian restaurant that uses top-tier recipes and specializes in family-style dining, Carmine's is the way to go. The celebrated spot, with locations in New York, Las Vegas, Washington, D.C., and the Bahamas, serves a long menu of shareable entrées, sides, and more, including baked clams, veal marsala, and shrimp marinara. Of course, one of its must-try dishes is the chicken parmesan, made with quarter-inch thick chicken cutlets, coated in egg, flour, and bread crumbs, and then fried in 100% vegetable oil. It's topped with melted mozzarella and romano cheese and plated over marinara sauce.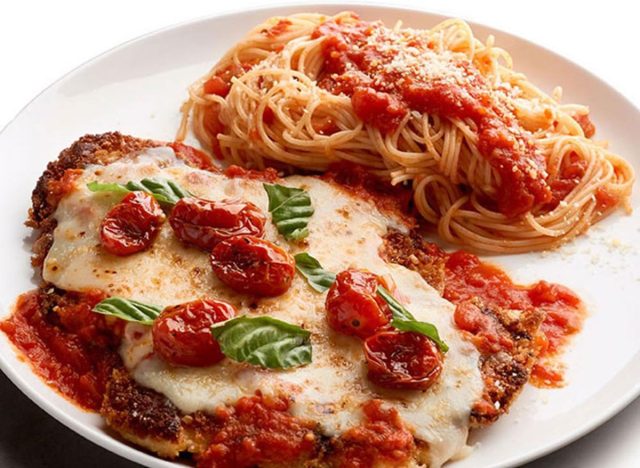 Started in Denver some 35 years ago, Macaroni Grill has cemented itself as one of the best Italian restaurant chains out there. Its menu includes a range of Italian and Mediterranean dishes, including the Italian-American favorite: chicken parm. This chain's version of the beloved pick features hand-breaded Milanese-style chicken breast, slathered in imported Pomodorina tomato sauce and then topped with melted mozzarella and served with a hefty serving of capellini.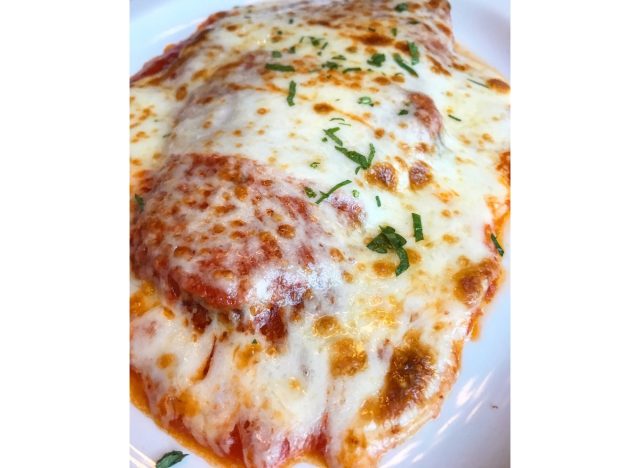 Flavorful recipes, family-style dishes, and a lively, energetic atmosphere—what more could you want in a restaurant? This famous Italian restaurant chain, which has locations in New York City, Long Island, New Jersey, Florida, and Aruba, has a lengthy menu showcasing perfectly prepared options, including veal marsala, shrimp scampi, branzino, and beef carpaccio. Its chicken parmesan is also a no-brainer. The breaded chicken cutlet comes topped with tomato sauce, parmesan, and mozzarella cheese. If you order it as an entrée, it also comes with a side of pasta.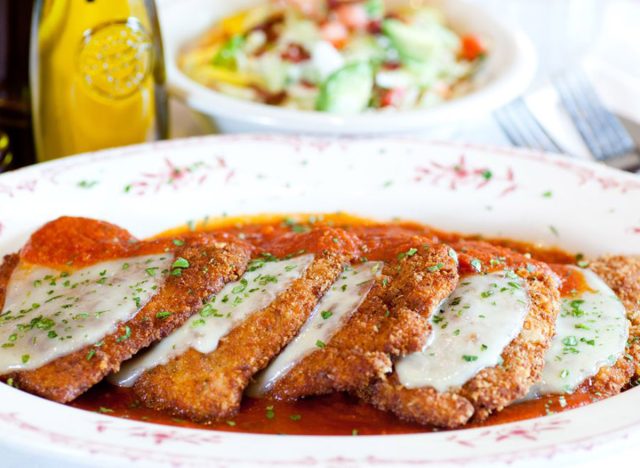 Maggiano's Little Italy can always be counted on for high-quality dishes, family-style menu options, and a warm atmosphere. Its menu features several standouts, including stuffed mushrooms and the chain's famous rigatoni "D," which comes with herb-roasted chicken, mushrooms, caramelized onions, and marsala cream sauce. But don't forget the chicken parmesan, of course. Made with provolone cheese and marinara sauce served with a side of spaghetti, this dish hits the spot.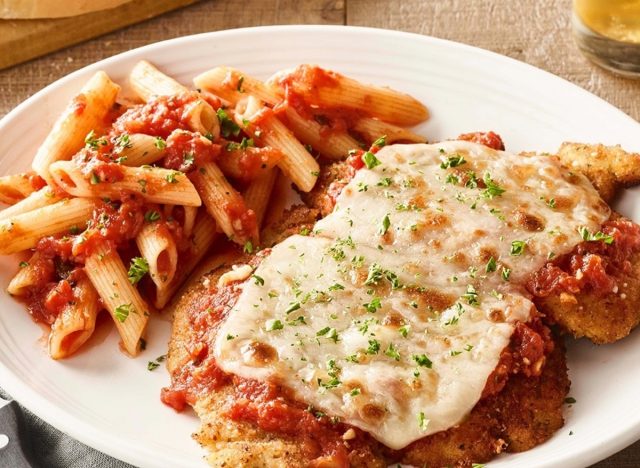 Carrabba's, which has over 200 locations throughout the United States, Canada, and Brazil, has been making delicious Italian-American dishes since it was founded in the 1980s. One must-have is the chain's chicken parmesan, which is made with Mama Mandola's bread crumbs, the chain's own tomato sauce, and parmesan, romano, and mozzarella cheeses. Served with a choice of soup or salad, as well as a side, the entrée is described by one reviewer as simply the "best chicken parm," noting that the restaurant only uses fresh chicken patties, not frozen.6254a4d1642c605c54bf1cab17d50f1e
Although Giordano's specializes in Chicago-style pizza, it also prepares a wide range of specialties, such as fettuccine alfredo, spaghetti with meat sauce, and parmesan-crusted pan pizza. Its chicken parmesan is a showstopper and is made with juicy breaded chicken cutlets topped with melted mozzarella cheese and then baked in the chain's homemade marinara sauce. Even better? Each order of chicken parmesan is served with a side of Barilla spaghetti.
Buca di Beppo, which roughly translates to "Joe's Small Place," is another family-style restaurant that has been serving Italian-American recipes since the early 1990s. One dish worth a try is the chicken parmesan, which features breaded chicken cutlets, homemade marinara sauce, and mozzarella, and is sprinkled with parsley. It pairs wonderfully with the chopped antipasti salad, stuffed shells, and Italian broccoli Romano.