The product recommendations in this post are recommendations by the writer and/or expert(s)
interviewed and do not contain affiliate links. Meaning: If you use these links to buy
something, we will not earn a commission.
Traditional French fries are always a good idea, but well-made sweet potato fries add another dimension to an already delicious meal. Whether sweet potato fries are actually healthier than traditional fries is up for debate—both kinds are fried, after all. But, one thing is for sure: this side makes for an excellent choice for when you want something that deviates from the norm.
Younger than traditional French fries, this inventive dish—which may have first appeared in the 19th century—has gained traction in recent decades. According to a 2010 article in the New York Times, it was during the 1980s that this "innovative" sweet potato side began to appear in foodie hotspots like San Francisco and New York City. By 2008, sweet potato fries made their way onto menus all over the country, cementing themselves as the new side you just had to try.
Although the sweet potato craze may have died down a little in recent years, many restaurants and fast food chains still whip up this fun side. There's nothing like an order of sweet potato fries from your local burger joint or casual dining chain. Prepared to perfection and often served with unexpected details, like specialty sauces, seasoning, and more, this simple yet delicious side is a great addition to burgers, grilled chicken sandwiches, and steak entrées. Here are eight restaurant chains that serve the best sweet potato fries.
Smashburger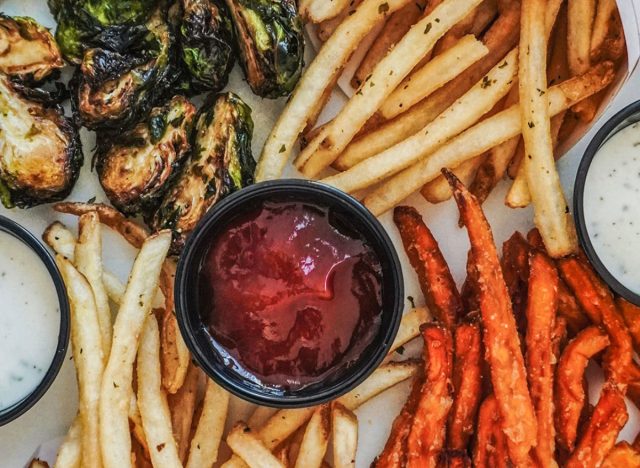 Sweet Potato Fries (Regular): 480 cal, 22 g fat (9 g saturated fat), 540 mg sodium, 67 g carbs (8 g fiber, 23 g sugar), 4 g protein
Pop by Smashburger when you're in the mood for a perfectly grilled burger and a delicious milkshake with a side of sweet potato fries. Made crispy with a dash of rosemary on top, these fries are a perfect match for Smashburger's iconic hot mac & cheeseburgers, hot crispy chicken sandwiches, double classic smash burgers, and more.
"You MUST try the sweet potato smash fries," one Yelp reviewer shared. "They are heaven." Meanwhile, one X user posted, "Smashburger sweet potato fries and a turkey burger for lunch today. Best sweet potato fries, hands down, imo."
The Cheesecake Factory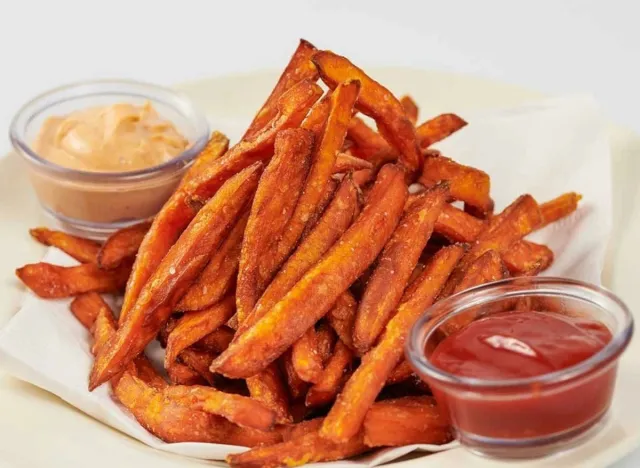 Sweet Potato Fries (side dish): 1010 cal, 52 g fat (9 g saturated fat), 1800 mg sodium, 125 g carbs (14 g fiber, 58 g sugar), 7 g protein
What's so great about The Cheesecake Factory is that it has so much variety on its menu. From chicken taquitos and mashed potatoes to stuffed mushrooms and Belgian waffles, the popular chain has you covered. One side you must try, if you haven't already, is the sweet potato fries. Plated with a variety of dipping sauces, these fries are served warm and crispy and have the perfect balance of flavors.
Enjoy these sweet potato fries with one of the chain's famous Glamburgers, such as the French dip cheeseburger or charbroiled mushroom burger, for the full effect.
Red Robin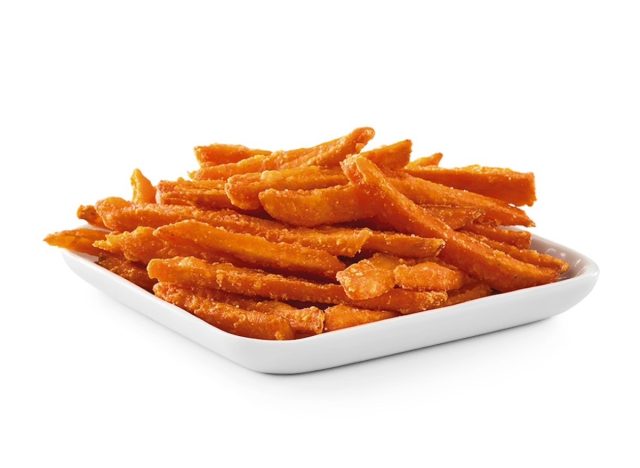 Sweet Potato Fries (1 order): 460 cal, 23 g fat (21 g saturated fat), 750 mg sodium, 59 g carbs (8 g fiber, 21 g sugar), 4 g protein
With roots going all the way back to the 1940s, Red Robin has been serving up flavorful dishes in a welcoming setting for decades now. Although it offers a bunch of different side options, ranging from steak fries and Yukon chips to coleslaw and garlic parmesan broccoli, one that deserves a try is the sweet potato fries.6254a4d1642c605c54bf1cab17d50f1e
Red Robin's sweet potato fries are in a class of their own. For starters, they are made from all-natural, GMO-free sweet potatoes grown and harvested from family-owned farms, according to the restaurant's website. Each potato is also handpicked, so you know you're only getting the best of the best. After the sweet potatoes are gathered, they're thinly cut, fried in oil, and then seasoned with a dash of salt. Does it get any better than that?
BareBurger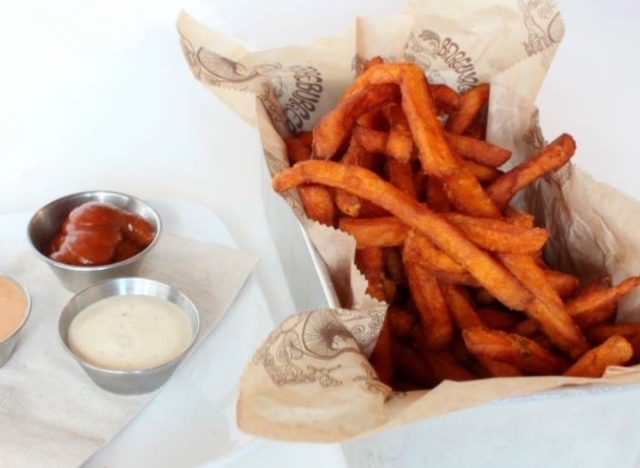 All-Natural Sweet Fries (1 order): 340-525 calories
This popular chain, which got its start in 2002 in New York City, promotes a menu filled with "clean, sustainable, organic, all-natural, and fresh ingredients," sourced from partners and farms with this same focus. That being said, BareBurger's sweet potato fries are kind of a big deal, and for good reasons—not only are they high-quality, but they're also delicious.
"The burger was so good, but those sweet potato fries were the best I had ever had," one TripAdvisor reviewer posted. "I said I may have to hurt someone if they ask to try one because I didn't want to part ways with any—haha! But seriously, I can't wait to go back."
Yard House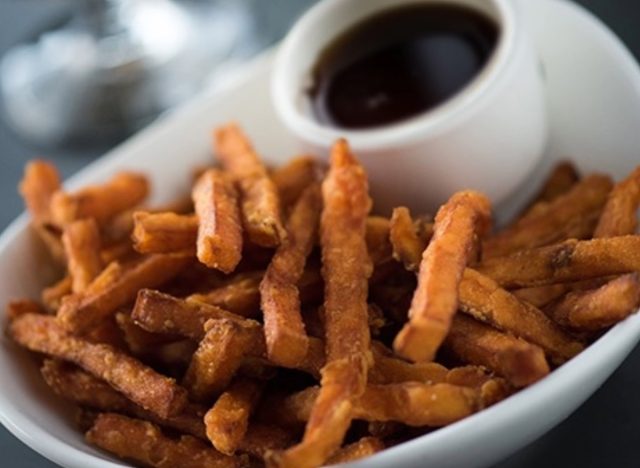 Sweet Potato Fries (1 order): 650 cal, 26 g fat (3 g saturated fat), 260 mg sodium, 98 g carbs (6 g fiber, 55 g sugar), 5 g protein
Top-notch dishes, dozens of craft beer options, and classic rock playing over the speakers—what more could you want in a restaurant? Started in Long Beach, Calif., in the 1990s, this famous sports bar chain is also a great place to pick up a side of sweet potato fries with your entrée—they're that good.
"Try the sweet potato fries w/maple bacon dip—it's just to die for!!!" one Yelp reviewer mentioned. "No, really—it's the bomb dot com—totally addictive." Another customer described the sweet potato fries as "super yummy."
BJ's Restaurant Brewhouse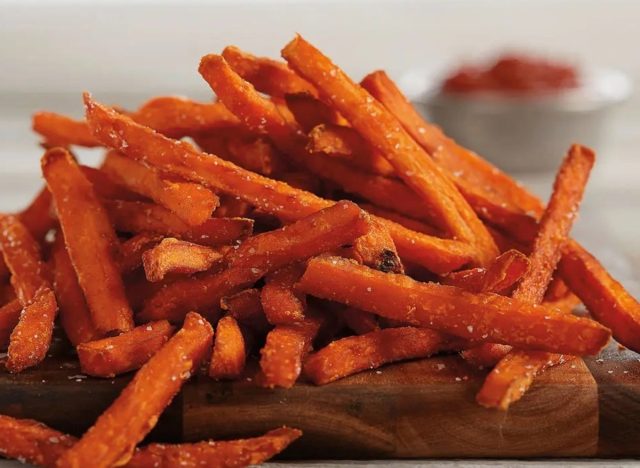 Sweet Potato Fries (1 order): 330 cal, 12 g fat (1 g saturated fat), 230 mg sodium, 52 g carbs (6 g fiber, 14 g sugar), 2 g protein
There are so many reasons to stop by BJ's Restaurant and Brewhouse, and the sweet potato fries are one of them. The perfect addition to burgers, sandwiches, wraps, and more, the chain's sweet potato fries are an excellent substitute for when you want a side other than ho-hum French fries or a house salad. Order it with one of the restaurant's new and popular picks, like the parmesan-crusted chicken or bone-in wings, or burger offerings, like hickory brisket and bacon burger or classic cheeseburger.
Fatburger
Sweet Potato Fries (1 order): 100 cal, 24 g fat (1.5 g saturated fat), 1320 mg sodium, 66 g carbs (6 g fiber, 15 g sugar), 3 g protein
Founded in 1947 in Los Angeles, Fatburger has become the place to go for thick-cut fries, juicy burgers, and hand-scooped ice cream that's all handcrafted using only the freshest, highest-quality ingredients.
One menu item that deserves some love is the sweet potato fries. These crinkle-cut fries are deep-fried until crispy, providing the perfect amount of crunch with each bite. Enjoy these with an original Fatburger, Impossible burger, or crispy chicken sandwich for a delicious meal in a flash.
Grand Lux Cafe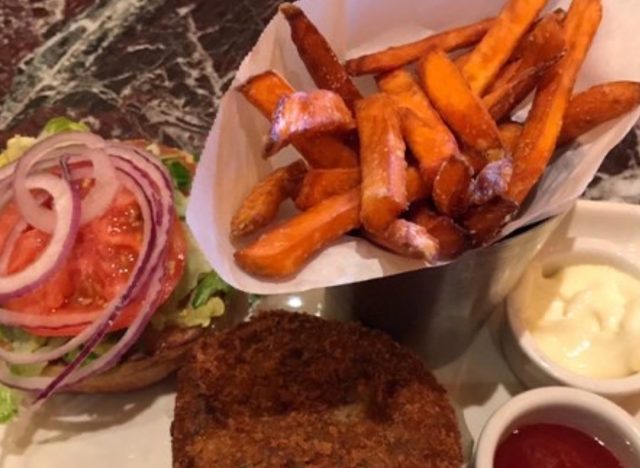 Nutrition information unavailable.
Started by the founders of the Cheesecake Factory, Grand Lux Cafe is similarly famous for its long menu filled with an incredible variety of dishes. Even better? You can order sweet potato fries with any of the restaurant's burgers or sandwiches for a small extra fee. Of course, you can order them on their own as a side, too, if you prefer. "I'm very particular about sweet potato fries because they can be done so wrong sometimes, but these were great," noted one Yelp reviewer.