You may not associate fast-food burritos with health, and that is for good reason. You can easily find drive-thru menus with unhealthy burritos pushing 1,000 calories and more fat grams than some need in an entire day! While plenty of restaurants have options like this, most menus also offer healthier options that work within a lower-calorie budget. These "healthiest" fast-food burritos may not be made with the best ingredients or have the most ideal balance of nutrients, but they are the best option at each restaurant.
How to order "healthy" fast-food burritos.
If you are trying to choose healthier burritos at your favorite Mexican fast-food joint, here are a few tips to keep in mind.
Skip the sauce. This can be a way to drastically reduce the number of calories and fat grams in your meal. Most sauces don't provide much nutritional value, and you can instead look for flavor in pico de gallo, hot sauce, and salsa, all of which are much lower in calories and fat.
Go grilled. Meat is a lean way to add protein to your burrito, but fried options pack extra calories, fat, and saturated fat. Choose grilled chicken, fish, or shrimp as the leanest options. Steak and carnitas can even be lower in fat than fried options.
Skip some of the tortilla. The tortilla of a fast-food burrito can provide nearly half of the calories and loads of carbs. Try tearing off excess tortilla that isn't keeping the burrito together, or avoiding that last bite that is usually just folded up tortilla. This may not save a significant number of calories, but it can work towards creating a healthier meal with a better balance of nutrients.
Read on for the healthiest fast-food burrito options, and for more, don't miss The #1 Unhealthiest Order at 9 Major Fast-Food Mexican Chains.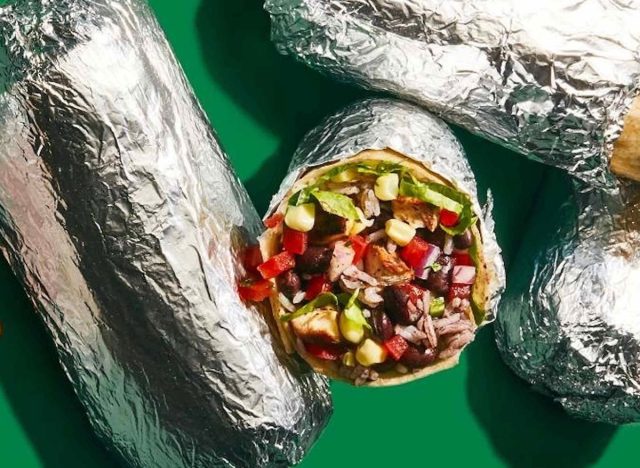 Per burrito: 650 calories, 17g fat (3g saturated fat), 1840mg sodium, 83g carbs (14g fiber, 5g sugar), 38g protein
The tortilla alone at Chipotle provides over 300 calories, making this a high-calorie option. However, the fillings you choose have an even bigger impact. To make this the healthiest burrito at Chipotle, go with steak which is their lowest calorie and fat protein. Skip the rice as the tortilla already provides enough carbs, but add black beans for their fiber and protein boost. Add fresh tomato salsa and fajita veggies to boost flavor and nutrients for a few calories, and load in extra romaine lettuce for a nice texture and nutritious filler for only 10 calories.
Per burrito: 880 calories, 23g fat (8g saturated fat), 2250mg sodium, 133g carbs (20g fiber, 7g sugar), 36g protein
Although this burrito packs 880 calories, this is lower than the other options on the Qdoba menu. This option is made with plant-based protein, making it friendly for vegetarian eaters, and contains a whopping 20 grams of fiber! This makes for an especially filling meal. To make this burrito a little healthier, skip the rice and corn. This will lower carbs and calories without taking much away from fiber. Also, go with the whole wheat tortilla for a slightly lower carb and calorie count.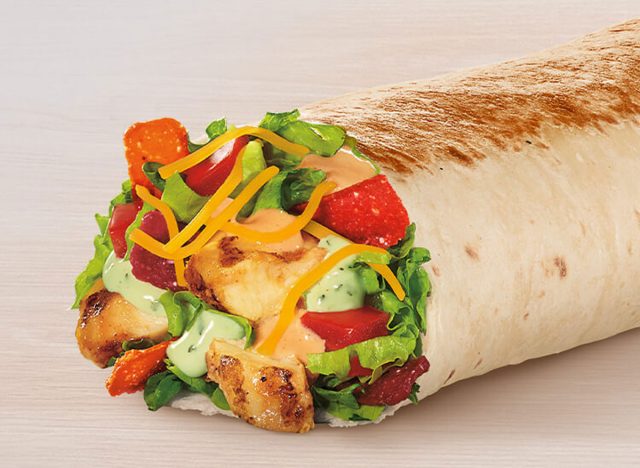 Per burrito: 510 calories, 29g fat (7g saturated fat), 950mg sodium, 47g carbs (4g fiber, 3g sugar), 17g protein
This may not be the lowest calorie option on the menu, but its grilled chicken and lettuce combined with a couple of modifications make this the healthiest option. To drastically cut calories and fat grams, go "easy" on the ranch and chipotle sauces. This alone saves 80 calories, mostly from fat. You can also ask for extra lettuce and tomato to boost fiber and create a more filling burrito.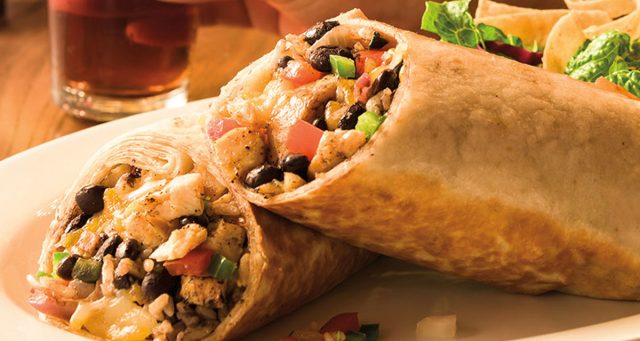 Per burrito: 710 calories, 33g fat (17g saturated fat), 1700mg sodium, 50g carbs (1g fiber, 3g sugar), 54g protein
This burrito is loaded with fajita grilled chicken, pico de gallo, and cheese. Although this option is packed with protein, it is lower in fiber and provides more saturated fat than other options on this list. To maintain this calorie count, make sure to skip the sauces that come with this burrito and add empty calories. You can ask for light cheese to save some calories and fat grams, but your best bet may be to split this burrito or save half for another meal to save calories.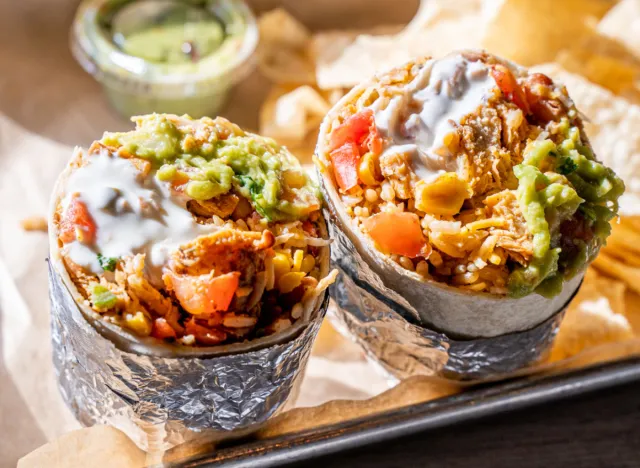 Per burrito: 428 calories, 18g fat (10g saturated fat), 468mg sodium, 52g carbs (10g fiber, 3g sugar), 29g protein
Moe's offers a junior-size tortilla that is 2 inches smaller in diameter than the regular option. This alone saves 100 calories! In your junior tortilla, add fish for lean protein, pinto beans for a boost of fiber, and a selection of veggies. Southwest slaw and grilled peppers are my selection here, and you can also add cucumber, tomato, and grilled mushrooms for a few extra calories. Top with shredded cheese and a squeeze of lime for a meal just over 400 calories and the lowest sodium count on this list.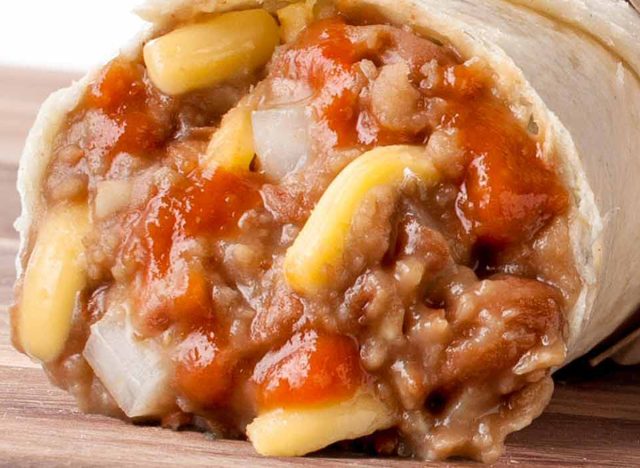 Per burrito: 400 calories, 13g fat (5g saturated fat), 960mg sodium, 57g carbs (9g fiber, 2g sugar), 17g protein
This classic fast-food order is simple and the best option for several reasons. Not only is it the lowest calorie burrito on the menu, but it also packs the lowest fat, saturated fat, and sodium content. With 9 grams of fiber and 17 grams of protein, this burrito should leave you full and satisfied. However, if you are looking for more, add a side salad using salsa as the dressing for an extra 45 calories. With zero modifications needed, this makes for an easy option at Taco John's.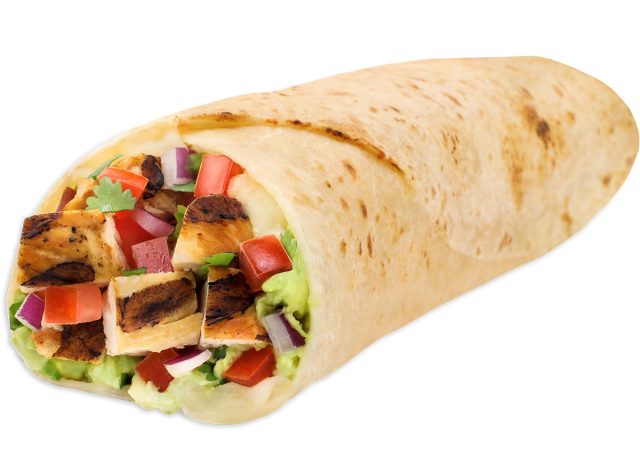 Per burrito: 650 calories, 37g fat (14g saturated fat), 1670mg sodium, 58g carbs (6g fiber, 5g sugar), 22g protein
Although this burrito has 37 grams of fat, 14 of which are saturated, it is still one of the best options on the menu. The Baja Fresh burrito provides an impressive 6 grams of fiber and 22 grams of protein, making for a filling meal. Choose grilled chicken, fish, or shrimp as the leanest protein options, and consider skipping the melted jack cheese to cut back on some fat, saturated fat, and calories. The burrito will still pack plenty of flavor from guacamole and pico de gallo!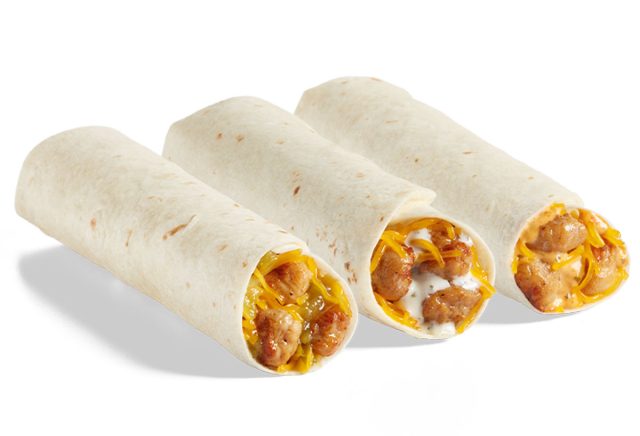 Per burrito: 250 calories, 9g fat (2.5g saturated fat), 750mg sodium, 30g carbs (0g fiber, 0g sugar), 13g protein
For only 250 calories, this burrito packs plenty of flavor and 13 grams of protein. As the lowest fat and calorie option on this list, it allows you to pack in nutritious sides to make for a well-rounded meal. The main shortcoming of this option is that it provides zero fiber. To boost fiber at the meal, pair your burrito with a side order of guacamole for 120 calories and 6 grams of fiber. This keeps your meal under 400 calories and boosts nutrient intake. Dip your chicken cheddar roller in the guac or enjoy your roller with raw veggies from home.6254a4d1642c605c54bf1cab17d50f1e
Per burrito: 550 calories, 34g fat (7g saturated fat), 1570mg sodium, 30g carbs (21g fiber, 3g sugar), 52g protein
With only 9 grams of net carb in this burrito, it is a good option for those staying mindful of carb intake. There is certainly no shortage of fiber in this option, and it is loaded with protein, too. Although it contains 34 grams of fat, only 7 of those grams are saturated, making it a healthier source of fat than many other burritos. To lower fat and calories in this meal, skip the creamy cilantro dressing. The remaining ingredients include a keto tortilla, cabbage, cotija cheese, avocado, and pico de gallo so there is still plenty of flavor and texture in this burrito.