The product recommendations in this post are recommendations by the writer and/or expert(s)
interviewed and do not contain affiliate links. Meaning: If you use these links to buy
something, we will not earn a commission.
The club sandwich might just be one of the most iconic sandwiches out there. This incredibly flavorful handheld usually features meats such as roasted turkey, ham, bacon, or chicken, layered with sliced fresh tomato, avocado, and crisp lettuce. Some versions of the club sandwich may even feature creative touches, like herb mayonnaise or a combination of cheeses.
Some experts believe that the sandwich may have originated in the 1880s at the Union Club in New York City, a private social club founded in 1836 and still located near Park Avenue. Others suggest it might have been invented at the Saratoga Club in Saratoga Springs, N.Y. Although the early beginnings of the club sandwich are somewhat murky, one thing is for sure—the club sandwich is a delicious American classic.
Making the club sandwich at home isn't necessarily tricky, but it does involve picking up many different ingredients, which could feel like a hassle to some. Thankfully, many restaurant chains around the country offer this famous sandwich on its menu, saving you a trip to the grocery store. Check out these nine restaurant chains, which serve up some of the absolute best club sandwiches around.
The Cheesecake Factory
The Club (1 order): 1290 cal, 68 g fat (17 g saturated fat), 3240 mg sodium, 112 g carbs (6 g fiber, 24 g sugar), 56 g protein
One of the most popular restaurant chains out there, the Cheesecake Factory has a menu flush with delicious lunch, dinner, and dessert options, ranging from housemade meatballs to street corn. However, two menu standouts are the traditional club sandwich, aptly referred to on the menu as "the Club," and the grilled avocado club.
For starters, the Club is a flavorful combination of freshly roasted turkey breast, tasty bacon, crisp lettuce, tomato, and a smear of mayonnaise served on toasted white bread. Meanwhile, the grilled chicken and avocado club incorporates chicken breast, sliced avocado, melted Swiss cheese, bacon, tomato, and herb mayonnaise. "The club sandwich at the cheesecake factory has a hold on me," one X user proclaimed.
Yard House
Stacked Turkey Club (1 order): 1360 cal, 85 g fat (29 g saturated fat), 2580 mg sodium, 81 g carbs (11 g fiber, 19 g sugar), 73 g protein
For those who love great food, classic rock tunes, and beer, the Yard House is a perfect match. The restaurant chain, which started nearly 30 years ago, has a long menu filled with a range of appetizers, pizzas, entrées, mains, and a list of over 100 different ales and lagers poured in special glasses to enhance the experience.6254a4d1642c605c54bf1cab17d50f1e
One go-to on its menu is the stacked turkey club sandwich, which is just that—stacked! This sandwich is made with roasted turkey, sliced bacon, Swiss cheese, avocado, tomato, Boston lettuce, and mayonnaise, all layered on toasted brioche bread. Pickles and French fries come on the side, and there's also an option to make this meal gluten-free.
Denny's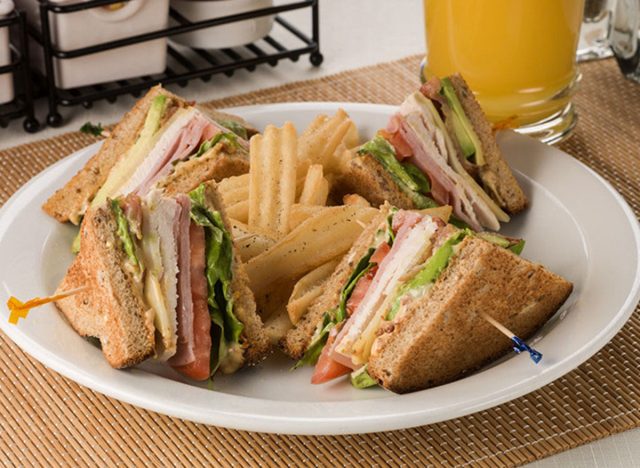 Cali Club Sandwich (1 order): 890 cal, 55 g fat (14 g saturated fat), 2070 mg sodium, 59 g carbs (10 g fiber, 12 g sugar), 44 g protein
You can always count on Denny's for a decent meal. The famous restaurant chain, founded in the 1950s, makes wallet-friendly dishes that always hit the spot. Although it may be best known for its Grand Slam breakfast (pancakes, bacon, eggs, and sausage—you know the one), its Cali Club sandwich is also pretty great.
Listed on the menu under "melts & handhelds," this sandwich showcases tasty turkey breast, ham, bacon, Swiss cheese, fresh avocado, sun-dried tomato mayonnaise, lettuce, and tomato, all piled high on toasted seven-grain bread. Each order comes with wavy-cut fries, but feel free to switch those out for other choices like hash browns, red-skinned potatoes, beer-battered onion rings, or fresh seasonal fruit.
BJ's Restaurant and Brewhouse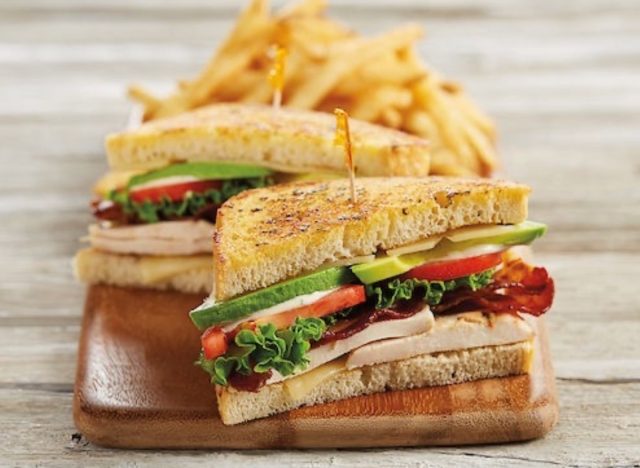 California Chicken Club Sandwich with fries (1 order): 1310 cal, 69 g fat (21 g saturated fat), 2706 mg sodium, 91 g carbs (10 g fiber, 5 g sugar), 73 g protein
Try the California chicken club sandwich from BJ's Restaurant and Brewhouse if you want a club sandwich that's next level—a lot of thought has gone into creating this dish. Firstly, it's made with toasted sourdough bread and never has lunch meat in it. Instead, this sandwich is put together with thick slices of seasoned, grilled chicken and applewood-smoked bacon. It's then topped with sliced avocado, melted Swiss cheese, crisp green lettuce, and ripe tomatoes. A mouthwatering garlic aioli spread also makes an appearance, tying together all the flavors.
What's so great about BJ's is that it offers you so many side options—you can go with traditional French fries or swap those out for a baked potato, seasonal bistro grains, a house salad, white cheddar mashed potatoes, mixed fruit, and more.
Friendly's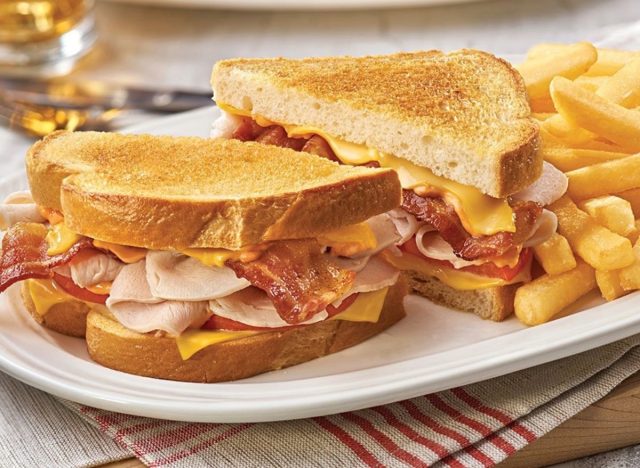 Turkey Club SuperMelt (1 order): 884 cal, 48 g fat (16 g saturated fat), 2323 mg sodium, 59 g carbs (<1 g fiber, 7.5 g sugar), 51 g protein
How fun is Friendly's? For over eight decades, the Massachusetts-founded restaurant chain has been whipping up exciting entrées and eye-catching sundaes (the ones with the faces are too cute). Although the chain has always been synonymous with ice cream, it also offers a full menu of breakfast, lunch, and dinner options that are great to order when you want to enjoy a meal out with family and friends.
Even better? The chain has not one but two club sandwich options. The first is the Turkey Club SuperMelt, prepared with layers of turkey breast, applewood smoked bacon, melted American cheese, tomato, and Thousand Island dressing on grilled sourdough bread. The other choice is the Center Court turkey club sandwich, which is instead made with sliced turkey breast, aged cheddar, applewood smoked bacon, lettuce, tomato, and mayo. Each comes with a side of golden French fries.
First Watch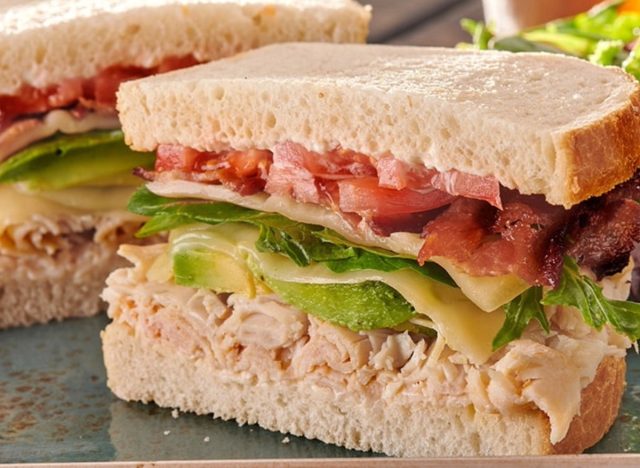 Monterey Club (1 order): 1090 cal, 65 g fat (17 g saturated fat), 2545 mg sodium, 70 g carbs (8 g sugar), 49 g protein
First Watch is always a good idea. The popular Florida-founded restaurant chain offers lots of made-to-order breakfast and lunch options, all prepared using only the freshest ingredients. One menu item that's a must-try is its Monterey Club. It's made with turkey, bacon, avocado, organic mixed greens, tomato, mayonnaise, and Monterey jack cheese on sourdough bread.
"​​The Monterey club is excellent, and the combo is a very good deal—half sandwich and soup or salad," one TripAdvisor reviewer wrote. "Give it a try."
Ruby Tuesday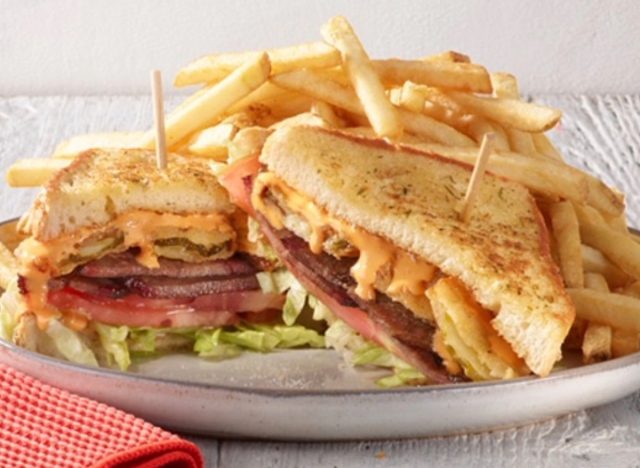 Bacon Club (1 order): 610 cal, 35 g fat (9 g saturated fat), 1420 mg sodium, 43 g carbs (0 g fiber, 7 g sugar), 24 g protein
Order Ruby Tuesday's bacon club when you're in the mood for a club sandwich but feel like something more simple. Priced at around $10, this sandwich is made without turkey, ham, or chicken. Instead, it's stacked with hardwood smoked bacon, lettuce, and tomato stuffed between two slices of Texas toast and served with special sauce. You also have a choice of sides, which includes either French fries, tater tots, baked potatoes, mashed potatoes, grilled zucchini, or roasted corn, just to name a few.
Bennigan's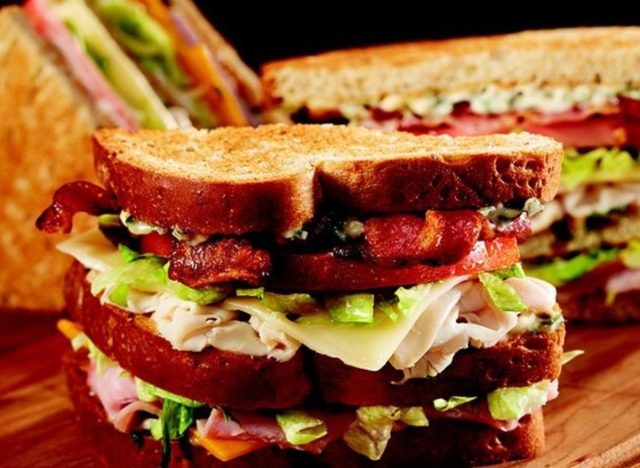 Nutrition information unavailable.
Bennigan's, a restaurant chain that currently has a couple dozen locations worldwide, makes a club sandwich that tastes so good you'll want to order it more than once. Dubbed the "Bennigan's Club," the filling dish is found on the menu under "celebrated sandwiches."
It's prepared with toasted honey wheat bread, freshly made basil mayonnaise, tender ham, roasted turkey, bacon, tomato, and shredded lettuce. That's not all, though. It features not one but two cheeses on it: Swiss and cheddar. Each sandwich is also served with a side of homestyle French fries with sea salt, or you can get a side Caesar salad or crock of soup for an extra fee.
Grand Lux Cafe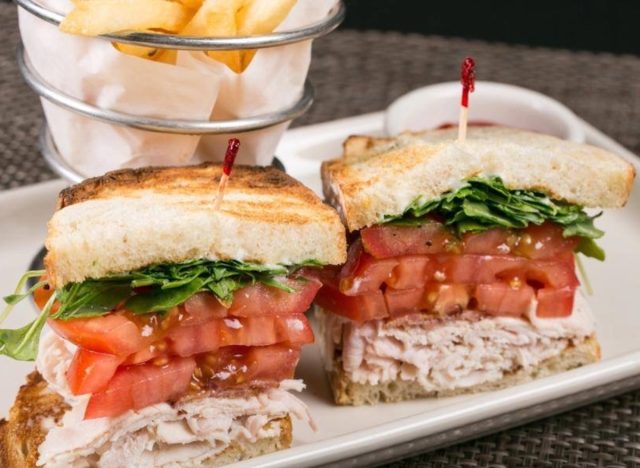 Nutrition information unavailable.
Make your way to Grand Lux Cafe for an out-of-this-world club sandwich that doesn't skimp on ingredients or taste. Priced at under $20, the chain's version of the famous sandwich is made using freshly roasted turkey, crispy applewood smoked bacon, arugula, sliced tomato, and mayonnaise, all stacked on toasted bread.
Each sandwich comes with your choice of side, which includes either French fries or a green salad. You also can pay an additional fee for sweet potato fries or a Caesar salad. "One of my favorite dishes is the Grand Lux club sandwich," one Yelp reviewer shared. "It has so many delicious and fresh ingredients with the best fries!"