The product recommendations in this post are recommendations by the writer and/or expert(s)
interviewed and do not contain affiliate links. Meaning: If you use these links to buy
something, we will not earn a commission.
With the temperatures swiftly falling, the need to curl up with a warm meal only rises. That means hearty chilis, satisfying stews, and lots and lots of soups.
Some evenings will call for crowd-pleasers like chicken noodle, while other occasions will necessitate something more seasonal like butternut squash. No matter the variety, one thing is for sure: soup is the ultimate comfort food. And we'd be remiss if we didn't highlight the sweet, tangy, and sometimes creamy goodness of tomato soup.
Top it with croutons. Couple it with grilled cheese. Serve it alongside a salad. When it comes to tomato soup, the food pairings are endless—and so are the recipes. But if making a pot of this cozy concoction isn't in the cards, swinging by a tried and true eatery could be the next best thing. Here are nine restaurant chains that serve some of the best tomato soup options.
Panera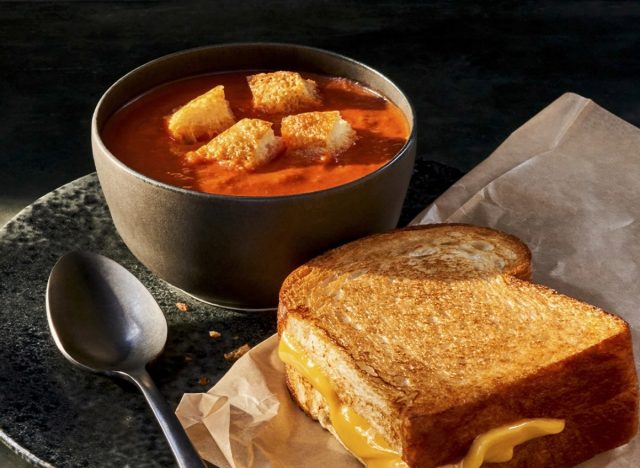 CREAMY TOMATO SOUP (PER ORDER): 350 cal, 21 g fat (11 g saturated fat, 0.5 g trans fat), 1,100 mg sodium, 34 g carbs (1 g fiber, 17 g sugar), 5 g protein
Panera's soup is so popular that the fast-casual chain has its own line of refrigerated soups sold at grocery stores. One beloved option is the Creamy Tomato Soup. The fan-favorite menu item is made with vine-ripened pear tomatoes puréed with fresh cream, featuring hints of red pepper and oregano. The soup is then topped with black pepper focaccia croutons for some added crunch.
As with other Panera menu items, this soup comes with a choice of one free side—chips, an apple, or a French baguette.
"Panera tomato soup changed my life it's all i can think about my palms are literally sweating i need it NOW," one fan recently raved on X, formerly known as Twitter.
Zoup!
FIRE ROASTED TOMATO BASIL BISQUE (8 OUNCES): 290 cal, 22 g fat (10 g saturated fat), 780 mg sodium, 19 g carbs (1 g fiber, 12 g sugar), 4 g protein
Another fast-casual spot with its own soup line is Zoup! Founded with the stated goal of offering "really good soup from only the best-quality ingredients," this Michigan-based chain dishes out a variety of soups that range from Alligator Gumbo to Chicken Noodle Soup to Fire Roasted Tomato Basil Bisque. This tomato option starts with a creamy, grill-roasted tomato base and features a medley of seasonal vegetables. The chain also offers a simple Tomato Pomodoro Soup and Farmstead Classic Tomato Soup.
One Yelp reviewer said this chain has "best tomato soup," noting that the menu item "tastes homemade."
Café Zupas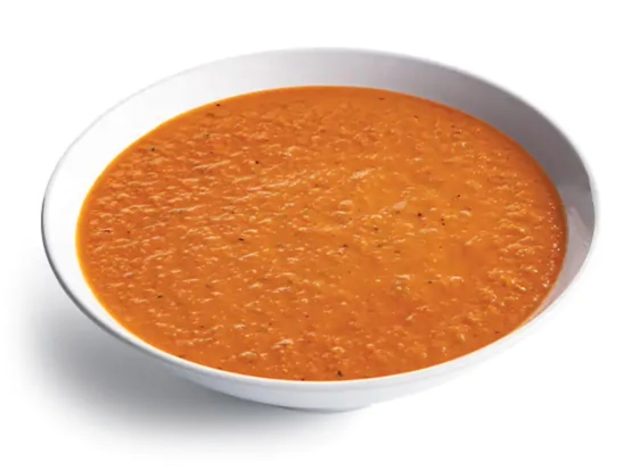 TOMATO BASIL SOUP (PER FULL ORDER): 560 cal, 47 g fat (20 g saturated fat), 2,180 mg sodium, 37 g carbs (3 g fiber, 23 g sugar), 4 g protein
With a name that translates to "soup cafe," it only makes sense for this restaurant chain to have a wide variety of menu options by the bowlful. Walk into one of the 55-plus restaurants, and you can choose from a lengthy list of house-made soups, such as the Chicken Enchilada Chili, Lobster Bisque, and the seasonal Pumpkin Chorizo Soup.
The fast-casual chain also serves a few different tomato soups. First, there's the simple Tomato Basil, which is made with vine ripe tomatoes, fresh basil, chopped garlic, sautéed celery and onions, extra virgin olive oil, and spices in a creamy broth. "I can eat it everyday for the rest of my life," raved one fan on X.
Then, there's the Tomato Basil Pasta option, which is just the Tomato Basil Soup mixed with egg noodles. For those craving something even creamier, there's also the "Chris" Creamy Tomato Soup, which combines the chain's Tomato Basil Soup with its Wisconsin Cauliflower Soup.
Pret a Manger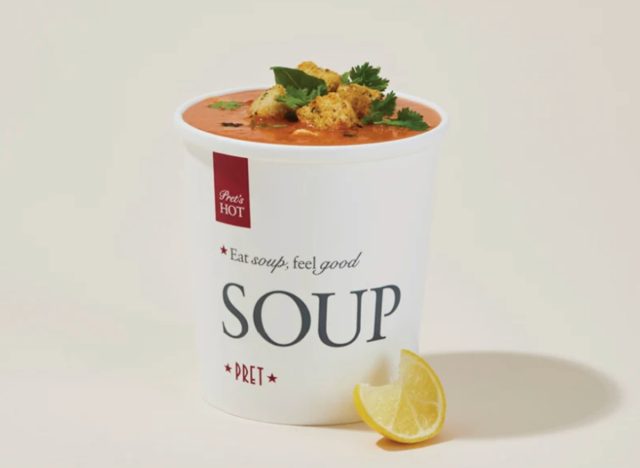 TOMATO & FETA SOUP (PER ORDER): 260 cal, 15 g fat (6 g saturated fat), 1,520 mg sodium, 26 g carbs (4 g fiber, 15 g sugar), 9 g protein
This British chain operates 60 locations across the United States, primarily in New York City. Stop by a Pret a Manger location, and you'll encounter a plethora of quick and easy meal options like sandwiches, salads, and soups. One enticing menu item is the Tomato and Feta Soup, which features a blend of crushed tomatoes, caramelized onions, vegetables, garlic, cream, and a sprinkle of feta.6254a4d1642c605c54bf1cab17d50f1e
One customer shared on Yelp, "It's so creamy & tastes delicious, not bitter or acidic like other tomato soups I've tried."
Additionally, while you're at Pret, be sure to snag one of the chain's bakery items, which are baked fresh on-site every day.
Jason's Deli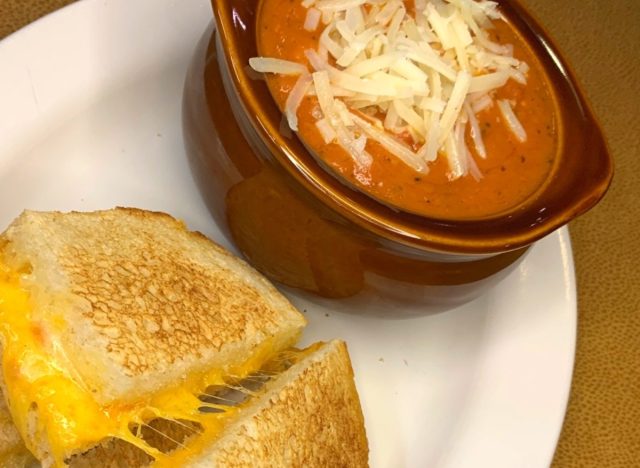 TOMATO & FETA SOUP (PER CUP): 330 cal, 25 g fat (13 g saturated fat), 950 mg sodium, 20 g carbs (2 g fiber, 9 g sugar), 8 g protein
With over 250 locations across 28 states, Jason's Deli prides itself on serving wholesome meals free of trans fats, processed MSG, high-fructose corn syrup, dyes, and artificial colors and flavors. The menu covers a selection of sandwiches, salads, pasta dishes, and soups—like the Tomato Basil. This soup combines sweet cream with vine ripened tomatoes, virgin olive oil, garlic, and fresh chopped basil. For some additional saltiness, it's also topped with shredded asiago cheese.
"Jason's Deli tomato soup is superior," one fan wrote on X. In a separate Facebook post showcasing the soup paired with grilled cheese, another person commented, "Always quality! Love this place."
Schlotzsky's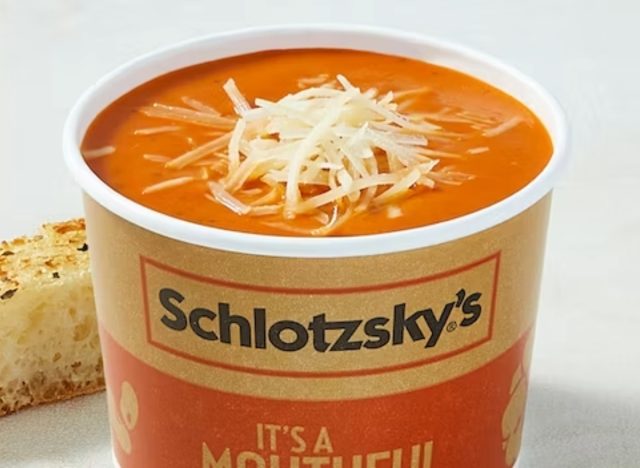 TOMATO BASIL BISQUE (PER ORDER): 370 cal, 26 g fat (7 g saturated fat), 1,000 mg sodium, 28 g carbs (5 g fiber, 20 g sugar), 6 g protein
Highlighting the fact that its dishes are made-to-order, Schlotzsky's notes on its website that its food is "more deliberate than fast food." At the chain's 338 locations, primarily concentrated in the South, customers can score sandwiches, pizzas, flatbreads, salads, and soups.
If you're looking to get your tomato soup fix, the Tomato Basil option presents a blend of, of course, tomato and basil, topped with parmesan cheese. Other Schlotzsky's soups include the Broccoli & Cheese and Loaded Baked Potato. And don't forget to pair these with the chain's bread, which is baked "fresh-from-scratch," as noted by the chain.
La Madeleine French Café
FAMOUS TOMATO BASIL SOUP (PER CUP): 300 cal, 26 g fat (17 g saturated fat, 1 g trans fat), 560 mg sodium, 14 g carbs (2 g fiber, 8 g sugar), 3 g protein
Across more than 80 locations, La Madeleine celebrates "the integrity of French cuisine" by prioritizing fresh ingredients and recipes that have been shared over generations. Along with sandwiches, salads, bakery items, and other French favorites, the cafe chain also serves a selection of soups, with its Tomato Basil Soup even prompting fans to replicate the recipe themselves. This menu item consists of vine-ripened tomatoes mixed with fresh cream and basil.
"Bursting with flavor and made with high-quality ingredients, it's a warm and comforting option that leaves you wanting more," wrote one fan on Yelp. "Pair it with a freshly baked baguette, and you have the perfect combination for a light and fulfilling meal."
Fans can even heat up the soup in the comfort of their own home, as La Madeleine sells it by the jar.
Au Bon Pain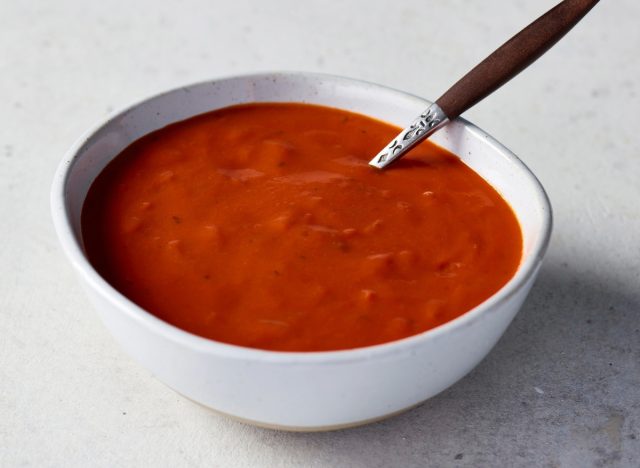 MEDIUM TOMATO BASIL BISQUE (PER ORDER): 240 cal, 11 g fat (7 g saturated fat), 380 mg sodium, 30 g carbs (2 g fiber, 17 g sugar), 7 g protein
While the name of this fast-casual chain means "with good bread," Au Bon Pain serves much more than carbs by the loaf. However, you'll still want to pair a fresh slice with several of the chain's menu items, like soup. Take the Tomato Basil Bisque, for example. This soup is a combination of tomato purée and savory vegetables in a creamy vegetarian broth made with basil, fennel, and sweet cream. Some of Au Bon Pain's other soups include the Baked Stuffed Potato, Broccoli Cheddar, Chicken Noodle, and Cheesy Chicken Tortilla.
Mendocino Farms
Nutrition information unavailable. 
If you're looking for another chain that prioritizes its ingredient sourcing, Mendocino Farms is the place for you. With over 60 locations in California, Texas, and Washington, this fast-casual eatery sources its ingredients from farmers and food artisans who share Mendocino's "elevated standards for quality." This means no added hormones, artificial sweeteners, food dyes, or artificial flavors, in addition to a commitment to environmental and social responsibility.
For a limited time, Mendocino Farms is now offering a Roasted Tomato-Basil Soup on its current fall menu. This is made with a creamy purée of roasted tomatoes, garlic, and fresh basil. Customers can also sink their spoons into the Greek Lemon Chicken & Farro Soup.