The product recommendations in this post are recommendations by the writer and/or expert(s)
interviewed and do not contain affiliate links. Meaning: If you use these links to buy
something, we will not earn a commission.
When you're hitting up a chain restaurant, ordering a cheeseburger is a good move because it's popular and fairly difficult to mess up. A beef patty with some sort of yellow cheese served on a shiny bun with some salad stuff on top is a quintessential American meal. But if you've got your choice of where to go for a burger, it actually does matter, as the quality and taste is not the same everywhere you go.
In the name of good burgers, I tried the most popular cheeseburgers from five dine-in chains to see which one was the best—and which you should avoid. For the purposes of this test, I ordered each cheeseburger with all the toppings that it normally comes with, making no substitutions. If given the choice, I ordered the meat "medium" or "pink," as that is the correct way to cook and consume a burger. (Well done? Don't even bother.) I ordered take-out from each restaurant and judged each cheeseburger on appearance, taste and value, and ranked them on a scale from 1 to 10, with 1 being the worst.
While none of the burgers I tried were fantastic or even delicious, some were definitely more passable than others. If I'm going out for a burger, there's only one place I trust—Shake Shack. The fast-casual chain's burgers are juicy, the cheese melds beautifully with the meat, the potato buns are perfect, and the Shack Sauce just adds that something special. My advice? If you're taking your family or date for a cheeseburger, skip all of these restaurants and head to Shake Shack (or even Five Guys). But if you must dine-in at one of these chains, here's my list from worst to best.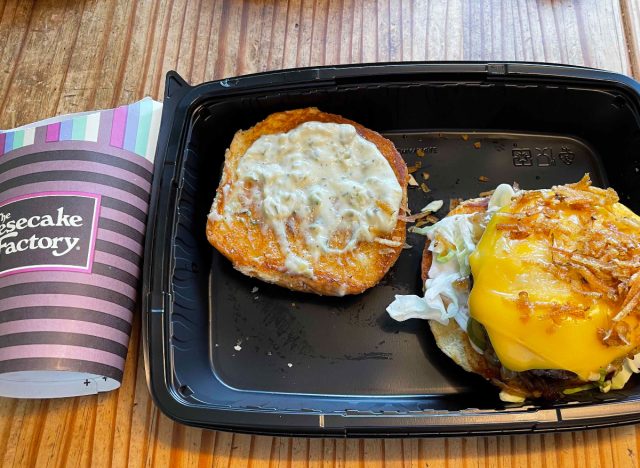 Calories: 1250
Price: $17.95
This cheeseburger features both American and cheddar cheese, crunchy potato crisps, lettuce, tomato, grilled onions, pickles, and a "secret sauce." This huge burger was served open-faced and right away I noticed that both sides of the bun were coated in globs of "secret sauce," which kind of tasted like Russian dressing, even though it was white. The two types of cheese made this burger extra cheesy and it was also unnecessarily topped with frizzled potato crisps.6254a4d1642c605c54bf1cab17d50f1e
When I closed up the burger to take my first bite, I saw that the bun was seeded, which was nice. (It was the only bun in my taste test that had sesame seeds.) But this burger was just too big to bite into. I gave it my best shot but with so many ingredients going on, it just tasted like one big hot mess. The beef patty itself was pink and juicy—and, frankly, a bit undercooked for my taste. My burger came with fries and inexplicably, some restaurant bread and a pat of butter. This was the most expensive burger on the list, the most caloric, and my least favorite.
Rating: 2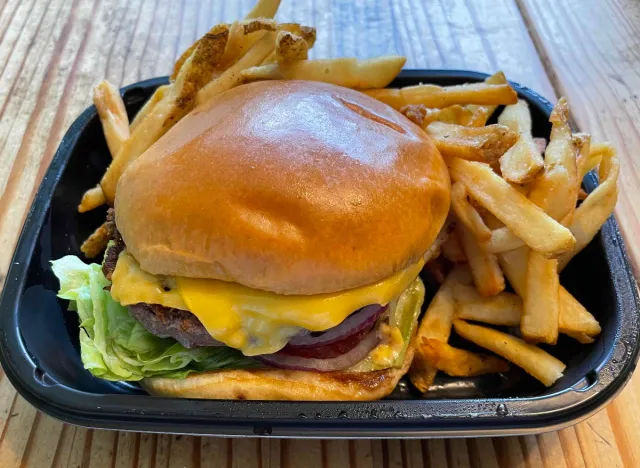 Calories: 1220
Price: $12.99
The burger from Applebee's featured a glossy, tan brioche bun, and all of the ingredients—beef patty, cheese, lettuce, tomato, onion and pickle—melded together in a way that looked appetizing. I actually thought this burger looked very similar to the one I tried from TGI Fridays, but the cheese looked, well, cheesier. This burger was pink and juicy, but strangely bland and greasy tasting. The fries were nothing special and the whole meal was just kind of meh.
Rating: 3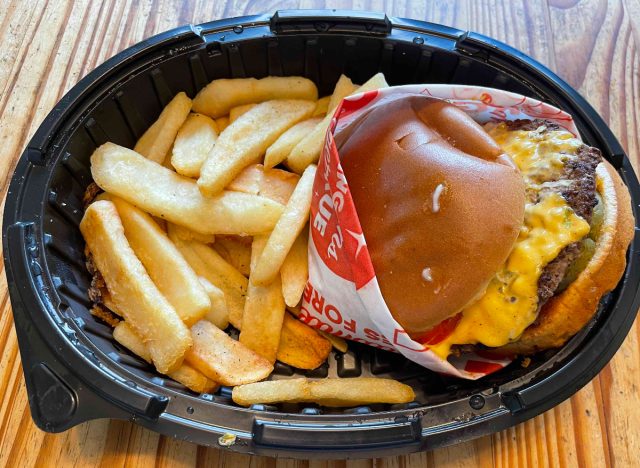 Calories: 810
Price: $14.69
I was excited to try this burger and when I thought about why, I realized it's because Red Robin bills itself as "gourmet burgers and brews," which made me think of a pub. In reality, when I went to pick up my burger, the restaurant smelled like little kids' feet. This burger came partially wrapped in paper, which made me think it was trying to evoke a casual Shake Shack vibe. It came with steak fries, which looked meaty and inviting.
The burger itself had Red's pickle relish, red onions, pickles. lettuce, tomatoes, mayo and cheese. The beef patty was wider and thinner than the other burgers I tried, and also reminded me more of a fast-food style burger. I liked that the lettuce was shredded and not just a giant leaf thrown on top, which most people discard. But the meat here was too pink and the bun tasted stale.
Rating: 3 1/2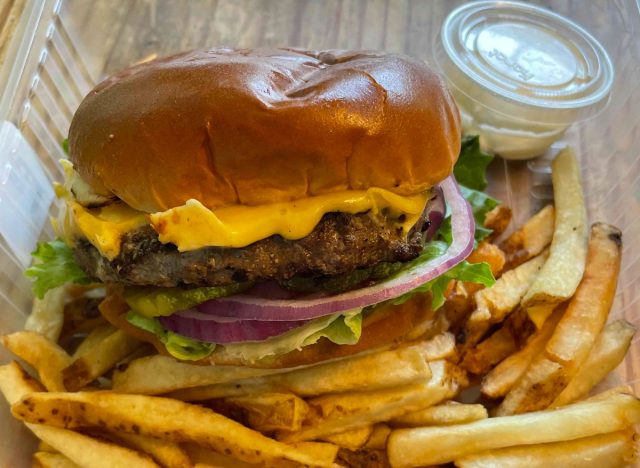 Calories: 770
Price: $10.00
This burger featured American cheese, lettuce, tomato, red onions, and pickles. The cheeseburger had a glossy bun and a thick patty. All the elements stacked up nicely, and I'd go so far as to say that it was even Instagrammable! Biting in, the meat was a little dry and somehow tasted overly salty but otherwise lacked flavor. The pickles added a nice crunch to this burger but the overwhelming salt could not pass for good, juicy burger flavor.
Rating: 4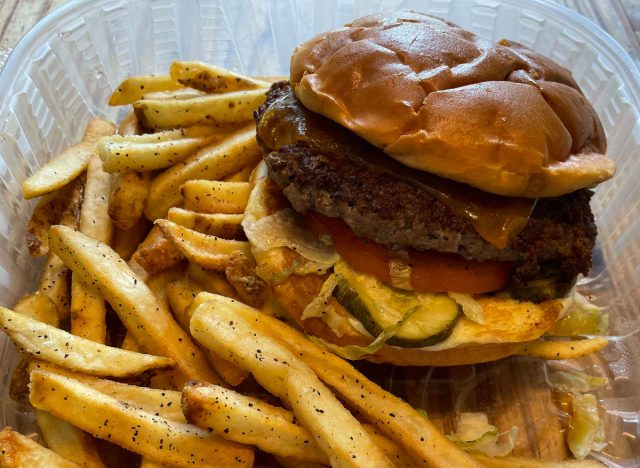 Calories: 850
Price: $10.99
The "Oldtimer" featured pickles, lettuce, tomato, red onion, mustard, and cheddar cheese. The big, glossy bun was kind of smushed looking. There was less cheese on this one than on the other burgers, and it was a darker yellow color and a little more authentic looking than the neon yellow stuff on some of the others. The burger came with seasoned fries that looked and tasted the best of all the fries I tried. Visually, this wasn't the best-looking burger, but the meat had a nice char and tasted like it came off a backyard grill. It was definitely the most flavorful of all the burgers I tried, and that's why it ranked the highest. If you are dead set on ordering a burger from any of these chains, make it the Oldtimer at Chili's.
Rating: 5