More than two dozen New Jersey Boston Market restaurants just met an unfortunate fate.
The state's labor department has ordered the fast-casual chain to close 27 locations and fined the company nearly $2.6 million in back wages and damages. While these penalties may seem abrupt to people who haven't been keeping up with Boston Market in recent years, they're only the latest blow in a series of mounting legal and financial troubles for the struggling brand. Company insiders are predicting that the Boston Market's days may be numbered as the issues continue to pile up.
Known for rotisserie chickens, mac & cheese, and other comfort fare, the once-popular chain was founded in 1985 and expanded rapidly in the mid to late 1990s. However, Boston Market's glory days didn't last very long. It filed for bankruptcy in 1998 and closed roughly 16% of its stores due to weak sales, overzealous expansion, and strong competition from grocery chains with cheaper rotisserie chickens, The Los Angeles Times reported. McDonald's purchased Boston Market in 2000 following its bankruptcy filing, then eventually sold it to private equity firm Sun Capital Partners in 2007.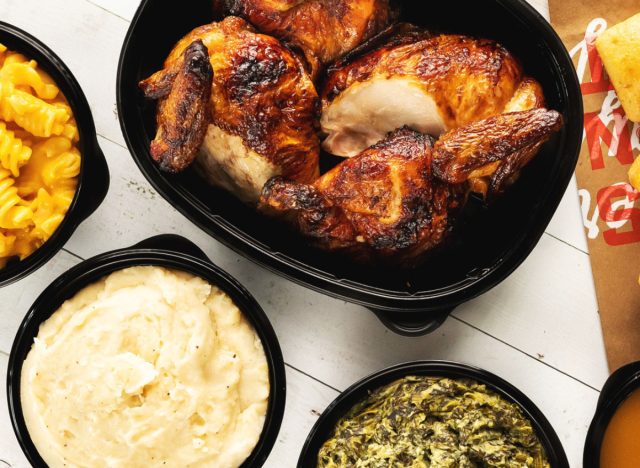 Despite the equity firm's attempt to revive the brand, Boston Market still closed more than 600 additional locations and didn't open any new stores until 2013, Nation's Restaurant News reported. After another series of closures in 2019, Frances Allen took over the CEO role with plans to improve Boston Market's sales and visibility. But her tenure wasn't a lasting one. Eric Wyatt replaced Allen in 2020, becoming its third CEO in two years.6254a4d1642c605c54bf1cab17d50f1e
Engage Brands, which is under the Rohan Group of Companies, bought Boston Market shortly after in 2020. And after a somewhat quiet period for Boston Market, the legal issues started pouring in, per Nation's Restaurant News. The chain is currently facing numerous lawsuits from vendors, former employees, and landlords. One of the most notable of these lawsuits came from food supplier US Foods, which is currently suing Boston Market for $11.3 million in unpaid bills.
Former employees in the New York area, Arizona, and Massachusetts—to name just a few—have filed their own lawsuits against Boston Market over late or unpaid wages. New Jersey's order to shutter 27 restaurants also stems from the chain's treatment of workers. The state's labor department found that Boston Market owed more than $600,000 in back pay to 314 employees.
"With restaurants across the country, Boston Market needs to set a better example for fair treatment of its workers," said Joseph Petrecca, assistant commissioner of New Jersey Labor Department's Division of Wage and Hour and Contract Compliance.
In yet another blow, the Colorado Department of Revenue seized Boston Market's company's headquarters in May over $328,592.34 in unpaid sales and payroll taxes, The Denver Post reported.
This severe pileup of financial troubles, legal woes, and store closures may leave customers wondering whether and how Boston Market can move forward. According to several Boston Market insiders, the chain may very well be facing its own doom.
An anonymous former Boston Market executive told Nation's Restaurant News that Rohan Group owner Jay Pandya doesn't care about the lawsuits and is just letting the company "bleed out." A current corporate Boston Market employee, who remained anonymous as well, also told the publication that the chain has gone "downhill" ever since the Rohan Group took over in 2020.
"I feel the days are numbered for how much longer Boston Market will remain in business," the employee predicted.
Boston Market did not immediately respond to our queries for comment on the closures and legal troubles.
Zoe Strozewski
Zoe Strozewski is a News Writer for Eat This, Not That! A Chicago native who now lives in New Jersey, she graduated from Kean University in 2020 with a bachelor's degree in journalism.
Read more about Zoe