The product recommendations in this post are recommendations by the writer and/or expert(s)
interviewed and do not contain affiliate links. Meaning: If you use these links to buy
something, we will not earn a commission.
It's hard out there for a steak lover. Beef prices aren't what they used to be, thanks to declining cattle production and other inflationary pressures. Still, good values can be found, even at your local steakhouse.
To wit: a guy seated next to me at the bar at Texas Roadhouse the other night was raving about his economical sirloin dinner. "You get steak, a salad, a side. Even with a couple of beers, you're looking at maybe $30—that's a pretty good deal these days!"
He's not wrong. A hunk of beef alone could cost at least $30 at some places.
Such a ringing endorsement would have surely put a Texas-sized smile on the face of Kent Taylor, the late founder of the popular steakhouse chain, if he were still around to hear it. Affordability was a big part of his business plan. "I wanted to have the same quality of beef that Outback and Longhorn featured at the time, but with price points more similar to Chili's and Applebee's," Taylor wrote in his 2021 memoir, Made From Scratch.
Of course, even the reputedly budget-friendly Texas Roadhouse raised its prices this past spring and could increase prices again in the coming months, amid the soaring costs of beef and labor.
Nevertheless, a thrifty carnivore can still save a few bones if you forgo the more expensive, noble cuts of steak, and opt for a more economical, but still flavorful piece of meat instead.
The sirloin remains a highly affordable choice at many steakhouses, including all three of America's most prolific casual-style chains. But, which of these restaurants serves the absolute best-tasting version of this relatively cheap chop? I recently stopped by my local outposts of Outback Steakhouse, LongHorn Steakhouse, and Texas Roadhouse, to find out.
Here's how each cut stacked up.
Outback Steakhouse
Outback Center-Cut Sirloin (6 oz): 370 cal, 20 g fat (10 g saturated fat), 520 mg sodium, 1 g carbs (0 g fiber, 0 g sugar), 46 g protein
Outback offers nine different cuts of steak, many of which are available in different sizes with prices mainly in the upper 20s to mid-30s.  The most affordable is the 6-ounce sirloin. Normally, this steak plus two sides will set you back $17.29 in Brooklyn, N.Y., but if you visit before 4 p.m., you can get it as part of the lunch special for $12.99, albeit with one fewer side. Lucky for me, I arrived just in time, placing my medium-rare order at 3:50 p.m. When it arrived, the sirloin weighed just 4.5 ounces, according to my scale.6254a4d1642c605c54bf1cab17d50f1e
The look: Not great. The top of this steak showed a weird shiny black coating, like it's been lacquered or paved with asphalt. That abnormal outward appearance aside, the meat within seemed edible enough, pink in the center and juicy.
The taste: A lot better than it looked—sufficiently succulent and fully flavored. Every steak at Outback is "boldly seasoned," according to the chain, but in my experience, some cuts get a much stiffer dose than others. The peppery flavor of this sirloin was palpable upon the first bite but not overwhelming like other Outback steaks I've tried. Even so, it left a noticeable aftertaste. I was glad that I had saved a few bites of the Caesar salad to cleanse the palate afterward. I also left feeling satisfied that I hadn't paid full price.
LongHorn Steakhouse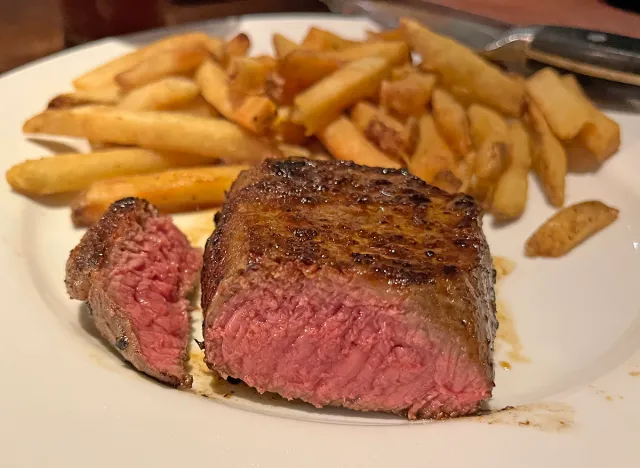 Renegade Sirloin (6 oz): 320 cal, 15 g fat (5 g saturated fat), 330 mg sodium, 2 g carbs (0 g fiber, <1 g sugar), 37 g protein
Of all seven "Legendary Steaks" available at LongHorn, the Renegade Sirloin is by far the cheapest. The 6-ounce cut cost me $16.79 in Elmhurst, N.Y.—a little lower than the regular price at Outback and less than half as much as LongHorn's porterhouse. Much like the Outback version, this steak is described as a USDA Choice center-cut top sirloin. It came with a chopped salad and one additional side of my choosing. Upon arrival, the medium-rare steak weighed a little over 5 ounces, according to my scale. That's a good half-ounce bigger than the Outback sirloin I tried.
The look: Plump and glistening with juice. The upper crust showed spots of dark char but nothing like the strange blacktop facade I experienced at Outback. Inside the steak struck a luscious red color. This cut was easily the best-looking of the three.
The taste: Forcefully flavorful—probably too much so. Like Outback, LongHorn similarly boasts about its proclivities with the spice shaker. According to the chain's website, the sirloin in particular is "generously seasoned" with what the restaurant calls its "signature Prairie Dust," which seems like a very folksy way of saying basically every powder in the cabinet. The overall effect is heavily peppery and garlicky, with a very unignorable tingly sensation leading up the tongue to the top of the throat. While I savored the juiciness of the meat, I found the flavoring way too intense. The aftertaste lingered long after I left the restaurant, and made me wish I walked out with a to-go cup.
Like overly salted popcorn at a movie theater, both Outback and LongHorn steaks seem explicitly designed to stimulate your thirst, so you'll spend more on beverages, if not the food itself.
Texas Roadhouse
USDA Choice Sirloin (6 oz): 250 cal, 6 g fat (2.5 g saturated fat), 560 mg sodium, 3 g carbs (1 g fiber, 1 g sugar), 46 g protein
The ever-popular Texas Roadhouse lists 10 kinds of steak options on its menu, which is more than either of its two competitors. Technically speaking, the cheapest option is the "Road Kill," a chopped steak smothered in cheese, onions, and mushrooms. But, if you ask me, that's really just a souped-up hamburger without a bun. The cheapest proper steak is, of course, the 6-ounce hand-cut sirloin. Just like the others, this entrée comes with two sides. Unlike the others, its price tag is substantially lower. The Teterboro, N.J., location charged me just $13.99. This steak arrived at precisely 5 ounces after cooking, according to my scale.
The look: Stout and lush with striking grill marks. This steak was far more visually appealing than the Outback atrocity and noticeably less wet-looking than the LongHorn version. Inside it's perfectly pink and moist.
The taste: Beefy like a steak should taste, without all the heavy-handed seasoning of the other two. On its website, Texas Roadhouse claims that every steak is "coated generous with our signature seasoning," but its brand of generosity has a noticeably lighter touch than its rivals. Whatever flavoring was used only enhanced the meat. This sirloin also felt softer than the other two. Its tenderness seemed more on par with a more expensive, more delicate cut, like a filet. Now, that's the mark of a good value: tricking your brain into thinking you're indulging in something more decadent, while still leaving you a few extra bucks in your wallet.
With its higher-quality taste and lower price point, you truly can't beat the sirloin at Texas Roadhouse—and you won't miss the aftertaste of the other two, either.