When Panera launched its caffeinated Charged Lemonades last year, the chain framed the fruity beverages as a "refreshing" way for customers to get an energy boost. But a brand-new wrongful death lawsuit alleges that these lemonades are actually "dangerous energy drinks" in light of an Ivy League student's sudden passing.
The lawsuit, which was first obtained and reported by NBC News, was filed yesterday morning in Philadelphia on behalf of the parents of Sarah Katz. Katz was a 21-year-old University of Pennsylvania student with long QT syndrome type 1, a heart condition that can cause fast, chaotic heartbeats, according to the Mayo Clinic.
Katz' doctors had advised her to avoid energy drinks because of her condition, but in September last year, she purchased and drank a large size Charged Lemonade from Panera. Hours later, she went into cardiac arrest and ultimately died, the lawsuit said.
The suit alleges that Panera did not properly warn customers about the ingredients in the Charged Lemonades. Katz' roommate and close friend Victoria Rose Conroy said that she was very vigilant about her condition and wouldn't have touched the Charged Lemonades if she had truly known how much caffeine was in it, per NBC.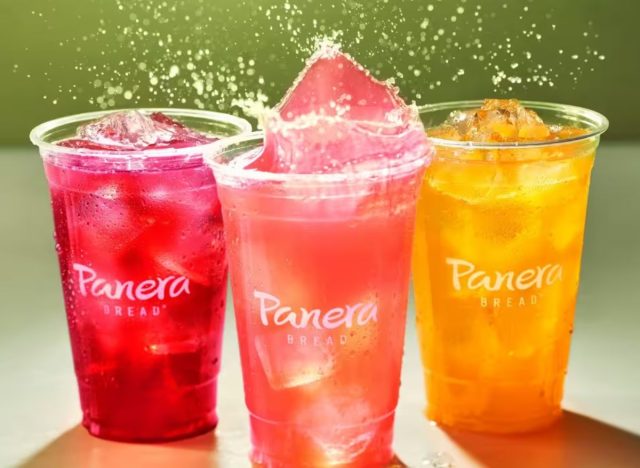 The Charged Lemonades—currently available in Strawberry Lemon Mint, Mango Yuzu Citrus, and zero sugar Blood Orange flavors—all feature Panera's signature Agave Lemonade with a caffeine boost from guarana and green coffee extract.6254a4d1642c605c54bf1cab17d50f1e
According to Panera, 20 ounces of Charged Lemonade contains the same amount of caffeine as 20 ounces of Panera's Dark Roast coffee. However, a large cup of Charged Lemonade is actually bigger than a large cup of the Dark Roast, which means more lemonade and more caffeine. A large dark roast (20 ounces) contains 268 milligrams of caffeine, while a large Charged Lemonade (30 ounces) contains 390 milligrams of caffeine. For comparison, one 8.4-ounce can of Red Bull contains 80 milligrams of caffeine, a fraction of the caffeine content in a large Charged Lemonade.
But Katz was allegedly unaware of the level of caffeine in the Charged Lemonades. The lawsuit stated that she was "reasonably confident it was a traditional lemonade and/or electrolyte sports drink containing a reasonable amount of caffeine safe for her to drink," according to CNN, which also obtained the filing. The suit alleged that Panera did not properly label its Charged Lemonades as energy drinks in stores or warn customers of the "potentially dangerous effects" of the beverages.
In a statement from Monday shared with Eat This, Not That!, a Panera spokesperson said the company was promptly looking into the issues covered in the lawsuit.
"We were very saddened to learn this morning about the tragic passing of Sarah Katz, and our hearts go out to her family. At Panera, we strongly believe in transparency around our ingredients. We will work quickly to thoroughly investigate this matter."
Zoe Strozewski
Zoe Strozewski is a News Writer for Eat This, Not That! A Chicago native who now lives in New Jersey, she graduated from Kean University in 2020 with a bachelor's degree in journalism.
Read more about Zoe