The product recommendations in this post are recommendations by the writer and/or expert(s)
interviewed and do not contain affiliate links. Meaning: If you use these links to buy
something, we will not earn a commission.
Pancakes are the ultimate breakfast comfort food. Synonymous with lazy Sunday mornings, they're delicious stacked high with both butter and syrup. Whether you like them with blueberries, bananas, or chocolate chips, there's such a variety of ways to make them that everyone can find their favorite.
Making pancakes at home is a relatively cheap and easy endeavor, but sometimes it's fun to go out to breakfast—or have breakfast for dinner, never the wrong choice! In that case, you might be wondering which of the most popular chains has the best pancakes.
To find this out, I went to three popular chains known for serving pancakes and sampled their most basic pancakes and the signature pancakes they are well-known for serving. To keep things fair, I dined in at each location, eating my hotcakes hot off the griddle. My son and daughter were my taste-testing helpers and we sampled the pancakes with whatever toppings they were served with, including syrup and butter.
After completing this sticky assignment, there was one restaurant that came out miles ahead of the others. In fact, the food was so much better than the other two that, unless you're making pancakes at home, I would say to head straight there without hesitation. The chains are ranked below from worst to best. If you're hankering for a short stack read these recommendations before you bite in!
Denny's
Denny's is known as a go-to spot for breakfast but the pancakes we ordered here were unfortunately not good. We tried two varieties of pancakes: the basic buttermilk and the popular "Choconana." Sadly, no amount of butter or syrup could help these hotcakes and when the waitress asked if we wanted a to-go box for our leftovers our reply was a unanimous "no thanks!"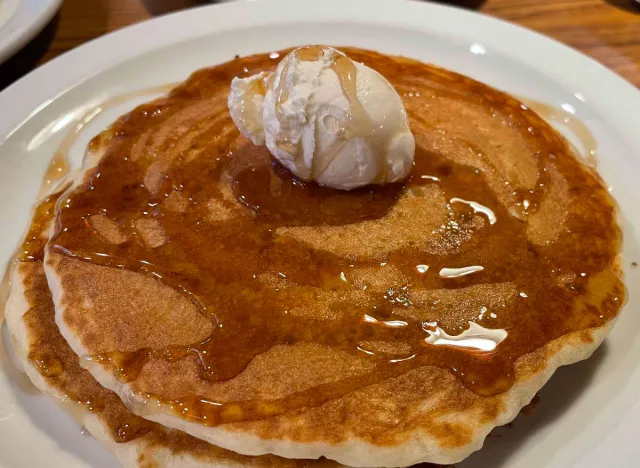 The Look: These pancakes were round, which is the best thing I can say about them. They looked overcooked on top and lacked that beautiful golden-brown hue you want to see on your pancakes. After doctoring them up with a scoop of soft butter and a lot of syrup, they looked slightly more appetizing. These pancakes looked flat, not fluffy, and frankly a little sad.
The Taste: The buttermilk pancakes we tried had a rubbery texture. They were not light and fluffy and it was hard to take a second bite.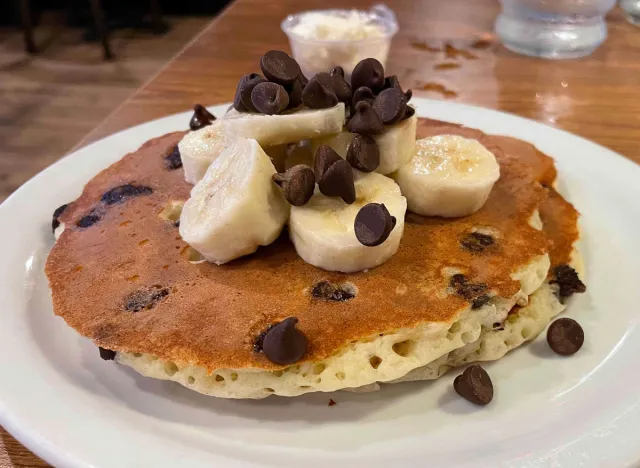 The Look: Chocolate chips usually make everything better but these Choconana Pancakes did not whet our appetites. The pancakes, which had chips throughout, were topped with actual banana slices (which was nice!) and cheap looking chips.
The Taste: It's pretty rough when chocolate chips can't even save your pancakes but that was the case here. This felt like a waste of calories—again the pancakes were very rubbery, though not as much as with the buttermilk. The banana was ripe and it was the best thing about this whole pancake meal.
Overall rating: 1
McDonald's
Breakfast is not an all-day affair at McDonald's–most locations stop selling breakfast items at 10:30 or 11 a.m. I arrived in time to try the chain's only pancake offering on the menu. My expectations for the pancakes at Mickey D's were pretty low, so I was actually quite surprised by what I tried.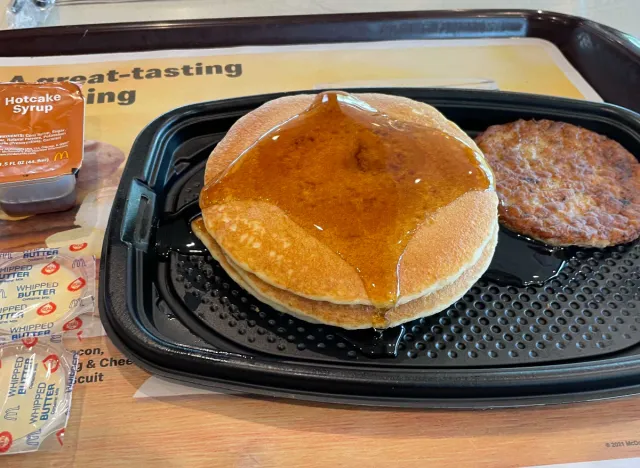 An order of Hotcakes and Sausage came with three perfectly round smallish pancakes with a round sausage patty on the side. They were served with Hotcake Syrup (made with corn syrup and caramel color) and whipped butter.
The Look: These hotcakes came on a plastic tray with a bubble cover like you'd get in a cafeteria. The pancakes were perfectly symmetrical looking, letting you know going in that you're about to eat something mass produced. But they had a nice golden-brown color that wasn't unappealing.
The Taste: McDonald's hotcakes tasted light and fluffy but were boring and bland. This is by no means a dish you would savor or go out of your way to eat, but it was completely serviceable if you needed to eat some food in the morning and had no other option. The sausage patty was surprisingly decent—it had some nice spice to it but was too fatty.
Overall rating: 3
IHOP
Going in, I didn't have the best memories of dining at IHOP but I was surprised to see a well-lit, extremely clean dining room and a menu with some fun pancake options. We tried the buttermilk, the Cinn-A-Stack, and the limited-edition Pancake Tacos.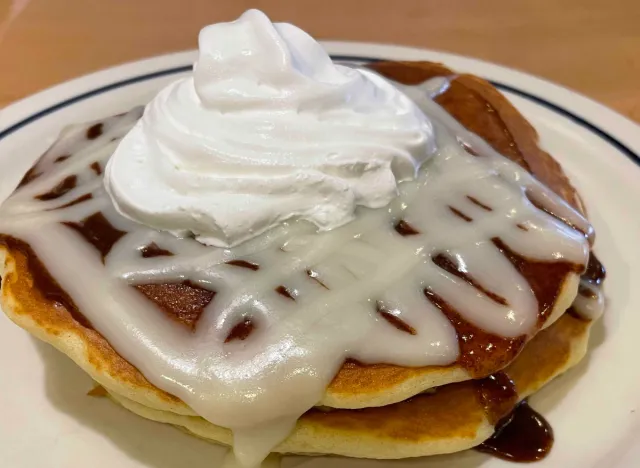 These pancakes are IHOP's take on a cinnamon roll, with cinnamon roll filling between each pancake layer and cream cheese icing on top.
The Look: When these pancakes arrived at our table, I could feel the sugar rush even before the first bite. The pancakes had an ooey gooey cinnamon filling between each layer. The icing that was uniformly drizzled across the top was so thick it made glazed donuts seem like a healthy breakfast alternative. Because this dish was not decadent enough, it was also topped with whipped cream.6254a4d1642c605c54bf1cab17d50f1e
The Taste: Biting into the Cinn-A-Stack was a synthetic, sugar explosion. I'm not against a sweet addition in a pancake (I love chocolate chip) but the over-the-top sweetness here was too much. Amid all that sugar, you can understand my concern when my son kept going back for more bites. Personally, I love a good homemade cinnamon roll but this tasted both too sweet and synthetic for my grown-up palate.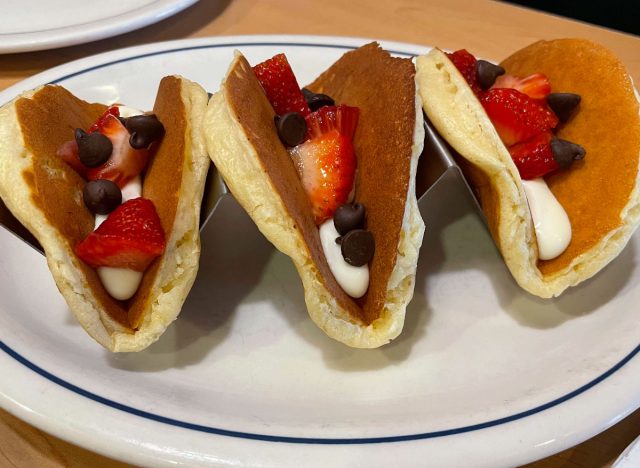 We knew we had to try these when we saw them on the menu. The taco-shaped pancakes are available for a limited time only, in both sweet and savory varieties.
The Look: These smaller sized pancakes were served in a fun taco holder and came three to an order. They were filled with sliced strawberries and creamy cheesecake mousse and, of course, we opted to add chocolate chips on top. My son was the most excited to try these.
The Taste: These silver dollar pancakes were fluffy and fine tasting, but the cream cheese mousse was strangely tangy. These pancakes were my son's favorite but I thought they were just a cute gimmick to sell smaller pancakes and tasted like nothing special. And at three for $6, they actually weren't a great value given that they were so small.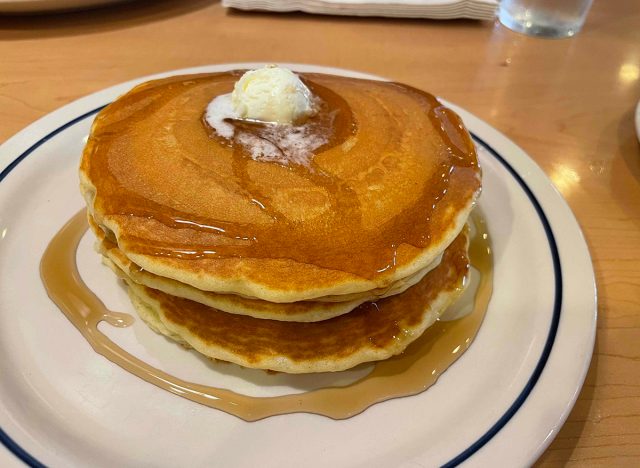 These pancakes are a classic for a reason. They are exactly what you think of when you imagine going out for a yummy pancake breakfast.
The Look: Golden brown, light and fluffy, this order of pancakes looked delectable and the stack stood up high due to the fluffiness.
The Taste: These pancakes were light and fluffy tasting. Of all the pancakes we tried, they were my daughter's favorite and mine, too. I still think that the pancakes we make at home are far better than anything at IHOP—the lemon ricotta ones my husband made on Mother's Day were out of this world—but if you're going out to breakfast, these are the ones to get.
Overall Rating: 5