The product recommendations in this post are recommendations by the writer and/or expert(s)
interviewed and do not contain affiliate links. Meaning: If you use these links to buy
something, we will not earn a commission.
When it got its start in 1983, Hooters certainly turned heads as something of a sexy and sui generis establishment. It was truly in a category of its own, and people have flocked to the chain for decades in anticipation of good wings and drinks, but mostly for the hooting good time that awaits.
While Hooters is the first (and still arguably the most popular) so-called "breastaurant" on the scene, there are certainly others that have copied this sort of risqué restaurant model. One in particular is rapidly expanding and quickly encroaching on Hooters' own hen house. Twin Peaks (another sly innuendo) opened in 2005. Just like Hooters, it's a come-as-you-are sports bar where waitress uniforms cater to the male gaze, drinks are endlessly flowing, and the menu consists of classic American grub–including, of course, its own revered rendition of chicken wings. 
But, these two restaurants do have their stark differences, and I took a trip to both in order to pinpoint for myself exactly what they are, while also aiming to answer the question everyone wants the answer to: whose chicken wings are best?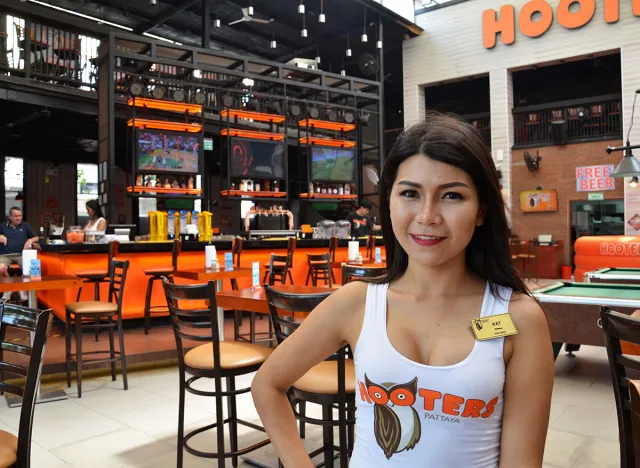 My first stop was Hooters, with my husband in tow. Despite the fact that there are over 300 of these eateries scattered across the country, we found ourselves driving an hour across Ohio from Columbus to Dayton to reach our nearest location. Hooters has been closing locations in recent years. Larger clusters can still be found in southern states like Georgia and Florida, where the chain was first hatched. Despite this being my first Hooters visit, I knew its typical ambience is very laid back and beachy. But, as I descended upon the joint, I was getting more of a sad and sleazy feeling from the place. Maybe the coastal vibe just doesn't translate well to the Buckeye State. Or, perhaps it was just bad timing, since we arrived around 6 p.m. on a Tuesday night. But, either way something about it just wasn't working for me. 
As we sat to dine, I will say that the service was quick and the restaurant did start to become more lively towards the end of our visit. All the TVs were tuned into something football-related, despite the fact that no games were actually being played. And, I realized the TVs were really the only type of hangings or décor across the entire open room—I guess your eyes are supposed to be focused elsewhere though, right?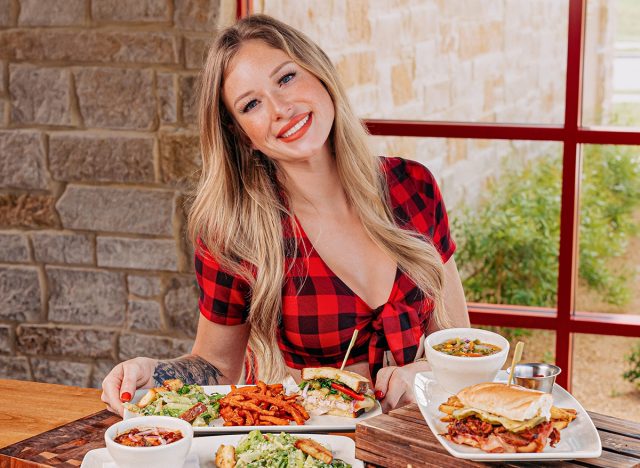 The following evening, we ventured out to Twin Peaks, located much closer to us in a neighboring Columbus suburb. The chain first opened in Lewisville, Texas. But, you would never be able to guess that based on its theme. It invites you to "experience the lodge 'mantality'" in a very cabin-in-the-woods type of setting. The exterior and interior is raw and rustic with wood features, plaid outfits for the girls, and a few taxidermy woodland creatures thrown in for good measure. 
It was quite hustling and bustling, and felt much more like a standard bar and grill, where I personally felt much more relaxed. There were even children running around during our visit, and the male-to-female ratio of the patrons was much closer to equal than I would have thought. 
So, with first impressions out of the way, it was time to really get into the meat of things, and see how the restaurants compare when it comes down to food, or, more specifically, when it comes to their famous chicken wings–one of the most talked about and notable items on both menus. Read on to find out which chain actually cooks up something to cluck about.
ORIGINAL STYLE WINGS WITH MEDIUM SAUCE (6 PIECES): 710 cal, 48 g fat (9 g Sat fat), 1,080 g sodium, 18 g carbs (5 g fiber, 2 g sugar) 45 g protein
Hooters girls and chicken wings are the two things this joint hangs its hat on. So, you better believe drums and flats—and boneless wings, if you like that sort of thing—are the centerfold of its menu and one of its most frequent food orders, always served by a girl in orange of course. 
Not surprisingly, this also means there's a bushel and a peck of wing options to choose from at Hooters. You have your classic boneless and bone-in original-style wings, which are breaded. Or, you can choose an option with slightly less calories and fat like the "naked," roasted, or smoked wings. Additionally, a lot of tittle-tattle exists around the chain's Daytona Beach Style Wings—a nod to its home state and essentially naked wings covered with Daytona sauce and grilled. Including the Daytona, 14 total signature sauces are ripe for the picking, ranging in spiciness from a sweet, mild BBQ to an alarmingly hot Ghost Pepper. There are also six different dry rubs, if that's more your speed. All wings are served in quantities of six, 10, 15, 20, and 50, with the exception of the boneless. 
In order to test-out a nice range, I requested three different orders of six bone-in wings upon my visit: Original style with medium sauce, roasted with lemon pepper dry rub, and the intriguing Daytona Beach Style wings. Both the roasted and Daytona Beach style set me back $12.75 each (or, $2.13 per piece) and the original wings were priced slightly lower at $12.49, about $2.08 per wing.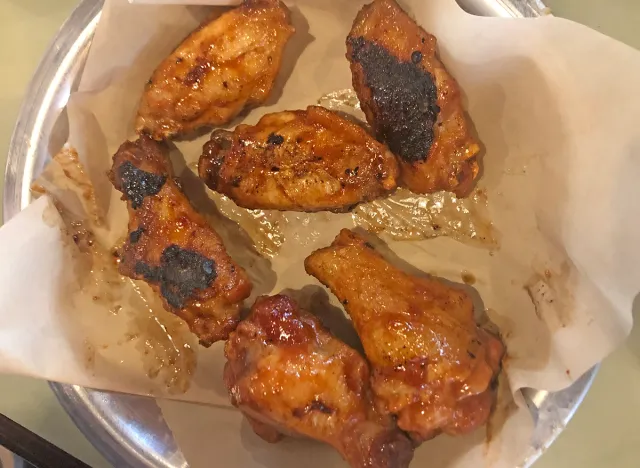 The Look: The original wings arrived extra saucy and visibly disfigured because of their coating. Some of the pieces were even unrecognizable as wings, and I was additionally served a sizable hunk of just fried-up breading alongside my six wings—a nice freebie, I guess? Comparably, the roasted and Daytona Beach wings were on the smaller side, and considerably more bare. The roasted variety appeared to lack any moisture whatsoever and exhibited a stingy layer of lemon pepper dry rub. The Daytona wings were sticky and nicely sauced, but the backside of every piece was sorely blackened from the grill. 
The Taste: Inconsistent and even unappetizing in spots. The medium sauce on the original wings wasn't spicy by any means—even coming from someone who is somewhat sensitive to spice—but it had the flavoring of a classic buffalo. A few bites delivered some crunch from the chunky breading, but in other areas it fell flat. Much of this was overshadowed, however, by the fact that the chicken enveloped in every single one of the original wings seemed a bit slimy and speckled with unsavory blood spots. I understand this is somewhat natural, but it was enough to give both my husband and I the ick. 
The other two varieties picked up the slack in terms of crispiness, and the smaller pieces of roasted and naked chicken were thankfully cooked all the way through. The Daytona wings are tacky and the flavor is resemblant of a snappy or even garlicky BBQ. It's sweeter with just a tiny bit of spice—tasty overall but a burnt flavor from the grill ruined some of my mouthfuls. The lemon pepper was also a win for me, both zesty and definitely peppery, but I would've liked at least twice the serving.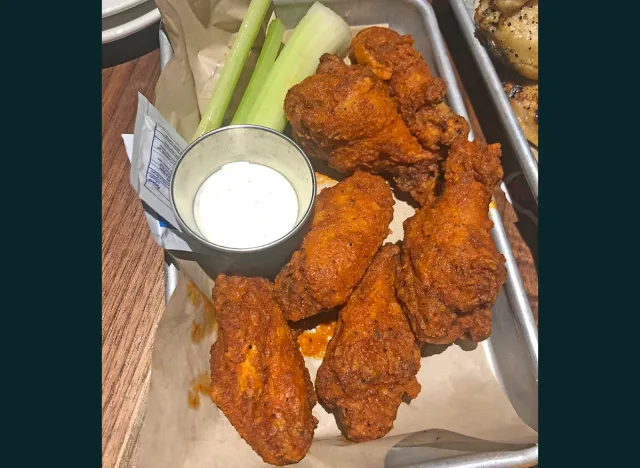 BONE-IN BREADED WINGS WITH THE CLASSIC SAUCE (6 PIECES): 670 cal, 42 g fat (11 g Sat fat), 2490 g sodium, 13 g carbs (1 g fiber, 0 g sugar) 55 g protein
The new kid on the saucy sports bar block doesn't put as strong of an emphasis on its wings. In fact, I had to scroll past bites, burgers, sandwiches, flatbreads, and tacos just to find them on the in-restaurant QR code menu. But, once located, I noted there were four different wing categories to choose from: boneless, bone-in naked, bone-in breaded, and smoked & grilled (described as the chain's "'better for you' wings cooked low and slow over hickory wood"). Ten sauces are listed, each at a different level of the spice spectrum from zero flames up to four. And, there are just two dry rubs, including lemon pepper and a spicy Cajun. 6254a4d1642c605c54bf1cab17d50f1e
To keep things moderately parallel to my Hooters order, I once again asked for three separate plates of six wings, starting with bone-in breaded in the classic sauce at a cost of $11.99, or about $2.00 per wing. I rounded it out with a helping of smoked & grilled lemon pepper for $12.99 ($2.17 per piece), and bone-in naked wings dressed in hot honey sauce for just $10.99 ($1.83 per piece).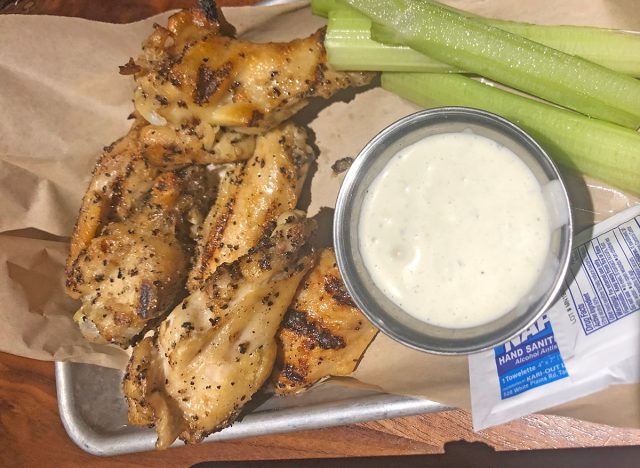 The Look: Meaty with a controlled amount of sauce and seasonings. Pools or drips of either hot honey and the classic sauce were nowhere to be found. And, the breaded classic wings really didn't give off a wet, saucy look at all. It's as if the wings were dipped in sauce before being cooked instead of being tossed in the dressing afterward. This somehow made them look like they packed more heat, however, and I was a little scared to give them a try. The hot honey had a nice golden coloring and these wings were sprinkled with red pepper flakes. The naked wings lived up to their name, but also boasted inviting grill marks and promising speckles of lemon pepper. 
The Taste: Mild in spice, but bold and flavorful. Despite my initial hesitation, the breaded classic wings were not unbearably fiery. They were peppery with a Frank's Red Hot-like coating, and the chicken underneath was juicy with no slimy areas or signs of blood—a welcome sight. Because of their uniformity and drier appearance, however, they did remind us slightly of frozen chicken wings you would buy at the grocery store, but a more elevated version. 
The naked hot honey was my favorite of the bunch. The wings were well-cooked with a crisp outside. Meanwhile, the sauce was perfectly balanced with a subtle sweetness and a tiny kick from the pepper flakes, although it did have somewhat of a teriyaki flavor. I also really appreciated the right-off-the-grill smokiness of the smoked and grilled lemon pepper. The dry rub was a step above Hooters' version, inspiring more of a puckering effect. But, I still wanted a dash more.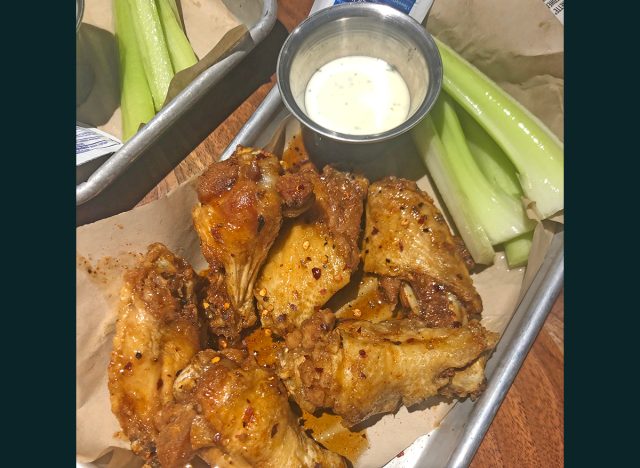 While none of them made my ears smoke or necessarily blew me away, I would gladly order all of these sauces and dry rubs again, from both restaurants. But, when it comes down to the quality and overall presentation of the chicken, the lodge-like newcomer Twin Peaks prevailed. Too much breading, too many blood spots, and not enough consistency all contributed to Hooters' downfall. And, its less welcoming, less inclusive environment put the final nail in its chicken coop.