The product recommendations in this post are recommendations by the writer and/or expert(s)
interviewed and do not contain affiliate links. Meaning: If you use these links to buy
something, we will not earn a commission.
Chili's is perhaps most famous for its baby-back ribs, thanks to the restaurant chain's infectious jingle. But, it's really just a burger joint at heart. Scan the menu and you will see—there are a lot of them!
Of all the burgers I tried from popular dine-in restaurants recently, the classic original burger at Chili's was my absolute favorite. But that single cheese-smothered patty alone barely scratches the greasy surface of all the many burger varieties available right now from the Dallas-based casual restaurant chain. Many of these come fully loaded with toppings—you don't call them "Big Mouth Burgers" for nothing! Oh, and so many calories, too. (Frankly, just seeing the numbers made me wary of ordering any of them!)
So, I enlisted my son and his friend to help me try every burger on the menu. You read that right: this writer and two hungry 11-year-old boys ordered all nine burgers at Chili's—shocking the waitstaff and stretching our stomachs to their limits. Our goal was to see which burger came out on top and which ones you should skip next time you visit the restaurant.
To keep things fair, we ordered each burger cooked medium and with all of the toppings it comes with—no substitutions—and fries on the side.
The burgers took up the entire table and we systematically sampled each one. I told the boys we should only take one bite of each burger, so we didn't get too full to complete our mission. However, we did take the occasional "fry break" to cleanse our palates between burgers. "Don't even think about asking for dessert," I warned when I saw my son eyeing the molten chocolate cake. By the end of our lunch, we were all in a meat coma and ready for a nap.
Read on to learn about the full lineup of Chili's burgers, ranked from worst to best, so you'll know before you go!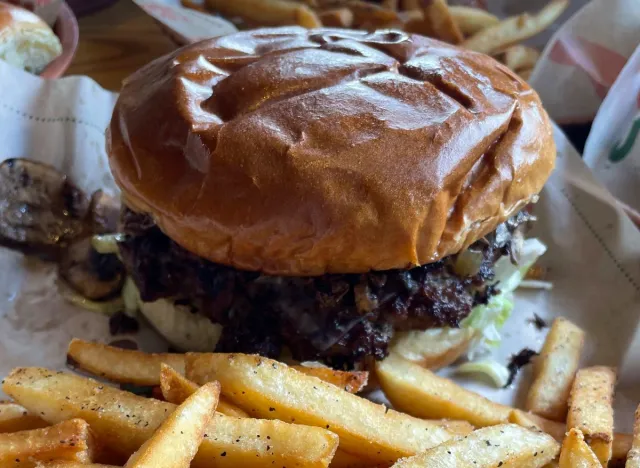 Per Serving: 990 cal, 68 g fat (25 g saturated fat), 1000 mg sodium, 47 g carbs (12 g fiber, 4 g sugar), 50 g protein
This burger ($12.19) came topped with sautéed onions, mushrooms, Swiss, lettuce, tomato, and mayo. I normally like the addition of vegetables to any dish, but the giant heap of mushrooms on top ruined the taste. The fungus was so populous that I couldn't even taste the cheese! In any case, we were unanimous in our dislike of the Mushroom Swiss Burger.
Rating: 0/10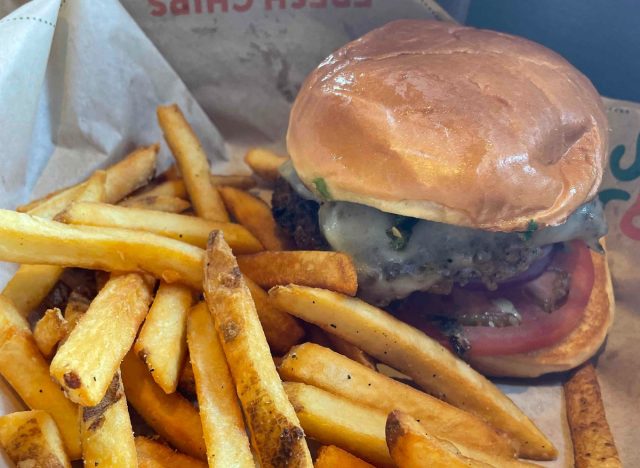 Per Serving: 920 cal, 61 g fat (23 g saturated fat), 1130 mg sodium, 49 g carbs (6 g fiber, 11 g sugar), 49 g protein
Piled with avocado slices, pepper jack, red onion, jalapeños, tomato, pickles, cilantro, and drizzled with spicy Santa Fe sauce, this burger ($12.89) was messy and just had too much going on. The boys both disliked the heat of the jalapeños. I normally like my food spicy but here the diced peppers felt out of place and all I could taste was overwhelming, slimy Santa Fe sauce.6254a4d1642c605c54bf1cab17d50f1e
Rating: 1/10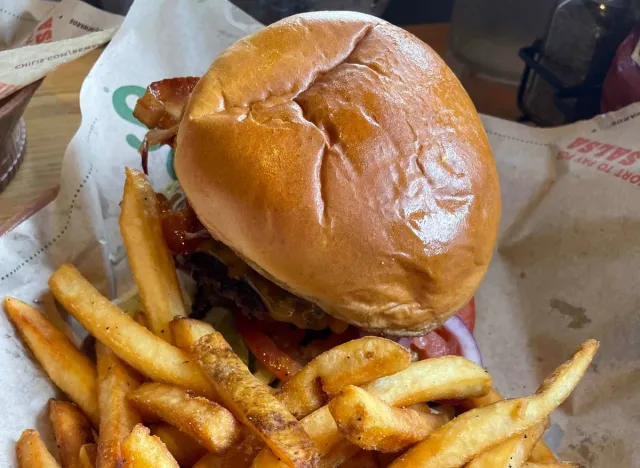 Per Serving: 1020 cal, 69 g fat (26 g saturated fat), 1330 mg sodium, 47 g carbs (3 g fiber, 12 g sugar), 50 g protein
Dressed with crispy bacon, cheddar, pickles, lettuce, red onion, tomato, and mayo, this burger ($12.39) was a case of just too much meat and grease. Six slices of greasy bacon is excessive and my son said it made the burger taste more like a breakfast sandwich to him.
Rating: 1/10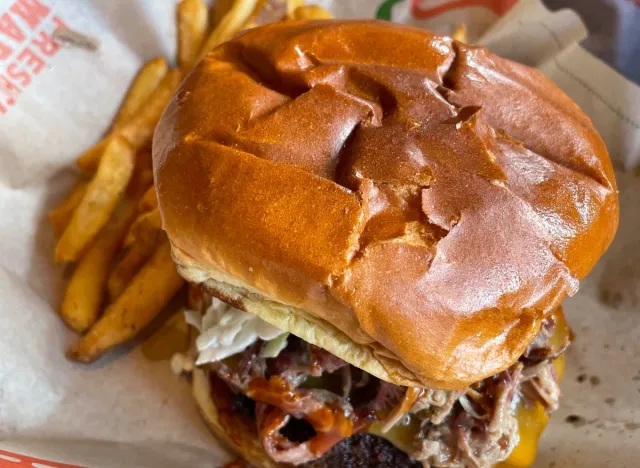 Per Serving: 1280 cal, 87 g fat (32 g saturated fat), 2180 mg sodium, 61 g carbs (4 g fiber, 25 g sugar), 65 g protein
This brisket-topped burger ($14.29) had just too much meat on it. (Also, pickles, coleslaw, cheddar, and the house barbecue sauce). The pulled brisket, which my son's friend really liked, could have been a meal unto itself, but piled atop a burger it was just artery-clogging overload, and not even tasty or worth it. "All I liked was the bun," my son said.
Rating: 3/10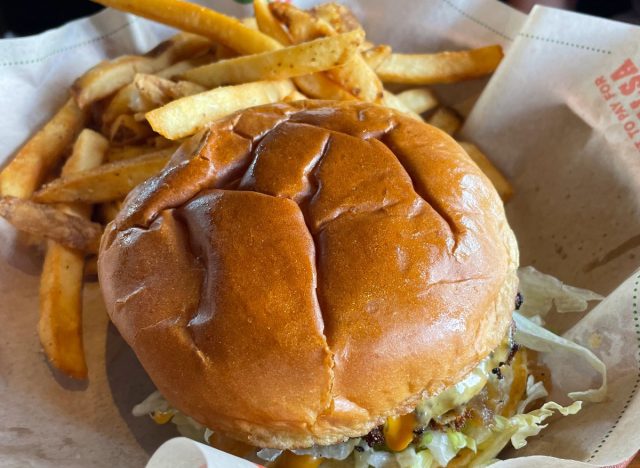 Per Serving: 970 cal, 65 g fat (24 g saturated fat), 1180 mg sodium, 50 g carbs (3 g fiber, 17 g sugar), 46 g protein
We all agreed that the "secret sauce" on this burger ($11.39) was indeed pretty tasty. I liked the addition of shredded lettuce, which differentiated it from the other burgers we tried. Also including American cheese and sautéed onions, this was my son's friend's top pick of all the burgers.
Rating: 5/10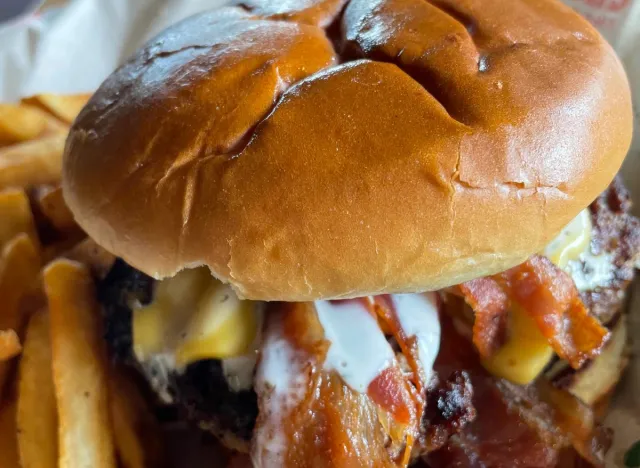 Per Serving: 1710 cal, 123 g fat (50 g saturated fat), 2660 mg sodium, 48 g carbs (3 g fiber, 14 g sugar), 100 g protein
Packed with two juicy beef patties, six slices of crispy bacon, house-made ranch, American cheese, sautéed onions, pickles, this burger ($17.19) is the most caloric on the entire menu—more than double the calories of the Oldertimer with Cheese. Yikes! It's definitely one I'd have a hard time ordering again, though the boys liked the ranch dressing. "This is the best burger ever, it tastes so good," my son said. His friend added, "I liked it, but I would not like to bite it again."
Rating: 7/10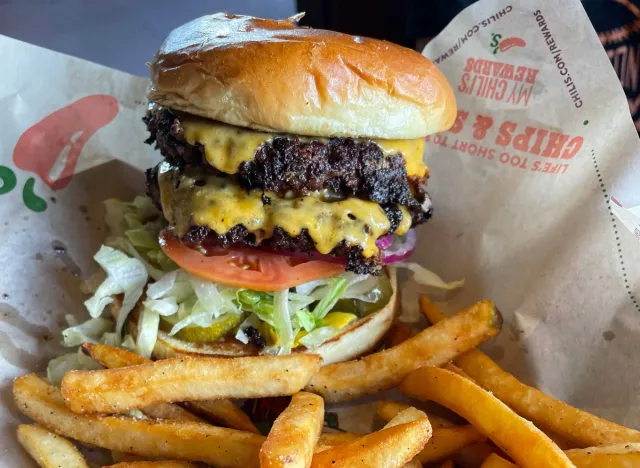 Per Serving: 1410 cal, 97 g fat (42 g saturated fat), 1700 mg sodium, 47 g carbs (4 g fiber, 12 g sugar), 49 g protein
Stacked with two patties, cheddar, pickles, lettuce, tomato, red onion, and mustard, this burger ($15.89) was a case of more not equaling better. While we liked the regular Oldtimer with Cheese, the double was too huge and there is no way you could even feasibly bite into this without unhinging your jaw. "I liked everything except the onion, but it tastes a little burnt," said my son. "I liked the crispy edges, but not the tomato," noted his friend.
Rating 8/10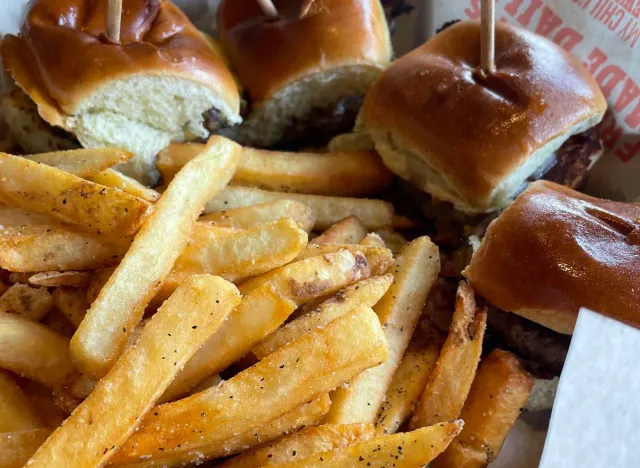 Per Serving: 1290 cal, 80 g fat (28 g saturated fat), 2670 mg sodium, 77 g carbs (5 g fiber, 20 g sugar), 75 g protein
Under any other circumstances, I would have never ordered these four mini burgers ($12.49) topped with bacon, American cheese, sautéed onions. But, they were surprisingly delicious—like a high-end appetizer that keeps you going back for seconds. The combination of the cheese and the ranch was just so good, I went back for another bite. And then another!
Rating: 9/10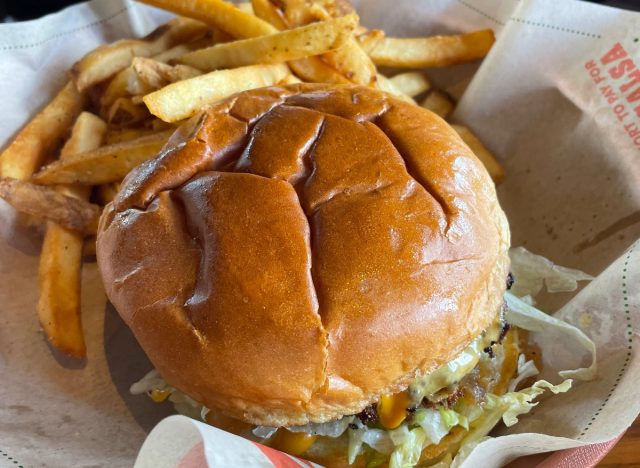 Per Serving: 850 cal, 53 g fat (22 g saturated fat), 1220 mg sodium, 46 g carbs (4 g fiber, 11 g sugar), 48 g protein
Topped with cheddar, pickles, lettuce, tomato, red onion, and mustard, the Oldtimer ($11.39) is Chili's most classic burger offering, and we all thought it was a solid burger. The burgers in general here have a grilled or charred taste, and my son's friend thought this burger tasted a bit too "burnt." Still, you just can't go wrong with a classic burger like this—one without too many over-the-top fixings on it.
Rating: 10/10