The product recommendations in this post are recommendations by the writer and/or expert(s)
interviewed and do not contain affiliate links. Meaning: If you use these links to buy
something, we will not earn a commission.
The average American eats three hamburgers per week, according to data from PBS. That adds up to a total of 50 billion per year for the entire country combined—an absurd amount of beef, no matter which way you slice it. If that statistic alone doesn't prove how iconic and unrivaled hamburgers are in our society, then I don't know what will.
But, what makes this combination of a ground beef patty sandwiched inside a bun or sliced roll so highly favored and sought after?
For starters, burgers are notorious for their affordability. Since the emergence of fast food, Americans have been able to grab a quick burger for just a couple of bucks. And, even with inflation, you can still order a basic burger at McDonalds for just $2.59, or just $2.24 at Burger King. That's not to say you can't also find a highly overpriced gourmet burger for $20 or more nowadays, but overall they tend to be a very reasonably priced food.
Hamburgers are also extremely modifiable. You can stack virtually anything you desire on top of a beef patty, including cheese, various veggies, condiments, even other kinds of protein like eggs or bacon. And, restaurants have certainly taken some creative liberties in this department. Foods like perogies, ramen, and even PB&J can now be found in burger form. A message to the restaurants serving up these wild creations: just because you can doesn't mean you should.
Finally, some form of a burger or cheeseburger can be found on nearly every menu you encounter, at fast food restaurants, diners, dive bars, buffets, proper sit-down restaurants, and at steakhouse chains like Outback and Texas Roadhouse.
At both of these casual dining joints, the hamburger is not a menu item which demands a lot of attention. It's more of a quiet workhorse, always there when you want or need it. And, because these burgers do fly under the radar, personally, I had never given them a try.
So, I scheduled trips to both restaurants to see how their respective burgers stack up against other mainstream options, but also against each other. Since the chains go head to head in many other areas including steaks and fried onion appetizers, I was prepared for strong competition when it came to their burgers as well. Let's get down to it, and see who cooks up the finest version of this time-honored American classic.
Outback Steakhouse: The Outbacker Burger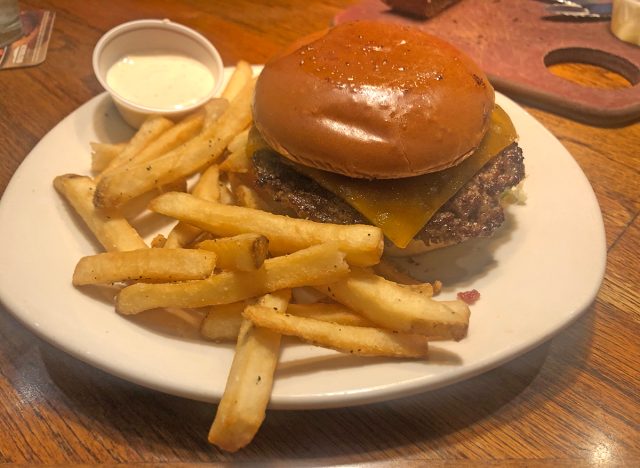 THE OUTBACKER BURGER WITH AMERICAN CHEESE: 810 cal, 50 g fat (24 g Sat fat), 1620 g sodium, 50 g carbs (2 g fiber, 14 g sugar), 38 g protein
I've taken my fair share of trips down under to Outback Steakhouse throughout my lifetime, and I'll admit: never once have I ordered a burger. I've been mesmerized by the juicy images of sirloins, filet mignon, and ribeyes, and never make it past the seductive steak page of the menu. So, I had no preconceived burger opinions to cloud my judgment.
As I flipped to the Sammies & Burgers section of my local menu, I was surprised to find just four handheld options—only two of which were actually burgers (a Bloomin' Chicken Sandwich and Prime Rib Sandwich also made the cut). One notably beefy selection, the Bloomin' Burger, is an homage to the restaurant's famed appetizer made with onion petals and spicy signature bloom sauce. The second, named the Outbacker Burger, is a more simplified, traditional take, and that's the one I chose. The $12.99 burger is loaded up with all the expected fixin's, including lettuce, tomato, onion, mustard, spicy house-made pickles, and a choice of American, cheddar, or provolone cheese. I opted for cheddar and stuck with Aussie fries as my complimentary steakhouse side.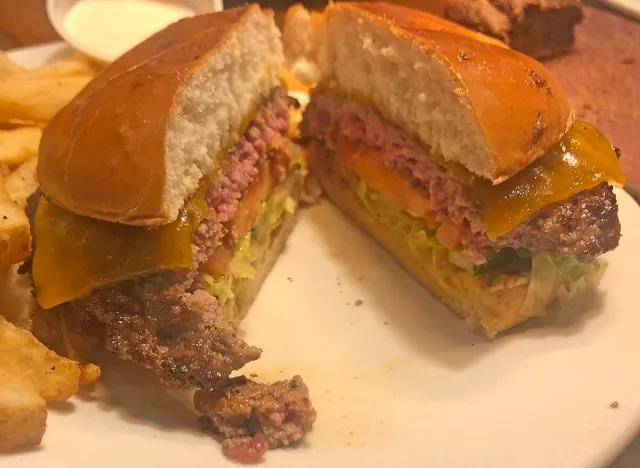 The Look: Manageably sized with well-proportioned ingredients. It's definitely not one of those burgers that you struggle to even fit into your mouth, and the patty itself is on the thinner side at just about a quarter of an inch—just a tad meatier than Mcdonald's. But, the top bun was fluffy and glistening, and the beef dripped with juice as I cut into it. Plus, the toppings were fresh, added nice pops of color, and weren't piled on to the point where it was more of a salad on bread than a hamburger.6254a4d1642c605c54bf1cab17d50f1e
The Taste: Classic and cooked to perfection. Despite being somewhat lean, the meat arrived at a mouthwatering shade of warm pink in the center—flawlessly medium through and through, as I requested. It was savory, charred ever so slightly, and formulated with spices very similar to those included in Outback's boldly seasoned steaks. Traces of pepper, onion powder, and garlic powder all announced themselves.
When it came to the standard veggies including the lettuce, onion, and tomato, I had no complaints but no high praises, either. (I did appreciate the smaller size of the tomato slice though, as some joints really go overboard in this department.) But, the mustard and spicy house-made pickles were top-notch, adding a quick snap of tang and heat. I wanted to ask for a whole jar of the pickles to go. And, lastly, all of this sat on a semi-sweet bun which was toasty but still maintained its cushiony physique.
Texas Roadhouse: All-American Cheeseburger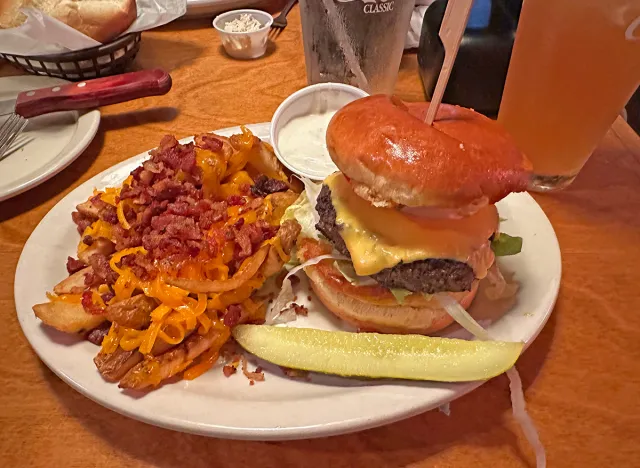 ALL-AMERICAN CHEESEBURGER: 880 cal, 55 g fat (22 g saturated fat), 1970 g sodium, 48 g carbs (5 g fiber, 11 g sugar), 50 g protein
The ever-popular Lone Star State-themed steakhouse doesn't tip the scale in terms of hamburger diversity. Only three options exist to satisfy your burger cravings—at least that was the count at my neighborhood location in Columbus, Ohio. In comparison to the chain's 10 different steak cuts and even its six various chicken specialties, we're talking about a very small portion of real estate on the restaurant's meaty menu. Blink and you might miss them altogether.
An everyday All-American Cheeseburger, Bacon Cheeseburger, and a piled up Smokehouse Burger with BBQ and mushrooms are the few available choices. Again, in the name of simplicity, I went with the All-American. It's served up with American cheese, lettuce, tomato, and onion, and the bun is described as "Texas-sized." Accompaniments include steak fries and a pickle spear. I stuck with a medium temperature and ordered the meal for $11.99.
The Look: Piled sky high and intimidating. You know it's generously sized when it has to be held together with one of those wooden sandwich picks. Each layer is clearly defined, starting with a ring of red onion, then a sizable tomato slice. Next comes the patty which is dark and clearly grilled with a gooey blanket of American cheese. It also stands at about twice the thickness of the Outback burger. At the bottom, we have a sprinkling of some shredded iceberg lettuce. The enveloping bun appears golden brown and is bulky, not quite "Texas-sized," but definitely a heftier roll.
The Taste: Homemade but bland. My hopes were as high as this burger was stacked, but the flavor here was very ho-hum. The meat, albeit thick, was hardly seasoned, a bit dense, and slightly overcooked for my liking—more of a medium well than medium with very little pink. This, combined with mediocre garnishes, reminded me of something that could easily be whipped up at home by an amateur chef.
There were no added condiments or pickles to give it some extra—and much needed—pizzazz. I could detect a bit of butter or margarine baked onto the bun, but the bread was a little too crisp in areas. Despite all the rest, I will say this cheeseburger did earn a few bonus points, though, for the freebie pickle spear served on the side. A small, but important win in my book.
The Verdict
If you're looking to get more bang for your buck, then Texas Roadhouse's behemoth-like burger is your key to happiness. It's also a completely acceptable option I would gladly order again, just at more of a medium rare to get that coloring I want and with a side of ketchup or mayonnaise to liven it up.
But, overall, the Outbacker delivered a much tastier flavor fusion. The flawlessly grilled beef, zippy mustard, and spicy pickles were the pieces of the puzzle that set this burger apart, making it the perfect tribute to one of America's favorite foods.