The product recommendations in this post are recommendations by the writer and/or expert(s)
interviewed and do not contain affiliate links. Meaning: If you use these links to buy
something, we will not earn a commission.
Whether you consider yourself a gourmand or just someone who really loves to eat, you've probably enjoyed a chain restaurant dessert or two in your time. Chain restaurants are ubiquitous in much of the country, and if there's one thing they do well, it's indulgent, over-the-top sweet endings to your meal.
Of course, there are a lot of delicious-looking desserts on those menus, so if you're going to indulge, you want to pick the best. Who better than the best chefs and pastry chefs around the country to tell you their favorite picks?
We polled our favorite chefs, and found a lot of love for the classics, and anything warm and melty topped with ice cream. Read on to find their top dessert picks at major chains.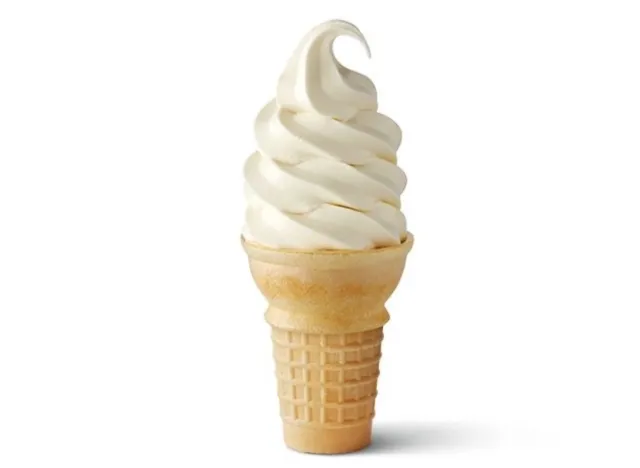 Vanilla Cone (Per Order): 200 cal, 5 g fat (3 g saturated fat), 80 mg sodium, 33 g carbs (0 g fiber, 23 g sugar), 5 g protein
Even chefs at some of the fanciest, most storied restaurants in the country can't resist this simple, creamy treat. "For me, there's something about a soft serve cone from McDonald's," says Edward Hong, executive chef at Delmonico's in New York City. "It's a straightforward dessert that doesn't overcomplicate. A reliable, timeless dessert that evokes feelings of nostalgia and memories of being a kid and visiting McDonald's for a special treat with family."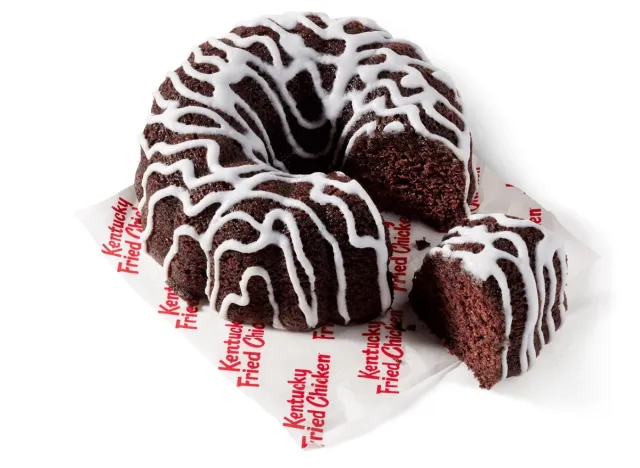 Cafe Valley Mini Chocolate Chip Cake (Per Serving): 300 cal, 12 g fat (2.5 g saturated fat), 190 mg sodium, 49 g carbs (1 g fiber, 35 g sugar), 3 g protein
Chef Dan Delancey from Bucatino in North Falmouth, Mass., is a fan of the personal-size cake from KFC, which is often included as a special addition at no cost with your order—but not every time, so check before you add to your order. "I can't resist KFC's chocolate cake that comes free with a 10-piece fried chicken order," says Delancey. "It's moist and feels decadent, without even putting a dent in your wallet—which is a no-brainer for a chocolate lover like myself!"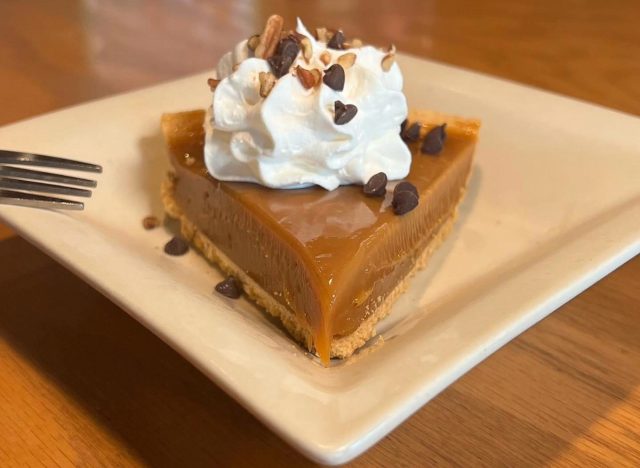 6254a4d1642c605c54bf1cab17d50f1e
Ooey Gooey Caramel Pie (1 slice): 640 cal, 39 g fat (19 g saturated fat), 230 mg sodium, 76 g carbs (1 g fiber, 66 g sugar), 7 g protein
The caramel pie from O'Charley's even has fans in pastry chefs, like Kentucky-based chef Brie Golliher, aka the Pie Queen of Bowling Green, who orders from this chain when she's too tired to bake for herself. Relatable!
"When it comes to a guilty pleasure I like to take a slice out of O'Charley's signature caramel pie," says Golliher. "I opt for the slice, only because I'd enjoy the whole pie if left to my own devices. Being the area 'Pie Queen' is a full-time job, so when I'm out of the kitchen, it's a treat when I don't have to bake or help with any of the dishes."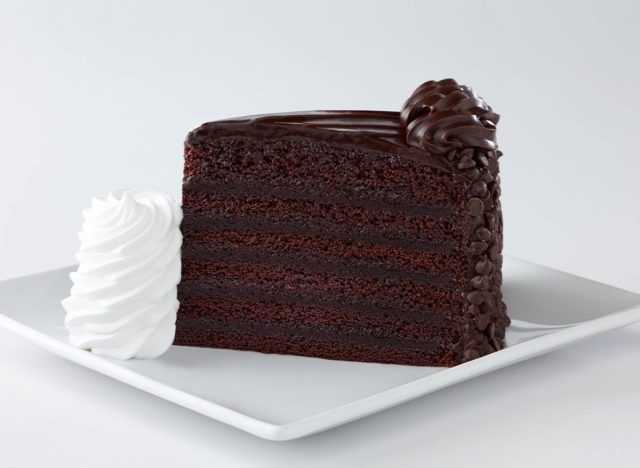 Linda's Fudge Cake (Per Order): 1450 cal, 66 g fat (29 g saturated fat), 1040 mg sodium, 233 g carbs (9 g fiber, 165 g sugar), 13 g protein
With its giant menu filled with every kind of dessert you can imagine, Cheesecake Factory is a shoo-in for this list of chef-endorsed treats. "My favorite, guilty pleasure dessert is Cheesecake Factory's Linda's fudge cake!" says Mai Nguyen, pastry chef at Coquette and Cocorico in Boston. "It has multi layers of chocolate cake and chocolate fudge with chocolate chunks on the outside. It's a pretty tall cake, something about the height makes it more enticing. I'm a sucker for chocolate cake and this one is my favorite; I've had this cake every year for the past five years for my birthday. Every time I have it, It reminds me of one of my favorite movies, Matilda, and the unforgettable chocolate cake scene."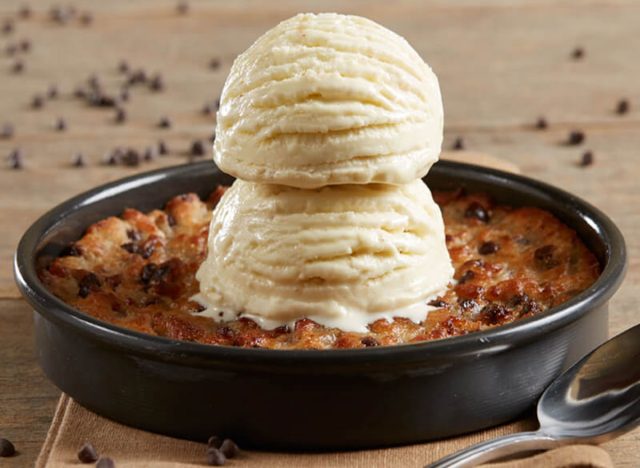 Chocolate Chunk Pizookie (Per Order): 1170 cal, 45 g fat (29 g saturated fat), 839 mg sodium, 177 g carbs (3 g fiber, 129 g sugar), 17 g protein
Who can resist a giant warm cookie topped with ice cream? Not chefs. Just ask Kevin Diaz, co-owner and recipe developer at San Diego-based Arely's French Bakery.
Diaz says BJ's Chocolate Chunk Pizookie is his favorite chain restaurant dessert, noting that it "allows you to taste the quality of the butter, an ingredient that will always enhance a cookie's flavor with quality." Diaz adds, "[T]he vanilla in the ice cream brings out the vanilla in the cookie perfectly. Even though I bake traditional French pastries, I'm a simple guy with a simple taste."
RJ Howard, chef and owner of Maggie Lu's Market catering company, agrees: "The temperatures and textures along with the flavors are amazing! Not to be missed!"
Skillet Chocolate Chip Cookie (Per Order): 1230 cal, 52 g fat (25 g saturated fat), 1020 mg sodium, 174 g carbs (3 g fiber, 103 g sugar), 13 g protein
Oversized cookies are always a hit, and chef Emerio Viramontes is a big fan of Chili's version, topped with ice cream. "When it comes to desserts, I have a weakness for the Skillet Chocolate Chip Cookie from Chili's," says Viramontes, executive chef of Chef's Palette, located at Canvas Hotel Dallas. "It's a warm baked cookie in a skillet with a scoop of vanilla ice cream and some drizzle of chocolate sauce. It's so simple, but so tasty."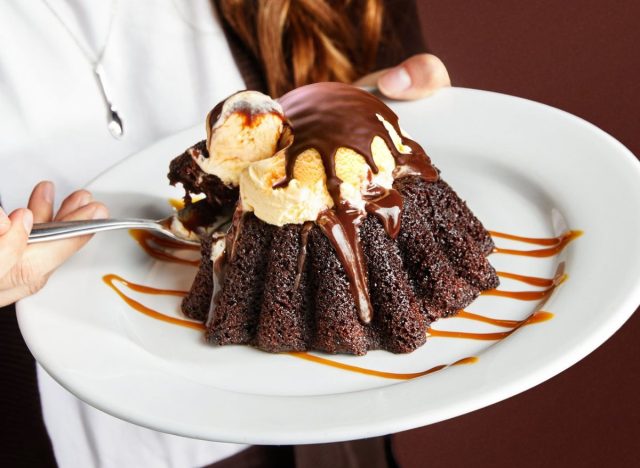 Molten Chocolate Cake (Per Order): 1170 cal, 59 g fat (30 g saturated fat), 1030 mg sodium, 155 g carbs (5 g fiber, 109 g sugar), 12 g protein
Another Chili's dessert that gets raves from culinary pros is the Molten Chocolate Cake. It's a favorite of chef Jesus Diaz, host of the new Spanish TV show, "Que Delicia: El Sabor De America." Says Diaz, "The texture of their cake, the taste of their hot chocolate syrup feeling, in combination with the vanilla ice cream in a chocolate shell and topped with caramel drizzle, is out of this world."
Salted Caramel Cookie Skillet (Per Order): 910 cal, 40 g fat (28 g saturated fat), 1440 mg sodium, 129 g carbs (1 g fiber, 82 g sugar), 10 g protein
Outback has a lot of fans out there, and Kam Talebi, owner of The Butcher's Tale in Minneapolis, counts himself among them.
"My favorite chain steakhouse is Outback, and I don't feel guilty at all about enjoying a meal there. And you better believe that I'm ending my meal with their salted caramel cookie every single time," says Talebi. "It's more butter than flour. The salt content is perfect. It adds to the rich milk fat and sweetness, rather than overpowering it. Then there's that perfectly cast iron caramelized crust that contrasts the soft, gooey interior."
Fresh Strawberry Cheesecake (Per Order): 1000 cal, 69 g fat (43 g saturated fat), 550 mg sodium, 82 g carbs (2 g fiber, 66 g sugar), 12 g protein
Certain restaurant chains carry a lot of nostalgia for people. For chef Paul Iglesias, the Cheesecake Factory is one of those places. "My family made it a tradition to visit the Cheesecake Factory for their iconic strawberry cheesecake—a dessert that holds a special place in my heart to this day," says Iglesias, chef-owner of Parche in Oakland, Calif. "The Cheesecake Factory was where I first realized that the possibilities of dessert flavors were truly unlimited."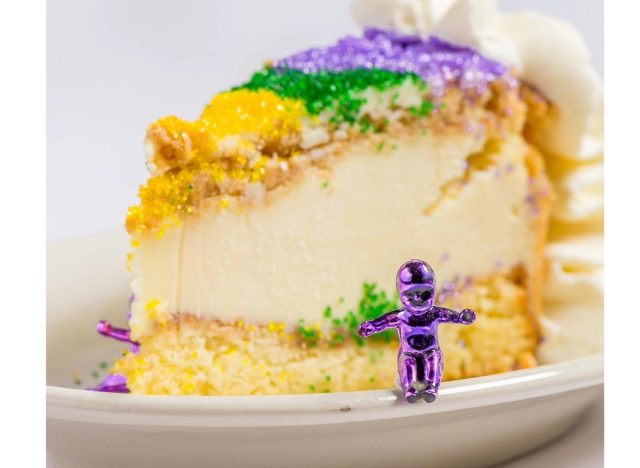 Nutrition information unavailable.
This small southern chain delivers a really big bite, combining sugary king cake with creamy cheesecake. When he worked at Copeland's of New Orleans, chef Quinnton Austin, aka "Chef Q," greatly looked forward to the restaurant's seasonal King Cake Cheesecake. After befriending the restaurant's baker, he says he used to take slices home after his shift. What makes this dessert so special? "The texture contrast that came from crumbled king cake pieces within the cheesecake batter," explains Austin, now the culinary director at San Diego-based Grind & Prosper Hospitality.