Americans are eating more fast food than they have in years. A 2022 survey conducted by Popmenu found that half of all consumers surveyed reported eating fast food two or more times a week. You can blame that on inflation, soaring food costs at grocery stores, and our time-pressed lifestyles; Dining at higher-cost quick casual restaurants may no longer be in many consumers' budgets. One of the most popular types of affordable restaurants is fast-food chicken chains, which have become a favorite amongst consumers seeking delicious, quick, and inexpensive meals.
But these fast-food chicken chains aren't always the best place to dine if you're trying to be healthy. While it may seem like it would be easier to make better-for-you choices by ordering a chicken sandwich compared to ordering burgers and fries at places like McDonald's, that's not always the case. You may be shocked to find out that these fast-food chicken chains' seemingly healthful meals are nutritionally far worse in terms of calories, fat, saturated fat, sodium, and even added sugar, compared to typical menu items at fast-food burger joints.
What's the problem? Many menu items at these chains like wings, nuggets, chicken sandwiches, and combo meals are fried, which adds a lot of extra calories and fat compared to grilled or roasted chicken. What's more, many chicken chains have decadent starters like mashed potatoes with gravy, mac & cheese, potato salad, fried pickles, Texas Toast, or biscuits.
These side dishes can send calorie and other negative nutrient counts into the stratosphere. For example, a medium Mac & Cheese from Chick-Fil-A will set you back 450 calories and 73% of the saturated fat that you should have in an entire day. An order of Chicken Bacon Ranch Loaded Fries at Zaxby's has 1,270 calories, 22 grams of saturated fat, and more than 3,000 milligrams of sodium.
To help you navigate the menus at your favorite chicken restaurants, we've put together a guide to the healthiest option at nine major chains. Our best bet menu items are those that keep overall calories in check while limiting saturated fat and sodium. The daily limit on a typical, 2,000-calorie diet is 22 grams of saturated fat and no more than 2,300 milligrams of sodium. Our picks keep saturated fat to less than 10 grams and sodium to no more than 1,500 milligrams.
Here's a quick guide to our best choices to help you order wisely when you want a quick chicken meal:
Calories: Up to 600
Saturated Fat: Less than 12 grams
Sodium: up to 800 milligrams
Go grilled: Opt for grilled chicken menu items whenever available
Side dish fails: Skip the high-calorie, high-fat sides like mac & cheese, biscuits and gravy, potato salad, and Texas toast.
Extra isn't better: Extra crispy equals more calories and fat, so stick with original recipes rather than extra crispy
Read the labels: Read the Nutrition Facts for the menu items prior to ordering. Even salads and grilled chicken menu items that sound healthy, may have unhealthy surprises
Skip the flavors: Original flavors tend to have fewer calories, fat, and sodium compared to more tantalizing flavors, so keep that in mind.
The best healthy orders at fast-food chicken chains.
Read on to find out exactly what to order the next time you're craving fried chicken, and for more don't miss The #1 Unhealthiest Order at Every Major Fast-Food Chicken Chain.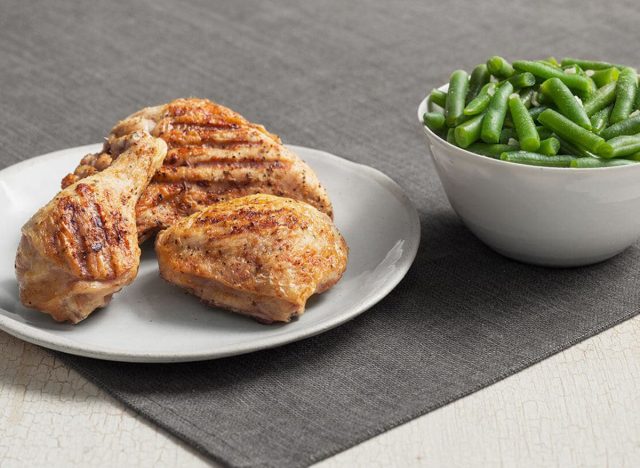 210 calories, 7 g fat (2 g saturated fat), 710 mg sodium, 0 g carbs (0 g fiber, 0 g sugar), 38 g protein
This protein-packed option is a great choice for KFC, as it's one of the few grilled items available on the menu. It's the healthiest option due to being low in calories, total fat, and saturated fat. The sodium is higher than home-prepared chicken, but it's within our guidelines for eating out. For sides, order the Green Beans, as they have just 25 calories, or the sweet corn for 70 calories.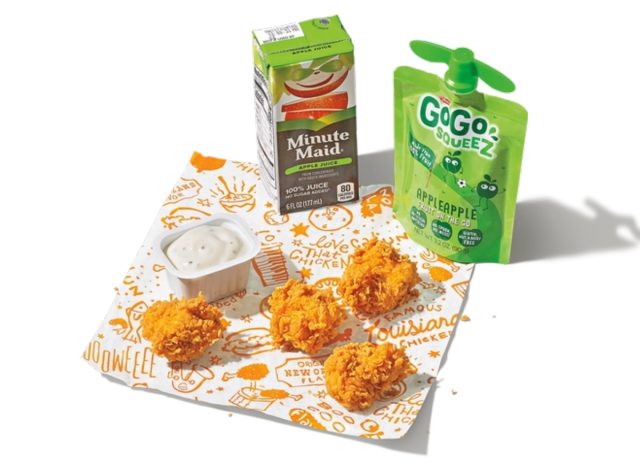 235 calories, 12 g fat (5g saturated), 760 mg sodium, 19 g carbs, (.5g fiber, 8 g sugar), 11 g protein
Popeye's has many menu items that provide more than 1,000 calories or nearly half of the calories most of us need in a day. This makes it hard to find a "healthy" choice at the chain, so the best option we recommend is the kids' portion (4-piece) nuggets. The other way to enjoy Popeye's without blowing your healthy eating goal is to share an order as the serving sizes are generally enjoy for two.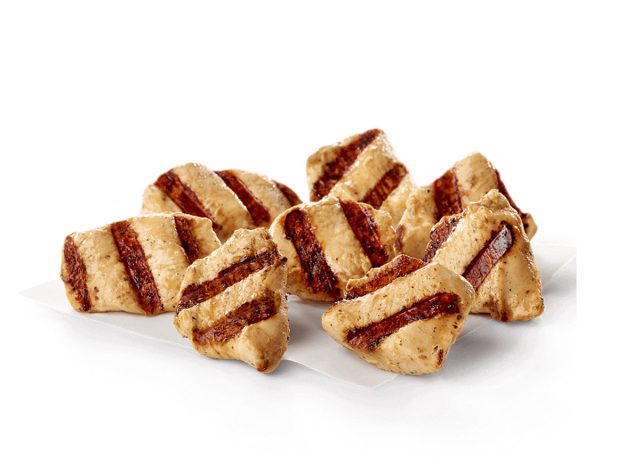 130 calories, 3 g fat (.5 g saturated fat), 440 mg sodium, 1 g carbs (0 g fiber, 1 g sugar), 25 g protein
Few restaurant chains offer grilled nuggets, which is why we love these Grilled Nuggets from Chick-fil-A. This is one of the best protein-to-calorie ratios of any fast-food chicken menu item. What's more, sodium counts are moderate for fast food and the total fat and saturated fat are low. You can enjoy this with any of the dipping sauces and keep the total calories, fat, and sodium contained. If you want a more substantial meal, order a fruit cup as well to provide some fiber to your meal.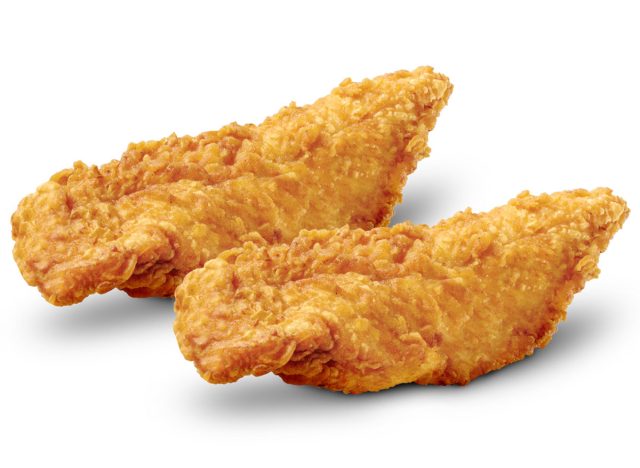 260 calories, 12 g fat (2 g saturated), 380 mg sodium, 10 g carbs, (2 g fiber, 0 g sugar), 26 g protein
Raising Cane is known for mouth-watering chicken fingers and crinkle-cut fries, not necessarily considered health-food status. The menu is limited to fried options with high calorie, fat, and sodium counts. The Combo meals are most common and come with crinkle-cut fries and a drink, but you'll want to skip those. Instead, order two or up to three Chicken Fingers. Each chicken finger is 130 calories and saturated fat, and sodium is in check.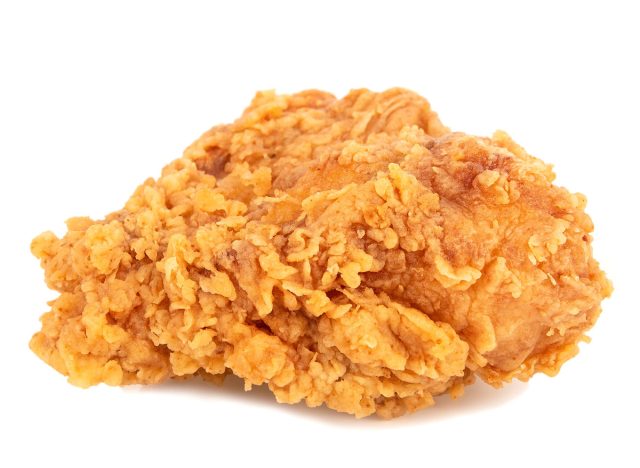 250 calories, 14 g fat (3 g saturated), 680 mg sodium, 12 g carbs, (1 g fiber, 0 g sugar), 22 g protein
Church's Chicken has been serving up Texas-style fried chicken since 1952. The chain is known for its fried chicken and decadent side dishes as well as fried chicken sandwiches. Due to the menu being all fried chicken options, stick with the Original Breast. To get a single breast, order the 2-piece combo, white meat only with a diet soda and save one breast for later or share with a friend. The sides are all too high in calories, fat, and sodium to be considered the best bite. Surprisingly, the best of the sides is the regular-size mashed potatoes with gravy.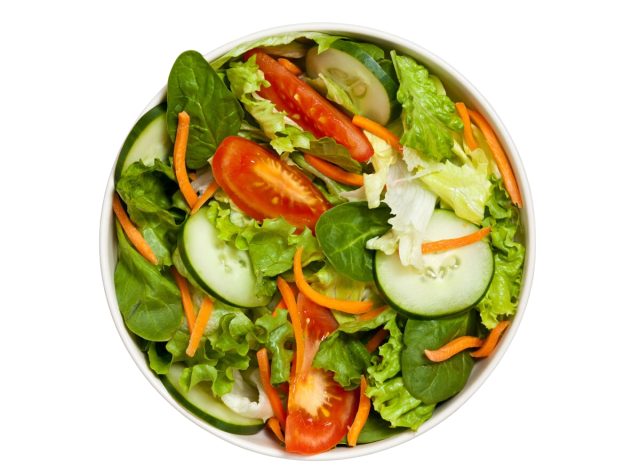 410 calories, 25 g fat (11 g saturated), 1820 mg sodium, 33g carbs, (4 g fiber, 4 g sugar), 17 g protein
Zaxby's is one of the more challenging restaurant chains to order menu items that will keep you on track. Most of their menu items are large portions and fried, so calories are routinely more than 1,000 calories for a main dish. The chain offers a grilled chicken sandwich that has 470 calories, but the sodium count is 2,900 milligrams. For this reason, salads are the best bet at Zaxby's. The lightest salad on the menu is the Garden House Salad but even though the salad has 410 calories, it is relatively high in saturated fat and sodium. Add the Light Vinaigrette as it is the healthiest dressing available at this chain.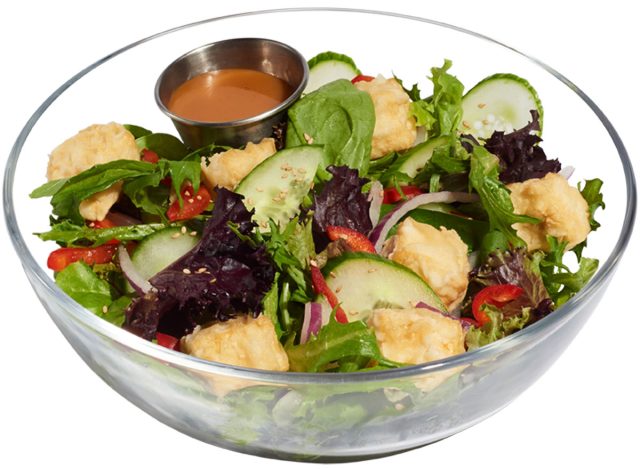 530 calories, 39 g fat (6 g saturated), 280 mg sodium, 33g carbs, (6 g fiber, 28 g sugar), 15 g protein
Bonchon offers Korean-style fried chicken and other Korean comfort food. The process of the chain's popular recipe is hand-battered and double-fried. Deep-frying chicken twice equals additional crunch and fans love the taste, but it also adds more calories, fat, and saturated fat. As an example, an order of small Chicken Strips at the chain packs in 919 calories and 3,030 mg of sodium!
The healthiest option on the menu is the Sesame Ginger Salad with Tofu. It will keep calories, sat fat, and sodium in check. Bonchon does offer a variety of healthier starters and sides like vegetable potstickers, kimchi, pickled radish, edamame, or steamed rice. Because of the amount of soy sauce in the Bonchon's dishes, sodium counts are well over our guidelines, so it's best to skip the sauces, but the dish will still have sky-high sodium counts.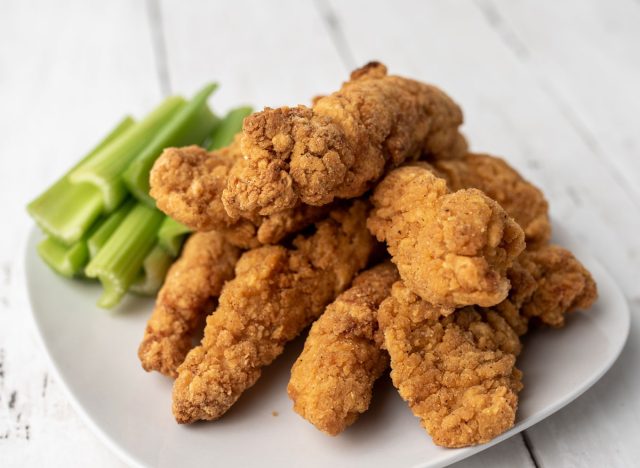 280 calories, 14 g fat (2 g saturated), 940 mg sodium, 20g carbs, (0 g fiber, 0 g sugar), 20 g protein
Wingstop specializes in all things wings and boneless tenders with 12 options for seasonings from Lemon Pepper and Hawaiian to Atomic. Since all the chicken options are fried, this chain should not be considered your go-to for healthful meal options. However, if you are ordering at Wingstop and need to know the best option, go for the Plain Boneless Tenders. At 140 calories each, you can order two or three and still have a moderate-calorie meal that will be high in protein without weighing you down in extra calories. Stick to the vegetable sticks at the side to up the fiber in your meal. You'll need to skip the dips as they add 124-390 additional calories.6254a4d1642c605c54bf1cab17d50f1e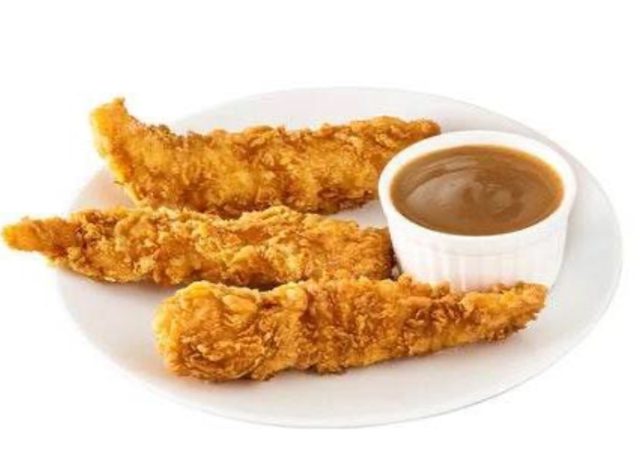 360 calories, 22 g fat (2 g saturated), 840 mg sodium, 26g carbs, (N/A g fiber, 0 g sugar), 18 g protein
Jollibee offers Filipino-style fast food, featuring a variety of fried chicken options. While the menu is based on Filipino family favorites, including fried chicken, fried chicken sandwiches, burgers, and spaghetti. The best bet at this chain is the fried chicken tenders with no dip. If you want a dip, the Hawaiian BBQ is the best option as it has 80 calories and is fat-free, while the other dips range from 170-190 calories and have more fat and saturated fat.