Fish is one of the most nutrient-dense proteins to include in your diet — it's high in healthy fats and full of vitamins and minerals. That's why the American Heart Association (AHA) recommends eating seafood twice a week. But even with fish's body-nourishing benefits, it's still easy to mess up when you order it out.
Many of your favorite restaurants batter and fry their fish, which contributes to loads of extra calories from unhealthy types of fat. And it usually comes paired with caloric sides such as french fries or buttered potatoes. While delicious classics like fish and chips can certainly be enjoyed in moderation, you'll want to stick to eating non-fried seafood more often. "Choosing grilled or blackened fish options and/or swapping out the fried sides for fresh vegetables is a way to reduce total calorie and fat intake in any one given meal eaten out," says Jordan Hill, MCD, RD, CSSD, a dietitian with Top Nutrition Coaching.
So next time you're wondering which fish dish to order when you're dining out, look to this list of the worst ones seen on menus across America. Read on, and for more, don't miss 10 Seafood Chains That Serve the Highest Quality Fish.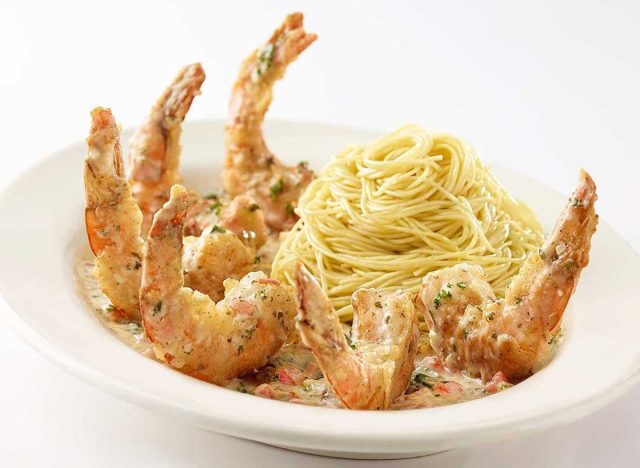 Per serving: 1,260 calories, 76 g fat (37 g saturated fat), 2,340 mg sodium, 105 g carbs (7 g fiber, 7 g sugar), 41 g protein
Cheesecake Factory's Shrimp Scampi, like most shrimp scampi recipes, is far from the healthiest option to order out. And that's mostly due to its high butter and oil content, which can contribute to a significant calorie and saturated fat intake, Hill says. Not only that but "this dish is made with a larger serving size of pasta, adding even more to the total calorie count and typically providing excessive carbohydrates for one meal's serving." You're better off going with the Thai Glazed Salmon, which has 840 calories, 1,240 milligrams of sodium, and 31 grams of fat.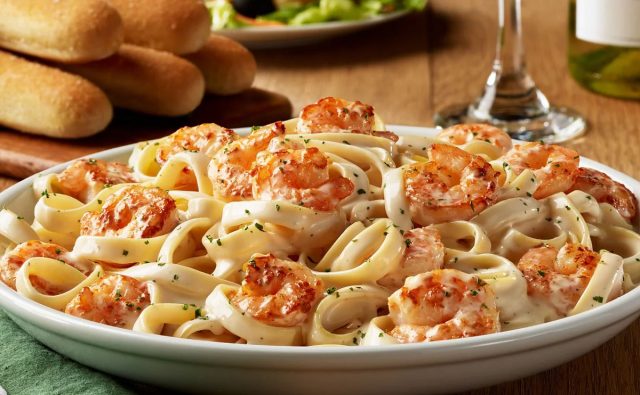 Per serving: 1,473 calories, 93 g fat (55 g saturated fat), 1,620 mg sodium, 96 g carbs (4 g fiber, 6 g sugar), 63 g protein
Consider "Alfredo" basically a code word for "fat-laden." The rich white sauce is traditionally made with butter, heavy cream, and parmesan cheese. Olive Garden's Shrimp Alfredo, with 1,470 calories, "poses a significant challenge for those aiming to maintain or lose weight due to its high caloric content," says Marlyne Perez, RDN, LD, a dietitian with Top Nutrition Coaching. It packs 93 grams of fat—that's nearly an entire day's worth of fat intake for some people—which can contribute to heart disease and obesity, while the 1,620 milligrams of sodium may lead to high blood pressure and discomfort from water retention, Perez says. In other words: Regularly ordering this seafood pasta might spell bad news for your health in the long run.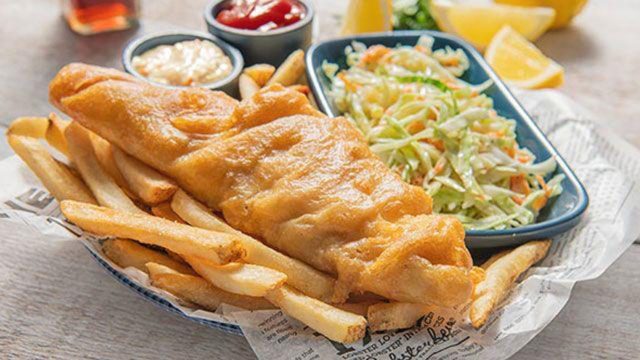 Per serving: 1,230 calories, 65 g fat (8 g saturated fat), 2,910 mg sodium, 117 g carbs (11 g fiber, 22 g sugar), 46 g protein
This list wouldn't be complete without a fish and chips dish, and Red Lobster's Fish & Chips comes with 1,230 calories, 65 grams of fat, and 2,910 milligrams of sodium. "Depending on the individual, this can be as much as 50% of someone's daily recommended intake for total calories and could be as much as 100% of their daily recommended fat intake," says Hill. The AHA recommends getting no more than 2,300 milligrams of sodium per day, and at 2,910 milligrams of sodium, this meal far exceeds that. A healthier option would be a non-fried piece of fish that's served with a veggie and complex carbohydrate (such as brown rice or quinoa) rather than French fries, Hill recommends.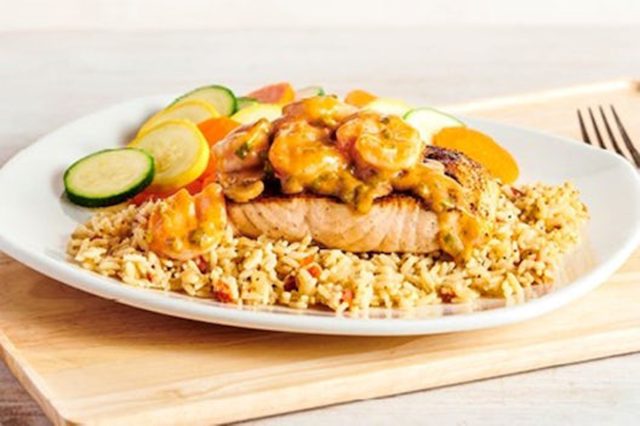 Per serving: 1,130 calories, 62 g fat (23 g saturated fat), 2,580 mg sodium, 71 g carbs (8 g fiber, 2 g sugar), 69 g protein
Outback Steakhouse Toowoomba Salmon, at 630 calories, may appear reasonable at first glance, but be cautious—that's the calorie count for just the piece of fish. Add one or two sides, and your choices can potentially inflate your meal by more than 1,000 calories, Perez points out. For example, just adding a side of Aussie fries will hike up your meal to 1,130 calories, 2,580 milligrams of sodium, and 62 grams of total fat. Instead, pair the fish with steamed veggies for 130 calories or asparagus (60 calories).6254a4d1642c605c54bf1cab17d50f1e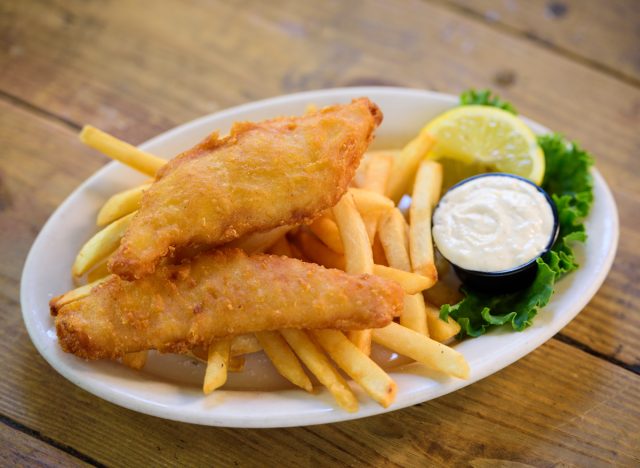 Per serving: 1,260 calories, 86 g fat (14 g saturated fat), 3,590 mg sodium, 85 g carbs (8 g fiber, 10 g sugar), 42 g protein
While Texas Roadhouse is renowned for its steaks, it's essential to be aware of the less-obvious menu options, especially when it comes to seafood, says Perez. Among the offerings, Texas Roadhouse's Fish and Chips (which is only available at select locations) stand out as a sodium, fat, and calorie bomb, Perez says. This dish packs 3,590 milligrams of sodium, which is 50% more than your maximum daily recommended amount. And with 86 grams of fat (including the tartar sauce), you're basically taking in more than six tablespoons' worth of oil.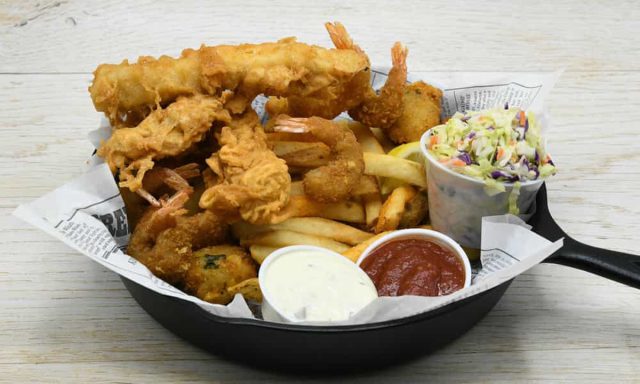 1,730 calories; no other nutrition info available.
Bubba Gump Shrimp Co's Forrest's Seafood Feast is as lavish as chain restaurant feasts get: It comes with fish and chips, fried shrimp, seafood hush pups, french fries, coleslaw, tartar sauce, remoulade sauce, and cocktail sauce. This entire meal comes out to 1,730 calories, but that's all we know—Bubba Gump doesn't disclose any other nutritional info, which is a red flag. "Because everything is fried, we can be confident that a large portion of the calories are coming from saturated fats," Hill says. "Saturated fats consumed in excess over time can contribute to unfavorable cholesterol levels and increase the risk for heart disease and stroke."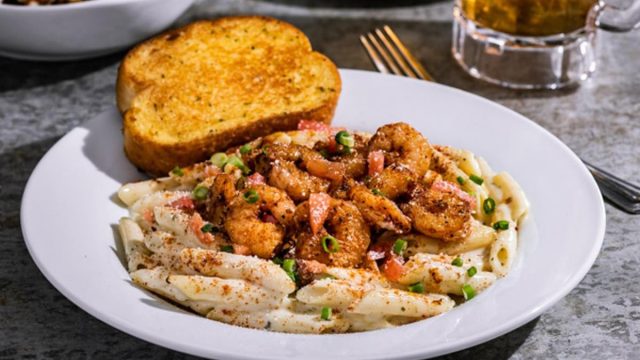 Per serving: 1,170 calories, 57 g fat (25 g saturated fat), 3,690 mg sodium, 109 g carbs (8 g fiber, 5 g sugar), 54 g protein
Shrimp is one of the leanest sources of protein, and it's linked to weight loss thanks to its satiating qualities. But Chili's Cajun Pasta With Shrimp, at 1,170 calories, 57 grams of fat, and 1 gram of trans fat, is far from a nutrient-dense meal that supports healthy body composition. Even if weight loss isn't your goal, you'll still want to steer clear of this super salty seafood pasta more often than not. "This dish's staggering 3,690 milligrams of sodium exceeds total daily sodium recommendations and is concerning for those monitoring blood pressure and heart health," Perez says.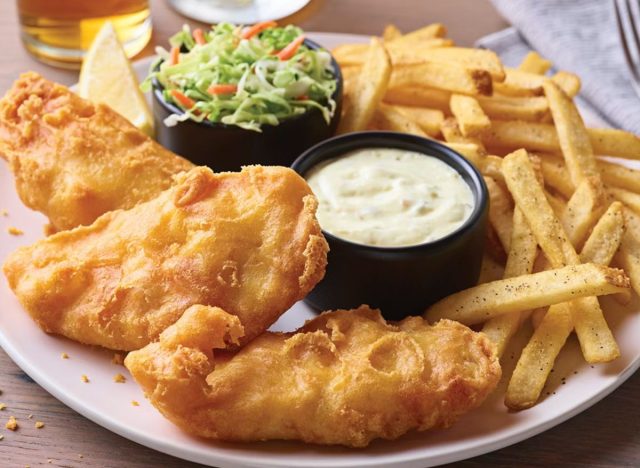 Per serving: 1,470 calories, 95 g fat (21 g saturated fat), 3,200 mg sodium, 115 g carbs (10 g fiber, 21 g sugar), 42 g protein
Applebees Hand-Battered Fish and Chips may taste as good as it looks, but its nutritional profile should give diners pause. "With a hefty 1,470 calories, 95 grams of fat, and a staggering 3,200 milligrams of sodium, indulging in this dish may not be the healthiest choice for those mindful of their diet," Perez says. Not only that, for a savory dish, we were surprised to see this fish and chips platter boasts 21 grams of sugar—that's the same amount of sugar as three-quarters of a cup of vanilla ice cream.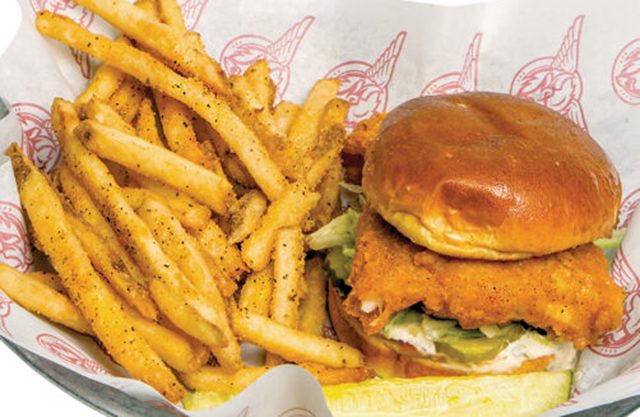 1,235 calories; no other nutrition info available.
Taco Mac's Tropicalia Fish Sandwich is made up of fried fish served in between a brioche bun with a side of French fries. The total calories come to 1,235, which for many looking to maintain weight may be 50% or more of their total daily calorie allotment, Hill says. But if your goal is weight loss, not weight maintenance, that number may be looking more like 60 to 80% of your total daily calorie allotment. What's more, this meal is high in saturated fat and sodium, two nutrients that can harm your heart in excess.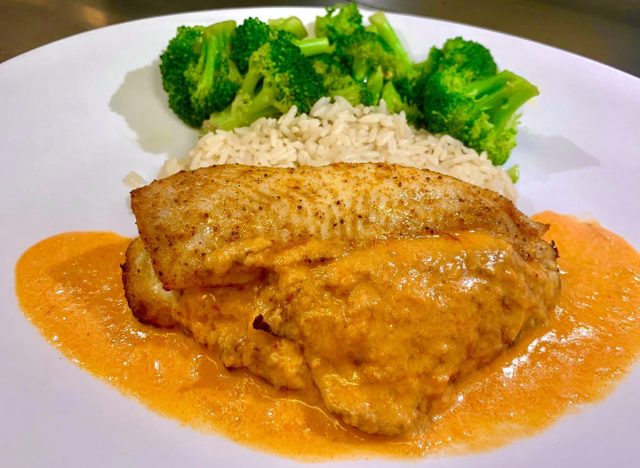 1,462 calories; no other nutrition info available.
Joe's Crab Shack's Stuffed Flounder has 1,462 calories—and without the macronutrients listed on the site, we know it's likely higher in fat due to the creamy lobster sauce it's slathered with. "The word 'creamy' typically suggests the use of oil, butter, and higher-fat milk products," Hill says. However, it does come with rice and seasonal vegetables, which helps to provide balance. While the calorie count would be relatively high for some individuals, it's important to note that if a meal like this is consumed from time to time, it can be part of a balanced dietary pattern, Hill reminds us. "One singular meal does not make or break someone's weight management journey. Rather, it matters what an individual does most of the time and what habits they keep consistently."