Known for its eccentric old-fashioned gift shop, massive portions, and classic comfort foods, Cracker Barrel isn't exactly at the top of the list regarding a healthy menu. But if you look beyond their large stacks of pancakes and fried chicken platters, you'll find quite a few healthier Cracker Barrel orders that can work into an overall healthy diet.
We asked dietitians to help find some of the best dishes to order at Cracker Barrel and found several options to pick from that were lower in nutrients like saturated fat, sodium, and added sugars. Keep in mind that many of these entrees come with additional sides, which is where a lot of calories, fat, sodium, and sugar can sneak in. For instance, just one side serving of a Loaded Baked Potato can add 2,470 milligrams of sodium to your meal!
When it comes to main dishes, you can begin creating a nourishing meal at Cracker Barrel with these dietitian-approved menu items. Read on, and for more healthy dining out tips, check out The #1 Unhealthiest Fish Order at 10 Major Restaurant Chains.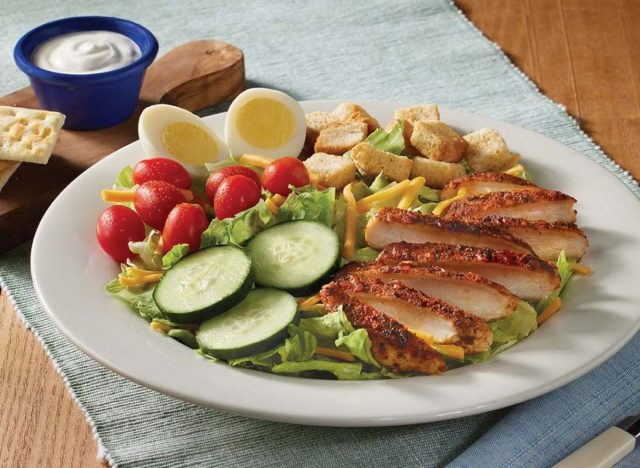 Per salad and 2.5-ounce dressing: 640 calories, 34 g fat (11 g saturated fat), 1,390 mg sodium, 35 g carbs (4 g fiber, 20g sugar), 46 g protein
The Homestyle Grilled Chicken Salad is a good source of protein between the smoky grilled chicken and boiled egg and the perfect size for lunch with just under 500 calories," says Lisa Andrews, MEd, RD, LD. Add the Balsamic Herb Vinaigrette for the nutrition listed above, or save on sodium, sugar, and carbohydrates by choosing a basic oil and vinegar dressing instead.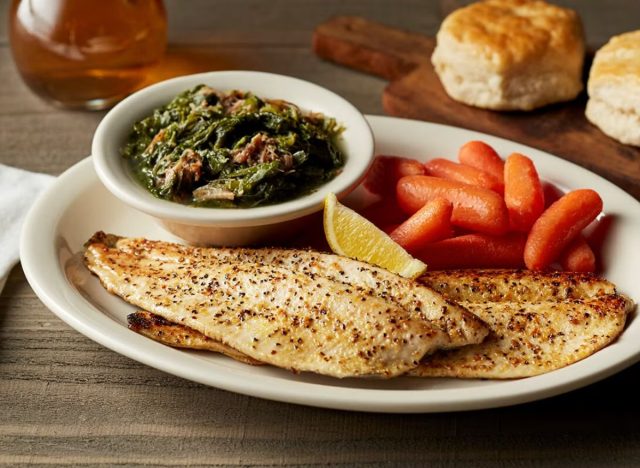 Per two fillets: 330 calories, 14g fat (3.5 g saturated fat), 610 mg sodium, 6g carbs (<1 g fiber, 0g sugar), 43 g protein
"Rainbow trout is a healthy fish that is packed with protein, healthy fats, vitamins such as vitamin D, and minerals," says Wan Na Chun, MPH, RD, CPT of One Pot Wellness. This entree is low in carbohydrates and high in protein, with 43 grams per serving. Add a non-starchy vegetable like steamed broccoli and a healthy carbohydrate like corn to make this a balanced and satisfying meal.
Per sandwich: 470 calories, 26 g fat (5 g saturated fat), 400 mg sodium, 44 g carbs (3 g fiber, 7 g sugar), 20 g protein
With two eggs, sourdough bread, tomato slices, and a smear of mayonnaise, the Egg Sandwich is filling without going overboard on fat, sodium, carbohydrates, or calories. With 20 grams of protein, you don't even need to add meat to this sandwich, but if you're craving a sandwich that's a bit extra hearty, add two slices of thick-sliced bacon for an extra 140 calories, four grams of saturated fat, 310 grams of sodium, and nine grams of protein.6254a4d1642c605c54bf1cab17d50f1e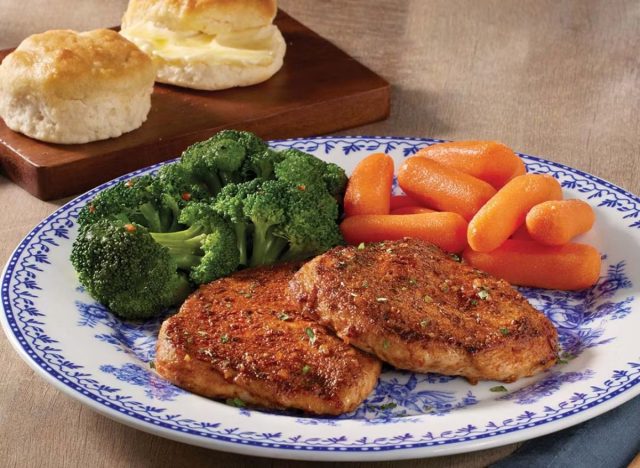 Per two grilled chicken breasts: 280 calories, 5 g fat (1.5 g saturated fat), 720 mg sodium, 0g carbs (0 g fiber, 0 g sugar), 58 g protein
These grilled chicken breasts are packed with flavor and generously seasoned with a smoky southern seasoning. High in protein, low in fat, and with only 31% of the daily value (DV) for sodium, the Smoky Southern Grilled Chicken is an excellent healthy dinner choice. Enjoy with a side salad and carrots for a full, nourishing, and satisfying meal.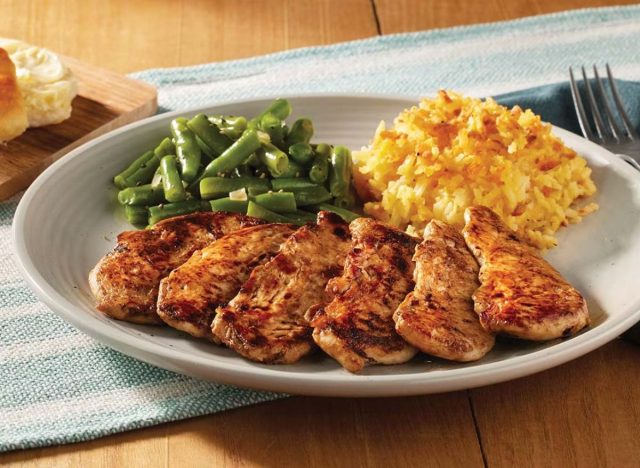 Per 6 tenders: 270 calories, 7 g fat (1.5 g saturated fat), 620 mg sodium, 5 g carbs ( <1 g fiber, 4 g sugar), 48 g protein
Enjoy six marinated Grilled Chicken Tenders for just 270 calories and 1.5 grams of saturated fat, just 7% of the recommended daily limit. Enjoy this low-carb entree with mashed potatoes and green beans for a balanced and incredibly satisfying comfort meal. It's also a lower sodium option, coming in at just 27% of the DV for sodium, compared to the hand-breaded chicken tenders, which have 93% of the DV for sodium per serving.
Per serving: 400 calories, 18.5 g fat (5 g saturated fat), 430 mg sodium, 9 g carbs (2 g fiber, 3 g sugar), 51 g protein
Enjoy this USDA choice Grilled Sirloin Steak, covered with sautéed onions and gravy for just 400 calories, 23% DV saturated fat, and 19% DV sodium. The onions and gravy add amazing flavor to this steak without packing on extra sodium or fat. Enjoy it with turnip greens and corn for a balanced and satisfying dinner.
Per two fillets: 260 calories, 11 g fat (3 g saturated fat), 650 mg sodium, 2g carbs (1 g fiber, <1 g sugar), 38 g protein
Farm Raised Grilled Catfish is a nutritious high-protein, low-carb entree packed with healthy monounsaturated fats and an excellent source of several B vitamins in addition to phosphorus and selenium. Selenium plays a critical role in DNA synthesis, thyroid hormone health, reproduction, and protecting the body from oxidative stress and damage. Just three ounces of catfish has 22% of the DV for selenium.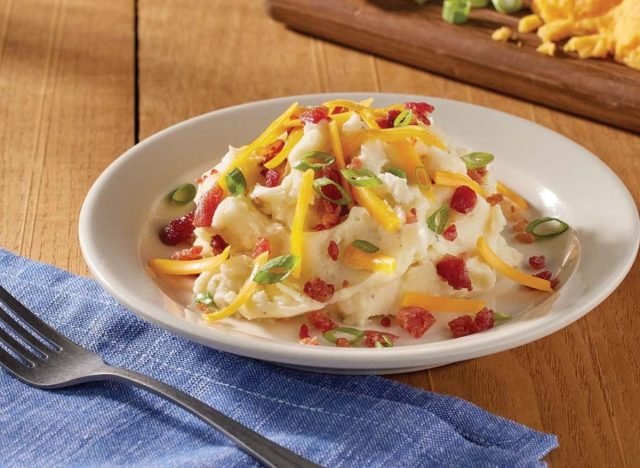 Per serving: 320 calories, 20 g fat (7 g saturated fat), 510 mg sodium, 25 g carbs (3 g fiber, 1 g sugar), 11 g protein
A premium side, the Loaded Mashed Potatoes are filling and relatively balanced with the addition of cheese and bacon. Even though they're loaded with bacon and cheese, they come in at just seven grams of saturated fat, or 30% of the DV, and 510 milligrams of sodium, or 22% DV. The 11 grams of protein helps make this traditionally carbohydrate-heavy side a little more balanced. Add a serving of steamed broccoli for a pop of green and extra fiber.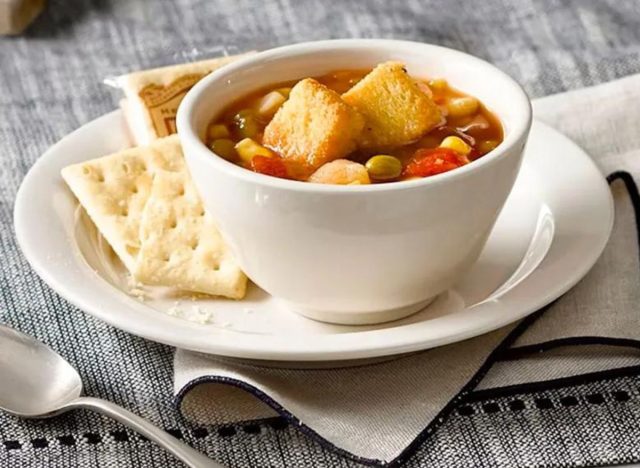 Per bowl: 170 calories, 2 g fat (0 g saturated fat), 720 mg sodium, 33 g carbs (5 g fiber, 7 g sugar), 6 g protein
For a meatless option that's low in fat but packed with nutrients, try a bowl of Vegetable Soup at Cracker Barrel. Each bowl has five grams of filling fiber and six grams of protein with zero saturated fat. Like most soups, it's a little salty with 31% DV of sodium, but considerably less than many of the other soup options, like the chicken noodle soup, which has 63% DV of sodium.
Per roast beef entree: 480 calories, 29 g fat (12 g saturated fat), 780 mg sodium, 10 g carbs (0 g fiber, 0 g sugar), 45 g protein
This thick-cut USDA Choice chuck roast has 45 grams of protein and is an excellent source of nutrients like iron, selenium, zinc, and choline. Zinc is a mineral essential for a healthy immune system and also plays an important role in wound healing and fetal development during pregnancy. Just 100 grams of chuck roast has 7.8 milligrams of zinc, or 97% DV for females and 71% DV for males.