The International House of Pancakes has been serving up hearty breakfasts to Americans for 65 years. Founded in 1958 in the Los Angeles suburbs, IHOP has grown into a successful chain with locations in all 50 states (and even some in other countries). When you visit, you can expect fluffy buttermilk pancakes, signature omelets, and even dinner entrees like burgers and chicken dishes.
You can also expect to struggle to find a low-calorie meal. Many of IHOP's offerings are extremely high-calorie, high-carb, high-fat, and high-sodium—It comes with the territory of making plate-sized stacks of pancakes and waffles.
But does that mean you have to avoid IHOP if you'd like to eat a healthier meal? Not necessarily. According to registered dietitians, several orders at the pancake chain are actually good choices.
How to order the healthiest foods at IHOP
Build a meal around fruits and vegetables. Plenty of IHOP's orders have nary a fruit or vegetable in sight. For a healthier order, seek out options built around fresh produce, such as salads or veggie omelets.
Steer clear of processed meats. Sure, bacon and sausage are classic proteins at IHOP, but they're loaded with saturated fat and sodium. Opt for lighter proteins like eggs, fish, or lean chicken, or limit your processed meats to a small side.
Balance it out. Pancakes and waffles don't have much to offer nutritionally aside from epic levels of refined carbohydrates. Try balancing a carb-heavy meal with healthier sides, like plant-based sausage, fresh fruit, or green beans.
Be sure to get a menu with nutrition info. When you don't know what you're getting in terms of nutrition, it's easy to overdo it. Be sure to ask your server for a menu that includes nutrition info so you can make wiser choices.
Read on to learn about some of the best and worst IHOP orders, picked by registered dietitians. And for more healthy eating tips, check out the 10 Best & Worst Fast-Food Chicken Nuggets.
The Best IHOP Orders
Per meal: 470 calories, 27 g fat (4.5 g saturated fat), 700 mg sodium, 23 g carbs (12 g fiber, 8 g sugar), 40 g protein
Bursting with berries, greens, and salmon, the Fresh Berry Salad is practically a superfood salad. "This is a healthy option that contains a variety of nutritious ingredients. The salad includes fresh strawberries, which are high in antioxidants, vitamins, and minerals," says Wan Na Chun, RD, CPT, of One Pot Wellness. She also notes that the avocado slices on top are a good source of healthy fats, protein, and fiber. Delicious and nutritious!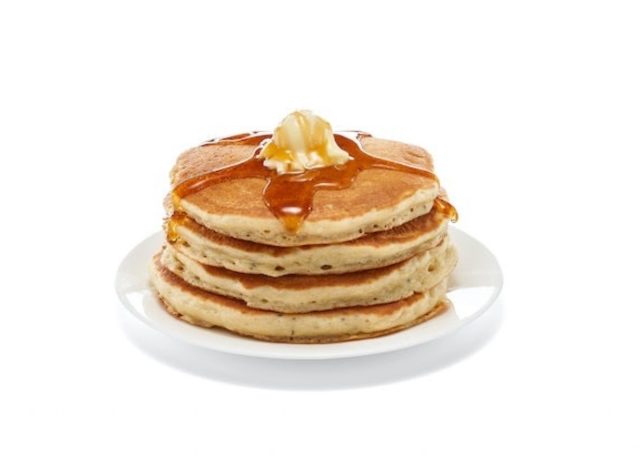 Per meal: 660 calories, 26 g fat (9 g saturated fat), 1,610 mg sodium, 70 g carbs (5 g fiber, 19 g sugar), 37 g protein
"The IHOP Protein Power Pancakes are a good choice for individuals looking for a healthier breakfast option," says Mandy Tyler, M.Ed., RD, CSSD, LD, of Nutrition By Mandy. Tyler points out that these flapjacks have more than double the amount of protein than IHOP's original buttermilk variety. "Make sure to order butter on the side to help limit the saturated fat content of the meal," she advises.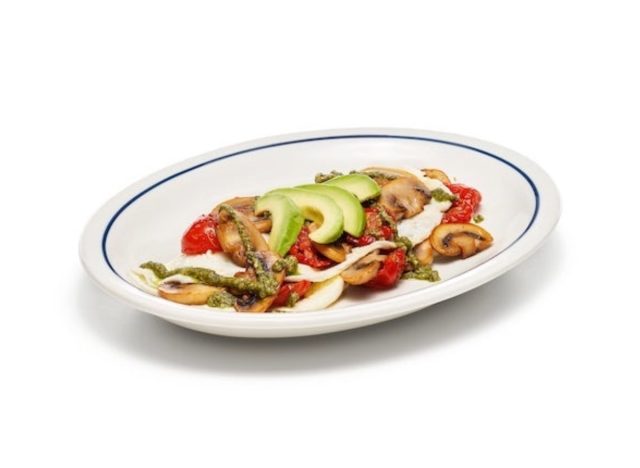 Per meal: 480 calories, 34 g fat (6 g saturated fat), 640 mg sodium, 26 g carbs (7 g fiber, 16 g sugar), 21 g protein
Fortunately, not all of IHOP's omelets are over-the-top. "If you are looking for a lighter option from IHOP, go for the Pesto Veggie Egg White Omelette, which is packed with nut-free pesto, sauteed mushrooms, roasted cherry tomatoes, and avocados," recommends Sheri Berger, RDN, CDCES, owner of Sheri The Plant Strong Dietitian. "This is a healthy balanced breakfast that is also served with seasonal fruit."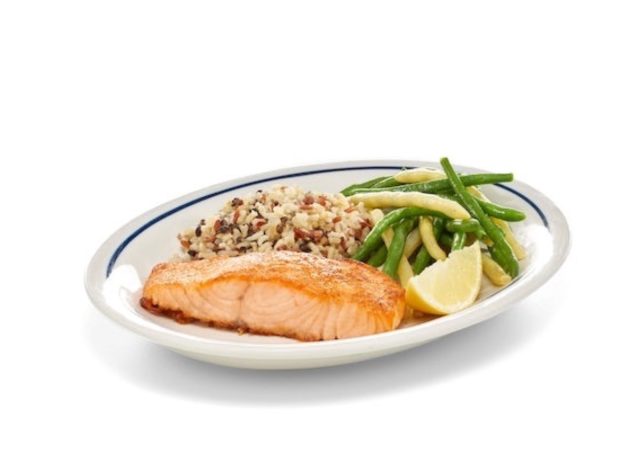 Per meal: 250 calories, 12 g fat (2 g saturated fat), 660 mg sodium, 2 g carbs (0 g fiber,  >1 g sugar), 35 g protein
At IHOP (or anywhere) you can't do much better for your health than a fillet of Salmon with some vegetable sides. The Atlantic Salmon entrée contains just 250 calories, boasts 35 grams of protein, and can be paired with your choice of wholesome sides like green beans, broccoli, and a rice and barley medley.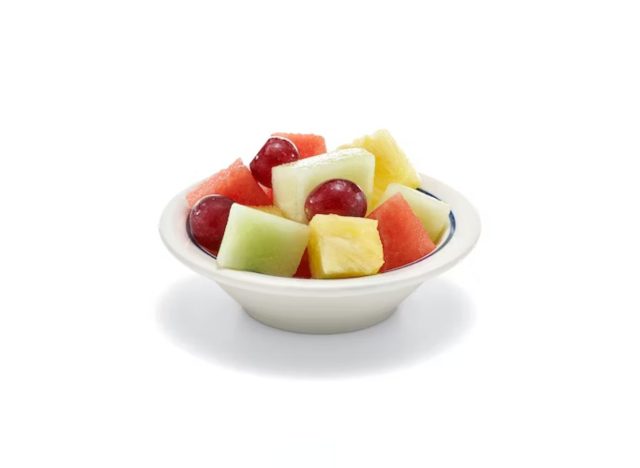 Per meal: 50 calories, 0 g fat (0 g saturated fat), 5 mg sodium, 14 g carbs (1 g fiber, 11 g sugar), >1 g protein
Aside from black coffee, Seasonal Fresh Fruit is one of the lowest-calorie items on IHOP's menu. Not only is fruit light on calories, but it's also a great way to work in some fiber and antioxidants with your breakfast or brunch. Add it to any menu item and eat it first so you get the most from its nutrition.
The Worst Orders at IHOP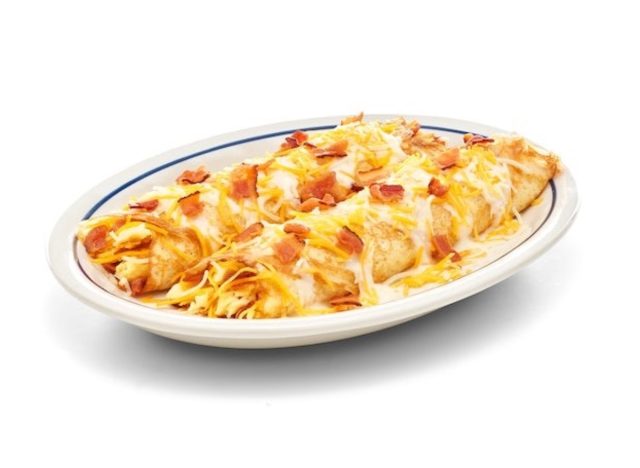 Per meal: 1,210 calories, 83 g fat (28 g saturated fat), 2,290 mg sodium, 63 g carbs (5 g fiber, 13 g sugar), 52 g protein
IHOP's Breakfast Crepes aren't exactly the light, thin variety you'd find on the streets of Paris. This loaded version is rolled with scrambled eggs, hickory smoked bacon, hash browns, cheddar jack cheese, and topped off with a cheesy sauce. It all adds up to a 1,200-calorie entrée with 83 grams of fat and an entire day's worth of sodium. Say au revoir to this one.
Per meal: 870 calories, 29 g fat (12 g saturated fat), 2,260 mg sodium, 136 g carbs (4 g fiber, 67 g sugar), 17 g protein
The Cinn-a-Stack Pancakes at IHOP are a cross between pancakes and a cinnamon roll. A sweet cinnamon filling holds together four pancakes topped with rich cream cheese. Truth be told, it's more of a dessert than a breakfast. If you eat this for the first meal of the day, the 67 grams of sugar and 136 grams of carbohydrates will spike and drop your blood sugar, potentially leaving you lethargic later in the day.6254a4d1642c605c54bf1cab17d50f1e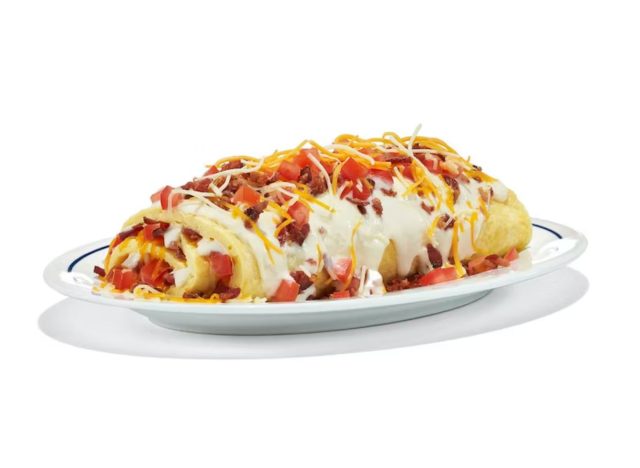 Per meal: 1,190 calories, 90 g fat (35 g saturated fat), 2,930 mg sodium, 20 g carbs (>1 g fiber, 6 g sugar), 72 g protein
It might seem like an omelet couldn't be that bad for your health—it's just made with eggs, right? Wrong. IHOP's Bacon Temptation Omelette is an extravaganza of meat, cheese, and more meat. The result: extremely high levels of calories, saturated fat, and sodium.
"Foods high in saturated fat can increase your risk for cardiovascular disease and heart attack, so it is recommended to limit animal fat intake and replace it with nutrient-dense vegetables," says Amber Trejo, MS, RDN, CDN, CPT, founder of Naked Wellness.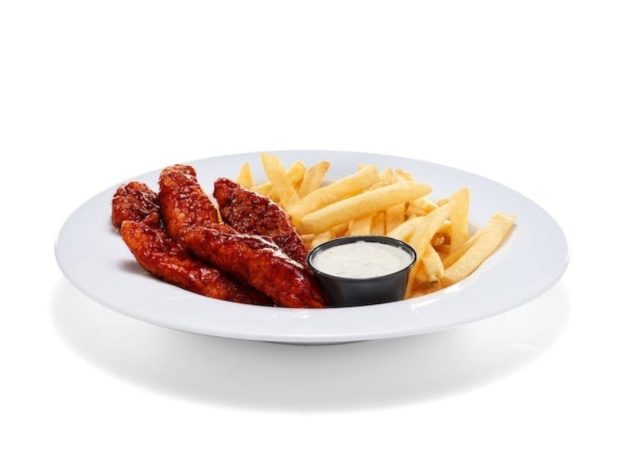 Per meal: 1,890 calories, 147 g fat (24 g saturated fat), 4,010 mg sodium, 98 g carbs (13 g fiber, 4 g sugar), 49 g protein
The Nashville Crispy Chicken Strips and Fries may be enjoying a peak in popularity for their zesty-hot Southern flavor. But according to Berger, it's among the worst choices at IHOP. "[This entrée] contains 24 grams of artery-clogging saturated fat," she says. "The American Heart Association recommends limiting your saturated fat intake to no more than 5-6% of our daily calories, which is about 13 grams per day for most people."
And did you see that sodium count? It's a doozy at 4,010 milligrams—174% of the recommended daily limit of 2,300 milligrams.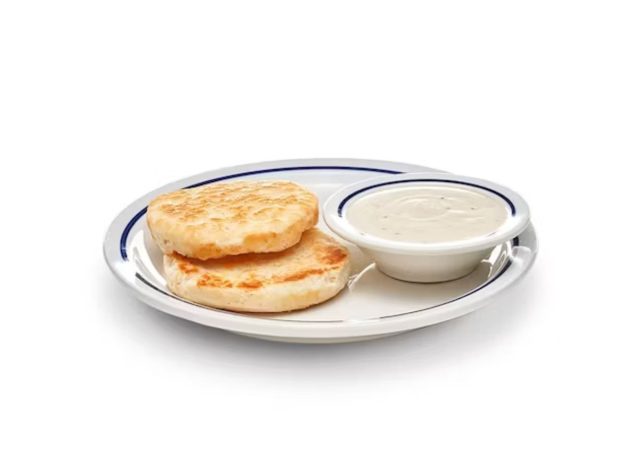 Per meal: 810 calories, 64 g fat (26 g saturated fat), 1,360 mg sodium, 53 g carbs (1 g fiber, 4 g sugar), 6 g protein
Who knew a single biscuit could harbor a whopping 810 calories and 64 grams of fat? That's the mysterious, inauspicious magic of restaurant recipes. If you'd like a starchy side to go with your lunch or dinner, skip the buttermilk biscuit and try the English muffin instead. "[The biscuit] is much higher in calories, fat, and carbohydrate and less nutrient-dense compared to an English muffin," says Trejo.