The product recommendations in this post are recommendations by the writer and/or expert(s)
interviewed and do not contain affiliate links. Meaning: If you use these links to buy
something, we will not earn a commission.
Italian food is one of those rare cuisines that everyone in the family seems to agree on. Classic Sicilian or Neapolitan pizza is always a welcome sight. You can't go wrong with fresh pasta—a dish which comes in virtually every shape and size and can be paired with any sauce you please from marinara to pesto to Alfredo. Then, when you consider all the cheeses, fine wines, artisan bread like focaccia, and the glorious desserts and pastries—it's really one of the dreamiest and most delectable compilations of fare ever created.
Many people will say you have to try Italian dishes straight from the source in order to properly experience and appreciate their grandeur. But, if you know where to look, you can find the bona fide tastes of Tuscany, Sicily, and beyond right here in the U.S.
For decades, eager chefs, restaurateurs, and fans of Italian cuisine have worked to bring its beloved recipes and cooking styles stateside. Now, the cuisine can be found in every corner of the country in pizza shops, gelato stands, wine bars, Italian delis, coffee shops, and, of course, traditional ristorantes—a few of which have even multiplied following their success and now stand as noteworthy chains.
Some of these chains have remained somewhat modest and regional, while others have cut ribbons in every state. Some keep their menus more authentic, while the rest put an American twist on the classics. But, they each have their own unique origins, essence, and quirks, and there are a select lot that have truly mastered their art.
Here are the absolute best Italian restaurant chains in the country right now, in no specific order. Buon appetito!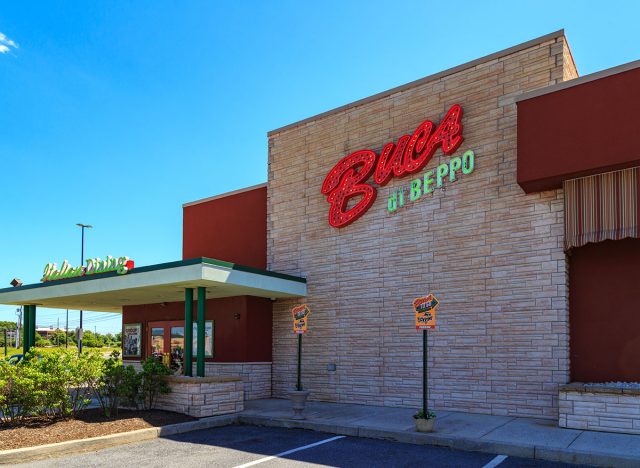 Buca di Beppo is the place to go when you want to mangia, mangia, mangia! (English translation: eat, eat, eat!) The Italian-style restaurant is all about family-style dining and serves up its pastas, pizzas, entrées, and even sides in epic, shareable portions. In terms of atmosphere, Buca is in a class of its own. The entire eatery is a dimly lit maze of themed rooms, customary red-and-white checkered tablecloths, and kitschy decor and photographs covering every square inch of wall space.
From humble beginnings in the basement of a Minneapolis apartment building in 1993, Buca di Beppo—roughly translated to "Joe's small place"—has grown to now 64 U.S. restaurants with a few international locations as well. On the menu, there are over 60 Italian comfort dishes to choose from including its half-pound World Famous Meatball, stuffed shells, spicy chicken rigatoni, baked lasagna, and classic tiramisu or chocolate chip cannolis for dessert. Something for everyone in the famiglia!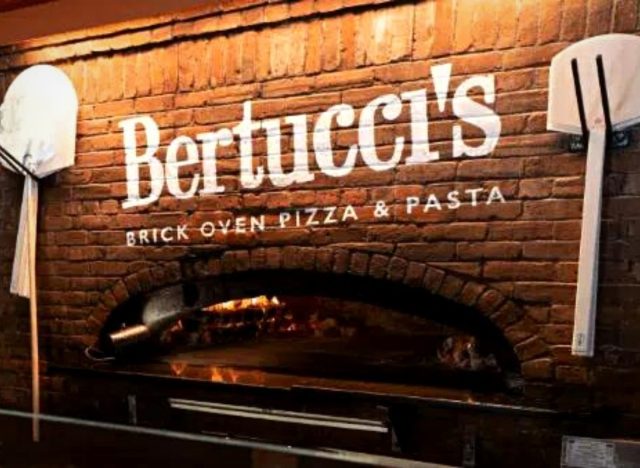 Bertucci's is a New England treasure, and its biggest claim to fame is its brick oven cooking method. Its thin-crust artisan pizza, doughy calzones, even pasta dishes and entrées are thrown right into the heat to enhance all those bold Italian flavors. All dishes are made daily from fresh ingredients. Oh, and don't forget the warm, buttery rolls! They are a major point of pride for the chain, and differ considerably compared to the room temperature bread slices with olive oil that you tend to find at other Italian restaurants.
Unfortunately, Bertucci's filed for bankruptcy not once but twice over the past couple of years, due to effects from the Covid-19 pandemic, and was forced to close multiple stores. The company is now down to just 23 locations in Connecticut, Delaware, Massachusetts, Maryland, Pennsylvania, Rhode Island, and Virginia. But, not all is lost. Just last year, the casual pizza joint announced a partnership with celebrity chef Christian Petroni in the hope that his influence and know-how will breathe new life into the business.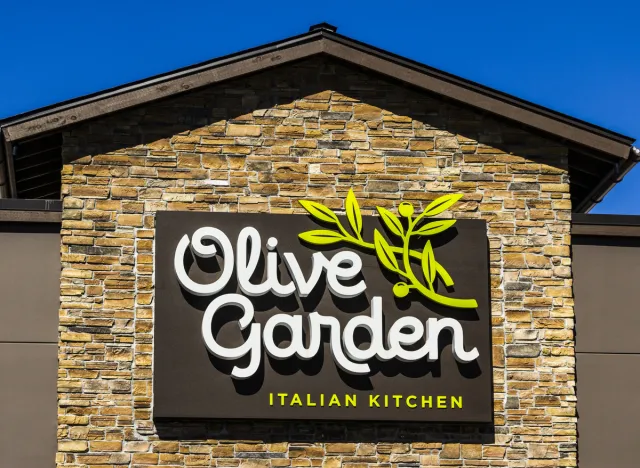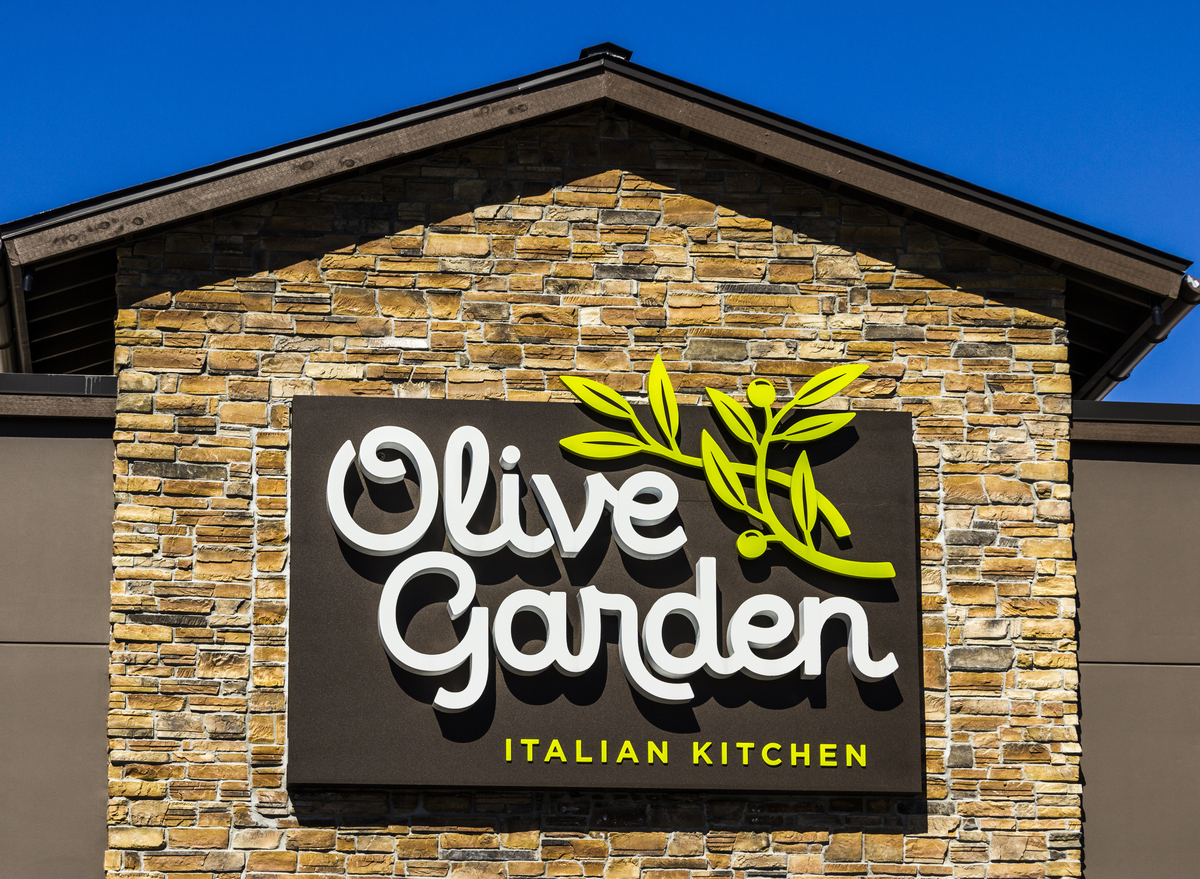 Buttery garlic breadsticks. Never-ending pasta bowls. Parmesan and romano cheeses grated on top of your meal until you say when. Need we say more?
Despite serving up a markedly Americanized version of Italian fare, Olive Garden has become something of an institution and even boasts the title of largest Italian restaurant chain in the country with over 900 locations and a presence in every single state—miles ahead of other top chains. The dining experience is considered casual, although the restaurant's ambiance may try to convince you otherwise with its Tuscan-like stone exterior, wood beam ceilings, and waiters dressed sharp in button downs and ties.
When it comes to the cuisine, what it lacks in authenticity is made up for in the taste. Patrons go crazy for the chain's signature Italian dressing, found doused on its complimentary and endless salads. Its Chicken & Gnocchi Soup has gained somewhat of a cult following, and dishes such as the lasagna fritta, chicken and shrimp carbonara, and the Tour of Italy—a classic combination of Chicken Parmigiana, Lasagna Classico, and Fettuccine Alfredo, all on one plate—are among other popular menu items.
With 17 locations in some of the most affluent areas of California and two in Las Vegas, Il Fornaio strives to offer guests "the most authentic Italian experience outside of Italy." Traditional Italian cooking techniques are used to make classics such as fusilloni, tagliatelle bolognese, branzino al limone, and minestrone. Plus, you can't forget about its award-winning wine list, which includes Tuscan favorites like Chianti Classico—perfect for pairing with your favorite dish. Executive Chef Roberto Gerbino is the brains behind it all. But, what's interesting is that its menus, hours, and other factors vary by location and mold to the region it's serving.6254a4d1642c605c54bf1cab17d50f1e
Dining at Il Fornaio is a formal affair. And, if you really want the full experience, elegant and scenic private dining rooms and spaces are available for you and your party to rent out.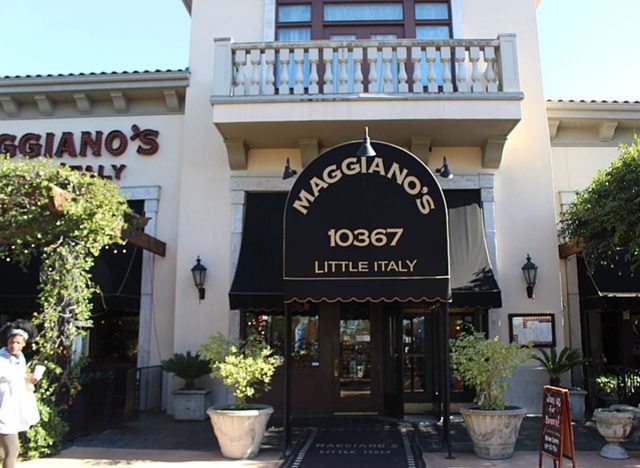 Make sure to bring your appetito, because similar to Buca, many of the meals at this eatery come family-style and they are no joke. Maggiano's serves up a unique combination of classic and modern Italian fare, including a few house pasta favorites like its Famous Rigatoni "D," Spaghetti & Meatball (yes, just one giant meatball), and Mom's Lasagna—always made from scratch. But, the menu also extends into steak, chicken, and seafood dishes for those looking for a little more protein.
The ambiance at Maggiano's leans just slightly more upscale, while still being inviting and family friendly. It also specializes in both catering and in-house events from birthdays to holiday parties to wedding events like rehearsal dinners. The Chicago-based restaurant can be found in 52 cities nationwide.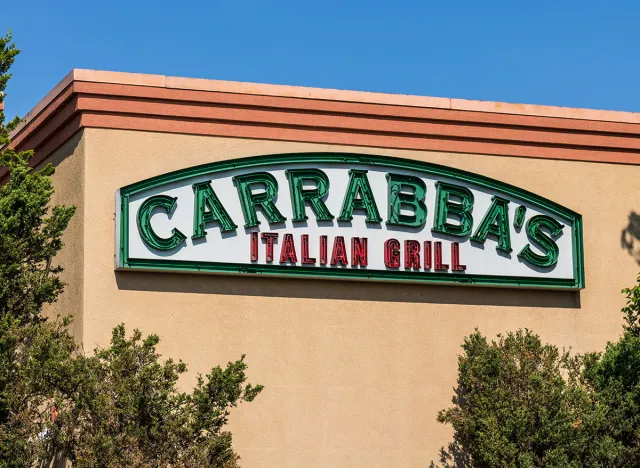 A love of both family and handmade food is what prompted John Charles "Johnny" Carrabba III and his uncle Damian Mandola to open the first Carabba's restaurant in 1986. With Sicilian roots, the Texas pair crafted a menu based almost entirely on generational recipes that put a southern and western spin on Italian comfort food. At each of its 220 U.S. locations, everything is served up by knowledgeable waitstaff and in a classy, casual environment with the lights turned down to set the mood.
The menu at Carrabba's is ever changing and evolving. But, a handful of gems are always available like the tomato caprese with fresh burrata, linguine pescatore, Tuscan-grilled steaks and pork chops, and, of course, the mouthwatering Chicken Bryan. The dish's reputation truly precedes it. It starts with juicy wood-grilled chicken that is covered in goat cheese, sun-dried tomatoes, basil, and a lemon butter sauce. Can you say delizioso?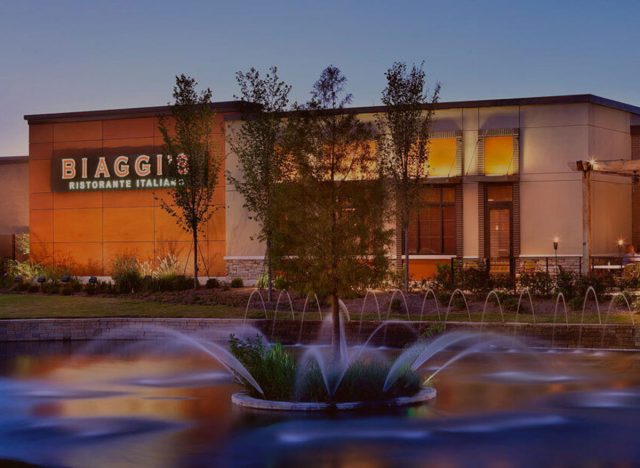 Affordable prices and authentic Italian food served in a warm, inviting environment—those are the things that Biaggi's Ristorante Italiano takes pride in. The chain has just 16 locations across eight states, including Colorado, Illinois, Indiana, Iowa, Minnesota, Nebraska, Ohio, and Wisconsin, but its presence makes a big impact, starting with its vast menu.
For starters, you can't miss the Mix & Match Bruschettas, where you can go classic or pile on toppings like candied bacon, seafood scampi, or fig and apple. The restaurant also whips up a mean soup, including its minestrone. And then, you get to the extensive list of classic and signature pastas, classic entrées, seafood, and steak, all served in sizable portions. The Ravioli Quattro Formaggi, Sea Scallop Risotto, and Chicken & Sausage Vesuvio are a few noteworthy selections.
Biaggi's holds true on its promises, offering an atmosphere that is modern but approachable. It also helps everyone to feel welcome by including plenty of gluten-free options to its guests.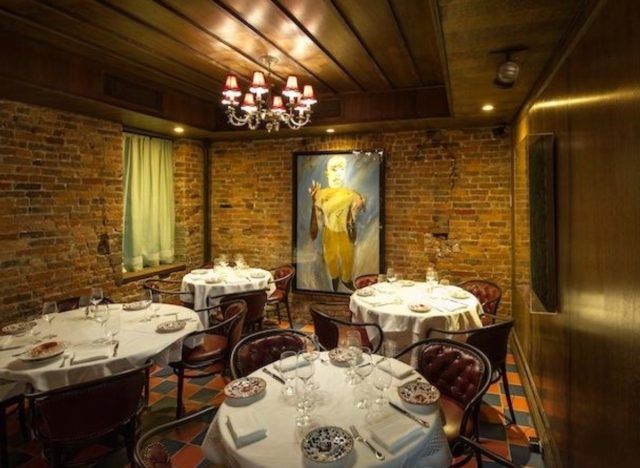 Carbone represents Italian dining at its finest. Its mission is to create food and a setting which are both "simultaneously elegant, comfortable, and unpretentious." Its flagship New York City location—as well as its successors in Miami, Dallas, Las Vegas, Hong Kong, and Doha, Qatar—are often visited by celebrities and other stars, proving its popular stature.
The chain's menu is another hint at its prestige and authenticity. Its appearance and organization—separated into antipasti, zuppa e insalata (soup and salad), macaroni, pesci (fish), and carni (meats)—are comparable to what you would see if you were handed a cuisine list at an eatery in Naples or Rome. Carbone sticks with familiar Italian dishes like spicy rigatoni, veal parmesan, and Linguini Vongole, but elevates them to new heights. Dishes can get a tad pricey, but keep in mind you are also paying for the chic and elegant ambiance which includes top-notch service, clothed tables, intricate chandeliers, and impressive pieces of art hanging from the walls.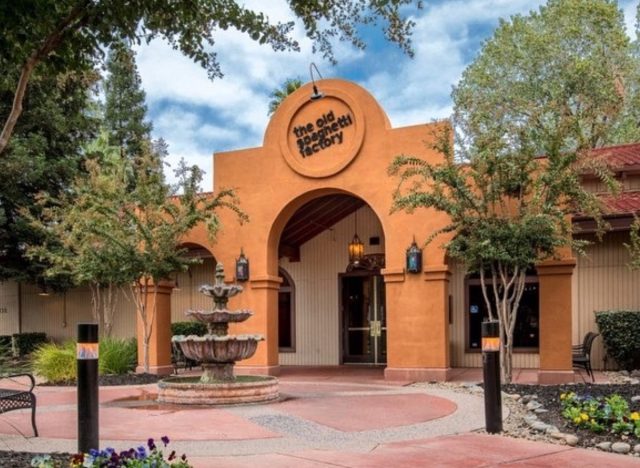 Despite its fairly unappetizing name, the Old Spaghetti Factory has been a family-favorite joint since its inception in 1969. The chain now stands at 42 restaurants across 13 states, and from the outside, no two locations look alike. On the inside, however, customers will always be met with vintage decor, including old carousel horses, gleaming stained-glass light fixtures, and, of course, an iconic red trolley parked right at its center—you can even eat at a table inside of it!
Dishes are always served in three courses at the factory, starting off with bread and soup or salad. A choice of pasta dish follows, and to top it off, a scoop of either spumoni or vanilla ice cream. The chain's most beloved dish is its Spaghetti with Mizithra Cheese and Browned Butter–an old family recipe which cheese lovers rejoice over. You can even buy the specialty Mizithra cheese at the restaurant, online, or at a retailer like Sprouts.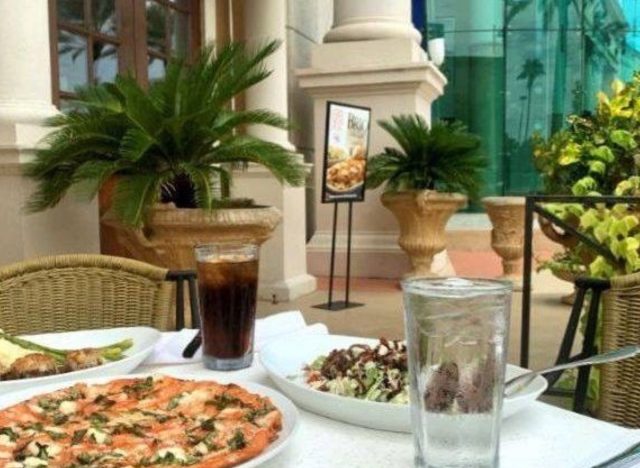 Brio is a sister brand to Bravo! Italian Kitchen. Both are popular nationwide chains which got their start in Columbus, Ohio, and are now owned by Earl Enterprises—the same company which also happens to own Bertucci's, as well as Buca di Beppo. But, while their concepts are similar, Brio pays tribute to northern Italian cuisine (instead of southern Italian fare like Bravo) and, more specifically, the Tuscan region.
Consequently, the menu's standouts include bruschetta, Gorgonzola Crusted Beef Medallions, Sausage Rigatoni Arrabbiata, spaghetti pomodoro, and lamb chops. And, its setting follows suit. According to Brio's website, the restaurant will "transport you to Tuscany with its hand-crafted Italian mosaics, Venetian plaster walls and arches, soaring ceilings and fine marble countertops." Although it does market itself as more upscale, the chain really caters to any kind of experience from a laid-back happy hour to a romantic dinner or formal work event. Brio currently stands at 33 locations all across the country, but concentrated mostly in Ohio, Florida, and along the northern part of the East Coast.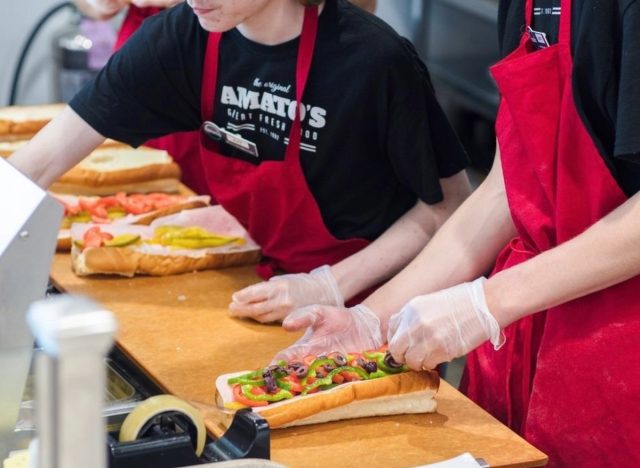 If you live in the New England area, you've likely heard the Amato's name, and maybe even paid a visit to one of its 44 locations. Since 1900, the company has been whipping up Italian-inspired fare, but in a different fashion compared to most other top chains. Instead of harping on pasta and pizza, Italian sandwiches are at the core of its menu.
Gourmet hot sandwiches, including options like the meatball parmigiana, chicken parmigiana, and grilled sausage, are available at the joint, as well as fresh-made wraps. But, its biggest draw is its Italian sandwiches—the Original Real Italian and the Classic Italian Cold Cut, both done the Amato's way with homemade oil, greek olives, pickles, tomatoes, and green peppers. Of course, calzones, original crust pizza, and pasta dishes (including something called a pasta bucket) do exist at the chain, they just aren't the main attraction.
Amato's is known for its consistency, whether you order takeout or eat at one of its no-frills restaurants. This also carries over to its line of products you can enjoy in your own home, including jarred pasta sauces, Italian dressing, its famed sour pickles, and Original Italian Sandwich Oil—all sold online through Amato's website.
Rao's restaurant in New York is the birthplace of an entire food empire. With roots dating back to 1896, the intimate 10-table establishment has always sought to share Italian traditions through simple and homestyle southern Neapolitan cooking. With this mission in mind and with the help of its leader, American actor Frank Pellegrino Sr., the restaurant grew quickly in popularity and now stands as something of a "culinary national treasure," as it calls itself.
Just eating at Rao's is commonly regarded as a legendary experience in and of itself, and the compact New York restaurant is often filled with prominent performers, athletes, politicians, and other people of status. By contrast, the more recently opened replicas in Las Vegas and Los Angeles are a tad easier to get into and also offer menus that differ from New York's. A few dishes do overlap like the lemon chicken and Rao's Traditional Meatballs made with beef, pork, and veal. But, each city has its own standouts. In Las Vegas, for example, you can try one of celebrity chef Bobby Flay's all-time favorite dishes: the beef lasagna.
And, of course, we can't forget about the thing that made Rao's a true household name: Rao's Pasta Sauce. In order to further share that classic Rao's taste, in 1992, Pelligrino Sr. decided to package up the original sauce recipe to sell at grocery stores. It's now one of the country's most coveted sauce brands, and Rao's Homemade has additionally expanded into dried pastas, soups, and even frozen pizzas and entrées. The Campbell Soup Co. acquired the popular product line earlier this year.